Kingston HyperX Cloud Gaming Headset Review – A Ray of Sunshine

Date: June 4, 2014
Author(s): J.D. Kane

PC hardware vendors are constantly expanding into markets they traditionally have never had a presence in. Kingston, known for its memory and storage solutions, is the latest one; its HyperX Cloud gaming headset is its first venture into the world of gaming audio. Will the Cloud bring rain on this parade, or will it shine through like a ray of sunshine?
---
Introduction
If you're a regular Techgage reader (and if you're not, why aren't you?), then Kingston is a name you'd remember, I'm sure. The company has been a leader in computer memory and solid state storage solutions for years. Now, though, it's expanding into hitherto unexplored territory.
With its all-new HyperX Cloud, Kingston is venturing into the world of gaming audio. It's an interesting move, given just how crowded the market is. It's also a very tough challenge to break into this market, and Kingston's best chance of success is to make a great first impression.
It's a bit of a privilege, really, to have the task of reviewing the HyperX Cloud given that it's Kingston's first product in a whole new arena. For sure, though, Techgage will subject this headset to the same conditions as every other headset we review.
With that preamble out of the way, let's have a look at Kingston's newest baby.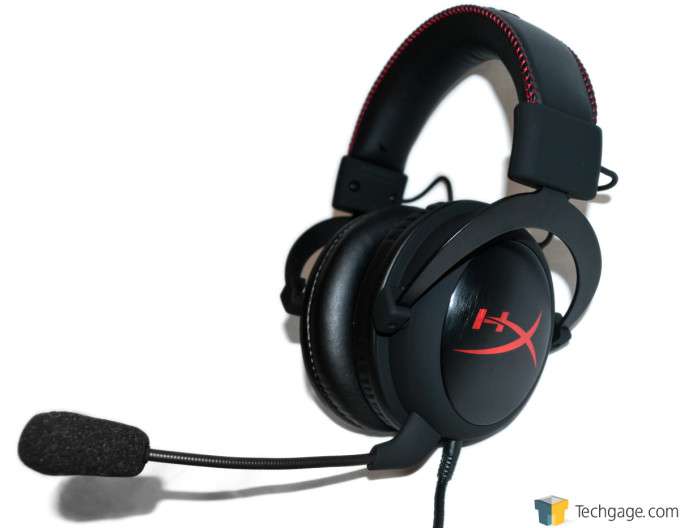 Here is the HyperX Cloud in its black and red glory
I like the mix of classical looks and modern aggressive sensibility. The chosen color scheme of black with red accents may be a bit of a cliché when it comes to evoking a feeling of aggression, but Kingston's execution is superb. Part of the reason why is the matte black is not monochromatic; there are actually different "shades" of the black because of the variety of materials. For example, the black on the earcup's leather interior lining is different from the black on the earcups' exterior surface, which looks like brushed metal. It's a pleasing effect, subtle yet easy to appreciate. Meanwhile, the red stitching on the headband accentuates the feeling that this is a high-quality piece of kit; it suggests that the Cloud is hand-built, like the leather interior in an expensive supercar.
Kingston certainly spared no expense in providing everything you'll need to use your new HyperX Cloud. The company packed all of this into the package. You'll get the headset unit itself, the detachable mic boom, an optional cable with in-line controls, a cable extender, an airplane jack adapter, and a two-into-one cable that would transform the HyperX Cloud into a smart phone-compatible headset. But there's more. Kingston has also packed a set of spare earcup liners (made of a suede-like material similar to that used by Beyerdynamic, for example) as well as a travel bag for your HyperX Cloud. This is certainly one of the most comprehensive product packages I have ever seen for a headset.
This profile shot shows off the HyperX Cloud's elegant, classical looks mixed with that hint of aggression. The oval earcups look like relics from a studio from the middle of the last century, but are constructed and detailed with modern materials. The red HyperX logo, though, is an unmistakable sign that this is a product of the second decade of the 21st century.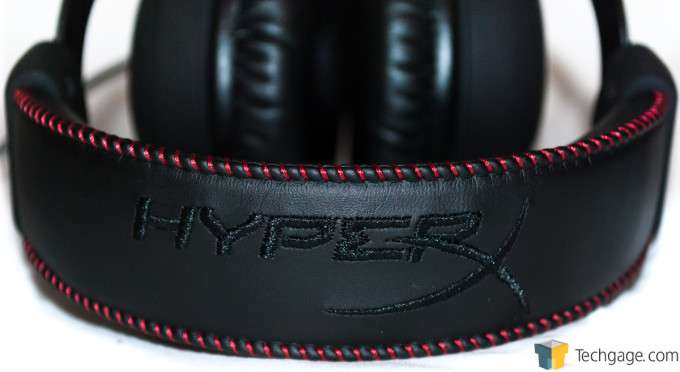 Kingston certainly spared no effort in the HyperX Cloud's build quality. Check out the quality of the stitching on the leather headband. The color of the red thread matches the red HyperX logos on the earcups. The HyperX logo's stitching in black on the top of the headband is also superb. The effect of details like these is that it makes you think human hands (rather than robots) made at least this part of the product. To me, that is hugely impressive.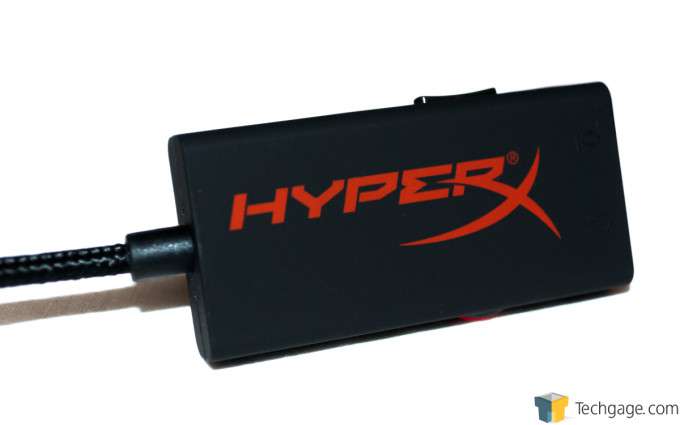 The HyperX Cloud, as we've seen, has a ton of added accessories, but perhaps the most interesting of these is the extender cable with an inline control pod. The control pod is fairly simple. There are two buttons (play and mic mute) and a volume control wheel on the side. The cable to which it is attached is about two and a half feet long.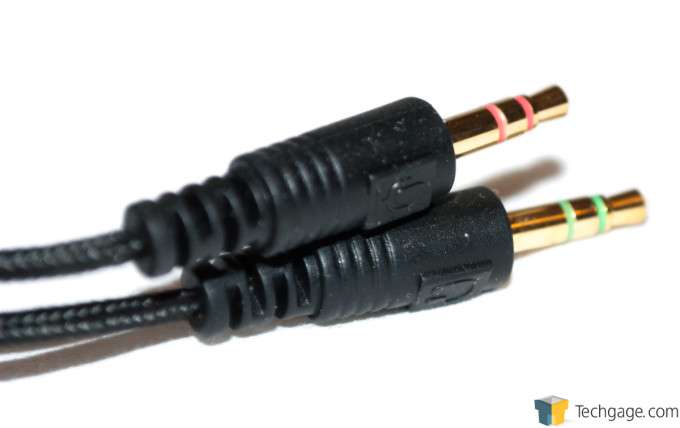 Speaking of cables, every single one in the HyperX Cloud package (all the extenders/adapters, as well as the one on the headset unit itself) is sheathed in a high-quality and flexible braided sleeve. The cable from the headset unit terminates in two connectors; per usual, the one with the pink rings is for the mic-in, while the one with the lime green rings is for the audio-out. The plug ends, incidentally, also have tiny mic and headphone icons on them too, in case it's hard for you to see the rings on the connectors. Also, the back end of the control pod-equipped cable extender has jacks that have the appropriate coloration on them.
Here is a close-up of the mic jack on the left ear cup. A rubber (or is it silicone? I can't tell) plug covers up the jack if you want to use the HyperX Cloud as plain headphones. The mic boom, as mentioned before, is detachable.
Now that we've had our visual tour of the Kingston HyperX Cloud, let's move on to performance testing, after which we'll have some final thoughts.
Performance and Final Thoughts
As with all headsets we test here at Techgage, I evaluated Kingston HyperX Cloud's performance in three major criteria: Ergonomics, functionality, and sound quality. I feel that these are the most important points to appraise when it comes to this type of equipment.
Also per usual, I tested the HyperX Cloud over a period of around two weeks. In my experience, most headphones' sonic characteristics change from the time you first use them until they eventually settle. Two weeks of normal use is a long enough time to get to a point where headphone speakers' sonic signature gets established.
In terms of ergonomics, the HyperX Cloud fits perfectly on my head. Its range of expansion maxes out at my head size, so maybe truly gigantic people with physically huge heads may have a different experience. The squeeze of the headband and padding on the earcups and on the headband are more than adequate to ensure a fit that is just snug enough to keep it in place for most situations. Not even the most violent head-banging that I can muster without my head flying off my neck – the type I might be apt to engage in when Techgage Big Chief Rob links me to a few of his favorite death metal tunes – can dislodge it from its perch on my melon. Moreover, with both the suede and the leather earcup lining, it's easy to keep this headset on for hours on end. Overuse fatigue and discomfort are non-issues.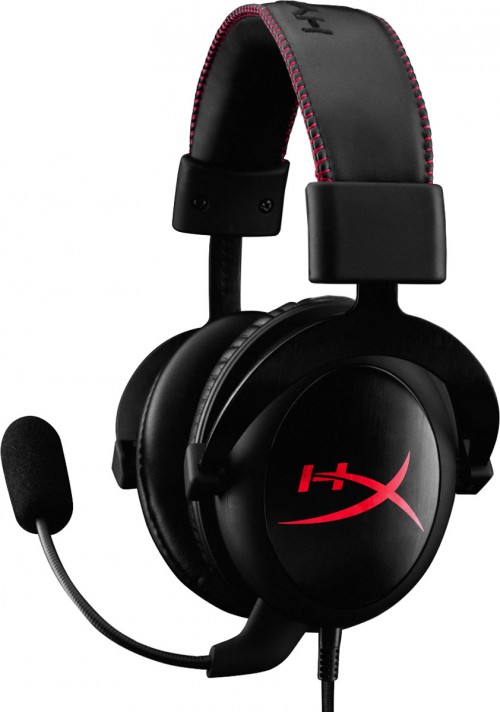 If there's a ergonomics-related gripe I'd register, it's that using the cable extender with the inline control pod adds either an additional 2 1/2 feet of cable or a bulging mass thereof (if you keep the cable twist-tied in a bundle). It's interesting that Kingston decided to add the functionality of the inline control pod instead of incorporating this into the headset's main cable or, as my previous review subject did, integrating the controls into the main headset unit itself. Kingston's solution suffers in comparison; ergonomically the added cable length is just an added bother, even a potential hazard, simply because you have to somehow manage the extra cable length.
As far as functionality goes, the HyperX Cloud is hard to beat. Its plethora of included accessories make it adaptable for a whole lot of applications. Although it's honestly hard to see anyone wanting to use this with one's smartphone (at least outdoors – maybe you won't feel a bit daft, but I would. And I'm not particularly self-conscious!), the 2-into-1 Y-adapter cable makes it possible. In the privacy of my own apartment, it's great. Phone calls sounded even better with the wired connection compared to my Bluetooth earpiece. The mic works superbly as tested in this scenario as well as on Skype. Most of the HyperX Cloud's competitors simply don't have the accessories package to be able to do all this.
I guess the only thing missing, really, are 1/4″ adapters for the 3.5mm connectors. My primary PC's sound card has 1/4″ headphone and mic jacks, so it would have been neat for Kingston to have included adapters for these. I won't classify this as a negative point against the HyperX Cloud, though, since I'm willing to presume that the vast majority of end users use devices with 3.5mm audio jacks.
Now, as far as sound quality goes, the Kingston HyperX Cloud does quite well. As always, the point of reference and comparison will be with my personal Beyerdynamic DT880 Pro and Shure SRH840 monitoring headphones. As I've mentioned in previous headset reviews, both the Beyerdynamic and the Shure have flat frequency response characteristics, which makes them ideal reference points for our review subject.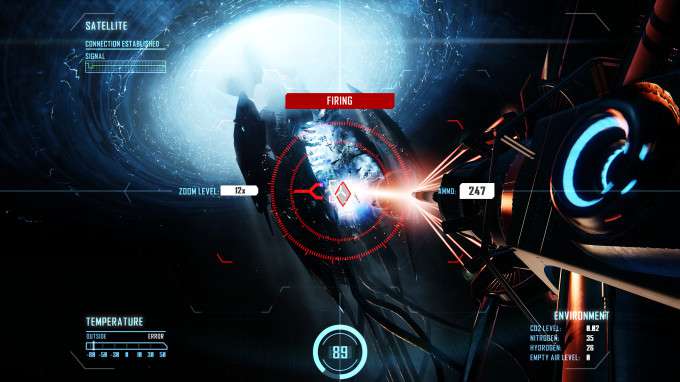 In games and in movies, the HyperX Cloud is a very good companion. Bass response is tight, never sloppy or booming. Its 53mm drivers ensue that bass response is as good as possible. High frequency sounds are reproduced with similar quality. Stereo separation and positional audio are also just as good as any other stereo headset I've tested. You'll know where sound sources are without looking at them, so you should be able to take the HyperX Cloud with you in any gaming scenario without fear of being in any sort of disadvantage against those packing surround sound. Not only will games be enjoyable, but movies too. Stereo, folks, is where it's at, as far as this writer is concerned.
This is especially true when it comes to music playback. Kingston's first-ever headset scores really well in this usage scenario too. Though just a bit cold compared to our reference monitoring headphones, the HyperX Cloud is still a pleasant set of cans with which to listen to music. As you might expect, bass response is very good, but things on the higher end of the frequency scale sound just a tiny bit harsh. The mid-frequencies also sound a bit thin. In this way it's quite similar to my last review subject, and I'm honestly at a bit of a loss to explain why the overall sound signature is a bit cold (i.e., treble-biased) yet reproduces slightly thin high- and mid-frequency sounds.
This isn't to say, however, that the HyperX Cloud is useless in music playback. Not at all. It's just a description of how it sounds compared to something that produces zero bias playback. I certainly enjoyed listening to all sorts of music – instrumental orchestral pieces, cello solos, R&B, hip-hop, and rock, of course – using the Cloud.
Let's wrap things up, shall we?
Final Thoughts
Kingston has come up with a very strong first offering for the gaming audio buyer with its HyperX Cloud. It's a superb product overall, with one of the most comprehensive accessories package I've ever seen in any product. As versatile as it is capable, it runs the risk of being a jack of all trades, and a master of none.
However, I think its versatility and adaptability gives it an edge over most of its competition. I mean, it's tough to think of other gaming headsets that can also be used on a smart phone (or any phone that has a 2-in-1 audio jack, really) as a wired headset. Because it's superior to any Bluetooth earpiece I own, that's actually a big thing for me – I prefer keeping my hands free whilst I'm on the phone, so I tend to use my earpiece even at home sometimes. It might be slightly inelegant in some details (I still don't see the why Kingston didn't integrate its controls onto the headset unit itself, instead choosing adding them to an optional length of cable; I also don't quite see why anyone would need an additional cable extender), but I'm willing to overlook these and just concentrate on its superb ergonomics, functionality, and performance characteristics.
On balance, the HyperX Cloud is totally worth is MSRP of $99.99. If you're in the market for a stereo headset that can do almost everything (it doesn't wash my car or do my laundry or make me dinner, nor is it compatible with my Xbox 360; but that's Microsoft's stupidity, really), the HyperX Cloud is a worthy contender indeed. It might be called the "Cloud," but it's really a ray of sunshine. I just love its supreme versatility, its aesthetic style, and how it's executed (even considering some of its, how should we say, interesting inclusions in the accessories package).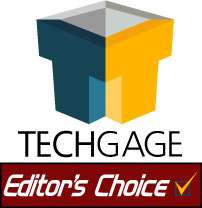 Kingston HyperX Cloud Headset
Copyright © 2005-2019 Techgage Networks Inc. - All Rights Reserved.