Kingston 2GB HyperX PC2-6400

Date: February 12, 2007
Author(s): Greg King

Are you on the lookout for a good 2GB kit that won't break the bank? Kingstons HyperX PC2-6400 fits that bill. It uses stock 4-4-4-12 timings at low voltages and even has some solid overclocking ability.
---
Introduction
As a leader in the global memory market, Kingston Technology has been in the game for almost 20 years. Focusing on products ranging from flash cards to system RAM, they are the world's largest independent producer of DRAM and with offerings to the PC community consisting of memory for printers, servers, PDAs and gamers; they certainly have a strong stable of products. Founded in California in 1987, Kingston started with one product and has grown into the position that they are in today.
With more and more companies diversifying their product lineups, Kingston has remained committed to providing gamers with high quality system memory. As a site primarily aimed towards gamers and enthusiasts, Techgage has reviewed a considerable amount of system memory. In fact, we have reviewed more RAM than any other single type of hardware. Back in September, we took a look at Kingston's HyperX PC2-8000 and in that review, Rob loved how the RAM performed. On the bench today, we have Kingston's PC2-6400 2GB kit (KHX6400D2LLK2/2G) and with any luck, we can get similar performance out of these as Rob did out of the PC2-8000 kit he looked at in September.
Kingston has done a nice job in packaging the HyperX modules. The black backing with a clear top has a professional look to it but is rather simple in design. Running across the middle of the package is a large sticker that not only keeps the package closed, but also displays all of the important information that the end user might want to know. This editor can appreciate a simple, easy to open package and Kingston delivers in that regard.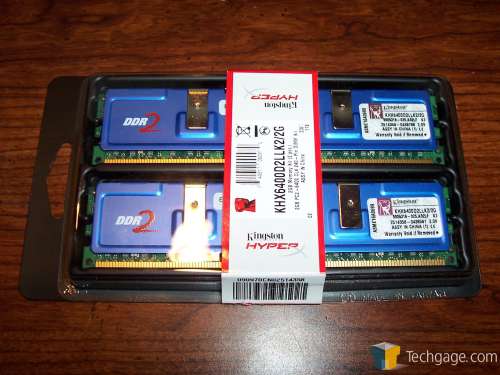 Once opened, we can see the blue heat spreaders and green PCB. Not unlike all memory, there is a specs sticker on the side of the heat spreader that gives the users basic information about the modules such as model numbers and voltage. Aside from the evaluation sticker on the top of the front side of the heat spreader, these sticks are exactly the same thing anyone can go out and pick up from their favorite computer shop or online site.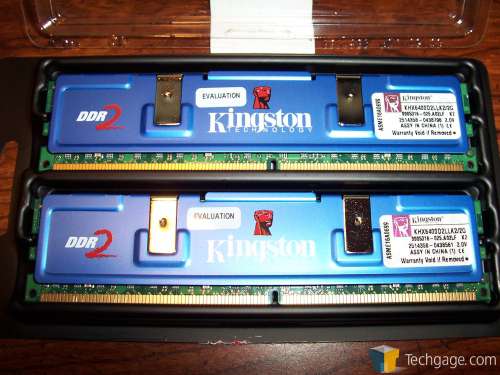 Taking a closer look at the sticker, we see the incredibly long model number KHX6400D2LLK2/2G. To the best of my ability, I am pretty confident that it equates to something like Kingston Hyper-X, PC2-6400 and that the kit is a 2 GB set. The sticker also tells us that the stock voltage for these modules is 2.0 volts.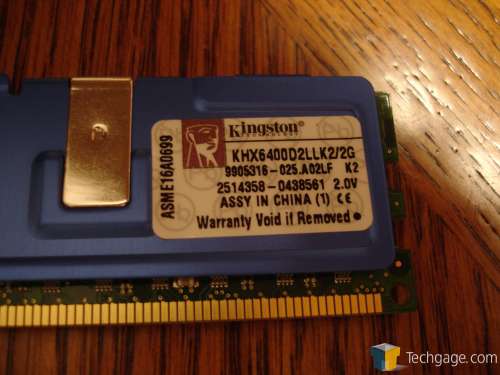 The back of the sticks looks very similar to the front but also include the aggressive looking Hyper-X logo, flanked by the Kingston and DDR2 logos.
Before we get into the testing results of these sticks, we would like to share a bit of information about the modules that Kingston was kind enough to pass along to us. Under the heat spreaders, Kingston choose to use the standard reference designed PCBs and the chips are manufactured by Elpida. This information might not concern too many people but it is something that we did want to pass along to you since most Elpida are not praised for their overclocking ability. We chose not to remove the heat spreaders because of the FBGA chips nasty reputation of coming off of the sticks rather easily.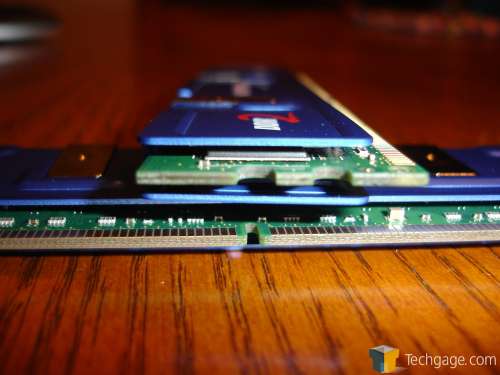 With the modules themselves examined, we move onto the testing methodology and results.
Testing, Final Thoughts
With this RAM being a member of the HyperX lineup, we should see some decent numbers. Kingston has long catered to the gaming and enthusiast community with this line-up of memory and with this in mind, we like to keep certain testing elements consistent from review to review. My current testing bench includes the following hardware:
Intel "Conroe" Core 2 Duo E6600 @ 2.4 GHz
DFI Infinity 975 X/G
Kingston RAM Hyper X 6400 2GB
Silverstone Strider 560W PSU
Powercolor x1650 Pro
Seagate Barracuda 320GB 7200.10 (OS)
Zalman Reserator 2 Cooling
Windows XP SP2
ATI Catalyst 6.9
We always test on a fresh install of Windows XP and any unneeded system services are shut down. Prior to testing, the OS drive is defragmented any and all scrap files are removed, including anything in the recycling bin. By doing this, we eliminate as many variables as we can, to get a good idea of the raw power of the RAM.
The different speeds that will be tested are the three rated speeds with the factory rated timings, as well as stock speed with lower timings. Finally, the results will include a max overclock and the corresponding scores.
Testing and Results
First up on the bench is Sandra. Sandra is one of those benchmarking apps that everyone should have in their digital toolbox. Not only can you bench your memory, but virtually any component of your PC as well. In this review, we are using Sandra XIb.
Next up will be Everest. Like Sandra, this is a program that is versatile but primarily focuses on CPU, memory and disk drives. Ultimate edition 2006, version 2.80.534 will be used in this article.
The final piece of software that we will be using is Super Pi. While critically dependant on CPU speeds, memory timings do make a difference in the results.
Final Thoughts
With AMD and Intel both rocking hard with DDR2, it's clearly become the norm in system memory. With this kit offering a stock CAS latency of 4, the value of these sticks is apparent. While overclocking was somewhat limited by hardware other than the memory, the fact that this kit was able to reach a touch above DDR 1000 speeds was great. The modules are attractive and the fact that it's a kit from Kingston certainly speaks for the quality. Known for a long time as a company that has its act together, the RAM tested today is a testament to Kingston and the direction that they are heading towards.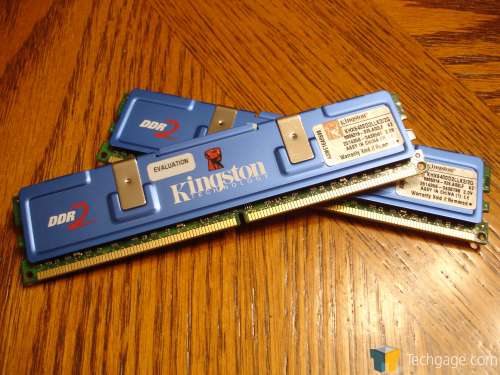 With all things considered, Kingston delivers a solid, quality kit of RAM for those who don't need PC2-8000, or even PC2-10000 now. At the end of the day, The Kingston PC2-6400 receives a 8 out of 10.
Discuss in our forums!
If you have a comment you wish to make on this review, feel free to head on into our forums! There is no need to register in order to reply to such threads.

Copyright © 2005-2020 Techgage Networks Inc. - All Rights Reserved.