Kingston DataTraveler HyperX 3.0 64GB Flash Drive Review

Date: December 30, 2011
Author(s): Rob Williams

On the lookout for a flash drive that not only offers ample storage but also great performance? If so, Kingston's DT HyperX 3.0 is well worth a look. It's available in 64GB – 256GB flavors and offers performance of 225MB/s read and 135MB/s write. So let's take it for a spin and see how it fares to the previously-reviewed DT Ultimate 3.0.
---
Introduction
When Kingston released its first high-performance USB 3.0 product last summer, the DataTraveler Ultimate 3.0, we had wondered if and when we'd see a HyperX variant. After all, HyperX products have typically offered "ultimate" performance, so to us, the two naming schemes seemed to clash.
But as we discovered last month, Kingston in its traditional fashion didn't want to rush an enthusiast part out the door early, but let things settle down so that the first HyperX release is one that deserves its name.
With the "Ultimate" and "HyperX" models both offering great performance, who is each model designed for? Similar to mainstream SSDs vs. enthusiast ones, the Ultimate 3.0 models are designed for those who don't need the best performance on the planet but still much better than normal. The HyperX on the other hand is for those who do want the best performance possible.
The G2 version of the Ultimate 3.0 series is clocked at 100MB/s read and 80MB/s write, while the HyperX 3.0 boosts that to 225MB/s read and 135MB/s write. When seeing these specs on "paper", it's easy to see how one is set to differ from the other. And to think, at the time of the Ultimate 3.0's launch last summer, we already saw speeds of at least 3x USB 2.0.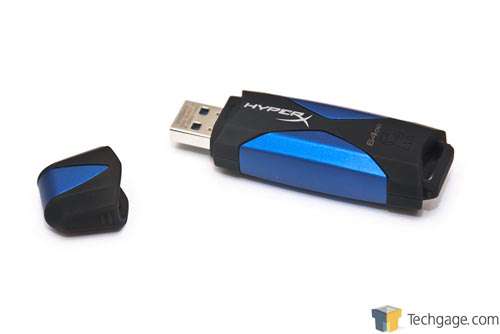 Catering to the idea that the Ultimate 3.0 model is for the average user, it's available in densities as low as 16GB, whereas the HyperX kicks off at 64GB. For those who have a need for huge storage on the go, 128GB and 256GB models are available as well. The 64GB model that we're looking at here retails for about $150, whereas the 128GB can be had for $250. The 32GB Ultimate 3.0, by comparison, can be had for $80 – so while these are two separate series, we can see the pricing for the most part scales.
As seen above, the HyperX 3.0 drive looks like a high-performing one. It features a mostly hard-rubber surface with blue plastic accents that look like aluminum. Though it looks a bit larger than a normal thumb drive, it's lighter than most I've ever used. In fact the Ultimate 3.0 weighs a bit more, though neither will cause you to break a sweat when plugging one into a PC. At least I'd hope not.
Below, a collection of recent Kingston flash drives can be seen for the sake of comparison, both in size and in design. The HyperX 3.0 leads the pack, with the Ultimate 3.0 G2 sitting right behind it. In the absolute back is the super-small DT 109, while the straggler is the DT 6000 – Kingston's latest secure drive that we'll be taking a look at in the weeks to come.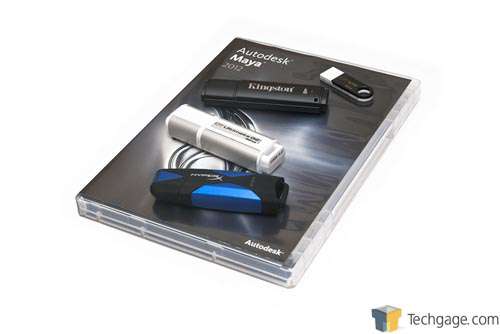 Despite being a super-fast flash drive and packing in 8x8GB channels of memory, the HyperX 3.0 really isn't that big of a drive. In fact, compared to the "normal" DT 6000 in the back, it doesn't even appear to be much larger at all in terms of overall volume.
So how about actually taking this thing for a spin?
Test System & Methodology; Iometer, HD Tune Pro & PCMark Vantage
For most of our performance-type content, we hold nothing back when explaining our methodologies and beliefs. But as this is simply an external storage review, we don't feel there's quite as important a need to do that. If you've read our other performance content, you already know how seriously we take our testing practices, as it's obvious that coming up with an accurate end score for any benchmark is very important. In the case of flash drives, we repeat all tests at least twice to verify that our results are accurate.
For our real-world transfer tests, the source files are stored on Corsair's Force F160 160GB solid-state disk, which avails us a top-end read speed of around 285MB/s. Unless the USB device we're testing with is able to write in excess of that, there should be no bottleneck.
Iometer 2006.07.27
To start things off, we're using Iometer, a popular storage benchmarking application that's as effective as it is customizable. It's for both of those reasons that we choose to use it, and also thanks to the fact that it's capable of outputting the results to both MB/s and IOPS (in/out operations per second). The latter is the value we focus on, as it's become a standard for measuring performance in enterprise/IT environments.
Admittedly, running this test on most USB flash drives, especially 2.0 models, is not entirely important given the typical manner they're used, but it's our goal to see where one excels over another when dealing with such an intensive test. IOPS performance would be very important if you were to install an OS on a flash drive, as long as the bandwidth throughput is also good.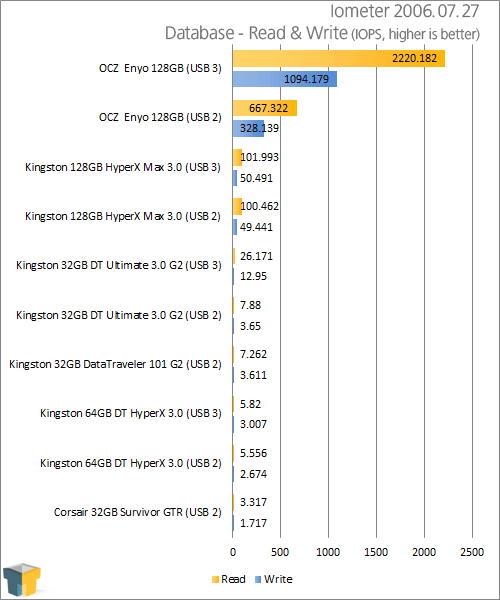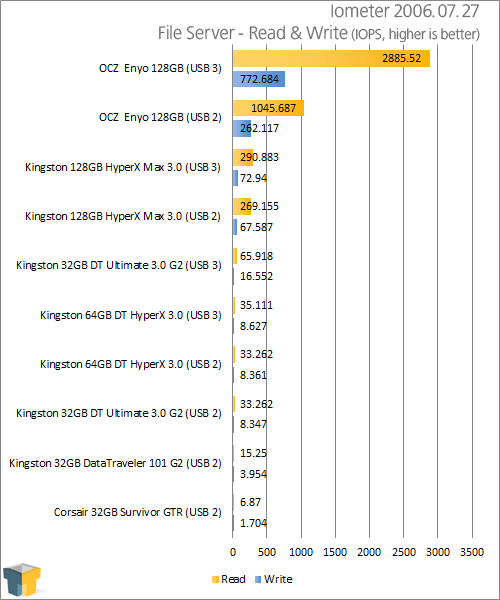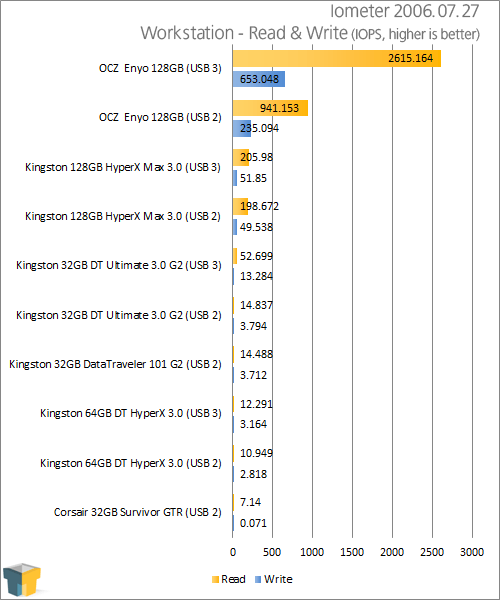 High IOPS is rarely a priority on Kingston's list when developing a product like this, as the company feels the overall throughput is more important than the number of simulataneous transfers that are possible. On a product with IOPS performance comparable to a hard drive, I'd agree, but here, we see IOPS performance much, much lower than even the Ultimate 3.0 – almost 1/4th.
What does this mean to you? Not much if all you are doing is copying over a handful of files at a time. If you are copying over folders with hundreds or thousands of files, the transfer rate will slow down considerably due to the lacking endurance.
HD Tune Pro 3.5
One of the simplest methods for testing storage is with HD Tune, and as it's able to give reliable and repeatable results, we like using it in our testing. Although the program offers a good range of testing methods, we use the basic test that gives us read speeds and also access latencies.
For some reason, HD Tune seems to work better on thumb drives and hard drives than it does on SSDs (SATA 6Gbit/s SSDs rarely show their true colors here, for example), and these results show that to be the case. OCZ's Enyo external SSD has IOPS performance quite literally 500x the HyperX 3.0, but its throughput performance lacked a bit here. The HyperX 3.0 walks away a clear winner – where access times are not concerned, at least.
PCMark Vantage
One of the more popular storage benchmarks currently is Futuremark's PCMark Vantage. Even though this is a suite designed to benchmark your entire machine, it's HDD suite test is quite robust and is good at delivering scores that scale well with the storage device you are benchmarking. Almost all of the storage companies we deal with regularly recommend using it, so we do.
Compared to the Ultimate 3.0, the improved speeds on the HyperX 3.0 pushed it well into the lead. No thumb drive seems to compare to OCZ's Enyo and Kingston's own HyperX Max external SSDs, however.
CrystalDiskMark, ATTO, Real-World
Over the past year, many storage companies have been jumping on the CrystalDiskMark bandwagon to help strut their product's performance, and it's easy to understand why. Compared to others, CrystalDiskMark delivers results that are much higher, and in some regards, they could be considered unrealistic given that real-world tests and even other synthetic benchmarks never seem to back up its claims. We include it for the sake of interest and because it is still a very thorough benchmark.
In all tests aside from the 4K, Kingston's HyperX 3.0 performed incredibly well. Its low 4K scores are likely related to the low IOPS performance we saw exhibited earlier.
ATTO
While CrystalDiskMark does well to show the absolute top-end value of a storage device, ATTO doesn't fall too far behind, if at all. Its test uses a wide-range of cluster sizes, for both read and write, but we only note 4KB, 64KB and 1024KB of the former. For those interested, we use a queue depth value of 10 for testing.
According to ATTO, the HyperX 3.0 is even faster than both the Enyo and HyperX Max in nearly every test (the Enyo did score a bit better in the 1024KB test). Let's see how this translates to our real-world tests.
Real-World
For real-world testing, we use a set of files and folders for the sake of measuring transfer speeds, and also convert images and music on the storage device to see just how well it fares for large intensive operations. For the transfer speeds, we use both 4GB and 16GB files and folders, and for the former, we also perform copy tests, which refers to copying the file or folder on the storage device. We don't do this for our 16GB files and folders as some 32GB drives refuse it due to coming so close to the total density.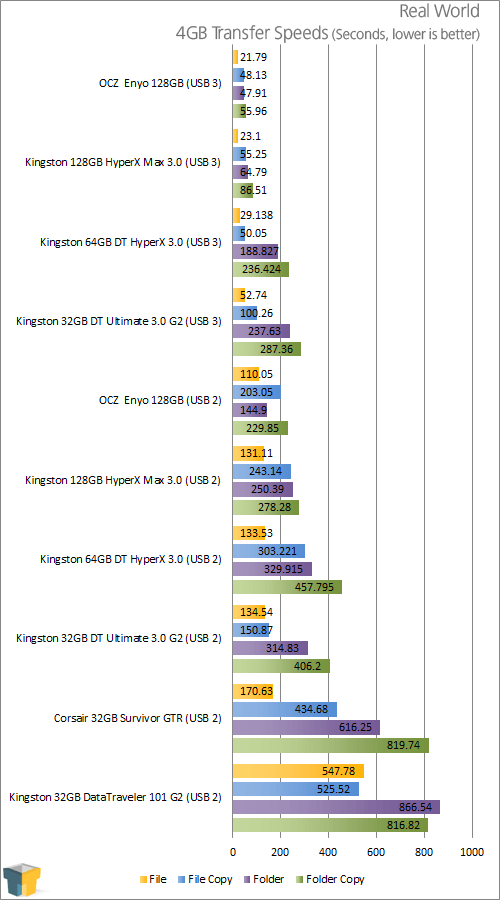 While the HyperX 3.0 doesn't quite reach the speeds of the Enyo and HyperX Max, it does easily surpass the performance of the Ultimate 3.0. Our 4GB folder transfer on the Ultimate 3.0 took 237 seconds, while it took only 188 seconds on the HyperX 3.0.
Thanks again to its low IOPS performance, the HyperX 3.0 performs marginally better than the Ultimate 3.0 in our folder transfer test here. When dealing with a single file, IOPS performance doesn't matter, and there is where we can see this drive truly shine. Compared to the Ultimate 3.0, the HyperX 3.0 transfered our 16GB file nearly twice as fast.
It might have a faster rated throughput speed, but the Ultimate 3.0 wins the overall battle here.
Final Thoughts
On the first page of this article, I mentioned that the Ultimate 3.0 series is better geared for the "regular" consumer, while the HyperX 3.0 is designed for enthusiasts – something Kingston backs up in its press materials. However, as is typical when reviewing products like this, reaching a conclusion about their worth is never clear-cut.
Outside of its internal SSD products, Kingston's focus has always been more on throughput performance than operations-per-second (IOPS), and for the most part that's fine. However, the IOPS performance exhibited on this drive can at points cause slowed performance that you just wouldn't expect on an enthusiast part.
For many, this might not be an issue. It all boils down to what the thumb drive is going to be used for. Are you copying over 10GB movies to bring to a friend's house? The HyperX 3.0 will be the clear winner thanks to its strong throughput performance. Backing up a folder with thousands of files within? Don't expect greater than USB 2.0 performance when doing so.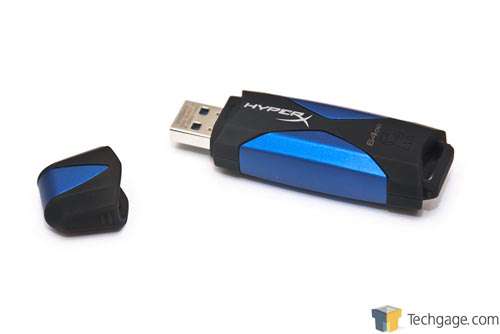 At $150, the HyperX 3.0 64GB costs just about the same as an OCZ Enyo 64GB – a drive that features unparalleled IOPS performance. Though it's a drive that touts identical specs as the HyperX (225MB/s read, 135MB/s write), we were able to copy over a 4GB folder filled with 4,700 files to it in 48 seconds, whereas it took 188 seconds with the HyperX 3.0.
See where this gets hard to sum up? The Enyo performs better almost always, and costs the same. One thing Kingston does have going in its favor is that the HyperX 3.0 is a small and light drive that can be tossed into a pocket no problem, whereas the Enyo is much larger and requires the carrying around of a cable. The HyperX's size is likely one of the reasons that Kingston couldn't squeeze out more IOPS performance, but it's still a little strange to see ~10 IOPS 4K performance when the drive features 8 channels.
The gist of it all is this. If you're data transfer needs are simple, in that you aren't copying over thousands of files to your drive on a regular basis, the HyperX 3.0 is the drive to get. If the opposite is true, the OCZ Enyo (or Kingston's HyperX Max 3.0, though I haven't been able to find it for sale) would be a better choice. Convenience also must be taken into consideration, though. While the Enyo is the faster drive overall, it's not nearly as small and convenient as the HyperX – so if convenience is a key factor in your decision, Kingston wins hands-down.
With the next iteration of this drive, I'd love to see IOPS performance boosted as much as possible even if it meant the throughput was just a bit less. When dealing with huge multi-file transfers, 1GB/s throughput wouldn't matter if the IOPS was a single-digit value.
Discuss this article in our forums!
Have a comment you wish to make on this article? Recommendations? Criticism? Feel free to head over to our related thread and put your words to our virtual paper! There is no requirement to register in order to respond to these threads, but it sure doesn't hurt!
Copyright © 2005-2021 Techgage Networks Inc. - All Rights Reserved.