Kingston DataTraveler Ultimate 3.0 32GB

Date: November 17, 2010
Author(s): Rob Williams

If you're in the market for a flash drive and your PC supports USB 3.0, seeking out a compatible product is a no-brainer. The speed potential is huge, and most often, the cost premium is not. In the case of Kingston's DataTraveler Ultimate 3.0, it's 2.5x faster than the fastest USB 2.0 drive, and features far better IOPS performance.
---
Introduction
About a year ago, motherboards began trickling out to the market that featured support for the USB 3.0 protocol, and afterward, it took a good six months before consumers had any sort of real choice of products that could take advantage of it. It's primarily been storage devices that companies are pushing, and for good reason. Can you think of another USB peripheral that could benefit from such huge bandwidth? HD Webcams, perhaps, but we've yet to see any of those.
The first proper USB 3.0 device we took a look at was Super Talent's SuperCrypt flash drive this past summer, and overall, it showed us just what these new-fangled USB ports are capable of. That drive was more of an SSD model though, as it featured high-quality NAND chips capable of pushing a huge number of IOPS. The downside? Pricing, of course.
Months later, we took OCZ's Enyo for a spin, and once again, the performance was quite spectacular. It became clear that for those who want ultimate speed in their portable devices, real options were coming to market. Like regular SSDs though, the pricing of these portable drives are much higher than a typical thumb drive, so what if a company pushed out a thumb drive that used modest memory chips but still supported USB 3.0?
That's Kingston's idea behind the DataTraveler Ultimate 3.0, and at $100 USD for the 32GB model, the price seems to be right. The drive promises read speeds of 80MB/s and write speeds of 60MB/s, so it certainly holds the potential to live up to its "ultimate" name.
Closer Look
Kingston's DataTraveler Ultimate 3.0 comes in a rather simple blister pack, and as is typical of most blister packs, it's a true pain to open. I came close to cutting myself, but prevailed unscathed. Inside of the package is a dual-headed USB cable that you can use to plug the drive into two different 2.0 ports at the same time in case there isn't enough power being delivered (this isn't a problem I experienced).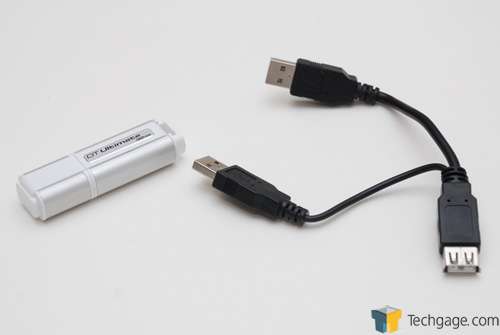 The drive itself is larger than most 2.0 drives, but it's still quite manageable, and compared to the SuperTalent SuperCrypt as seen in the photo below, it's far smaller – despite having the same density.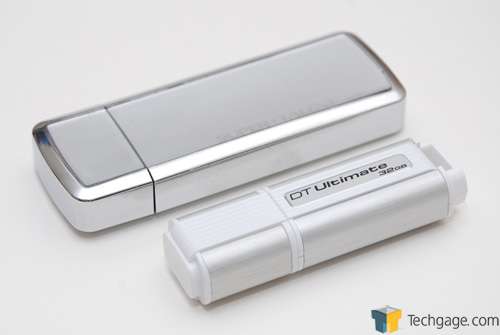 The DT Ultimate 3.0 is a drive that features no real frills aside from its performance. It doesn't include security software to encrypt data or anything of the sort, but for most people that isn't going to matter. For me, it's a benefit, since security partitions tend to bork the drive for Linux use. Instead, this drive should work in any computer you plug it in, thanks to the fact that it's 2.0 backwards compatible.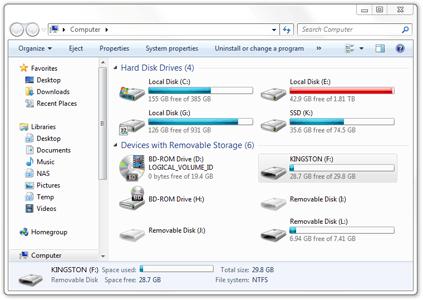 Let's dive right into our test methodology and also our results.
Test System & Methodology; Iometer & HD Tune Pro
For most of our performance-type content, we hold nothing back when explaining our methodologies and beliefs. But as this is simply an external storage review, we don't feel there's quite as important a need to do that. If you've read our other performance content, you already know how seriously we take our testing practises, as it's obvious that coming up with an accurate end score for any benchmark is very important. In the case of flash drives, we repeat all tests at least twice to verify that our results are accurate.
For our real-world transfer tests, the source files are stored on Intel's X25-M G1 solid-state disk, which avails us a top-end read speed of around 250MB/s. Unless the USB device we're testing with is able to write in excess of that, there should be no bottleneck.
Iometer 2006.07.27
To start things off, we're using Iometer, a popular storage benchmarking application that's as effective as it is customizable. It's for both of those reasons that we choose to use it, and also thanks to the fact that it's capable of outputting the results to both MB/s and IOPS (in/out operations per second). The latter is the value we focus on, as it's become a standard for measuring performance in enterprise/IT environments.
Admittedly, running this test on most USB flash drives, especially 2.0 models, is not entirely important given the typical manner they're used, but it's our goal to see where one excels over another when dealing with such an intensive test. IOPS performance would be very important if you were to install an OS on a flash drive, as long as the bandwidth throughput is also good.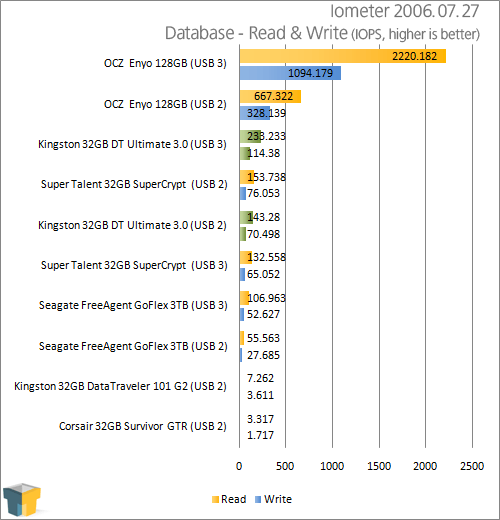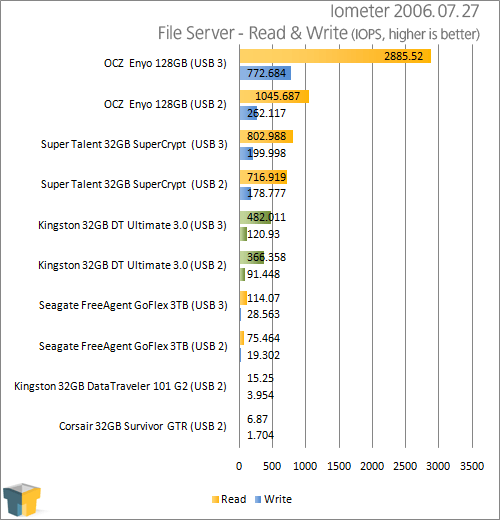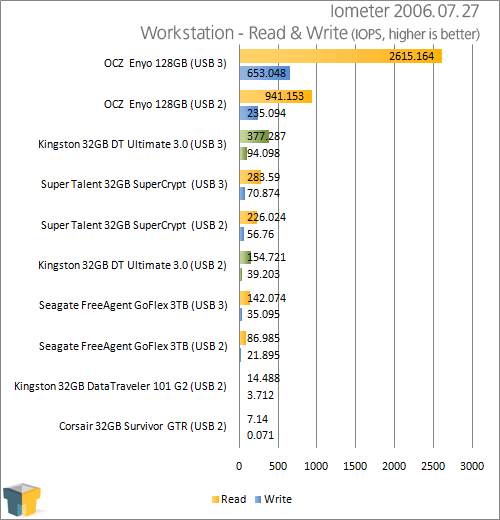 Kingston's DT Ultimate 3.0 doesn't quite reach the IOPS potential of the Enyo, but that's of little surprise given that product's use of higher-end NAND flash. Kingston's drive did compete nicely with Super Talent's, however, coming out on top overall.
HD Tune Pro 3.5
One of the simplest methods for testing storage is with HD Tune, and as it's able to give reliable and repeatable results, we like using it in our testing. Although the program offers a good range of testing methods, we use the basic test that gives us read speeds and also access latencies.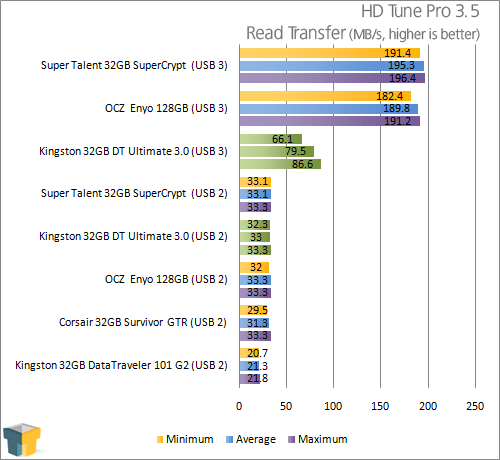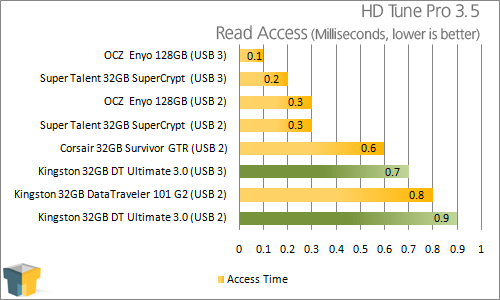 Kingston's drive continues to deliver great performance here, and as expected, it doesn't quite reach the ultra-high heights that both Super Talent and OCZ saught out to hit. Even so, at 79.5MB/s read, the DT Ultimate 3.0 hits its spec'd performance and is almost as fast as a mobile hard drive.
PCMark Vantage
One of the more popular storage benchmarks currently is Futuremark's PCMark Vantage. Even though this is a suite designed to benchmark your entire machine, it's HDD suite test is quite robust and is good at delivering scores that scale well with the storage device you are benchmarking. Almost all of the storage companies we deal with regularly recommend using it, so we do.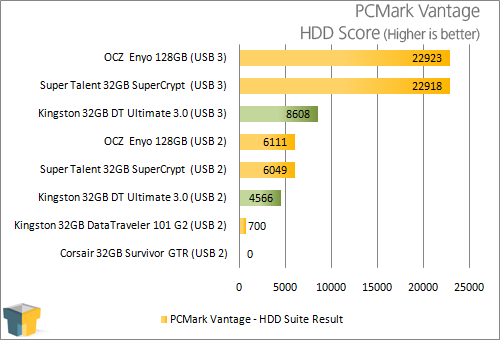 The results here scale similarly to our HD Tune test, so nothing's too surprising here. It is interesting to see the overall performance difference between a standard USB 2.0 thumb drive and Kingston's 3.0 drive, though.
CrystalDiskMark, ATTO, Real-World
Over the past year, many storage companies have been jumping on the CrystalDiskMark bandwagon to help strut their product's performance, and it's easy to understand why. Compared to others, CrystalDiskMark delivers results that are much higher, and in some regards, they could be considered unrealistic given that real-world tests and even other synthetic benchmarks never seem to back up its claims. We include it for the sake of interest and because it is still a very thorough benchmark.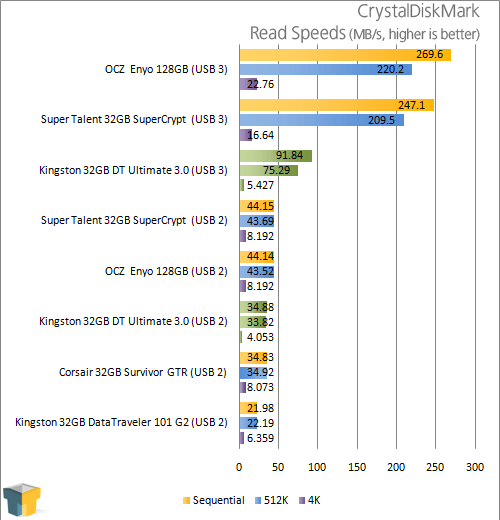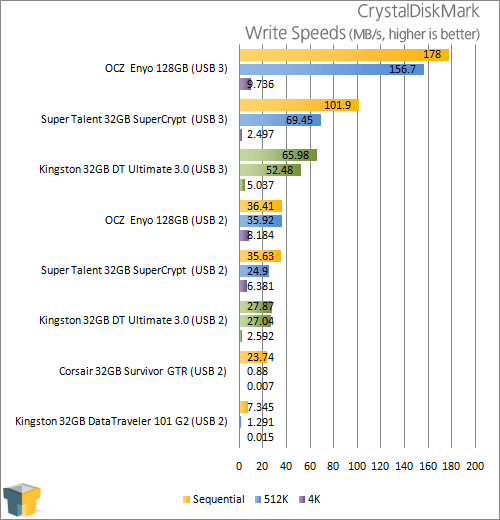 Like our previous couple of tests, Kingston's drive falls behind both SSD-equipped models, which is to be expected. We're still seeing some killer performance though, especially when compared to any USB 2.0 drive.
ATTO
While CrystalDiskMark does well to show the absolute top-end value of a storage device, ATTO doesn't fall too far behind, if at all. Its test uses a wide-range of cluster sizes, for both read and write, but we only note 4KB, 64KB and 1024KB of the former. For those interested, we use a queue depth value of 10 for testing.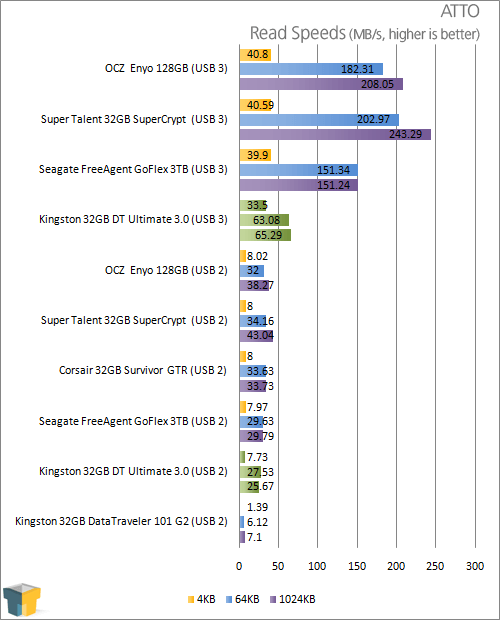 The performance continues to impress here, especially where 4K reads are concerned. There, Kingston's offering keeps close to our SSD offerings, and even Seagate's 3TB external hard drive.
Real-World
For real-world testing, we use a set of files and folders for the sake of measuring transfer speeds, and also convert images and music on the storage device to see just how well it fares for large intensive operations. For the transfer speeds, we use both 4GB and 16GB files and folders, and for the former, we also perform copy tests, which refers to copying the file or folder on the storage device. We don't do this for our 16GB files and folders as some 32GB drives refuse it due to coming so close to the total density.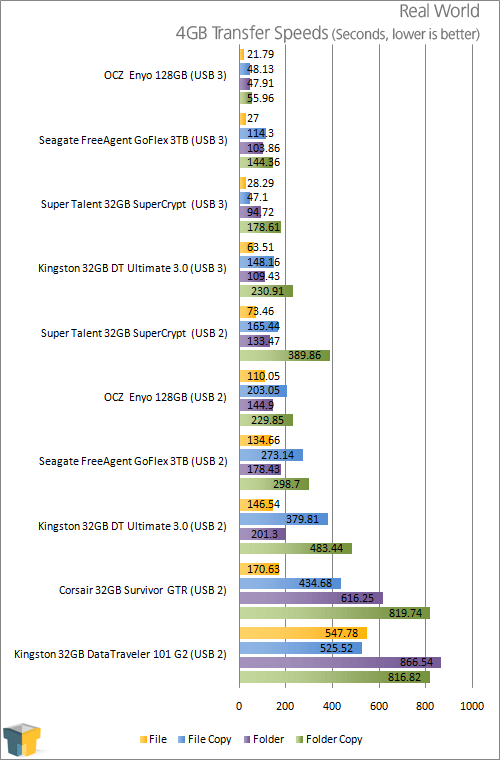 Compared to our SSD offerings, Kingston's drive clearly lags behind, but given the pricing differences, it's hard to not appreciate what we're seeing here. We copied a 4GB file in a mere 64 seconds via USB 3, which oddly enough, equates to about 64MB/s.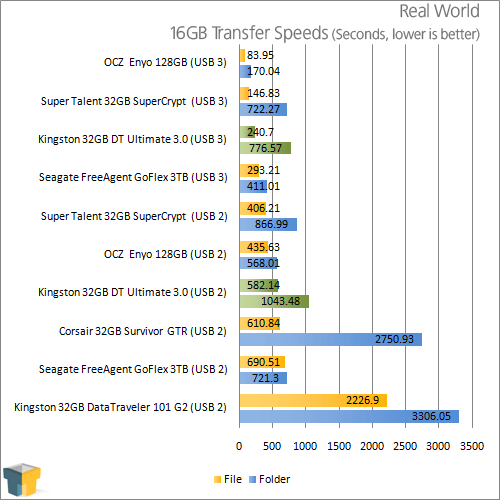 We saw similar performance with our 16GB tests, with our solid 16GB file (15.6GB) coming out to about 66.56MB/s. Considering the drive is rated for 60MB/s, these results are great.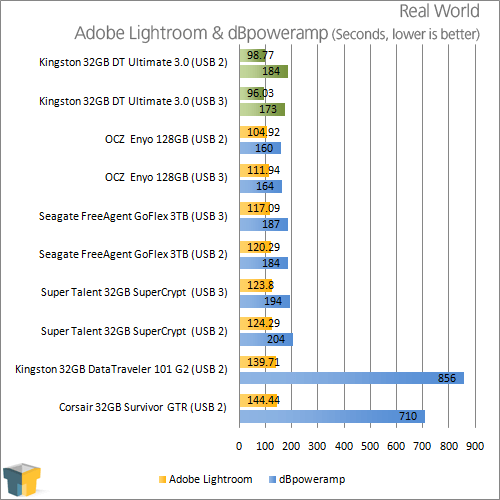 The result here is a bit surprising, with both Lightroom having run exceptionally well on Kingston's drive. dBpoweramp fell in line with the others.
Final Thoughts
For those who transfer files a lot and can't stand waiting for those transfers to finish, a drive like Kingston's DataTraveler Ultimate 3.0 is perfect. It takes great advantage of the USB 3.0 bus but doesn't cost an arm and a leg like some other models. At the performance we did see here, Kingston's drive is about as fast as a mechanical mobile hard drive in the read department (~86MB/s), and even faster in the write (~66MB/s).
The DataTraveler Ultimate 3.0 doesn't offer much in the way of frills, but for most people, that's not going to matter. If you care a lot about security, this drive might not be for you, unless you want to take the DIY route which isn't all too difficult. There are no security partitions here, just pure unadulterated free space to be taken advantage of.
Price-wise, Kingston's drive isn't exactly economical, at around $100 USD for the 32GB version. By comparison, an OCZ ATV 32GB USB 2.0 drive, which it about as fast as the USB 2.0 bus would allow, retails for around $60. There are even other USB 3.0 offerings that are a bit cheaper for the same density, but even still, Kingston has a good thing going with this product.

Being that it's a USB 3.0 drive, and offers at least 2.5x the performance of a standard USB 2.0 drive, the DataTraveler Ultimate 3.0 is a no-brainer if you are in need of a high-density thumb drive and happen to have a computer with USB 3.0 support. The performance is unparalleled compared to USB 2.0 counterparts, not only with the raw throughput, but with IOPS as well. That will make a huge difference when copying over folders and boatloads of smaller files.
The drive is also rather attractive, if that's something you care about. Even more important, it's durable on all sides, and the cap actually stays in place (it'd fall off only if something actually grabbed the cover well enough and pulled on it… it might come off you haul it out of tight pockets, but that's common of any thumb drive), and I had to quite forceably squeeze the center of the drive in order to hear a creak.
Overall, this is a great product from Kingston, and I liked it even more than I thought it would. It offers just what it promises, and more, and for that, it deserves our Editor's Choice award.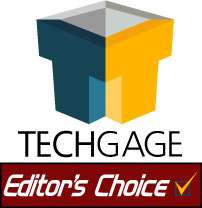 Kingston's DataTraveler Ultimate 3.0 32GB
Discuss this article in our forums!
Have a comment you wish to make on this article? Recommendations? Criticism? Feel free to head over to our related thread and put your words to our virtual paper! There is no requirement to register in order to respond to these threads, but it sure doesn't hurt!
Copyright © 2005-2020 Techgage Networks Inc. - All Rights Reserved.