Lamptron FC Touch Fan Controller Review

Date: March 18, 2011
Author(s): Ryan Perry

Think fan controllers are boring? You haven't seen Lamptron's FC Touch, then. This is a unit that's encapsulates three important factors. It looks great, is powerful, and is simple to use. It can power up to 6x 30W fans, and it has a touch screen that's reliable and does just what is promised. Though a bit expensive, the FC Touch is unmatched.
---
Introduction
About two years ago, while I was visiting an overclocking forum, I came across a post about a fan controller from a company that I had never heard of named: Lamptron. What impressed me was that an employee had taken the time to register as a forum member and began fielding questions as well as providing updated information on when the units would ship.
The controller itself looked very solid but at the time I was running a basic system that did not require one. Since reading that post, I have been keeping tabs on the company, and not only do I have a system with multiple fans now, but I have the chance to take one its controllers for a test drive.
To some, fan controllers may not have changed much but recently there seems to be a shift towards a more technologically savvy touch style controller, as is the case with the FC Touch. The faceplate of the 5.25″, 6 channel controller comes in black anodized or straight aluminum with a simple screen stretching from left to right. Immediately after removing it from the box, there is a feeling of quality due to the weight. This is partially due to the CNC milled aluminum face plate, but this is more than just a big piece of metal as you will see.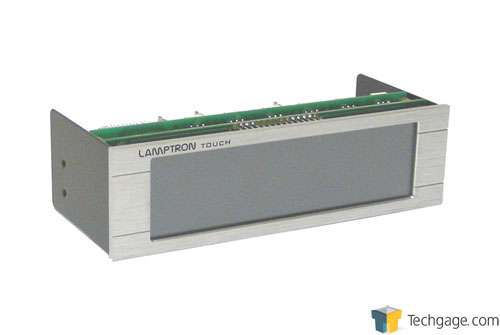 Across the top of the back side are the 6x 3-pin fan connections that support 30 watts each. Below that is the alarm speaker that will sound if temperatures stray outside of the preset limits. On the right side is the 4-pin Molex connection to power the unit, the 6x 2-pin temperature sensor connections below, and the 2-pin jumper for the alarm below that.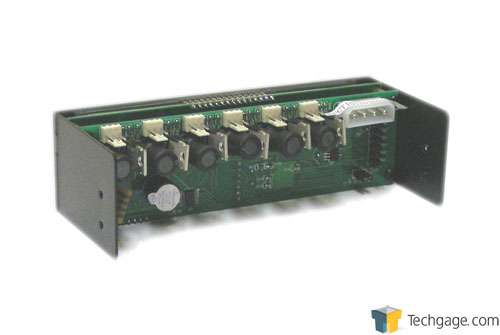 For those who are a little bit more adventurous, the black screws in each corner can be removed from the first PCB layer, which we just looked at. This will give a view of the Rubycon capacitors, which come with a temperature rating of 105 degrees and an ARM chip. "Wait, did he say an ARM chip?" Yes I did. The STM32 chip acts as the brain of the fan controller, and is based on the Cortex-M3 core. While the data sheets on the manufacturer's website would not load, this chip falls into the performance line so there should be no issues with it handling the intended tasks.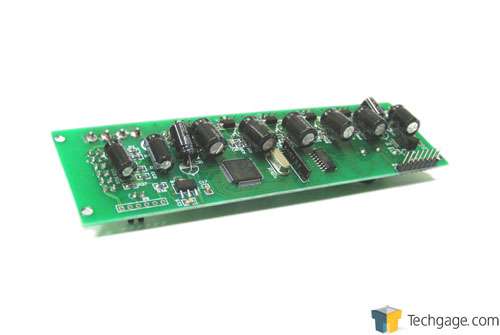 Included with the controller are 6 fan extension cables and 6 temperature probe connections. Rounding out the package is a spare alarm jumper, 4 black mounting screws, a 4-pin Molex extension cable and the instruction manual.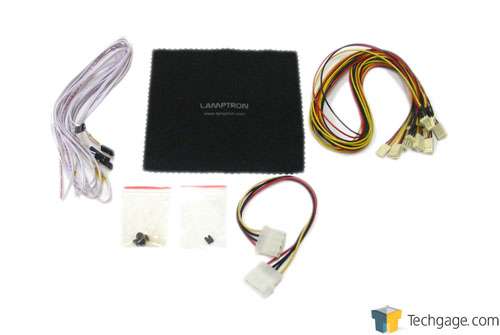 All in all, from a hardware standpoint, this looks to be another solid fan controller from Lamptron, continuing on with what I saw two years ago. Testing and installation is up next and I hope to be wowed since my experience with touch based fan controllers has been subpar to date.
Installation & Testing
While the controller that we received for review may look a little out of place seeing how most modern cases are black, from a design standpoint, there were no issues at all. Installing the unit was as simple as connecting the power, fans and temperature probes, sliding it into an open 5.25″ drive bay and securing it with the included screws.
All of the connections were made prior to securing the unit since there would be almost no room to work within the drive bay. The fan controller is less than half the depth of an optical drive, so for people with large hands, this proved to be an easier way.
Out of simplicity, testing is being performed outside of the case with our volunteer fans being a 120mm SilenX iXtrema Pro IPX-74-14, an over-the-top 60mm Vantec re-badged Delta AFB0612EH and a spare 120mm fan from a CoolIT Vantage ALC.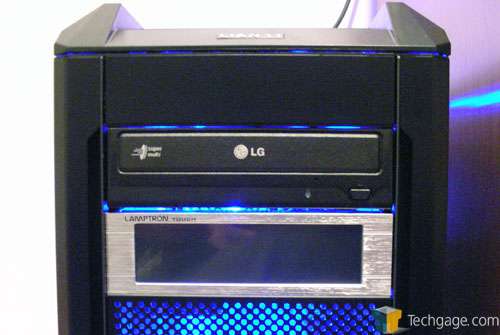 The SilenX fan claims to be capable of moving 72 cubic feet of air per minute (CFM) while spinning at 1400 revolutions per minute (RPM) at only 14 A-weighted decibels (dBA) but proved to be louder as found in previous testing. The Delta is, well, a Delta. It is insanely fast at 6,800 RPM, moves 38.4 CFM at a screaming 46.5 dBA and will skin your knuckles if you are not careful.
Finally, the CoolIT fan was chosen because it is near silent when regulated by the Vantage block/pump unit but can be very loud if left to spin up to full speed. Very little is known about this fan but specs from the website show it is rated for between 1,100 and 2,500 RPM. These three fans should allow this review to cover the full spectrum.
Upon powering up the unit and pressing the small power button on the lower right side of the screen, users are greeted with a display that shows 6 fans in white as well as the ability to choose between three different brightness levels by touching the small light bulb icon in the bottom left corner. To change the performance levels of a fan, simply select that fan number to bring up the options. There are two options overall, A for automatic and M for manual. Automatic will allow the fan controller take over while manual will allow users to tailor the fans to their liking.
Users can show the current state of the fan in either RPM or voltage. Simply touch the upper left area of the screen that shows either value to switch to the other. Speed or voltage changes are done one of two ways; by touching the percentage indicator to raise the speed in 1% increments or by sliding across the bottom center portion of the screen to change them in real time. Users can switch between fans by touching the left or right arrows. The final option is changing the temperature displayed in the upper right corner from Celsius to Fahrenheit, which is done in the same manner as switching from RPMs to voltage. Just a quick tap will do the trick.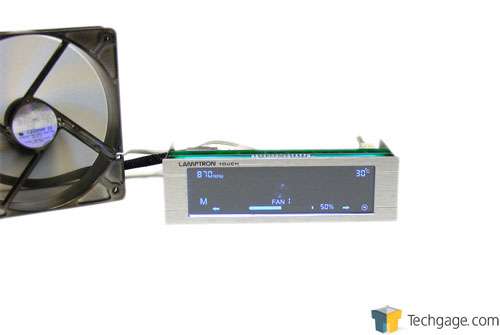 Raising the speed in 1% increments was done for each fan to get an idea of where they began to spin up. This would be for users who want to have the quietest system possible. The SilenX fan began spinning at a mere 820-900 RPM, or 50% while the Delta would sputter to life at 950-1,000 RPM or 38%. The CoolIT fan was a bit of a surprise when it spun up at 1,095 RPM or 49%. This puts it dead in line with how it runs when connected to the Vantage.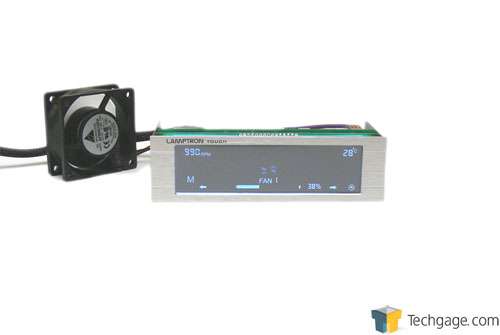 While I am happy with the fact that two out of the three fans are able to run at lower than normal minimum RPMs as specified by the manufacturer, cooling power is sacrificed so it will likely come down to balancing both noise and cooling for each specific fan.
Each area of the screen that allowed for changes was spot on. I was wary of the slide feature that was far from perfect in another controller that I had used, but it worked flawlessly here. A quick tap at the top of the scale and the fan spun up to 100%. Another quick tap in the middle and it dropped to 50%. I found myself at one point going back and forth to see if there was any noticeable delay but found nothing to be concerned about.
I do not think there is much more to say so it is time to wrap this up.
Final Thoughts
This controller has completely restored my faith in touch based units. It is very simple yet attractively designed, built for some serious punishment thanks to high-end components, the touch screen responds instantly with very little pressure needed and is precise enough for users to really fine-tune each fan in their system with ease. The display can also be viewed at some very extreme angles making it ideal regardless of the location of the case.
I am sitting here trying to find fault with the FC Touch and can only think of one thing. Light that can be seen coming from behind the top edge of the face plate. It would have been nice to see the face plate could extend over the glass in order to block this out. On a controller that works this well, I may just be splitting hairs but it is something to note for those who pride themselves on the appearance of their case.
Availability of this controller seems to be a quite sparse. I could not find a Canadian retailer that carried this particular model. Only a handful of retailers in the US seem to carry it but it comes in at around $70. This may seem like a lot but if you manage to find one at your local retailer, jump at the chance. In the case of this controller, the premium certainly seems valid.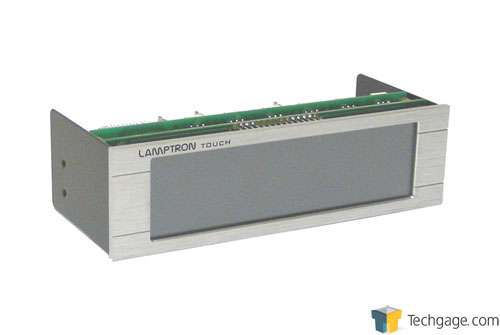 Given this impressive product, you can bet that I will continue to keep a close eye on Lamptron to see what else the company rolls out next.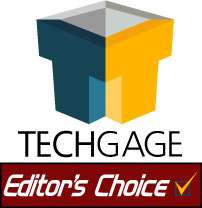 Lamptron FC Touch Fan Controller
Discuss this article in our forums!
Have a comment you wish to make on this article? Recommendations? Criticism? Feel free to head over to our related thread and put your words to our virtual paper! There is no requirement to register in order to respond to these threads, but it sure doesn't hurt!
Copyright © 2005-2020 Techgage Networks Inc. - All Rights Reserved.