Lavalys Everest Ultimate Edition 3.0

Date: July 10, 2006
Author(s): Rob Williams

Lavalys have recently announced their latest version of the popular Everest benchmarking program, and have included some notable updates. We take a quick stroll through to see what has been updated and added. Is it worth a buy or upgrade?
---
Introduction
Lavalys has recently released a major upgrade to their Everest product, so we are going to take a quick look through and see what's new. For the uninitiated, Everest is a leading benchmarking tool among enthusiasts. Beyond it's few benchmarks though, it's a tool used to give every inch of info you may need to know about your PC. I first learned about Everest a few years ago, when a friend recommended me use the Report feature. Needless to say, I have been a user since.
Last year, we took a look at version 2.0, aka Ultimate Edition 2005. That version improved a lot over its predecessor, and the same can be said about 3.0. According to the press release, we will see a lot of the core elements improved. Most notably, we see Intel Core 2 support, a system burn-in test, smart battery information for laptops and a far better looking CPUID panel.
If you want to know what Everest offers as a whole, be sure to check out our article of 2.0, as nothing has changed dramatically since then. The tools that enthusiast benchmarkers use regularly have not changed since 2.80, which is a good thing. Multiple tests comparing the results from 2.80 to 3.00 gave similar results.
EVEREST Corporate Edition 3.00 adds integrated remote control, enhanced support for the latest technologies from Intel and AMD as well as the most complete and accurate hardware recognition engine ever.
LAVAL, CANADA, June 27, 2006 Lavalys Inc., a leader in IT management solutions for both individuals and enterprises, announced today the next evolution of its network audit and IT asset management software with the introduction of EVEREST Corporate Edition (EVEREST CE) version 3.00. This release is available in 34 languages and contains significant enhancements to the company's flagship product.
Strong of its new and previously established partnerships with hardware industry leaders Corsair Memory, NVIDIA, Abit, ATI and Matrox amongst others, the company is confident this release of EVEREST CE includes the most comprehensive and accurate network audit engine to date.
Those partnerships combined with our existing experience in the field not only ensures that EVEREST CE remains ahead of the competition but also add improved capabilities for the product to support new hardware before it hits the public which is definitely a big plus for our users as they can be now more confident than ever that no matter how new their computers are, EVEREST CE will detect all of their components, said Roger Marion, President and Chief Executive Officer. This can be experienced right away since EVEREST CE 3.00 already supports Intel Core 2 Duo, Intel Core 2 Extreme and Intel Xeon 5100 Series processors which are scheduled for release later this summer.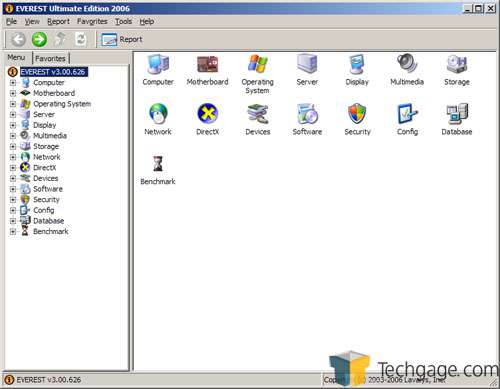 This release also introduces the new EVEREST Remote Control (EVEREST RC) module which offers a one-click-away solution to access and control any EVEREST enabled machine and its resources from any locationas if you were there. With EVEREST RC, you can easily run programs, manipulate data, print reports, transfer files, troubleshoot, and provide live technical assistance and much more on remote systems. Designed with help desks, network administrators, tech support departments and IT services professionals in mind, EVEREST RC provides the right mix of functionality and freedom to increase global efficiency while decreasing required time and efforts.
Other new features and enhancements in EVEREST Corporate Edition 3.00 include:
Wider support for SpeedStep, PowerNow! and CoolnQuiet enabled systems
Smart Battery information
CPU diode temperature measurement for the latest AMD and Intel processors
System Stability Test
Support for NVIDIA/Corsair Enhanced Performance Profiles
System Stability Test
It's about time! That's all I have to say about a stability test. This tool allows you to stress test your CPU, Memory and hard drives… all at the touch of a button. It uses the benchmarking tests, such as the CPU PhotoWorxx and FPU Mandel, and repeats them over and over, until you stop it. Generally, a stress test stresses more than just one piece of hardware at a time, and so does this. Each of the tests will overlap each other, to give a more accurate result.
Once the test is finished, it you want to save your results you can… in the form of a PNG file. Whether this stress test is better than others is yet to be seen, but it's a fantastic tool regardless. Allowing you to stress three vital components all at once is a great way to ensure system stability. I have to wonder if we will see a graphics test added into the mix soon?
CPUID
The CPUID feature has been greatly updated and looks far better than any other out there. Depending on whether you have an AMD or an Intel, the background image will be different. It displays all of the basic information that you will need, including memory timings. Everest grabs information on the program startup, so if you change values while it's open, it will not automatically update. For instance, I tweaked my memory timings through A64 Tweaker, but CPUID displayed the same info. Once I restarted the entire program, it displayed the values properly.
While I love the new CPUID, I will still not use it instead of CPU-z. CPU-z contains even more information, but it's just not as pretty. If Lavalys made CPUID a standalone EXE, I am sure more people would use it.
Disk Bench, Smart Battery, Conclusion
Oddly enough, this is a feature that's been in prior versions of Everest, although I have never actually noticed it until this one. It offers similar tests that HD Tach/HD Tune offer, but Everest seems to be slightly more in-depth. You can perform a variety of read and write tests on your hard drives or flash drives, and save the report once you are done. The report is a PNG file though, not a text or html.
Smart Battery
Previous EVEREST versions have included Smart Battery information, but 3.0 adds a lot more specific info you may want to know. That includes specific battery model info, and even how much power it can hold. As you can see, my battery seems to be well past it's prime.
Conclusion
There's never a real conclusion for a benchmarking program, but Everest has become one of my favorites. It packs a lot of benchmarking power, and also complete system information reports. Though 3.0 didn't introduce anything spectacular, it's still a worthy upgrade if you are upgrading from 2005. Without a doubt, it's worth the cash if you don't currently own it, just because of the instant information you can find out about your PC… if you do this sort of thing often at least.
I'd love to see some additions in the future though. There's never been a graphics benchmark in any of Lavalys' products.. but why? Even old school versions of SANDRA have included some sort of graphic rendering test. Even a simple D3D cube would be appropriate during the system stress test feature.
Most of the available tests allow you to save the results… but as a PNG file. I'd rather see the capability of saving to a log file, because anyone can easily save a screenshot of the report themselves if they wanted to. It would take much longer to type it out my hand though.
One of my biggest gripes with Everest has been the fact that their benchmark results can change drastically with each new version. That means that overclocker's or hardware reviewers alike, always have to make sure that their version is up to date, in order to accurately compare against other scores. Not that I have a problem with minor tweaks, but some of the incremental version updates can prove to have completely different benchmarking results. 3.0 doesn't change anything Memory wise, but the FPU tests have turned up different results on both computers I have tested.
Either way, Everest is constantly getting better and I hope to see things continue that way. Of course, even if you grab the free version, you will have access to most of the program. Power users will definitely want to spring for the full version though. To purchase or learn more, you can jump over to their site here.
Discuss in our forums!
If you have a comment you wish to make on this review, feel free to head on into our forums! There is no need to register in order to reply to such threads.
Copyright © 2005-2019 Techgage Networks Inc. - All Rights Reserved.