Lenovo L220X 22″ Widescreen LCD Monitor
Date: June 4, 2008
Author(s): Matt Serrano

Lenovo tests the waters in the LCD market with a product that we've been waiting quite some time for — a 22" LCD monitor that offers a 1920 x 1200 native resolution. But is its resolution alone enough reason for you to give it the nod?
---
Introduction
It's no exaggeration to say monitors have been in a rut with the most recent releases. For most high end consumer monitors, high expectations, lackluster performance and quality control issues have plagued them to the point that some enthusiasts are returning them in droves. Go to any tech message board on the web with a monitor forum, and you'll inevitably find tons of complaints. There are options out there, but there's a good chance that you will have to compromise somewhere.
If you look at any 24" available today, you'll find they all have at least one thing in common, the resolution. They all display at a resolution of 1920×1200. However, if you look at just about every 22" monitor, you'll only find a resolution of 1680×1050. A two inch difference results in a loss of 540,000 pixels. The fact that these panels are almost always TN panels, you've got a whole category of monitors that, in a few ways, are heading backwards. That's not to say they're going against the tide.
Lenovo's L220X takes these precedents and disposes of them completely. It is the first 22" monitor that has a resolution, using a S-PVA panel. So what's the benefit of having a smaller monitor at a higher resolution? For a start, the size can make a huge difference where you can put it. I personally have a desk that prevents me from using 24" screens, but any 22" display will fit without a problem. The increased pixel pitch and smaller size allow you to sit closer while gaming and the image will look better as a result.
It is silly that no one besides Lenovo has the sense to release a product to cater to the people who demand a product like this. If laptops are being sold with 17" screens that have comparable resolutions, why can't 22" desktop monitors be more plentiful? Companies like Dell, NEC or ViewSonic, who all have further recognition in the consumer space, should do the same.
Even though the resolution makes the monitor intriguing, there are other factors that make or break a display. We'll put it through our testing procedures to see if the monitor fails to disappoint or not. Will the new panel be a positive sign of things to come, or will Lenovo's effort fall flat as another disappointment?
Closer Look, Specs, OSD
With all things considered, I'm at odds with the design. I think most home users would find it rather boring (heck, it's no Dell Crystal). To put it simply, it's no where near the high point of the monitor. It is relatively thick, and at the monitor's widest point, it can be considered double the thickness of other displays.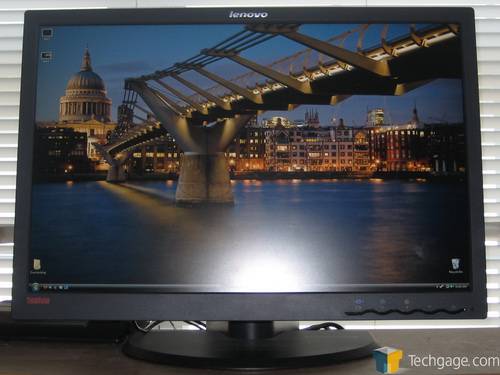 The buttons are represented in a wave pattern, marked with a diagram of their function. From left to right, there is the input switcher, left and right navigation buttons, an enter button to save changes made in the on screen display menu, and the power button. The monitor has a USB hub with two ports on the left-hand side, as well as two more on the bottom. The ports on the left are recessed further back than I would like, so as a result the ports are harder to reach than they should be.
However, Lenovo wasn't so gracious with the inputs on the display. There is only the substandard affair of one DVI and VGA port. In an industry with changing trends that continue to hold as much weight as they do, I'm sad to see a monitor this ahead of the times being slowed down by not including at least a component, HDMI or DisplayPort input. Not that it will matter to most users, but I have a feeling a bit of future-proofing for a few more dollars would have been appreciated.
Given the L220X's price point, some may favor a more traditional 24" panel as the better alternative. Looking at its specifications, there are obviously other products that will offer more in terms of features, which is a large con within it self. Therefore, the monitor's strength will have to be its image quality.
Specifications
Model
Lenovo L220x
Maximum/Native Resolution
1920×1200
Contrast Ratio
1200:1
Pixel Pitch
0.247mm
Viewing Angle
178°/178°
Response Time
6ms
Luminance
325cd/m²
Connector
Analog, DVI-D
Other Connectors
USB Hub
Horizontal Size
Vertical Size
20.1"
14.9
Weight
16.9 lbs
There are a few points of interest that the monitor exhibits. Because the monitor is not using a TN panel, the numbers for the contrast ratio are not exaggerated. Consequently, since it's using such a high resolution in a smaller space, the pixel pitch is much lower than normal (compared to our last 22" review, the VW222 which has a pitch of 0.282mm). Finally, the monitor seems to be slightly brighter than similar 22" displays, which may be a small benefit to some users.
The menu is simple to navigate and understand. The monitor has (from left to right) an exit / input switch button, left / auto adjust button, right / brightness button, an enter button, and a power button. At first glance, I assumed the high / low position of the "wave" had a different effect on the menu, but the actual contacts for the buttons are located in the middle.
In the next section, we'll be taking a look at how well the display functioned during everyday usage, including gaming and viewing cinematic content.
Usage Report
First off, I'll say that the DPI is probably the biggest concern for most people contemplating the monitor for purchase, but I'll denounce the concern right now. I sit roughly two feet away from this display at my desk, and wear glasses because I'm nearsighted. I had absolutely no problem using the monitor for simple tasks such as web browsing and emailing. Obviously things were smaller (especially text), but it posed no issue for me, and I never thought about the issue at all.
I am clearly only a small slice of the population, but I have little doubt that others will have measurable success as well. If anything, I have had trouble going back to a regular display after using the L220X for an extended period of time.
Computer Use
Using the monitor is nothing but a joy if you're looking for usability while saving desk space. Being able to transition windows side-by-side or have four or five open in the background without getting confused or out of track is a multitasker's dream. I had no problems organizing my windows and navigating using Explorer's shell, and I actually used Expose on OS X as a tool to find what I was looking for for, rather than as a way to uncover previously hidden windows on smaller screens like I was accustomed to.
The monitor demonstrated to be very legible, even with smaller text. Similarly, web pages were crisp and easy to read, without the trouble of hunting for links that blended in with regular text on certain sites or dithering issues that appear when scrolling on some poorer displays (the background may flash).
You could say the monitor demonstrates the strengths of a CRT, without its weaknesses. It's clarity and color representation is unlike any LCD I've seen, making it idea for photo manipulation or production work, and it doesn't take up a fraction of the space a huge cathode-ray-tube monitor would.
Cinematic Use
To test out the the L220X's image quality with movies, I watched the widescreen DVD release of Saving Private Ryan, 720p TV show content, as well as the 1080p trailers of Speed Racer and Indiana Jones and the Kingdom of the Crystal Skull.
Though it was somewhat expected, Saving Private Ryan did not manage to fare well. Unfortunately, scaling up the DVD resolution to the monitor's native resolution will simply not look good without some amount of post processing involved. The screen's size makes matters worse, since it's smaller presentation encourages viewers to sit up closer to the display. So unless you plan on keeping the movie windowed or sitting far away from your desk, I cannot recommend the monitor for DVD playback.
The high definition material did much better in every regard. Even though I did notice small imperfections, my complaints are still limited to the source material alone and not the monitor in any way. In this case, artifacts in the H.264-encoded 1080p trailers were obviously apparent, but the content looked amazing nonetheless. I'm sure the monitor would be able to shine with Blu-Ray content, which makes the absence of extra HDMI and component ports even more of a crime.
Gaming Use
Team Fortress 2, Track Mania United Forever, and Company of Heroes: United Offensive were used to test the monitor's gaming capabilities. All of the games were tested with an 8800 GT and v-sync enabled.
Gaming in general was an absolute joy. Team Fortress was smooth and detailed down to the smallest features, and no ghosting was visible whatsoever. Track Mania was vivid, and the monitor managed to keep up with the chaos happening on screen during every moment. Company of Heroes, despite being relatively tame with visuals on that would push the monitor to its limits, was gorgeous, and had no problems.
Since games scale so well (as long as you have the horsepower, of course), they can be viewed comfortably up close while retaining readability. The end result is most likely the most detailed and rich gaming experience I've ever held on a PC. Some gamers would rather play on a smaller or larger display, which they cannot be fairly compared, but it's a safe bet to say the image quality you'll find here is worlds better than any other 22" display on the market.
With everything considered, I think the display offered a nice compromise between an awesome gaming experience and size. The amount of detail is on a much larger scale than a comparable 20" or 22" display, and it's more compact and affordable than any 30" you could possibly buy. Serious PC gamers would have a blast with it, but console gamers looking to take advantage of its higher resolution will have to jump through hoops with only two connections available.
Benchmarks
We've chosen DisplayMate for Windows, well known for its industry-standard testing capabilities and calibration options, to do the bulk of our benchmarking for our display reviews, because it offers an enormous amount of tools and testing patterns to help insure accurate results, no matter the type or quality of the display.
We also used tests from www.tft.vanity.dk because their tests can be effectively used across different platforms, and offer their tools free for anyone to use. We encourage readers to take the time, if interested, to see how their display performs using these tests.
Our benchmarks will test the following categories:
Manufacturing defects (Dead/stuck pixels, etc.)
Color accuracy
Contrast ratio
Backlight quality
Viewing angles and color uniformity
Ghosting and response times
Input lag
In the future, we will incorporate calibration tools to measure Delta E values (the difference between requested color values from the computer and the values represented on the display) as a hallmark for our accuracy benchmarks. In the meantime, we will continue to use "by eye" tests to compare displays, as we still feel this method to be accurate enough to justify a consumer-made decision.
Fortunately, we had no dead or stuck pixels with our review unit. There were no issues with the build quality with the monitor itself, or the panel being used. What we received would be considered a "perfect" display from the retailer. We regret to say other manufacturers have been known to provide poor quality control, which has become long apparent, even in our reviews. Lenovo has long catered to business users, who demand reliable products, so our luck gives us assurance of Lenovo's quality standards.
I found the monitor's color output to be very accurate, even without any calibration. Out of the box, colors were well represented in the desktop, in movies, and in games to the point where changing the picture settings could almost be discouraged. Similarly, there were no problems with banding, gradients looked as smooth as they should be, unlike other panels that have trouble displaying a true blend between colors.
Simply put, the contrast ratio was superb. Being an S-PVA panel, the difference in quality from this monitor truly shows compared to a TN panel you would find on any other display the same size. As a result, it also doesn't include a dynamic contrast ratio feature, which would normally adjust the color on the screen depending on the viewing mode selected to achieve much higher, exaggerated numbers, so the difference between white and black remains constant all the time.
Lenovo did a fantastic job with their back-lighting on this display. Within the first two weeks of using it, I thought the display looked totally uniform on black, a first for me with a CCFL-back-lit monitor. But I eventually noticed that the four corners were slightly lighter than the center of the display. That said, the L220X was by far the best performing display I've seen with back light uniformity.
Being an S-PVA panel, there was a noticeable amount of color shifting present. In the first test image, the word "QUALITY" is visible when viewed head-on. However, when viewing the image to the side, the image changes, revealing detail.
In the second test image, the background should appear black, including the black box in the lower-left corner (although some detail in the background is acceptable). If you're monitor has a color shifting problem, like the L220X, viewing the screen at a different horizontal angle should further reveal color, as well as the previously-hidden box.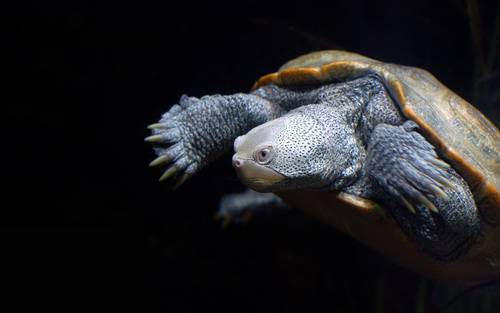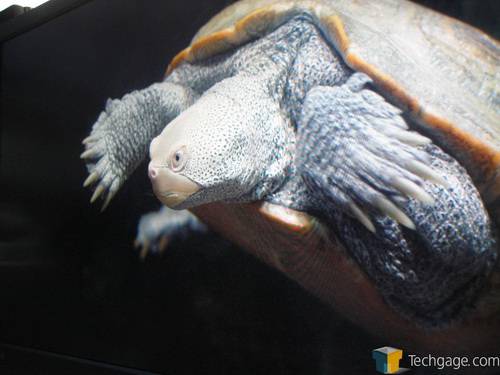 The problems with the shifting are inherent, and there is only so much that can be done about it with simple calibration. While it isn't as noticeable as a TN panel, the problem is there and should be accounted for if any serious video or photography work is going to be done with it especially. Sadly, the only way to prevent it is to opt for a higher-quality IPS panel, which means eliminating every 22" monitor on the market and a lot of larger screens as well. The monitor's overall viewing angles were in line with other MVA panels, making it still a fine choice for gaming or office work.
As I mentioned in the gaming tests, no ghosting was readily visible. Our trailing tests uncovered some visible trailing, but it was nothing alarming enough to lead us to avoid our recommendation to gamers. The input lag test between the L220X and Dell 2007WFP revealed that the monitor had a lag of 9 milliseconds, easily within acceptable range, in my opinion.
Read ahead for my final thoughts.
Final Thoughts
What Lenovo gave up in features with the L220X, they compensated for in image quality, in spades. The L220X is, without a doubt, the sharpest and most accurate monitor I have ever seen. It's suitable for any type of work, making it capable of handling any task you throw at it.
However, with its strengths considered, it's weaknesses may be more apparent. Even though the display's image quality is spectacular, some users will feel the pain of missing extra ports and features. Other 24" monitors have included far more display ports, memory card slots, and more, and we would have loved to see them included here.
What I have yet to mention are the smaller annoyances that have been tacked on. Though these are only nitpicks, I feel that they should be voiced. The monitor take a much larger footprint than other 22" displays, it gets very hot to the touch (even the front), and seems to consume more power. The side ports of the included USB hub, although useful, are hard to reach because they are behind the edge of the panel, making them difficult to spot as well.
I'm not entirely sure if the monitor was made for the home user in mind. The question is primarily raised when the design choices and features are brought into light, where it really fails to differentiate itself. A cross between Lenovo's quality and Dell's styling, for example, would be killer on the market, but taking the company's recent trends that market toward consumer approval into account (the IdeaPad U110, for example), I can certainly see a more attractive Lenovo monitor sitting on my desk in the future.
Even if you have no interest in the monitor itself, Lenovo may very well be helping to secure the future of consumer-available display technology that actually appears to be positive, rather than negative. What we see here is a first generation product that has a chance to compete, and potentially increase the quality of the displays we will be using in the next few years, if not months.
The only person I couldn't recommend this display to is someone in need of extra video ports. As aforementioned earlier in the review, the pixel pitch is hardly a problem for me personally, and I don't think anyone should discount it without seeing it in person especially if you're considering a 24" panel.
Admittedly, the monitor has its potential pitfalls, even in its image quality, making it far from perfect. But, it's able to pack a huge resolution in a relatively small viewing area. Its build quality is almost unparalleled, and even taking its (few) image quality weaknesses into account, remains my favorite monitor yet.
Pros
Excellent image quality
A great choice for any type of user
1920×1200 resolution in a 22" form factor
Great viewing angles
High quality stand, pivot and rotate features
USB hub
Cons
Lack of video inputs
Large footprint
Visible color shifting
Side USB ports are hard to reach without searching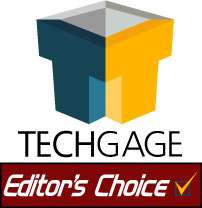 Discuss in our forums!
If you have a comment you wish to make on this article, feel free to head on into our forums! There is no need to register in order to reply to such threads.
Copyright © 2005-2019 Techgage Networks Inc. - All Rights Reserved.