Lian Li PC-Q12 mini-ITX Chassis Review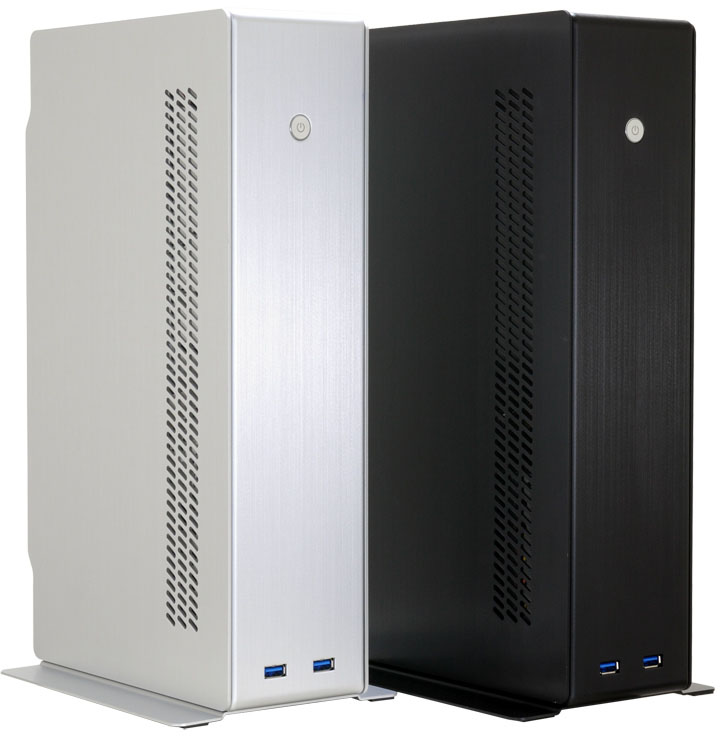 Date: June 5, 2013
Author(s): Greg King

Building a small yet powerful PC has never been easier, thanks to the increasing popularity of feature-packed mini-ITX motherboards. They've never been more attractive, either, as Lian Li's PC-Q12 mini-ITX proves. So, let's dig in and see if the chassis' features are as attractive as its aesthetics.
---
Introduction
My life these days simply doesn't afford me the time to sit down and share my opinions as I was once able to.  Thanks, life.  However, when Lian Li offered up one of its mini-ITX chassis, the PC-Q12, I jumped at the opportunity.  Known as much for its unorthodox designs as it is for  its top-notch quality, the Taiwan-based Lian Li has made a name for itself as one of the top-level manufacturers in the DIY PC industry.  Offering some of the best aluminum cases in the world, the company has been favorites of system builders and modders alike for many years.
Having recently moved into a new home, I have been on a huge design kick.  Among the projects I am currently working on is having a network connected PC attached to every television in the house.  So far, this has been easy – with only two televisions, it's not been a difficult project.  Aesthetically, however, I've done a rather miserable job.  I have one machine built with the small but still-too-large-for-the-living-room Fractal Design Array R2.  It's been sitting in my living room, connected to the television and running Boxee and XBMC.  Attached to my other television is a Dell Optiplex that just radiates sexiness.  Needless to say, neither can exactly be called centerpieces by a tech savvy guy.  Enter Lian Li.
The PC-Q12 is a small chassis, measuring approximately 14 inches tall, 8.1 inches deep and 3.5 inches wide.  Constructed entirely out of high quality aluminum, the Q12 was designed with small system builders in mind.  The ability to set it horizontally or stand it vertically adds to its versatility in either the office or the living room.  Adding to its sleekness, the front of the PC-Q12 is kept clean, only offering a pair of USB 3.0 ports and a power button.  Those looking to use an optical option, be it standard or slim, are out of luck with this case.  You will get nothing like it.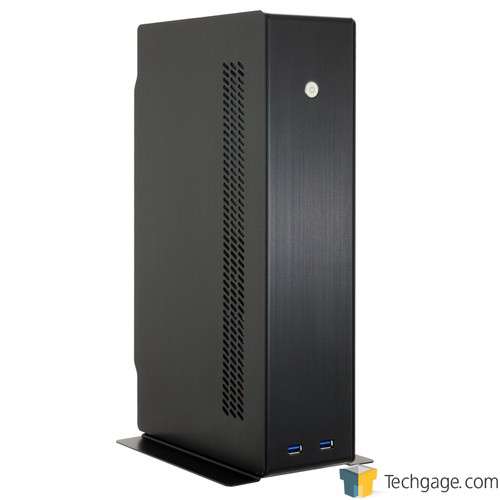 The door of the PC-Q12 serves as its only removable panel and one of the few sources of cooler, outside air.  With three rows of openings running the length of the case, cooler air is pulled inside and breezes across the hard drive bay and motherboard, and is expelled out with the case's only fan, a 3-pin, 80mm offering.  There are no locking screws on the panel as it's held in place by nine studs that lock into plastic docks (for lack of a better term).  They hold the panel solidly in place, but I wouldn't put much stock in them to prevent vandalism or theft in the event you associate with people low enough (or bored enough) to damage your PC.
Moving around to the back, we see more of the simplistic design that makes the PC-Q12 so appealing in the first place.  There is an I/O panel opening, eighteen slots for air movement and a small, 300W power supply (provided).  Beyond that, there is one other small slot with etchings of 1 – 2 – 3 and L – M – H.  Flanking of this slot are a pair of smaller holes.  After a brief bit of investigation, I found that Lian Li sells a small fan controller that you can run the 80mm fan through.  This allows the fan controller switch to be accessible on the outside of the case.  Well played, Lian Li.
The top of the case is where we find the machine drilled holes that make up the fan screen.  As mentioned before, the PC-Q12 comes with an 80mm, Lian Li branded system fan.  Its model number is LI128025BE-4, and because some of you out there care, it's rated for 15CFM, 13 dBA and 1200 RPMs.  One final nice touch is the addition of a grill.  These things cost so little; it's a shame that more companies don't include them with the system fans that ship with their cases.
Unlike the TARDIS, the PC-Q12 is in no way larger on the inside.  It's marketed and sold as a small chassis and your component options are limited as a result.  A single drive cage that can accommodate up to four 2.5" drives sits tucked away in one of the corners.  Directly next to it is the diminutive 300W power supply.  That literally leaves just enough room to install a mini-ITX motherboard.  Thankfully, there is about a one inch gap between the drive cage and the power supply so tucking unwanted cables is still possible.  Around the edges of the Q12 we see the nine "docks" that hold the side panel in place.
A closer look at the fan shows just how close it sits to the motherboard.  You can see one of the standoffs just to its left and when the motherboard is installed, the two almost touch.  As stated before, the fan grill is a nice touch, especially in a case like this where the probability of cables running every which way due to a real lack of routing options.
There is a small 80mm fan inside of the included power supply.  With less than a half inch of clearance between the top of the power supply and the side panel, this fan has to do some work to pull in the air it will ultimately be exhausting out the back of the case.  I do not have any specs on this fan and wasn't willing to disassemble the power supply to find the model number.  All you get is this picture, and you'll like it.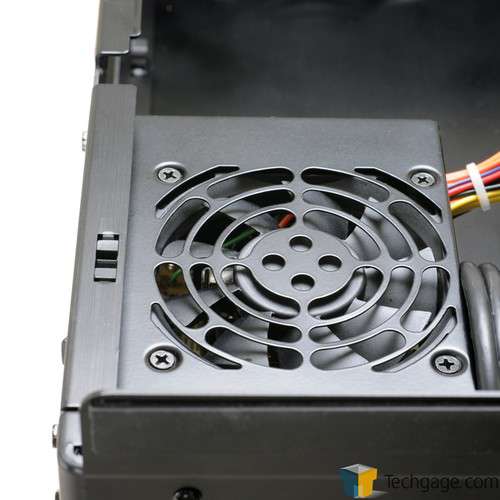 One thing that has always made Lian Li stand out in my mind has been its continued attention to detail.  While not exactly necessary with a power supply as small as the one included with the Q12, Lian Li still put in a small support structure, complete with a small pad to help dampen any vibrations that might originate from it.
Speaking of anti-vibration, the hard drive cage is secured to the case by four bolts that are surrounded by rubber.  These simply slide into place and then the cage is held securely with a thumbscrew.  As mentioned earlier, this is strictly a 2.5" drive cage, so a standard notebook drive, or SSD, will be right at home in the Q12.
Lastly, the power supply is an OEM model, manufactured by FSP Group.  Coincidentally, this is the same power supply that we saw in the Array R2.  This actually isn't very surprising, as the R2 appears to have been manufactured for Fractal Designs by none other than Lian Li.  Offering 24 and 4-pin power, one 4-pin molex and 4 SATA power connectors, there is an adequate amount of cables to allow the use of just enough hardware to fill the drive cage.  Nothing more.
Installation, Testing & Final Thoughts
Installation of hardware in the PC-Q12 wasn't exactly a smooth experience but was far from difficult.  Thankfully, the power supply lacks a ton of cables, so tucking the unwanted wires away wasn't all that difficult.  With the side panel off, getting the I/O shield in place was simple.  After that, the motherboard went in without issue and the four, non-removable, standoffs lined up perfectly.  Power was thankfully well placed on the motherboard we used for testing, and the 4-pin was long enough to reach across the board to its connector on the board.
One thing missing that some other mini-ITX cases offer is the ability to use a PCIe device with the help of a riser card.  With the orientation of the power supply and CPU cooler, a riser card would be an impossibility if Lian Li wanted to retain the thin width the Q12 enjoys in its final design.
The hardware used in our testing was:
ASUS P8H61-I
Intel Celeron G530 (Sandy Bridge)
Intel Retail Heatsink and Fan
4GB Crucial DDR3 Blue Tracer
1 x Kingston 64GB SSD
The final product looks like so…
Testing the cooling capacity of the PC-Q12 was done in a similar fashion to other chassis reviews I have done over the years. However, in full disclosure, I was never too concerned with its ability to cool, insofar as it was able to keep the hardware at an acceptable level.  For the Q12, I started a pair of instances of CPU Burn-in (one for each core). While an older app, it has always served me well when trying to stress a CPU to get a temperature reading under load. As always, the procedure is me running it for a set amount of time; in this case, 30 minutes. At the tail end of the run, I record the temperatures of the CPU using Real Temp. The two cores are then averaged; ambient temperatures around our bench were kept at 68ºC.
Idle
Core 1: 37ºC
Core 2: 36ºC
Average: 36.5ºC
Load
Core 1: 53ºC
Core 2: 50ºC
Average: 51.5ºC
The Q12 won't win any awards for cooling, but even at its hottest, it was still kept well below the 69.1ºC temperature that Intel sets the G530's Tcase at.  Adequate airflow is key with any PC build, but in our case today, the Q12 lacks any form of intake fan, so keeping the Sandy Bridge Celeron below 55ºC is a win in my book.
Conclusion
I have built with Lian Li's chassis many times over the years and I have recommended its cases to friends and family alike.  I like what the company does and appreciate its attempt to hit most markets.  The company has budget friendly offerings that sit side-by-side with insanely extravagant, expensive boutique cases.  I know that this is simply good business on Lian Li's part, but for those of us in the market for an affordable case, it's nice to see that all of its Lancool-branded cases are made at the highest level of quality. 
The PC-Q12 will be a welcome addition to anyone looking for a chassis to place their mini-ITX motherboard into.  It's gorgeous, easy to-use, and can fit most anywhere.  Airflow is a bit lacking but proved to still be more than enough to keep the modest CPU it held at an adequate temperature.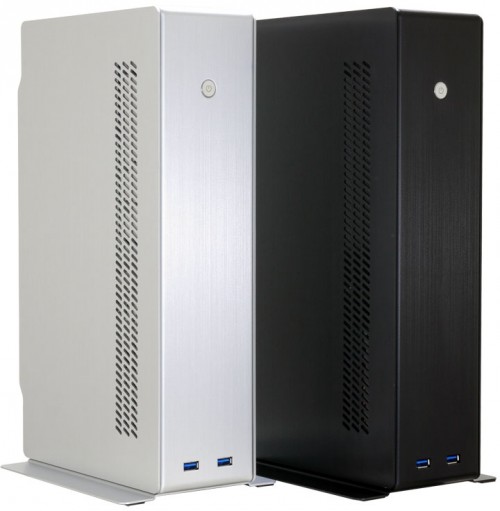 The premise of tiny computing has always appealed to me.  While there was a time when I was all about large, full-ATX builds, I must admit that those days seem to be long behind me.  I like working with smaller builds and given the surge in the mini-ITX format over the past 18 months or so, I would like to think that I'm not alone.  Anyone on the market for a small PC to serve as an entertainment hub or a simple workstation would do themselves a solid by considering this chassis.  Available online for around $130 US, it might be a little steep for many, considering what it is.  But, as with most things, you pay for what you get and with this case, you get quality.  Well, quality and a 300W power supply.  Who says you can't have it all have almost everything you would want in a small case?  Few can say that thanks to Lian Li.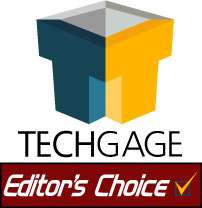 Lian Li PC-Q12 mini-ITX Chassis
Copyright © 2005-2019 Techgage Networks Inc. - All Rights Reserved.