Logisys 20 in 1 Media Panel

Date: June 10, 2005
Author(s): Rob Williams

Are you in need of more connectivity in your PC? Logisys recently released a new media panel which attempts to give us the connectivity we are looking for, and more. See how it made out in our review.
---
Introduction
There are many Media Panels on the market, some that have similar purposes, and then some that don't. There have been a few 20-in-1 media panels to hit the market over the last while, such as the Sunbeam version, which looks identical to the one we are reviewing today.
Specifications
20 Functions in 1 Panel
Reads 6 Different Memory Cards
(2) USB 2.0, (1) Firewire
2 S-ATA Hard-Drive Connectors
Includes Audio/Video Connectors
LED Displays Temps/Fan Speeds
Retail Price: ~$26.99US
Without a doubt, a media panel can be very useful. My favorite feature would be right off, the fact that it reads memory cards. No more draining your cameras batteries while you copy the files over to your PC. To boot, it reads nine different types, such as Compact Flash, Micro Drive, Memory Stick, Memory Stick Pro, Memory Stick Duo,Duo Pro, SD card, MMC card and SM card.
Included also, are two USB 2.0 connectors and one Firewire. Chances are that your case already has these connectors in the front, but it's still a great feature to have, especially if you have too many USB devices.
The panel even includes two S-ATA connectors, for your external hard drives, or for an easy way to just test out a drive. There is also an AV Connector, Microphone, Line-In and Line-Out connectors, if you need them. The screen is also capable of displaying your fan speeds and current temperatures.
Close Look
The one biggest gripe about the Media Panel is, that if you are keen on keeping the inside of your case clean, and have good airflow, the panel will scrap that. As you can see, there are many cords and cables that are required if you wish to take advantage of all the functionality.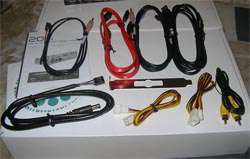 Also because of the numerous cables, the Panel is not easy to install, at least I have found. The easiest way to do things, is to mount the Panel into your case, and then connect everything. But because the Panel is in a shorter frame, compared say, to a CD-Rom drive, it's hard to reach all the way in and connect the cables.
Even though I enjoy using small hardware (:-|), I do wish the Panel was a similar size to an Optical drive so that connecting the cables would be much easier. At any rate though, this may depend on your case, and you may not have issues. In terms of cases though, I think the bigger, the better, because in the case I am currently using, Case-51W, I found it impossible to reach my hands in to do anything.
Options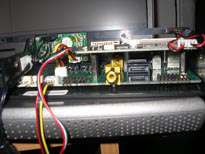 Sadly, I found the included instructions to be far from informative. I've been playing with Hardware for years, and know the computer inside out. Now, I found myself getting confused quite a bit by the instructions, so I had to swing it, until things worked. Diagrams or examples would have been welcomed, since some of the connectors don't fit perfectly as most would. For instance, to connect the Memory Card Reader, which is a 4-Pin connector, I had to plug it into the 9-Pin connector on the motherboard, (4 Top, 5 Bottom), which did work fine, but a diagram could have shown this to make things easier.
At any rate, those are the only issues I have found with the panel. Everything else seems to work great, especially the temperature and fan speed readings. The Media Reader also worked seamlessly as well. Since it's USB based, just plugging in a card will automatically bring up the folder, or ask you what you want to do with it.
In the picture above, you can see what will be displayed in your My Computer, since the Media Reader technically is four drives, and it will display as such. The Copying/Writing speeds were great, on par with other readers out there. The memory speed will also depend on the speed of memory you are using.
Conclusion
If you in the market for a media panel, I would recommend checking this one out. All the problems I encountered, had to do with installation. Depending on the size of your case, you may have an easier time than I did. I didn't actually install the panel into a bay, because I was getting too flustered :)
Installation aside though, this panel does everything it says it will. It reads nine different memory cards, which is a huge bonus. The two USB and other connectors are also welcomed as well. I can't picture many people using the AV/Mic/Line-in/Line-out connectors though.
Being able to keep track of your fan speed and temps through the panel are also great. Since they allow fan speeds to be monitored, I find it funny that a fan controller was not also built-in to the panel, as there seems to be plenty of room for one. Removing the AV/Mic/Line-in/Line-out jacks, would have allowed plenty of space for two fan controllers. Possibly in the future this is something we will see.
At a retail price of $26.99US, it's priced right. If you want a solid media panel, and don't mind a super clean installation, check out the Logisys 20 in 1 panel. Thanks to Logisys for allowing us to review the panel!
Pros
Plenty of functionality
Displays Fan Speed and Temps
Priced right
Cons
Installation was not fun
Manual could have been more detailed
Have something to say? You can discuss this review in our forums, where you don't need to register to post in our review threads.

Copyright © 2005-2020 Techgage Networks Inc. - All Rights Reserved.