Logisys Case-51W
Date: May 15, 2005
Author(s): Rob Williams

Back in March, we reviewed the Logisys Case-51, which received an 8/10, due to it's great style and awesome air flow. This time around, we are taking a look at the Case-51W, which is essentially the same case, but with a window. Read the review to see if the various changes on this model made the case any better.
---
Introduction
Specifications
250mm(W)x488mm(H)x540mm(D)=9.8″x19.2″x21.3″mm
Max. Motherboard size:12″x10″
4 open 5.25″ drive bays / 2 open 3.5″ drive bays
5 hidden 3.5″ drive bays
Built-in 2 front USB 2.0+Audio Output
Comes with a POWER LAB 450watts power supply
Price: $54.95US
I reviewed the original Case-51 back in March, and it proved to be one of my favorite cases out there. The reason being was, that it had great style and design, and the cooling was much better than any case I used before it.
My primary complaint from the original review, was the lack of a window. Of course, it's far from being a necessary feature, especially if you don't want one. Since many people now a days love to load up their PC's with lights, special coolers and other odds and ends, a window helps flaunt it all. Once I heard about the windowed C-51 being released, I was anxious to try one out. Does this case improve on the original?
Features
The Case-51 styling is inspired by Area-51 and Aliens, hence the large blue LED eyes. The case is a standard size, not too large for most, but neither too small. The same go for the bays, there is a sufficient amount for anybody. It comes complete with (4) 5.25″ bays for your CD-Roms and the like, and (2) 3.5″ bays for your floppy drive or something else.
Internally, there is enough room for (5) 3.5″ HDD's, with sufficient breathing room. Right below the front drive bays, are two USB 2.0 ports, as well as an Input and Output audio port.
Of course, the case has a window, made of plastic. The window size is smaller than what you see on most cases. Looking straight at the case, you will be unable to see your drive bays, which is usually ok, since you won't have anything special there to see. Also on the window, is an 80mm RGBY LED fan.
You also don't need to worry about a PSU in this case either, since it comes with a Power Labs 450W. It's a very basic PSU, consisting of (4) 4-Pin molex, (1) 3-Pin Floppy, (1) 20-Pin Mobo and (1) 4-Pin P4 connection. It could have been improved with more connections, including an S-ATA cable. If you have a beefy system, you no doubt want a bigger and better PSU. Good quality PSU's cost more than this case alone.
Finally, the case comes complete with four Thumb Screws to make opening it very easy.
Performance
To test the temperatures in the case, I ran a few tests to stress out the hardware. First off, I ran the Pro versions of 3D Mark 03 and 3D Mark 05. After that, I ran the Pro version of PC Mark 04, which essentially takes advantage of all hardware, helping to heat up the components.
After those tests, I continued on with a Stress Test, care of SiSoftware Sandra 2005, while running Prime95 which helped keep the CPU usage at 100%. All of these tests were done on an AMD 2600+ @ 2.09GHz, 1024MB DDR400, MSI KT4V Motherboard, 2 * 200GB WD, 1 * 160GB WD, Lite-On DVD +RW 8x, MSI Radeon 9800 Pro 128MB, Phillips PSC724 Sound Card, a floppy drive and lastly, a NIC.
As you can see from the graph, at max load, the Case-51W kept the CPU and Case cooler by 1ºC, nothing exciting. However, at Idle and Normal temps, the windowed version didn't keep things as cool as the original Case-51.
Conclusion
In the end, did the Windowed version of the Case-51 generally improve over the original case? Well, that's a yes and no answer. Yes, it finally has a window, and that's something I wanted since the first version. It also has a RGBY LED fan on the case. But wait! Looking at the photos below, you can see that it's not a RGBY fan, but rather a Blue LED fan. I actually prefer the Blue, but in their description, it states a RGBY one.
Since the case is similar to the first one, it still has plenty of space inside, and looks fantastic. The matte black color is great, and really adds to the effect of the theme. One thing though, is that I expected the paint job to be better. Looking at the picture below, you can see at the top of the front plate, there is a color differential happening, where one shade of black looks different than the other, on the same piece.
One more problem to point out, is that the window side didn't close absolute flush for me, leaving a minor gap, exposing the silver inside. This is not very noticeable, unless you are looking for it. I only noticed this when I put everything back together after installing the components.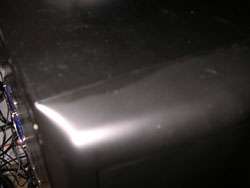 Those gripes aside, it's still a good case. Though the included PSU leaves much to be desired, the overall price is still nothing to complain about, especially if you plan to use this as a case for your second PC, or as a case that doesn't cost much money, but doesn't look like crap.
Thanks to Grace from Logisys for allowing us to review the case!
Pros
Simple, but looks great.
It has a window!
Plenty of room inside.
Front USB and Audio Jacks.
Cons
Window plastic is flimsy.
PSU has few connections
Lower quality paint job
Have something to say? Discuss this review in our related thread. Further questions about the product are also welcomed.

Copyright © 2005-2020 Techgage Networks Inc. - All Rights Reserved.