Logisys LED Lazer Lights

Date: January 23, 2006
Author(s): Drew Smith

Are you looking to add some pizzazz to your computer but don't want to hand over a huge chunk of change? Logisys has release a simple product that can really add some style to your box.
---
Introduction
Is anyone looking to dress up the interior of their case?? Lights are usually the best place to start to get some inexpensive, easy to install pizzazz into that basic, bland, boring metal shell. Today we are looking at a new set of Lazer LED Lights from our friends at Logisys Computers. Let's see if this accessory will light our way to case glory or just leave us wandering in the dark.
First Impressions
My first impressions, and my expectations, for the Lazer LED's from Logisys were exactly the same. I never really expected the LED's to come in any large or flashy packaging and they looked just as I imagined they would look from reading about them on their website. The LED's came with all the necessary equipment to mount them properly; power cables and sticky back Velcro pieces were included for easy mounting in any location. The sticky back Velcro pieces also come in very handy for changing mounting locations or if you purchase another case.
The only doubts I did have were about the LED's ability to light up the entire case sufficiently with them being so small. In the past I have used Cold Cathode lights that are much larger than the LED's but the light from the cathode would only illuminate approximately half of my case. But now it's time to put all doubts and assumptions aside; time for installation and testing.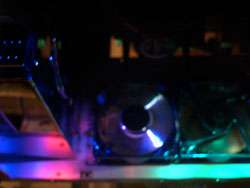 Installation
The installation for the Lazer LED's was as easy as any install could be; it took me longer to unplug the wires from the computer than it did to have the lights mounted and working. The LED's are connected to a standard 4-pin power cable and can be joined in between either end of any existing connection, depending on mounting location. I had a free connector available on my power supply so this wasn't really necessary for me. No matter where you decide to mount these LED's or what accessories your case already has, you should find the installation of these LED's very simple.
The Lazer LED's from Logisys come in several different colors; Blue, Red, Green, Ultra-Violet (UV), and a Red, Green, and Blue model. We are using the Red, Green, and Blue model for our tests.
When I first hit the power button after installation, I was amazed at the amount of light these little LED's produce. Even with the lights on in the room they are still very bright and very noticeable. My case does not have a side window but I can still see the lights shining through my fan grills at the back of my case [Ed: O.o].
Inside the case each color shows up clearly and adds an exceptionally nice glow to the case interior. Right now I really wish that I had a side view panel so I could see them and show them off.
If you are looking at adding some quick easy and inexpensive dress up accessories for your computers case I would really recommend the Lazer LED's form Logisys Computer. They are really easy to install and easy to use, they do a great job at adding pizzazz to your case, and you can't beat the price at only $4.99. I give the Logisys Lazer LED's an 8 out of 10 ranking for being able to add a few oohs and ahhs to my next LAN party while staying on my penny pincher's budget.
If you wish to comment on this review, feel free to do so in our forums! No registration is required to comment in our content threads!

Copyright © 2005-2020 Techgage Networks Inc. - All Rights Reserved.