Logisys PC Extension Station

Date: March 15, 2007
Author(s): Greg King

If you are looking for a unique way to clean up your desk and condense your peripherals, Logisys may have you covered. Their extension station acts as a monitor stand and power center with quick access to USB ports.
---
One of the first pieces that anyone will add to their PC case to help it stand out is a light. Be it LED or cold cathode, nothing looks quite like a well lit PC interior. With numerous colors, sizes and shapes to choose from, the ability to customize our cases is as easy as ever. Simply pick your favorite color and your well on your way to a brighter, more interesting computing experience. Nowhere is this more exemplified than at a LAN event.
At LAN events, you have a dozens, sometimes hundreds or thousands, of gamers, all competing in tournaments of their favorite games. All the while, they are showcasing their PC to the rest of the crowd. As popular as case lighting is now, I would be willing to bet that very few modders could name the company that they got their gear from. It just so happens that if you want to spice up your case with a little lighting, you are going to deal with Logisys either directly or indirectly because almost every cold cathode tube light and LED that can be purchased comes from none other than our friends at Logisys. While gear for modders has always been their forte, they sell PC cases, HDD enclosures, mice and fans. Basically, if you can put a light in it, Logisys more than likely has done it.
This past January, Rob and I made the trip to Las Vegas for the tech orgy that is CES. While out there, we stopped by the Logisys booth and had a chat with them about their latest offerings to the modding community. While the overwhelming product presence was made up of different lights of all shapes and colors, one product that was front and center was their new PC extension station. Made of clear and frosted acrylic, the extension station is designed for desktop users to both hide cabling as well as offer convenient USB hubs and power switches for whatever you decide to hook up to the back. The station even had a small 5 ¼" bay with a clear drawer to keep anything you could fit in it. As it turns out, this PC extension station just so happened to end up on our bench for evaluation as we are looking forward to see just how functional it is.
The Goods
Coming to us in its retail packaging, the PC extension station's box is adorned with some information about the product as well as the Logisys dragon modder guy. The station comes packaged well in Styrofoam. Acrylic is notorious for breaking but Logisys has done a good job securing the extension station, ensuring a safe and secure delivery.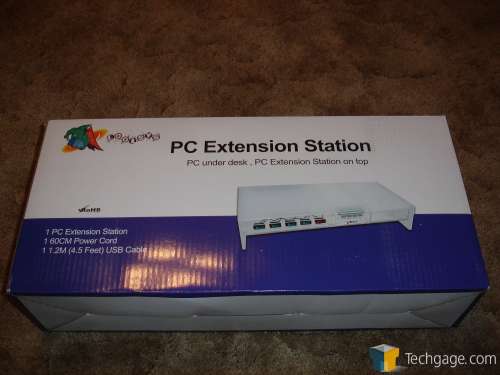 Once out of the packaging, we can see that the extension station is made out of clear and frosted acrylic. The front of the station has five switches on the left hand side. These switches, as we will see, correspond to a female power plug in the back of the station. They are labeled from left to right: auxiliary, printer, monitor, computer and master. Strangely, "moniter" on the front is misspelled. Even stranger is the fact that it is spelled correctly on the back of the station.
To the right of the switches, there is a four port USB hub and directly underneath is an empty 3.5" bay with the Logisys logo front and center. On the end, to the right of the USB ports, is an empty 5 ¼" bay. This is occupied by clear acrylic drawer. Any miscellaneous pieces can be stashed here for quick access if needs be.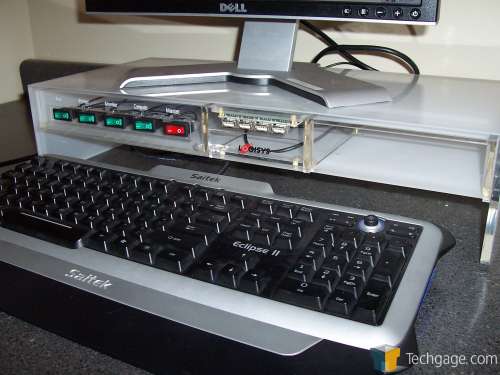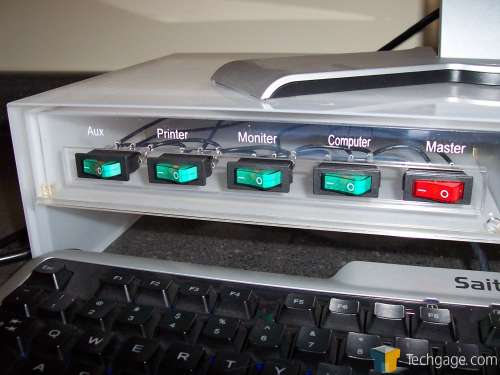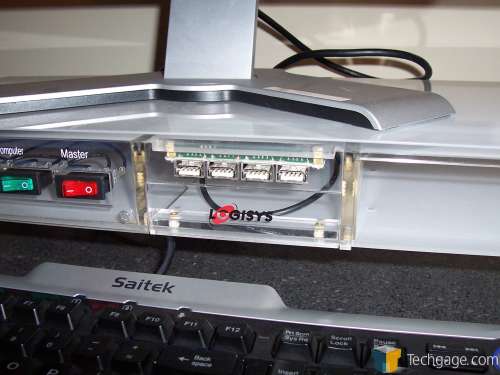 Moving along to the back of the extension station, from right to left we have an opening where the drawer goes, then an opening with the male USB plug sticking out and finally, we have the female ends of the power switches. Notice that monitor is spelled correctly this time around. On the very end of the station, we have a simple fuse to protect anything that you have plugged into the extension station from any power surge that might take place. While not a big deal, it is something that I find humorous. Take note Logisys!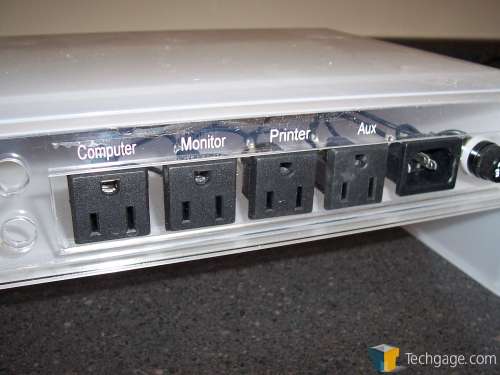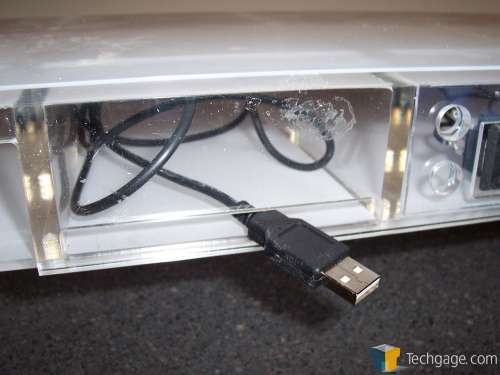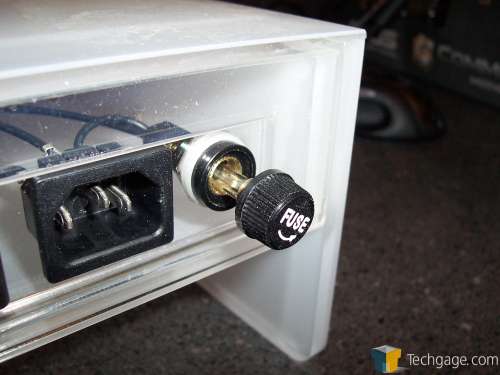 The overall build of the station is one of quality. The wires and connectors are accessible by removing the bottom acrylic plate. This plate is held on by a handful of small screws and once removed, the USB hub and power cables.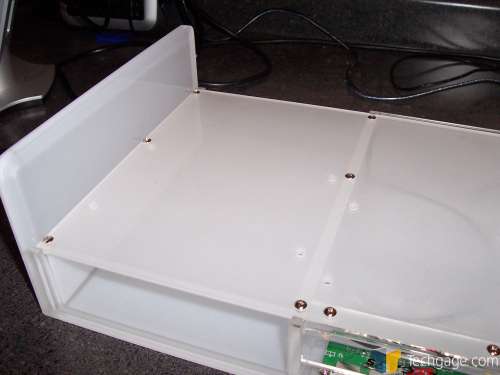 One final thing that should be pointed out about the Logisys PC extension station is the available space underneath the station itself. This conveniently allows you to push your keyboard under the station when not in use.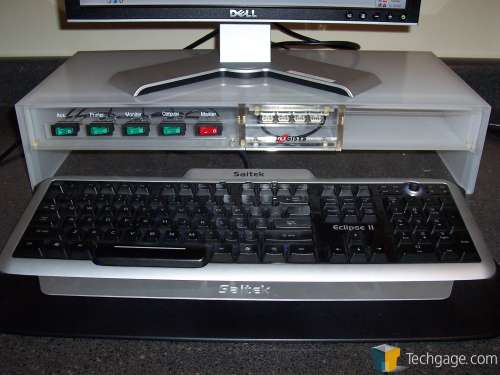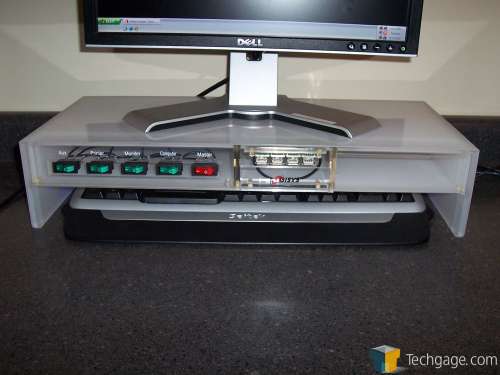 Conclusion
With the Logisys PC extension station, we get a solid product that is full of potential. While we have plenty of recommendations, let's first focus on the positives. With the station on our bench, we certainly noticed the difference with all of the cables behind it. There ability to control the power going to each individual component is nice as well. However, in all honesty, I don't see a benefit to controlling your monitor and PC through the switches.
However, being able to plug in my external hard drive was incredibly convenient. This is where the recommendations come in. I would love to see the use of lights in the station. The fact that Logisys knows PC lighting and knows it well only makes sense that they include something like this in future models. Another thing that would truly make this piece worth its weight in gold is holes on the side of the 5 " bay. This would allow the mounting of hard drives, with an adapter, in the open bay.
While there aren't any cables long enough to attach a hard drive to a motherboard, nor would it look anything but terrible, the emergence of eSATA would make this so nice. Another nice piece would be to sleeve the power cables in an UV reactive sleeving. That way, if a light was added, the cables would glow. If we are going to go all out, why not make it shine?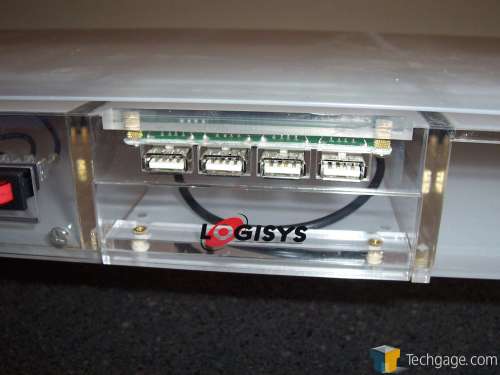 The Logisys PC extension station is a piece of hardware that would make much more sense on an office desk but wouldn't look out of place on an enthusiast's desk as well. There are not too many components that this can be said about. With a street price hovering around $50 (US), the PC Extension Station might seems a bit overpriced but in all honesty, I don't know how much I would pay for this. There really isn't anything else on the market like this that I could find so there really isn't anything to compare it to price wise so paying $50 might not be that bad of a hit after all.
When all is said and done, we enjoyed working with the extension station. It looks good on the desk and does exactly what it should. Does this equate to a recommendation from us? Yes and no. If you need something like this, then by all means, you will not be disappointed by your purchase but for most games, let's just say that this isn't something that will be popping up at your next LAN party.
If cable consolidation is something you're looking for, then pick up the latest offering from Logisys. The same can be said for those who have an acrylic fetish. While this won't increase frames per second, it will hold up your monitor and by God, it will look good doing it.
Discuss in our forums!
If you have a comment you wish to make on this review, feel free to head on into our forums! There is no need to register in order to reply to such threads.
Copyright © 2005-2020 Techgage Networks Inc. - All Rights Reserved.