Logisys Silver Case-51

Date: March 10, 2005
Author(s): Rob Williams

Last week, we reviewed the Janus case from Logisys Computer. But what if that case is too much for you? What about a somewhat normal case that's not beige? That's where the Case-51 case comes in. It offers a standard case, with some flair, and for a good price. Let's check to see how it made out in our review!
---
Introduction
Specifications
Dimension:250mm(W)x488mm(H)x540mm(D)=9.8″x19.2″x21.3″mm)
Max. Motherboard size:12″x10″
4 open 5.25″ drive bays
2 open 3.5″ drive bays
5 hidden 3.5″ drive bays
A total of 11 drive bays
Built-in 2 front USB 2.0+Audio Output
This case comes with a POWER LAB 450watts power supply
Toolless Thumb Screws
There are some today who view todays pre-modded cases, like the Logisys Janus and the Ultra Wizard that we've reviewed, to have too many features, or to be overdone. Some like it simple, but not so simple, so as to date back to when everyone had a plain Jane Beige case.
So now that I said that, you are expecting to see a completely boring case! Well, the Case-51 is amazingly simple, yet very cool at the same time. Let's jump right into the features of this case.
Features
One thing about the case you will notice quickly, is that it's quite light. The case comes in two colors, Black and Silver; I reviewed the Silver version. The paint color is pure matte Silver, and really looks good and clean. On the front of the case, you can see the large black guard, which helps to make this case look even more stealthy.
Opening that guard will allow you to access the (4) 5.25″ drive bays, as well as the (2) 3.5″ floppy drive bays. Also included here are the (2) front USB ports, as well as the audio ports.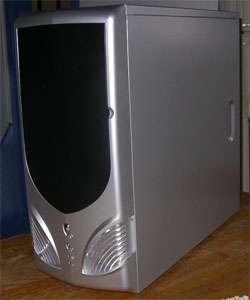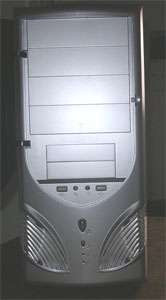 Features
Looking closer at the front of the case, we can see the two huge alien eyes, which are really bright blue LED lights. We will get into that more later on. We can see in the front that there is a little alien head, which is really the power button. Below that is obviously the reset button. The front of the case certainly was designed well, I am very impressed with it. Side by side, there is also what the case looks like when the LED lights are on.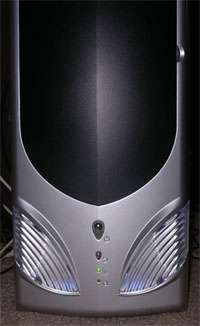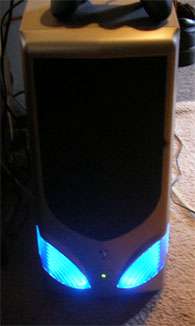 When you take a look inside the case, you will quickly find out that there is a LOT of room. Up top, there is plenty of room for your four CD-RW/DVD-RW/Fan Controller or whatever else will fit in a 5.25″ spot. Below that, is plenty of room for 5 Hard Drives, with sufficient space for cooling.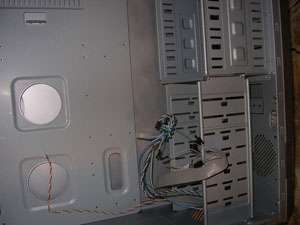 There is also plenty of wiring. The wires are there to hook to your motherboard, including the power and resets, as well as the connections for the front USB and Audio ports. The Blue/White wire with the Molex connector at the end is what hooks up the front LED lights to your power supply. Sadly, the wire for the LED's do not have a dual molex end, so it will take up one spot of your PSU without giving you another. Also quickly looking at the back of the case, you can see they have included Thumbless Screws for easy removal of the side covers.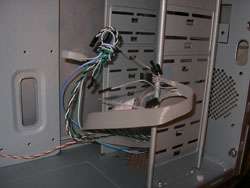 Installation
The review case did not include a Power Supply, but the retail version does. The retail version includes a Power Lab [never heard of them before] 450W PSU, so that should be a great amount of power for starters.
Installation
After going through all those features, I would have to say it's about time to install the hardware. As I mentioned earlier, there is plenty of room in here, so I didn't expect it to be too difficult of a task. After installing the motherboard mounts, it slid in flawlessly. The entire installation process went pretty smoothly.
The most difficult part was the Power Supply, as there is no real guard inside to hold it up. There are two small guards to help hold it in place once the screws are in, but you need to hold it by hand while screwing it in place. This is only hard because I usually use two hands.. one to hold the screw, and the other to screw it in. However, if you have a magnetized screwdriver, it will be made easier.
Alright, enough screwing around. As you can see, everything fits in great. The only problem I had, was connecting a 80mm Fan [not included] to the power supply. But this is mainly due to the exact configuration I had, and you will not likely run into the same problem. Some components got power hungry, and didn't want to share, I guess.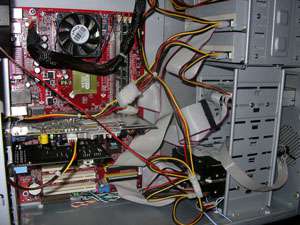 One thing I should mention though, is that on my setup, I had a hard time pluging my monitor into the video card. The clearence between the card and back of the case is so tight, that my monitors actually plugged in on a slant. You may not have this problem, but with my MSI KT4v mobo that's measured at 30.5 cm(L) x 21 cm(W), I did. Overall though, installation was great.
Performance
Time to test the performance of this puppy. Not performance per se, but more of temperature checks. For the sake of comparison, I will use the recently reviewed Ultra Wizard's temps, against the Case-51. The system specs are: AMD 2600+ XP, MSI KT4V-L Mobo, 2 * 512MB DDR400, 2 WD 200GB HDD's, ATI Radeon 9800 Pro 128mb, Lite-on DVD-RW, Lite-on CD-RW and a 400W basic power supply. The results are as follows:
To perform the tests, the computer was left on during normal activity for a few hours. After that point, 3D Mark '03 was run in a loop of 3 times to heat up the GPU. 3D Mark '05 was then done, due to boredom, in another loop of 3 to make my 9800 Pro card plead for mercy.
As 'basic' as this case may be, it sure kicked ass in the cooling department. The CPU in the Case-51 at the lowest state was 14ºC lower than the Ultras lowest state. It easily scored better in all the tests.. I am quite impressed. Since the cooling was so good, I decided to push my overclocking limit higher. I was able to increase the Core and Mem enough to increase my 3D Mark '03 score by 200 points. However, I won't list the rates here as it's not safe on air, which is all I have. I play foolishly.
Conclusion
At first look of this case, I didn't know if I would like it that much. Being so used to a side window, it's harder to get used to a case without one. However, to keep things simple and prices relatively low, the windows not there, so that's a valid reason. Overall, I am very impressed with the case. I would say the price is a little high, but since it comes with a 450W PSU, it's not so bad.
The cooling is fantastic, and the stylish and sleek alien design is equally impressive. So if you are looking for a great case at a good price, I highly recommend the Case-51 from Logisys. Thanks to Grace from Logisys for sending this to us for review!
Have something to say about this review? Feel free to discuss it in our discussion thread.

Copyright © 2005-2020 Techgage Networks Inc. - All Rights Reserved.