Logitech G100s Gaming Mouse Review
Date: April 25, 2013
Author(s): J.D. Kane

Logitech's G100s might occupy the lowest rung on the company's new G Series line of gaming peripherals ladder, but don't let its price and that market positioning fool you. As with many great songs, sometimes a stripped-down rendition is the best way to go. Is the same true of the G100s? Read on and find out!
---
Introduction
Logitech has been in the PC peripherals game for a very long time, and as such it has a large catalogue of solutions for every market segment. From keyboards to mice to joysticks and other gear, Logitech probably has at least one product to sell you. Having said that, it's never had a dedicated line for "gaming" gear like many of its competitors now do, even if it has a wide gamut of products that are designed and marketed for the gamer market space.
Well, all of this has changed with the recent introduction of "G", Logitech's new gaming-focused product line.
Strictly speaking, many of the products in G aren't absolutely new, but don't think that the new gaming line is just a simple rebranding exercise. G is all about integrating proven basic designs augmented with a few key improvements with a software package that's lightweight, fully-featured, and functional.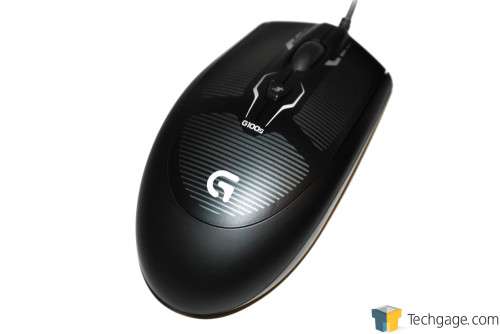 One product from the company's latest line is a good example of this design philosophy. The G100s is a refresh of the G100, an Asian-market exclusive that has nevertheless achieved something akin to legendary status in South Korea, especially amongst competitive StarCraft players. Personally, I'm intrigued to find out what about such a very simple and basic design made the original G100 such a highly-esteemed mouse, and why the new G100s might be able to build on the same foundation and perhaps establish a similar reputation outside of Asia.
The G100s certainly is a very basic mouse. It's an ambidextrous design, perfectly symmetrical along its vertical axis (when viewed in plan view). It's got all of four buttons: Left click; right click; middle click (scroll-wheel); and a DPI adjustment button just behind the scroll-wheel. There are no thumb buttons on either side.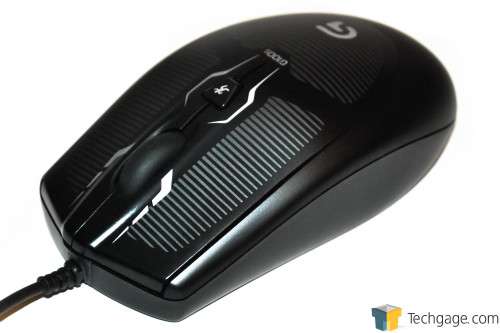 I know it's impossible to convey this in a photograph, but the G100s is a very light mouse. In fact, it's probably the lightest mouse I've ever had my hands on.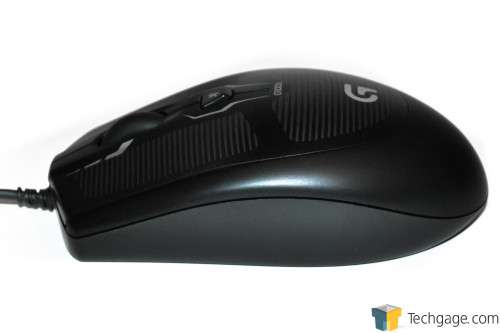 It's also a relatively small mouse, low-profiled and not very long or wide. The small size allied with its light weight would probably discourage a palm-style grip, especially if you've got bigger-sized hands. Mine aren't baseball mitts, but my initial impression in having the mouse in hand is that a claw-style or fingertip grip will probably work best.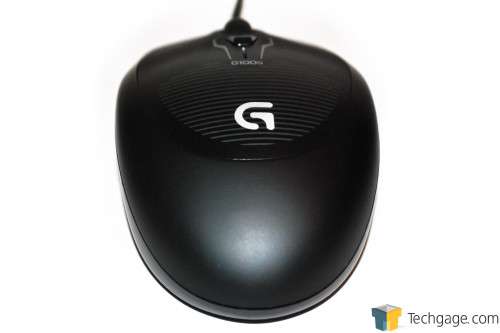 The mouse's skin is finely textured. It's a little slippery despite the texture, but you never really feel like it's going to fly out of your hands despite using just a fingertip grip. I'll have more to say about this particular aspect of the mouse later on in the review.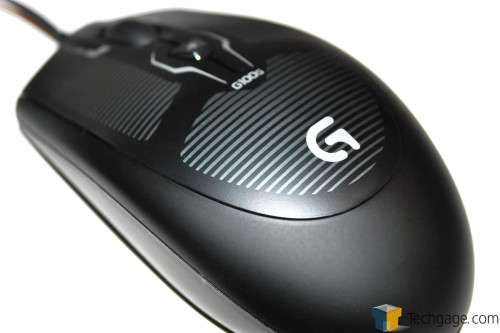 Probably the only thing that doesn't quite fit the "barebones" raison d'etre of the G100s is the style of the graphics on its top side. The grey horizontal grills that decorate most of its dorsal surface are a bit ostentatious despite the understated color choice and, in the eyes of this reviewer, not especially good-looking. I do like the G branding near the rear of the mouse a heck of a lot, though. It's a simple, well-designed logo, and the size is perfect. I also like the discreet G100s branding right below the DPI button.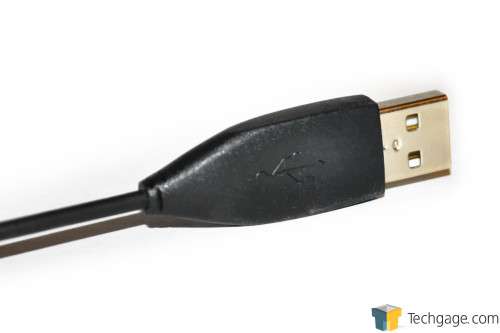 The last thing we'll look at in detail is the USB connector. In keeping with the basic nature of this piece of hardware, there's really nothing particularly noteworthy about the connector. The cable, though, is somewhat notable since it's not braided. It's pliable and flexible, but I do wonder about just how resilient this is to damage, especially over time.
Now that we've had a good look at the G100s, let's move on to the G Series software package.
Software
Before having a look at the LGS (Logitech Gaming Software), let's establish one fact per my usual method when doing reviews of gaming-oriented peripherals: The G100s works perfectly well using just the native Windows USB drivers. It's a simple matter of plug-and-play: Set it, and forget it. You're good to go once Windows detects the device when you first plug it in.
When you install the LGS (a lightweight ~55MB download), though, you can customize your G100s and assign different user profiles as you see fit.
Right after the software is installed and initialized for the first time, it will auto-detect your G100s; you'll then see a graphical representation of it in the GUI.
At the bottom right of the GUI you'll see icons that represent the major sections the GUI is divided in. The Home icon, appropriately enough, takes you to the main screen of the software.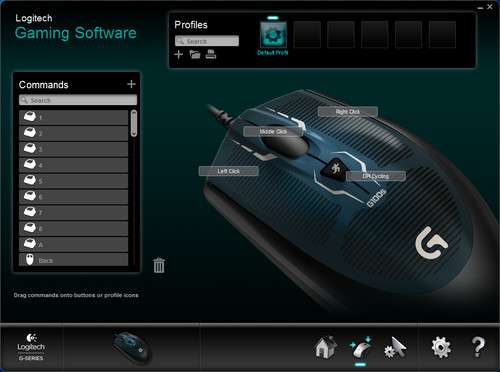 Clicking the icon that looks like a mouse takes you to perhaps the meatiest part of the software package, the Customize Buttons section. Here you can assign non-default functions to the buttons. You can also save sets of command configurations in different Profiles. On the G100s, given that it only has four buttons, it's probably impractical to reassign functions to its buttons, although you could possibly choose a different function for the DPI switch if you'd have no need to change mouse sensitivity settings in the application you're working on.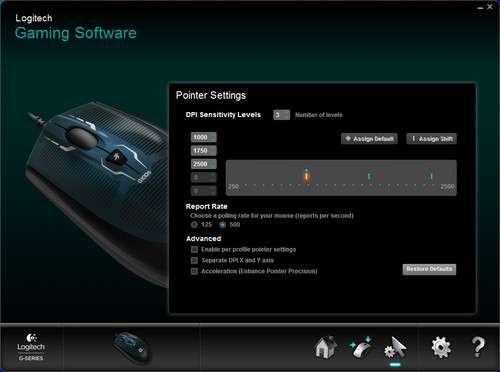 Next, clicking the arrow and gear icon icon opens up the Customize Pointer Settings screen. This allows you to precisely configure your DPI settings. You can set the DPI on the G100s to three different sensitivity settings (you can think of these as low, medium, and high). The minimum DPI is 250, while the maximum is 2500. You can set the three settings to a value within that DPI range as you see fit. You can also set the mouse's polling rate to either one of two settings, 125Hz and 500Hz, in this section of the interface (default is 500Hz).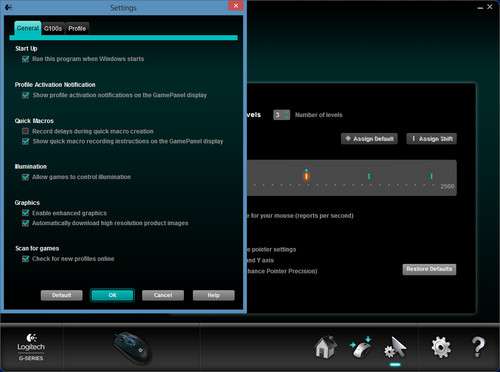 Clicking the big gear icon brings up a Settings window which is divided into three sections via tabs. The General tab contains various checkboxes that control your G Series hardware's behavior in specific situations. In the case of the barebones G100s, though, most of these checkboxes are a moot point. The photo shows the default configuration of the software, so I didn't bother to modify the settings in any way.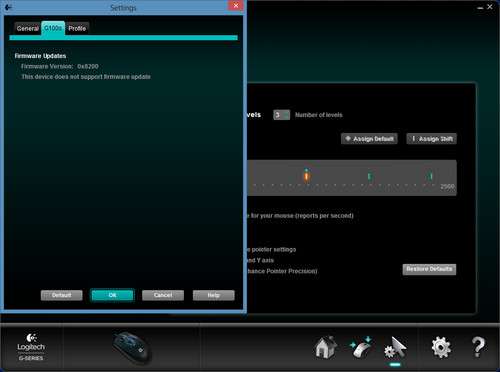 The next tab identifies your currently installed G peripheral. It also shows its current firmware version as well as notifies you if there are any updates available.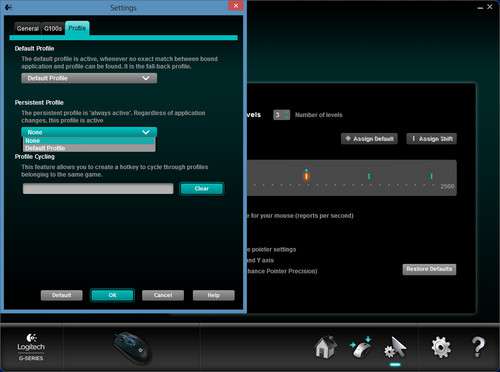 Finally, the Profile tab provides information relating to the set Default Profile, Persistent Profile and Profile Cycling features of the G100s.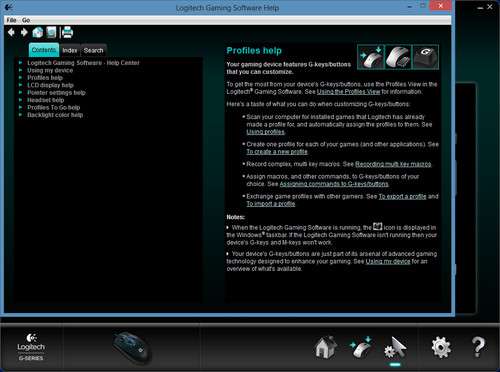 The "?" icon brings up another window, Help and Support. Here you will find help and troubleshooting tips in case something goes awry as you use your G100s.
All told, this is a very user-friendly software package. Having said that, given the simplicity of the G100s, its use for this specific member of the G line seems limited to just fine-tuning the DPI settings to your desired level, as well as assigning user profiles to preferred configurations of customized mouse behavior.
Testing and Final Thoughts
I've been using the G100s for the best part of the last week, even taking it to my day job and using it for a couple of days. The strongest impression it made on me is that, despite its relatively small size, it never felt uncomfortable to use. I had to adapt to it and use a fingertip-style hold on it, but doing so did not create any unpleasant fatigue.
It tracks superbly and precisely. This is useful in both gaming and non-gaming scenarios. Whether you're using it in Call of Duty: Modern Warfare, SimCity Deluxe, Excel, or in day-to-day Web browsing, accuracy and predictability are attributes you want in your mouse.
Button feel is good, crisp. It's neither too stiff nor too mushy. The scroll-wheel's action also shares a similar impression of high quality. Whether you're rolling it or clicking it, it never ever feels cheap and chintzy.
The G100s glides on most surfaces. Whether it's on a padded mousepad or the bare top of a wooden desk, you can move it effortlessly. The only surface where the friction level seemed higher was, oddly enough, plain Bristol board. Even then, the G100s just seems to glide as you move it along with your fingertips guiding it.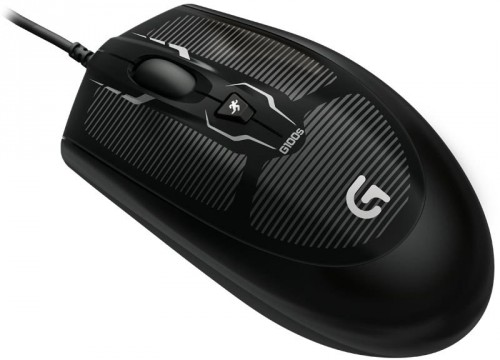 It's hard to say much about the LGS as it applies to this particular mouse. The G100s is as basic a mouse as I've ever encountered, so the extent to which you can play with the software is limited. Having said that, the GUI is superb. Its user-friendly and intuitive design and implementation are much more straightforward than the older SetPoint Logitech software (I've used the G9X and the classic MX518, which was the very first mouse I'd ever purchased back in 2006).
As good and solid and unpretentious as the G100s is, it's not absolutely perfect. I've got a few nits to pick. First, I wish the surface was grippier than it is. With your mouse hand's contact patch reduced to just four points with a fingertip grip, I would want to feel a more secure and slightly stickier surface, especially on the mouse's flanks. It's a small complaint, but just the same I would still want it if Logitech ever asked me how to improve the G100s.
My next small gripe is a bit more personal: I don't particularly like the graphics on the mouse. I understand that you need to make your product stand out, but the graphics make the G100s look like some kind of gigantic bug on your desk. The graphics might have the opposite effect as intended: Customers who want their hardware to look good might get repelled as if they'd been sprayed with Raid or something.
My final complaint has to do with the thin cable. As I touched on earlier in the review, it's thin and bereft of a braided cover. It's old school, sure, but I wish the cable was braided if only to allay my fears for its long-term reliability and resistance to damage.
The G100s can be had for $39.99 USD or less. You might be tempted to think that it's not much of a mouse at that price, but I'd suggest that a recalibration of expectations and perceptions might be wise. You see, the G100s might be the most affordable mouse in Logitech's new G line of gaming peripherals, but it's also like a stripped-down sports car in this specific way: You get everything you need, and nothing more. Like the classic Porsche 911 Carrera RS 2.7, the G100s is all about distilling an experience to its purest elements. Agility, lightness, delicacy all add up to a compelling product, all at an attractive and logical price point. It's simple, straightforward, and honest, just like a three-chord blues song. Despite its "flaws" (which really are just this reviewer's minor complaints which end-users may not necessarily have any issues with), the G100s earns a well-deserved Editor's Choice award from Techgage.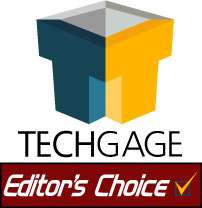 Logitech G100s Gaming Mouse
The G100s is available from Amazon and Newegg.
Copyright © 2005-2019 Techgage Networks Inc. - All Rights Reserved.