Logitech G502 Proteus Core Gaming Mouse Review – A Serious Gamer's Tool

Date: June 9, 2014
Author(s): Tom Roeder

Let's face it – most people have heard of Logitech, and most of those who are tech savvy have become well-acquainted with the company's various offerings over the years. I've been mostly pleased with everything I've tried from Logitech before, so let's find out if the G502 Proteus gaming mouse continues the trend.
---
Introduction
Some people who use computers regularly do not put much thought into their mouse, but enthusiasts who have a great attention to detail often are very picky with their available options.  Some want a mouse that is rock-solid reliable, giving them years of trouble-free operation for their day-to-day tasks.  Some want a mouse that is fully customizable, with the highest quality construction, and with the most cutting-edge specifications that might just give them that edge they have been looking for to smite an impossible enemy in their favorite online game.
No matter what you are looking for in a mouse, it is my job as your humble reviewer to see if the Logitech G502 Proteus Core tuneable gaming mouse can fit your needs – so let's have a look!
Logitech has built this mouse from the ground up for the hardcore gaming enthusiast.  You can tune the DPI setting to a whopping 12,000 – which is more than anyone can really use, but hey, it is good marketing if nothing else.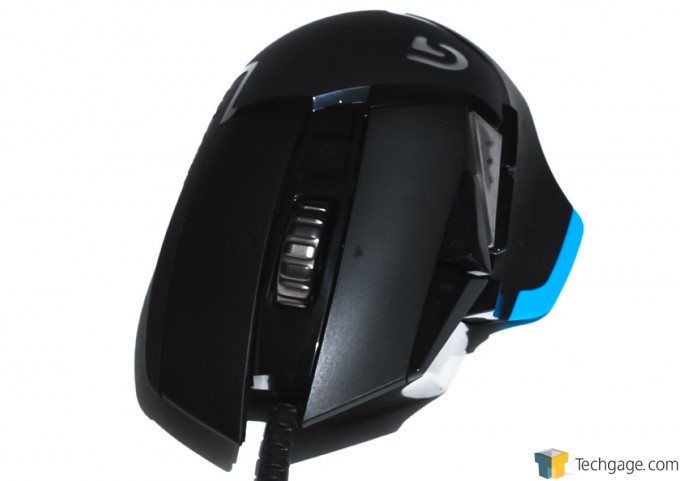 The main left and right buttons are rated for a lifespan of 20 million clicks.  My last mouse died at 19 million clicks, and I was not a happy camper.
On the surface, this mouse resembles something like what you would expect to see an alien who has come to Earth to climb out of.  The front of the mouse has the left and right click buttons that do not run the length of the body, something that I do prefer the look of.  I personally do not like the mice out there that have no distinct lines, almost like a smooth rock, or a halved avocado lying on your desk; I like the sharp-line profile.
The color of the mouse is a matte/eggshell finish dark gray, with a satisfying amount of glossy black trim, giving it a very pleasing contrast.  The only other color on the mouse is the light blue bit where your thumb goes, and of course the lit-up "G".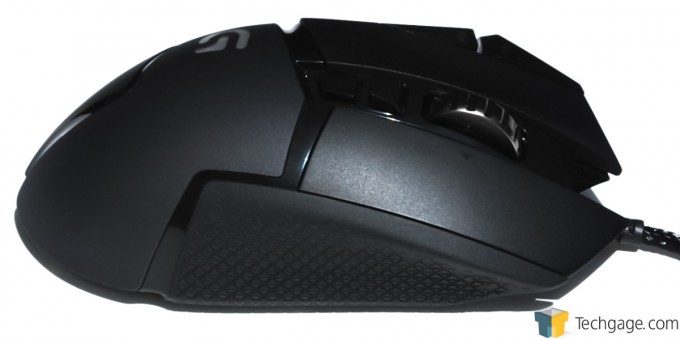 The backside of the mouse gives you a feel for how non-left handed this mouse truly is.  If you are a southpaw, you need not apply here.  I personally have what is called a "bear paw" for a hand – large palm area and shorter fingers.  I found that the mouse fit my hand very well.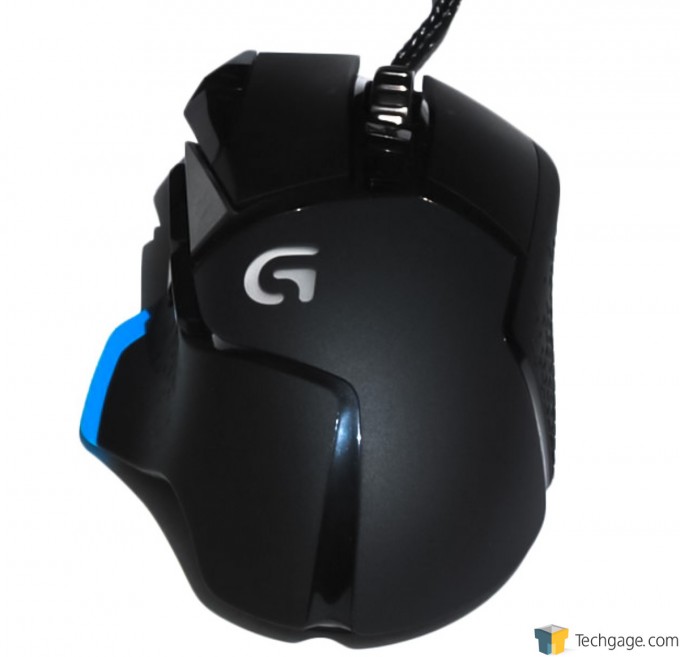 The mouse comes with a weight system that allows you to add weight to the area of the mouse that suits your preference for center of gravity feel, or make it a little heavier, giving you more precise control.  To access the weight cavity, you simply lift off the door on the bottom of the mouse which is magnetically attached, something that I personally love.  The weights come in a carrying case, so that you can keep them all in one place when you aren't using them.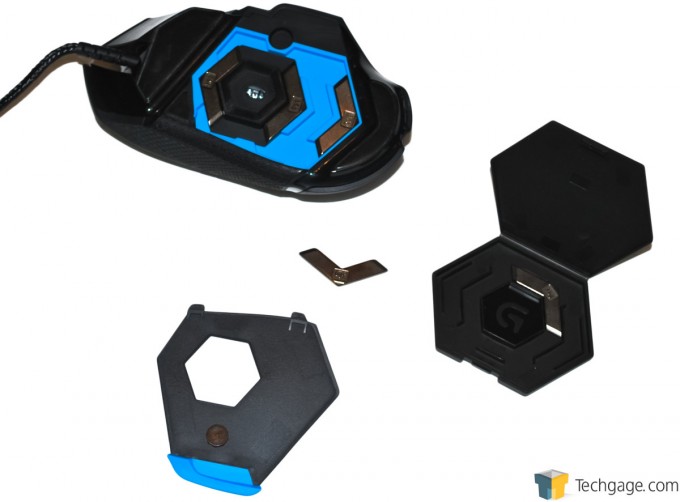 Now that we have had a tour of the aesthetics of the Proteus Core G502, let's have a look at the software.
A Tour of the Software
As you might imagine, this mouse will work very well for just about everything you could want it to do by simply plugging it in to the nearest USB port and letting your OS do the rest, but it is certainly worth installing the software companion to take full advantage of this mouse's features.   The installation of the software is very smooth, as you would expect from any modern device like this.
There are 11 programmable buttons on this mouse.  These can be programmed to perform commands, shortcuts, keystrokes and multi-key macros.  The Logitech Gaming Software is required to do this, and you can download that for free right here.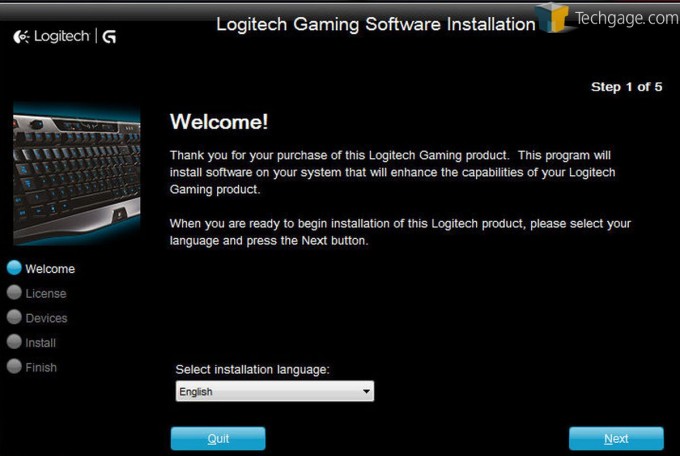 This mouse is fully adaptable to your environment – it comes out of the box optimized for Logitech gaming mouse pads, but with the company's software interface you can add your own mouse pad/surface profiles and train your mouse to be optimal with your set up.
The G502 Proteus Core features in-game DPI shifting – what this means is you can change the sensitivity of your mouse on-the-fly.  If you were running through a FPS, navigating your way through a map, you are going to want a fairly high DPI setting as you will want to be able to scan your environment quickly.  Once you find that perfect spot to take the shot with your sniper rifle, just a couple of clicks of the buttons to change your DPI to the lowest possible setting will give you that hair-splitting sensitivity to make that head shot.
The first screen of the software tool is the standard welcome screen, thanking you for purchasing the product, and it's where you will select your language.  The next screen will give you a mile-long EULA, which means nothing, but you are expected to read it.  Make sure you read it; after all, buying a mouse is a big responsibility, and you don't want to be exposing yourself!
The software then will detect eligible hardware that you have on your system that it can customize.  On my system for example, the software found my archaic Logitech G11 keyboard, along with the G502 Proteus Core mouse.  The last step of the install will confirm that the software is installed correctly.
After you've navigated through all of that, you will get the main screen of the mouse software, dubbed "Gaming Software".  On this screen you can select which device you would like to customize, as this software will work with many different Logitech peripherals.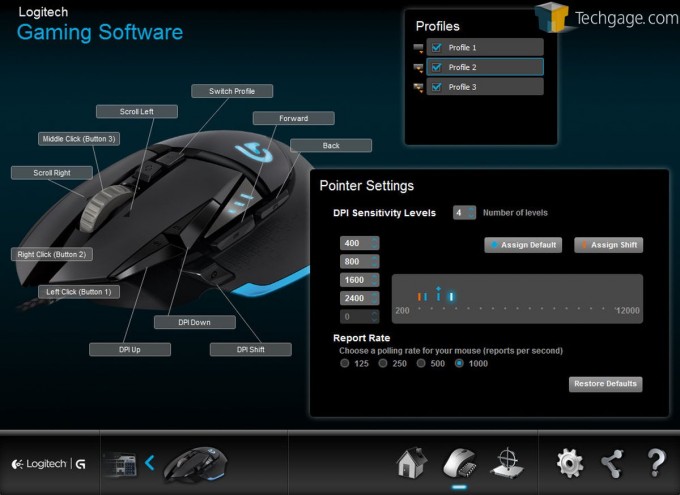 Here you will see all of the button's current assignments, these are fully-customizable, and you can have up to three different profiles.   You may choose one profile for gaming – where you would program each button to do whatever you want for whichever game you are currently playing – even keystrokes and multi-key macros.  You could assign a profile specifically tailored to editing audio or video.  Media editing programs can be very complicated and programmable buttons to perform shortcuts would be very beneficial, saving you a lot of time.
The next screen is for Surface Tuning – this will maximize the sensor accuracy.  There are two presets already loaded in, for the Logitech G240 and G440 Gaming mouse pads.  I don't have either of those, so I created a profile for my 3M Precise Mouse Pad (lame, I know).  This was easy enough and only took about a minute.  You can also utilize this feature if you aren't using a mouse pad, and just using the top of your desk.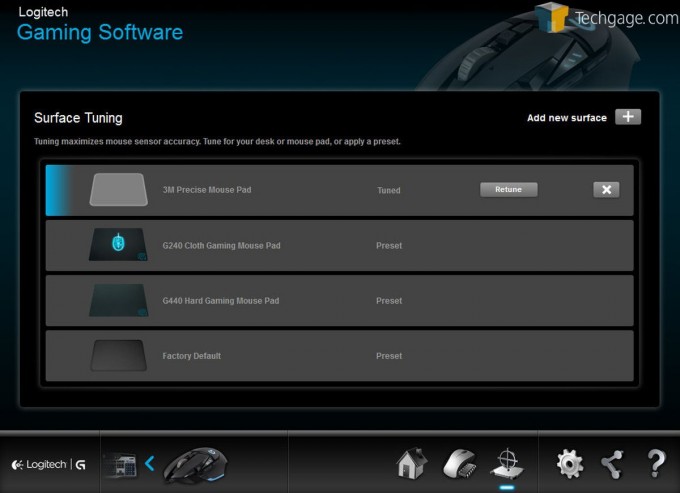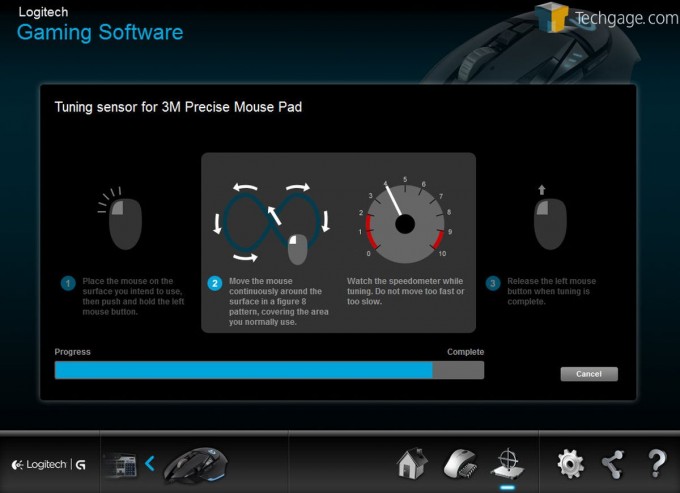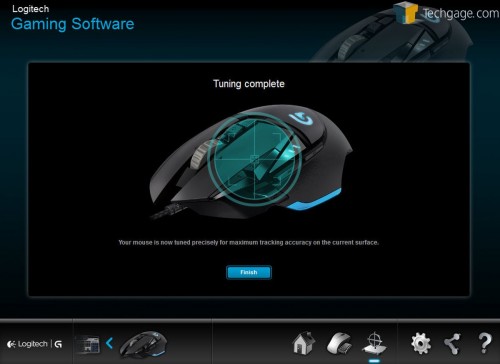 The next screen we look at is Settings.  Under the General tab you will find startup preferences, macro control, illumination control, graphics, and whether or not to allow the program to scan your computer for installed games. It also offers you presets tailored to fit those games.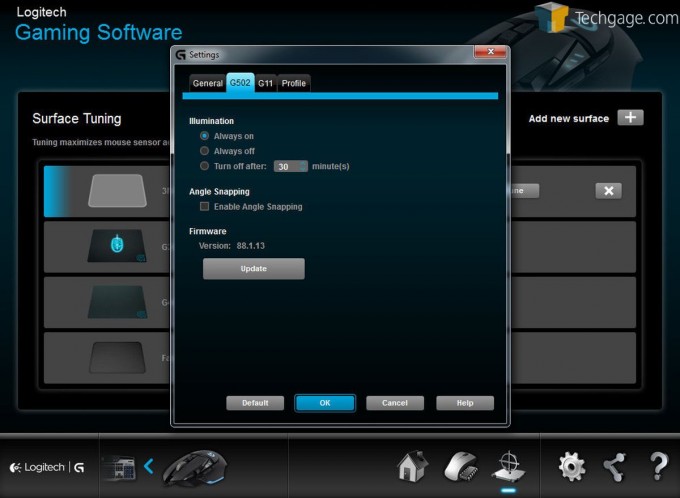 This screen shows the settings for the mouse itself.  Here you can control the illumination, angle snapping, and check for firmware updates.
Testing & Final Thoughts
I ran this mouse through a gambit of various tests.  I played around with video editing, casual Web surfing, and of course, gaming.  I found that the feel of the mouse in my hand not at all awkward – it was just a natural extension of my hand.
My one major complaint as to how the mouse feels is with the scroll wheel.  There are two different modes that this scroll wheel comes with – detent style or smooth free-wheeling.  When I say free-wheeling, I mean just that.  The bearings or bushings that Logitech used must be aerospace grade; this thing will spin for a very long time if you give it a good hard swipe with your finger – almost like a frictionless perpetual motion device.  I cannot imagine in my wildest dreams a scenario in a game, or even browsing the Web, where this would be useful.  When browsing the Web, it is really a useless feature as it is so sensitive; even lifting your finger off of it can make your page scroll.
Fellow gamers that I asked could not give me a scenario where something like this would be useful.  Not to worry though, as with a click of the button directly behind the scroll wheel, you get the detent style wheel.  I found issue with this as well, as the detents seemed a little firm and noisy for my personal tastes.  I admit, I am being very picky here and basically splitting hairs like an anal-retentive schlub, but hey, that is what I am here for.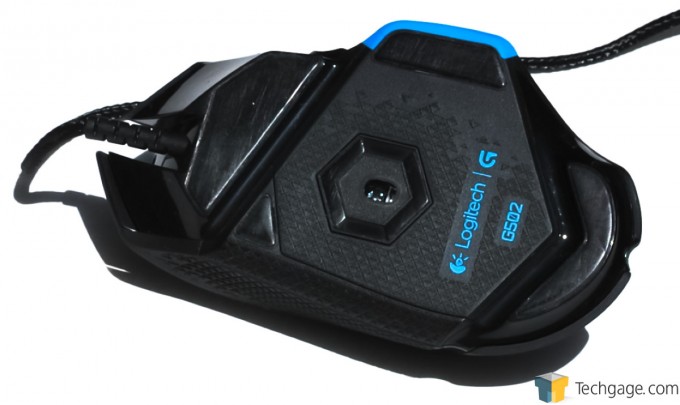 Other than the scroll wheel, I really cannot find anything else to complain about – at all.  As I said before, the mouse feels absolutely great in your hand, totally natural for me, and I have owned many mice in my day.  The cord on the mouse is light and moves very easily, making you quickly forget that you are using a corded mouse.  The software is well-thought-out and very intuitive, offering you countless combinations of preferences and settings.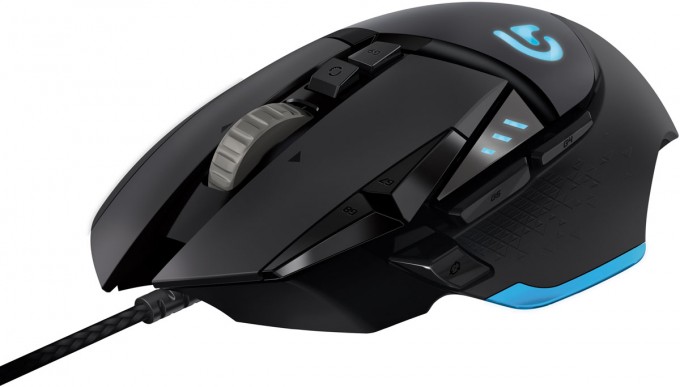 The computer mouse is undoubtedly the one component you will be the most familiar with.  Your hand will spend more time on it than any other component, and thanks to modern software making everything a graphical UI for the last 25-or-so-years, the mouse is really what gets you around on your computer.  This makes selecting your mouse not something you want to be whimsy with, like buying whatever Amazon has in its God Box deal.
At an MSRP of $79.99, this is a very competitively-priced mouse.  Regardless of whether you are a hardcore gamer, doing CAD, editing video, or are just the casual Web-surfer who wants a hot-looking well-made mouse, the Logitech G502 Proteus Core will certainly meet your needs.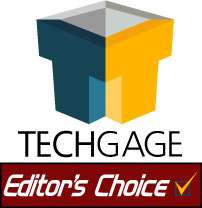 Logitech G502 Proteus Core Gaming Mouse
Copyright © 2005-2021 Techgage Networks Inc. - All Rights Reserved.