Logitech MX3100 Keyboard/Mouse Combo

Date: May 26, 2005
Author(s): Rob Williams

Looking for a quality cordless Keyboard/Mouse set? Logitech released the MX3100 a few months back, which includes the ultra precise MX1000 laser mouse, in addition to a keyboard with tons of functionality. Read on to see if the MX3100 is all it's cracked up to be.
---
Introduction
MX3100 Features:
Cordless Multi-Media Keyboard (Optical)
Laser Cordless Mouse
Superior battery life
Lots of functionality
Rapid-charging base station
SRP: $114.95US
Logitech obviously wants to be the best Keyboard and Mouse manufacturer in the world, and man.. they are doing a great job. Today, I am taking a look at the Cordless Desktop MX3100. The set is meant for people who want to get rid of cords, but still want plenty of functionality. Functionality is what this combo is all about, it's incredible. Let's jump right into the features of the combo.
Features
Everything you need to set up, is included in the box, including the MX1000 Mouse, MX3000 Keyboard, the charging station and other miscellaneous pamphlets and CD-Rom. Also included are two AA Duracell batteries (Non-rechargable), which are meant for the keyboard. We'll get into the battery life of both the mouse and keyboard later.
As with most cordless setups, installation is a breeze. Plug in the Charger base into your Power socket and USB port, and then turn on the mouse and keyboard. Windows will automatically activate them, making them ready to use. All you need to do then, is install the included software and drivers.
MX3000
Oh, where to begin on the functionality. The keyboard has a total of 135 buttons, some of which can be used in different ways. Starting out on the basic functionality. The MX3000 uses the standard keyboard layout, except for the Home/End key area. Instead of the usual six buttons, they have removed the Scroll Lock button entirely, and made the Delete key longer, as you can see in the pictures.
At first, it felt weird getting used to.. but it didn't take long. I had to change some key configurations in some of my games to reflect the change, but I adapted extremely quickly, and it feels completely natural. You may ask, "Why did they remove the Scroll Lock button?". To get into that, we'll get into the F Mode options.
Many keyboards nowadays have this built in, where the F1 – F12 keys will perform different options. IE: Pushing F8 will save your current document. This can be turned on and off via the F Mode button. If you have the F Mode on, the Insert key will act as the Scroll Lock. The other F keys perform such miscellaneous tasks like undo, redo and even can open Word/Excel/Power Point.
To the right of the F keys, you will find more functionality. Need a calculator? Push the calculator button! Beside this, you can push a button to put your computer to sleep. There are also buttons to open your default Mail client, MSN Messenger, MSN Status and even one to activate your web cam.
In the center/top of they keyboard, is an array of Multi-Media based keys. The large round button spins around and controls the volume. The usual Forward/Pause/Play buttons are here as well. There is even an Eject button, which will eject any current media.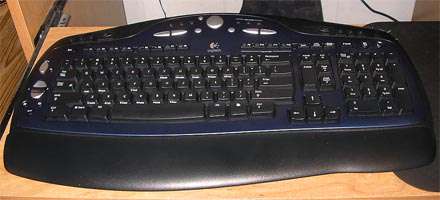 There's a Remote Media Player button, will launch the MediaLife software, included on the CD-Rom. There are even Rip/Burn buttons here, which coincide with Windows Media Player. Lastly, you can find a Mute button, and three Playlist buttons, which will Save your current playlist, or load one, if there's currently one saved.
MX1000
The functionality continues on the left side of the keyboard. There are multiple buttons to help you navigate easier. The Application Switcher is here, as well as a Close button. If you have a window or application open that you wish to close, you can click the button, to rid it quickly. There's also a button which acts as an Enter, which I didn't find that much use in, but you may disagree.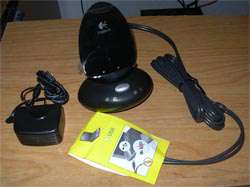 Above those buttons, are more buttons used for scrolling. You can use the wheel to scroll at your own speed, or use the Scroll Up/Down buttons to scroll a lot quicker. Another useful function, is the Zoom buttons. If you are browsing a website, and the text is too small, you can click the Zoom to make it larger. Once finished reading, you can hit the % button, to return it to a 100% view.
MX1000:
This mouse has well earned it's title as one of the most precise mice in the world. This is the same MX1000 as we reviewed last month, except this version features the same color scheme as the MX3000. As I said, the mouse is incredibly precise, and is a blast to use. It contours well to the hand, so there's never a feeling of discomfort.
The MX1000 is still the only commercial mouse to use the Laser technically, which is what makes it 20x more accurate than the standard optical mice we are used to using. Other than it's good looks and feel, it also packs a lot of functionality as well. The left thumb rest houses the Back and Forward buttons, as well as the Application Switcher. The scroll wheel also scrolls left to right, in addition to up and down. Just like on the keyboard, the mouse also has the Scroll Up and Down buttons, to make navigating up and down a page extremely quick.
For a more in-depth look at the mouse itself, be sure to check out last months review.
MediaLife:
MediaLife is a software application that's meant for a HTPC. You can add your Music and Movie collections, and even Pictures, and use your remote to navigate. It's a pretty basic system, but it works.
It will scan your computer for music, and add it to a large playlist, that you can sort by Artist, Album and Genre. It will also grab Videos and Pictures from your My Documents folder.
Conclusion
Without a doubt, this is the nicest Keyboard/Mouse combo you can buy. Logitech has done a great job at combining style with functionality, and making it all cordless to boot. The keyboard has so many functions, it could be used anywhere. It's perfect for an HTPC, Gamer PC or just an office PC.
Battery life is another notable. For the keyboard, it takes two AA batteries. I've been using the keyboard for three weeks, very steadily, and it hasn't drained the batteries at all. I threw the batteries in both my Camera and Discman, and they still show as completely full. As for the mouse, if you use the mouse all day, it will still last you a good four days before needing a recharge.

One thing I'd love to see for a keyboard such as the MX3000, is the ability to just plug it in to the charger to refill an internal battery, rather than having to change batteries at all. Of course, the batteries last a very long time, but if they did happen to die on you, and you don't have batteries handy, you would be screwed. Of course, this defeats the purpose of cordless, but, only having to charge it once a month or even two months, would be nothing serious.
Overall, I highly recommend the combo, and it deserves our Editors Choice award. I have to hand it to Logitech, because they can't throw anything at us that we don't find amazing. I can't wait to see what they come out with next.
Have something to say? Shout in our discussion thread. Sign-up is required, and you will not get porn sent to your inbox. Unless you forget to check that box, of course.
Pros
Logitech Quality — Well built.
Both pieces work flawlessly.
Functionality is bar none!
Superior battery life.
Cons
Keyboard uses removable batteries.

Copyright © 2005-2021 Techgage Networks Inc. - All Rights Reserved.