Logitech Premium USB Headset 350

Date: March 27, 2005
Author(s): Rob Williams

Logitech recently announced at this months CeBIT, that new Headsets were on the horizon. We are reviewing their top model, the Premium USB Headset 350, which they promise to provide superior input and output sound, and great comfort. How does it do? Check out our review.
---
Introduction
Specifications
Frequency response: Headset: 20-20,000 Hz, Mic: 100-16,000 Hz
Microphone Sensitivity: -58 dBV/µBar, -38 dBV/Pa +/-4dB
USB Headset
Noise Cancelling Microphone
In-Line Controls
Plush earpads for comfort
Release Date: April 2005
Price: $49.99US
At this months CeBIT, in Hannover, Germany, Logitech announced the introduction of three new Headsets; Premium Stereo Headset, USB Headset 250 and the Premium USB Headset 350. You may be asking, "Why 3, and what's the difference?" The primary differences are not just sound quality, but construction and design, as well. The better the model, the better the design, and the more 'comfortable' it looks to be.
The Premium Stereo Headset is the only one of the three that uses the standard Audio Jacks for input and output. The 250 and 350 models use one USB port. The main differences between the 250 and 350, are that the 350 have "Plush" ear pads, compared to the 250 which uses "Leatherette" ear pads. The Premium 350 also uses 40mm neodymium drivers, which deliver crisper, cleaner sound. Therefore, the sound with the 350 should be more clear, clean and accurate.. especially in gaming. That all being said, we are reviewing the Premium 350 Headset in this review, so let's jump right onto the products features.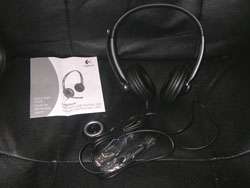 Features
The Premium USB Headset 350 is Logitech's cream of the crop model. It's goal is to provide you the best overall sound quality, comfort, and usability. Just looking at the Headset, you can tell it's a good quality product. The construction and style is great; definitely a professional looking Headset.
Now, I have not used a USB based Headset until now, so I was unaware exactly how they worked. That being said, I was surprised to see that no CD-Rom came with it.. I thought I was lost. To my surprise, just plugging in the Headset to the USB port, detected and installed it within seconds. This Plug and Play requires at least Windows 98SE, or Mac OS X+. Once installed, the Headset shows up in your Sounds and Audio Devices as 'Logitech USB Headset'. This means, that you don't even need a Sound Card to use the headset, as it's 'built-in'.
So now I was ready to test them out. I was immediately impressed with how comfortable they were to wear. They were more comfortable than I expected though. Of course, comfort is not everything, sound is. So I went into the Voice tab of the Sound and Audio Devices and configured the volumes to my liking.
The program I used to test the recording is called Sound Recorder. You can get your own copy for free here: %SystemRoot%/System32/sndrec32.exe
I recorded a line of text, and played it back. The sound played back crystal clear.. I was very impressed. This also showed me how good the noise cancelling worked. Intrigued, I decided to see just how effective the cancelling is. So I turned on my television, and kept it at the normal listening volume.
I recorded myself again, and was surprised to not hear the television in the background at all. The TV is literally 4 feet away from me, and I could hear it very clear even with the headphones on. I also tested it by playing music out of my Laptops built in speaker.. 2 feet away. I played some dance song, which I will leave nameless so as to protect myself from laughter. When played back, I could hear the song in the background. This could also be because the laptop is much closer to me than the TV, as it sits directly next to my computer monitor. If you are using the headset, you wouldn't be playing music so close, either way. I say that the noise cancelling worked quite well.
Performance
Another nice feature, is the volume control on the cord, giving you quick access to increase or decrease it. This control is bettered by the fact that the Logitech logo is actually a button, and when pushed, will mute the microphone. So if you are using it, and have to sneeze, let's say, you could push it to mute it. When you are done your business, you can un-mute it to resume chat. The other bonus, is that the volume control piece can clip onto your shirt, pocket, or wherever.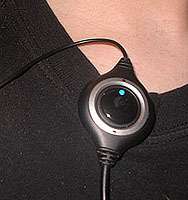 The absolutely only gripe about the headset, is a gripe I tend to have with every other headset. I wear glasses.. and while wearing the headset, it tends to push on the ears, and make the glasses one with your head. So, if you wear it for a lengthy amount of time, IE: An hour or more, your ears may be a little sore when taking it off. So if you wear glasses, and are worried about these types of effects, you may wish to consider a Headset with smaller earpads, or ones without a pad for cushioning at all, something like these. However, I found that opening them further, to 'stretch' them a little, helped a fair amount, as it made them a little more loose on the head.
Performance
To test the headset, I am going to compare my thoughts of it, compared to a standard pair of Headphones. I also tested the headset in one of my favorite games, Counter-Strike Source.
A lot of times, you purchase a headset and the recording quality may rock, but then the sound quality sucks. I have a standard headset, and the sound is just that.. crap. If you didn't want to use the mic, you would never use them for listening to music, playing a game, or whatever else. However, with the 350's, I have found myself using them for everything. Now my Panasonic pair [Discman style] are just sitting, gathering dust.
The sound quality is very good. I constantly listen to music.. all sorts. My tastes range from Punk, Rock, Dance and Metal. All types of music sounded GREAT on these headphones. I directly compared these Headphones to the current ones I have, and 350's sounded better in all the tests. Since the earpads are nice and cusioned, it automatically sounds better because it cancels some outside noise.
Counter-Strike: Source
Being a team based game, having a good a good Headset is a plus. Communication is a must, so I was itching to give them a go. While playing, I noticed how clean the sound quality was. I have not been using an especially great pair of headphones prior to this, but with these Headphones, I was much better able to hear where people were coming from. Sound quality overall was much better than before.
After play, I asked my friends how well I came through.. if there was static, or if I was unclear. I was told that I came in loud and clear, that the sound was crisp. I was also accused of not sounding like a Canadian [which I am].. whatever that means. So, if you wish to test out your different accents.. here is a great opportunity :P
I tried to benchmark with the 3D Marks '03 Sound Test, but it doesn't detect it as a sound card, so it couldn't be done. I did run a test through a recorded demo of Unreal Tournament 2004, and the results were in the 350's favor. I ran the demo with my Phillips PSC724 sound card, and it scored 21.4 FPS, while the 350 Headset got 26.5FPS. The test was run at 1280*1024 at max settings.
Conclusion
There is no question.. if you want a great Headset, this is one you should definitely consider. Mind you, I have not used any other high end Headsets prior to this one, but I have used many standard ones. I am very impressed with it, and don't have any real complaints. The comfort level is great, and so is the sound quality, both input and output. The volume control is easily accessible, especially since you can clip it on your shirt. I should note, that as good as the sound is with these, if you have a good sound card, like an Audigy, you will likely get better sound with a non-USB Headset.
Even though I found it slightly uncomfortable to use for lengthy periods, due to my glasses, this is still the headset I would choose. Kudos to Logitech for continuing to pump out quality products.
Thanks to Pamela from Logitech for allowing us to review the headset. You can be assured that there will be more Headset reviews in the future. It will be interesting to see how, in the future, they will improve on them.. since I consider these ones to be awesome.
Pros
USB Port (This might be a bad thing if you don't have an extra available)
Superb sound, both input and output
Quick access volume control, with the ability to mute your mic
Comfortable
Cons
Ears may get sore after a while, if you wear glasses.
If you wish to know when this Headset is released, you can sign up here, and Logitech will let you know when they are available.
Have something to say? Discuss it in our forums.

Copyright © 2005-2020 Techgage Networks Inc. - All Rights Reserved.