Logitech V450 Wireless Laser Notebook Mouse
Date: July 3, 2006
Author(s): Rob Williams

If you have been waiting for the killer laptop mouse to come along, this may be your best bet. Not only is it wireless, it has an incredibly tiny receiver. It also estimates 1 year of usage per battery replacement. But… is it worth your $50?
---
Introduction
If you are on the road often with your laptop, you know that it can get tedious after a while using the touchpad or track ball. That's why there is a substantial market for notebook mice, but they are still not for everyone. Although they are far more compact than desktop mice, that benefit is usually it's own shortfall. As far as notebook mice go though, they are not usually feature packed, but have exactly what you'd expect from a standard mouse, two buttons and a scroll wheel.
A few weeks ago, I took a look at the Microsoft Wireless 3000 notebook mouse, which I enjoyed. Despite it's very small size, it was comfortable and had all the features I needed. Best of all… it was wireless. If your notebook is wireless, why not your mouse? The mouse I am looking at today is arguably Logitech's answer to the previously mentioned mouse, but its amped up in a few ways.
Let's take a look at the product specs before we get into the design.
Features
Wireless
Laser Precision
2.4 GHz micro-receiver
Ergonomic Design
1 Year Battery life
Side-to-Side Scroll wheel
The V450 arrived in the usual blister pack, which I hate. I've said it a hundred times. These packages do not open easily, and the chances of you cutting yourself are far greater than other package schemes. What's wrong with shipping a product in an easy open package, like memory manufacturers use? Either way, the package does a great job of showing off the mouse we will be using within minutes.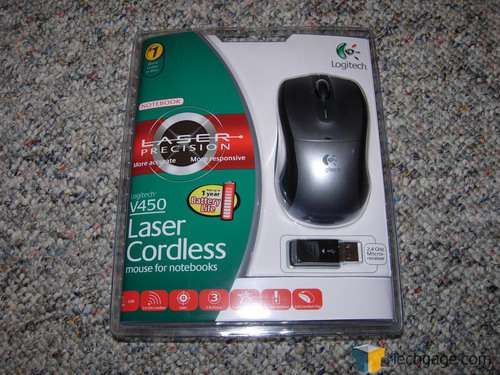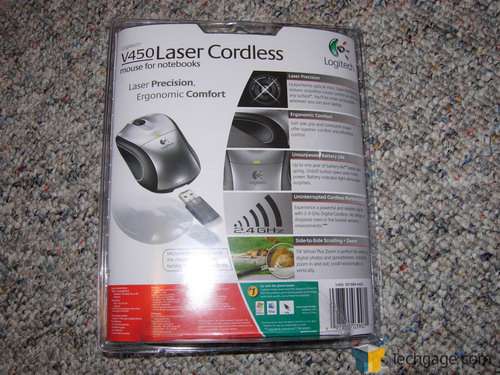 The "1 year battery life" on the package gives us our first advantage over the Microsoft 3000, which only had 6 months prospected life. The back of the package explains features the mouse has, including the fact that it has a freakin' laser instead of an optical sensor. With the mouse, we have two AA Duracell batteries, a manual and CD and then the 2.4GHz receiver.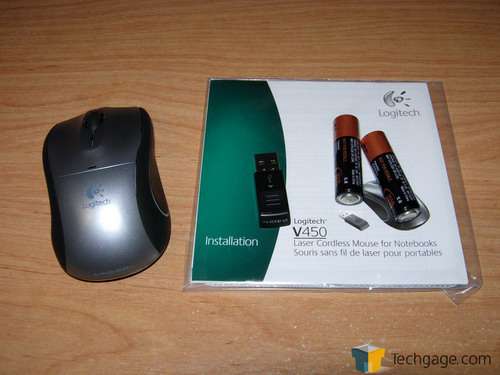 Two batteries? Yes, the projected one year life is with two batteries. Since the Microsoft mouse only needed one battery for six months, we are just about evened out. Maybe there is not such a benefit afterall ;)
As you can see in the picture, the received compared to a Quarter is small. It's a good thing you can store the receiver under the mouse, because that's just screaming to be lost.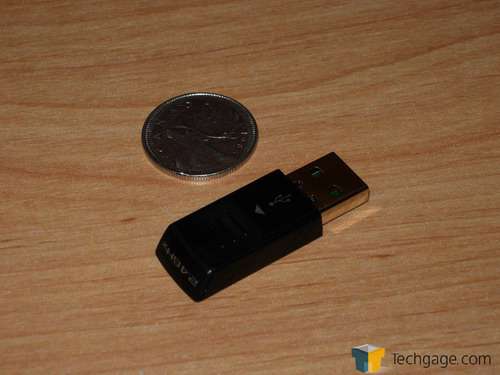 The mouse is two-toned, black and blue similar to their Wireless MX3000 keyboard and mouse. The mouse is contoured to feel good in your hand, and have a very similar design as the Microsoft 3000. After using the V450 though, I have to say I do prefer it's feel a tad more than the Microsoft mouse. It seems slightly larger in the hand, and just feels more comfortable.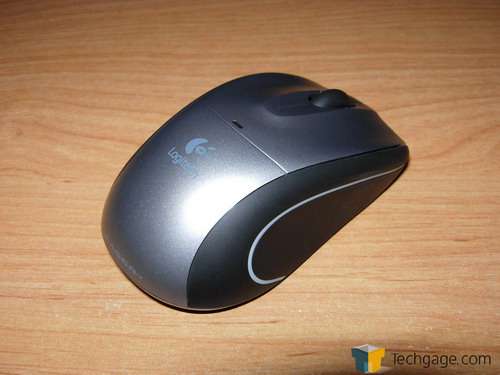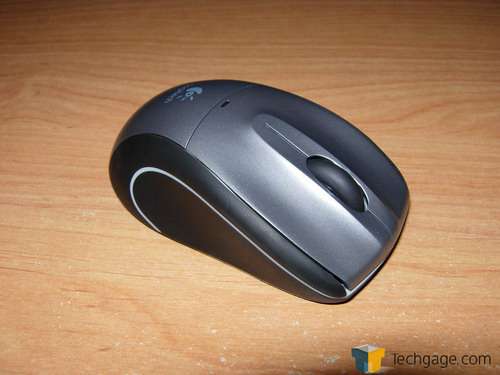 The mouse comes complete with a left and right button, and a scroll wheel. Nothing fancy here, although the wheel does click left and right so you can navigate large documents or pictures easily. I have never been a fan of this concept, because a scroll bar at the bottom is far quicker, but your opinions may differ. The mouse doesn't have any thumb buttons, but of course this is a notebook mouse. There's not too much to expect except for the basics.
The front section of the mouse that has the Logitech logo pops off with a button underneath, so you can install the dual AA batteries.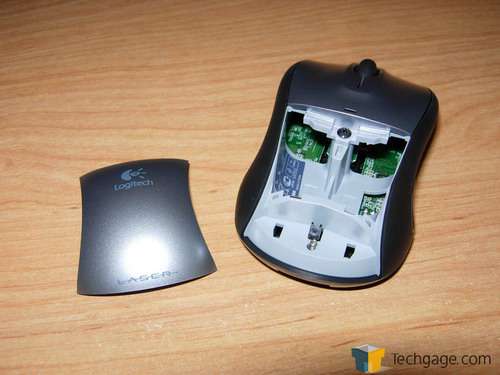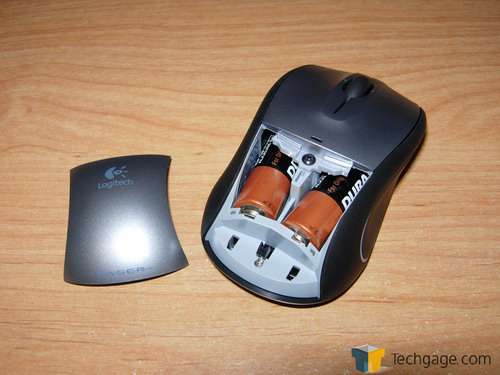 Installation & Conclusion
Speaking of underneath the mouse, the V450 took care of a problem that I found with the Microsoft mouse. That mouse had the capability of storing the receiver under the belly of the mouse, but due to it's size it completely stuck out. Because of that, there is a likely greater chance of it falling out during travel. The V450 however, has a receiver much smaller so it has the capability of completely sliding into the mouse and remain flush with it. The receiver will appear invisible until you want to take it out. There will be no worrying about losing it.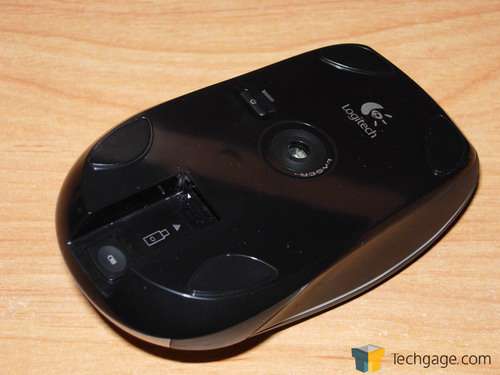 Yet another benefit the Logitech mouse has over the MS 3000 is the fact that you can turn it off without having to remove the battery. This is a good way to conserve battery life. Although if the mouse is left idle anyway, I am unsure how much extra life this will buy you.
Installation & Testing
Because I primarily use Linux on my laptop, I always make sure it works there first. Just as I experienced with the MS 3000 mouse, the very second I plugged in the receiver, the mouse was working. This is what I call a quick installation! Linux detects it as a "Logitech USB Receiver".. twice. I assume it classifies it as two devices because of the receiver and the mouse are separate. Either way, the only thing that does not work is the side scroll feature. Some third party Logitech applications may help it function though.
In Windows, the mouse functioned 10 seconds after plugging in the receiver. Far better than the Microsoft 3000, which took almost 3 minutes. The CD that they include with this mouse is for use with Windows, and contains SetPoint 2.60a software. SetPoint hasn't changed as far as I can remember, but offers you full control over the configuration.. including gaming support. Here are a few screenshot's:
To test the mouse out, I focused on normal usage. As one would expect, the mouse is -very- precise. This is important if you plan on gaming while you are on the road, although I assume most people will still bring along a regular sized mouse for that. The only real complaint I have, would be the scroll wheel could be a little easier to press. It's not tough to push by any means, but because of the size and design, I feel it would be a little bit more comfortable if you didn't have to push -as- hard as it requires.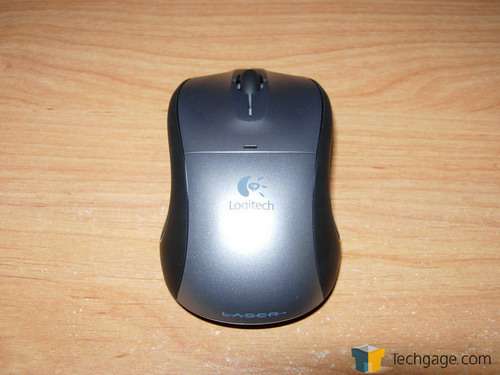 Either way, this is a great mouse. I tested with Neverball under Linux and the mouse performed exceptionally. I for one, am not one to game with anything but a standard gaming mouse, but this proves to be a solid alternative. Even gaming aside though, I would still sooner bring along a wired mouse before I would a wireless notebook mouse. The size is just not for me. Bigger is better in this regard.
If you are one of the people who do enjoy notebook mice though, you will -love- this one. It performs extremely well, is as precise as any other notebook mouse out there, has complete configuration through SetPoint and best of all… is wireless. It has a freakin' laser, so how could this mouse be bad? The V450 is not in retail channels currently, but should be within the month. Logitech has set the SRP price at $50US, but you can bet it will likely be less than that when it arrives at some e-tailers.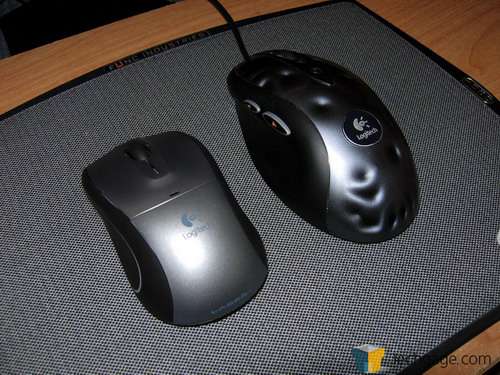 I am awarding the Logitech V450 an 8 out of 10. I prefer this mouse more than the previously reviewed Microsoft 3000 Wireless Notebook mouse, but it will receive the same score. The primary reason is due to the V450 costing up to 75% more. The Microsoft mouse currently retails for around $26US, and if the V450 arrives at even $45, it's still quite a hike. Either way, if you prefer quality over a few extra bucks, you won't regret waiting for this one.
Pros
Laser + Wireless!
Comfortable
Small Receiver
Ability to turn off
Cons
$50 pricetag
Packaging that requires a blade to open
Discuss in our forums!
If you have a comment you wish to make on this review, feel free to head on into our forums! There is no need to register in order to reply to such threads.

Copyright © 2005-2021 Techgage Networks Inc. - All Rights Reserved.