Logitech Wireless Music System

Date: April 5, 2006
Author(s): Rob Williams

Do you wish you had the ability to stream music across your entire house? That's where the Logitech Wireless Music comes in. It will allow you to play all of your digital music through your home stereo or standalone speakers. Let's check it out and see if it's worth your time.
---
Introduction
We have taken a look at many Logitech products in the past, but here is one that's completely different than anything else we've reviewed from them before. The idea for the product is simple. You have lots of music on your computer, but don't want to have to be at your computer in order to listen to it. However, you do have a stereo in your living or recreation room. Instead of hauling your computer into that room, you can wirelessly stream the music and use the stereo speakers for output.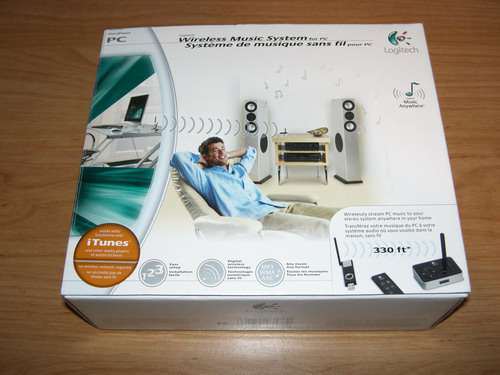 The fact that MP3's are the new music medium is not one you will see many argue over. Another fact is that people don't always want to be at their computer, or nearby in order to hear your songs. Wireless headphones is another potential option, but who really wants to have to wear those often? Nothing would beat being able to relax on the couch and listen to your music without having to grab new CD's all the time. Let's first take a closer look at what we receive with the package.
Closer Look
I don't know why, but I had expected the package to be much larger than it was. The overall product doesn't take up much space, which is a good thing. The first thing you will see after cracking the box open is the manual and software. There are a total of six main parts included with this kit, and the first one you will pull out is the USB base that plugs into the back of your PC. The transmitter is also USB based and is slightly larger than a normal thumb drive. It can either plug into the base, or you can skip that entirely and plug it straight into your PC. The transmitter has an attena that can be raised to point straight up or lean on an angle.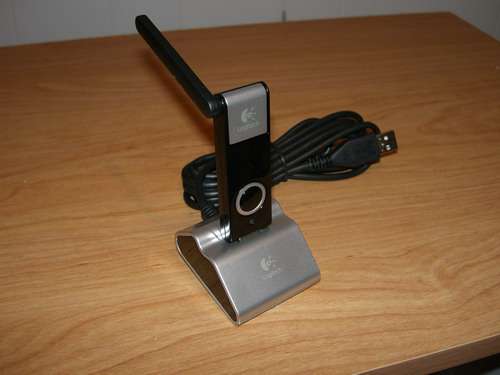 Next up is the receiver that you must hook up to your stereo. This is a rather simple box that's complete with playback buttons in addition to volume control. The last thing in the box is the ultra tiny remote control. As you can see compared to a quarter, it's very lightweight.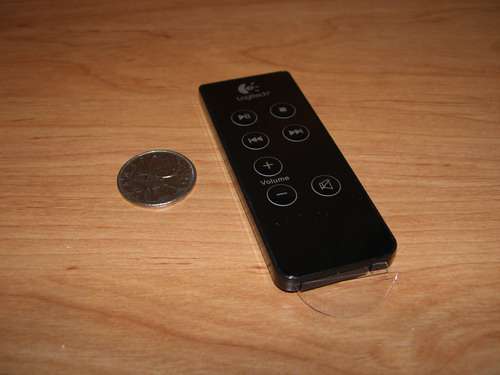 This is overall a very compact looking setup, but includes everything that's necessary to get things up and running. The only piece of the kit that will require battery power is the remote control. Because the control is so small, it uses a large round battery instead. Replacements can be picked up at your local electronics store, but chances are extremely low that you will ever kill the one included.
Installation
First things first. I had to plug the USB base into my computer and then plug the transmitter into it. Windows immediately picked up the new connection and detected is as a sound driver. Whenever you install a USB sound card like this, Windows will automatically set it to become the default driver. This basically means that you will get no sound from other applications after you plug this in, so you will need to open your sound options to change it back whenever you need your sound back.
The next step was connecting the receiver base to my stereo. Finding a good candidate was easy.. the work out room! Instead of having to lug up my CD's, I could just stream my music during a workout. In all honest, after a hard workout the last thing I feel like carrying out is a heavy CD ;)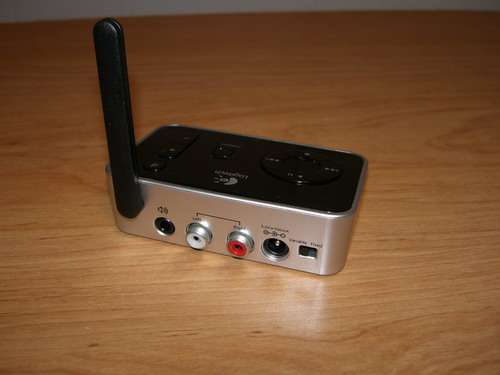 I only have a cheap stereo, but it plays music and has two speakers so it's a good solution for a workout room. It has the option to plug in the audio cables and use an auxilary setting, so I didn't run into any problems like that. After hooking up the base to the stereo and gave it power, the LED immediately lit up blue. According to the manual, this meant that the connection was solid, so I was one step closer to streaming music. The distance from the transmitter to the receiver is around 30 feet, and both are on seperate levels.
The only software included with the setup is Logitech Music Anywhere, which has an incredibly quick install time. The program, although simple, was not that clear. I didn't really understand what I was supposed to do, if anything. On the media players tab, it notes that it is compatible with WinAmp and Windows Media Player, because they are both installed. It officially will support iTunes, MusicMatch and Real Player also though. My favorite MP3 player is Foobar, which isn't listed, and I didn't really expect it to be.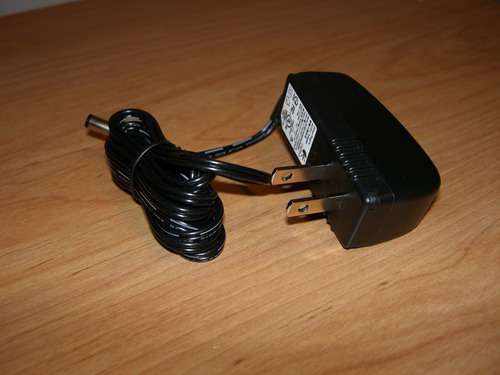 I would have liked to see an option that would allow you to set up your own media player. Sure, it wouldn't be a simple process, but at least it would have offered more power to users who want it. Regardless, Foobar worked just fine as long as it was the active application. If you use one of the support programs though, it won't matter if it's active or sitting in your taskbar.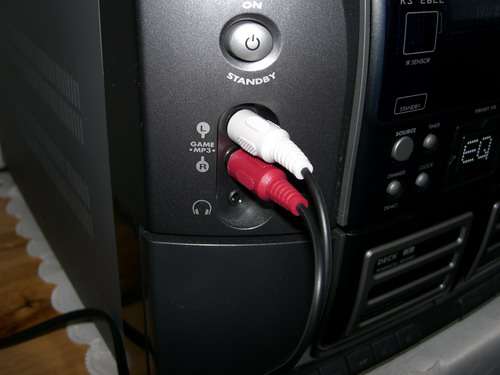 Something I found odd was the fact that you cannot download this software off of the website. I was hoping that there was a newer version of the software available, but I assume not since the program can't be found on their site to begin with. You will still be able to use the product without the software if you lose the CD-Rom, but you won't have as much functionality.
Testing and Conclusion
The entire setup was confusing at first, but all the problems were minor and quick to fix. The first problem I had was that my media player was not using the USB sound driver as the primary. This is because I changed the sound card before I tried testing out the setup. So, I made sure that Windows and Windows Media Player were using the same driver and tried it again.
Everything was good this time around. The sound was coming through my stereo no problem and was just as clear as CD audio. This is where my second problem arose. The remote control playback buttons did absolutely nothing. After a few trips to the base and back, I found out that I was simply not pushing the buttons hard enough. Yes, that is as crazy as it sounds. Even though the buttons would 'click', I was not pushing them hard enough. The remote is sort of clunky in this regard.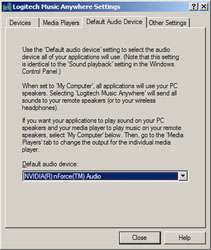 After these issues were sorted out, everything was working good. One problem I did find is that I could not control the music from other rooms in the house. Even trying to change a song from the very next room would not work. You *must* be in the same room in order for the playback control to work properly. In the end though, the sound quality was fantastic and the initial setup wasn't too complicated.
Conclusions
This is a good system for anyone who wants to stream music throughout their house… but it's a clunky one. It's rather easy to set up and install, but getting your music to work right off the bat is a challenge. Chances are good that you will have to run back and forth in order to get things working properly. I would have liked to see the Music Anywhere software co-operate with the media players a little more. While I test troubleshooting the setup, I was unsure if the receiver was even receiving the signals, so even an on screen display would be nice.
The Wireless Music System is not an inexpensive purchase, so I would have loved to see some additions. Primarily, it would be nice if the software could read current song names and display them on the receiver base. For the price that this setup is going for, a small LCD screen is not asking too much. Also, I would have liked to see the range on the remote be larger and the software more in-depth.
This is a good setup and I can see myself using it often, but the clunkiness holds back from it being truly worth the $130 average price. If a new computer user is going to try to get this working, chances are they will be in for a not-so-fun ride. Even I found myself confused at some points, but most of the issues were at least minor and could be fixed quickly. Overall, I am giving the Wireless Music System a 7 out of 10.
Feel free to discuss this review in our forums. You do not need to register in order to reply to our content threads.

Copyright © 2005-2020 Techgage Networks Inc. - All Rights Reserved.