Matrox TripleHead2Go Digital SE Multi-display Adapter Review

Date: July 18, 2014
Author(s): Greg King

Using 3 or more displays on a single desktop PC is a breeze nowadays, thanks to the efforts of the three main GPU vendors. The situation is different on the mobile side, however, and that's where Matrox, with its TripleHead2Go series comes into play. For this article, we're taking a look at one of the company's latest models, the Digital SE.
---
Introduction & A Look at the Hardware
A little over eight years ago, I took a look at what I still consider one of the coolest items I've had the opportunity to evaluate.  First seen at  GDC 2006, the Matrox TripleHead2Go provided my first experience with multiple display computing.  At the company's booth, it had a tech demo of Half-Life 2: Lost Coast on the triple-headed PC, and for the first time in my life, I felt fully immersed in a game.
Skipping ahead a few months, we had that very same device on our bench, running our own tests and forming our own conclusions.  In those tests, conducted with three Dell 19" monitors, we were left with a strong appreciation for what the TH2Go could offer someone to whom productivity and entertainment were of paramount importance.
Fast forward to today.  Our graphics cards by themselves have the ability to power three monitors.  With multiple cards, the number of monitors can increase further.  Both NVIDIA and AMD have made this capability a priority, so the novelty of the TH2Go is considerably less now than it was back in 2006 when we took our first look at the device.  That being said, it still carries with it great significance to those of us with notebooks.  Many professionals that I know today no longer have a desktop computer – the mobility of a notebook lends itself so well to a busy professional life.  For many, myself included, a home office allows us to remain productive outside of our offices.  Part of that productivity is helped along by the adoption of multiple monitor setups.
While working at my desk during the day, I have a MacBook Pro with a pair of monitors, one on either side.  One monitor is powered by the Thunderbolt port on my Mac, and the other uses a USB 3.0 Lenovo DisplayLink adapter.  With this, there is miniscule yet noticeable lag, and because of this, I use that monitor for static information like Outlook.  For use cases like mine, this is acceptable but sometimes a DisplayLink adapter just won't cut it, and sometimes, a device like the TH2Go is necessary. Because of its relevance for many of us running multiple monitors, we are looking at the Matrox TripleHead2Go, Digital SE edition.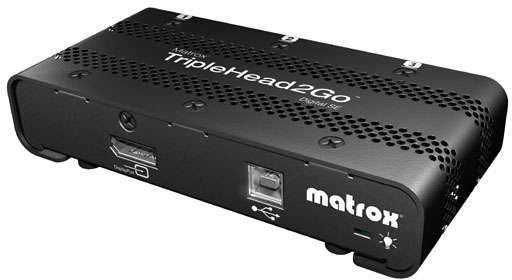 Like the original TH2Go, the Digital SE version we have today is made entirely out of aluminum.  Unlike that first version, this one is rounded at the ends and consumes about the same amount of real estate on a desk.  While there have been many variations of this product over the years, employing most any display connector available, the version we have today takes video in via a DisplayPort port in the front and internally splits it out among up to three DVI ports.  The top of the device is perforated with a pair of cooling holes that run the entire length of the unit.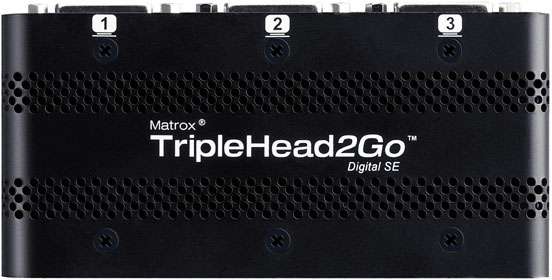 The front of the TH2Go only has two ports and one LED.  In order from left to right, there is a single DisplayPort for the video in, a Type B USB port for auxiliary power and an LED to indicate power.  That's it.  The TH2Go is very minimalistic in design and honestly, there isn't really anything else that it needs.

On the back of the TH2Go are a trio of DVI connectors.  Each are labeled at the top and allow the connecting of up to three separate monitors.  If you only have a pair of monitors, you can still use them up to resolutions as high as 1920×1200.  When employing three monitors, the maximum supported resolution for each screen is 1920×1080, which is convenient as most popular monitors default to this resolution and it allows for the use of television.  That is, if you have three, side by side by side.  You have that, correct?

The TH2Go ships with all the accessories needed to get your multi-monitor setup configured.  Along with the unit itself, a male-to-male DisplayPort cable is included, along with a DisplayPort to Apple Thunderbolt and a Type A to Type B USB cable.  While most anything anyone would need in the form of documentation can be found easily on the Web, Matrox has seen it fit to include a "getting started" CD.
That takes care of the look at the hardware, so let's check out the software next, as well as some real-world examples.
Setup, Uses, Gaming & Final Thoughts
Setup of the TH2Go is simple.  Once the software is installed, launching it brings you to the PowerDesk home screen.  From here one can set up their multiple monitors, set up keyboard shortcuts and designate how the software will handle different windows being opened on different monitors.
For most, the primary area of PowerDesk is going to be the multi-display setup.  This is where the orientation, resolution, color palette, and refresh rate can be set.  In this screen grab, we have two 24" monitors.  These together meet the highest vertical resolution that the TH2Go can handle.  When we bumped down the resolution of our three Dell 24" monitors to 1920×1080, we were then able to utilize all three monitors.
For gamers, one final part of the Matrox TH2Go gaming experience is bezel management.  This feature "was designed to enhance gaming environments by converting three seemingly disjointed images into one continuous image" according to Matrox product page for the TH2Go.  In layman's terms, it brings in the peripheral monitors in slightly, to line up angles lines that would otherwise look disjointed due to the bezels on the sides of each of your monitors.
Gaming with the TH2Go is a very straight-forward affair.  With the PowerDesk installed, your PC is 'tricked" into thinking that instead of three separate monitors, you have one very widescreen display.  Because of this, if the games you are playing support this super wide resolution, it will now appear as an available setting.  For the TH2Go, the maximum three screen resolution is 5760 x 1080.  That's over 6.2 million pixels of gaming delight.

When we reviewed the first TH2Go, we experienced a fisheye effect on the left and right of our display.  This has mostly been addressed and in the below screen shot of HL2: Ep2, this problem is not present.  The super wide resolution does add additional visible landscape on the sides, which comes in very handy in some games like first person shooters and real-time strategy.  It also gives this games a better feeling of immersion as the sides feel like actual periphery vision.

Moving over to GRID 2, we get a little of the fisheye effect.  It's not distracting, given the nature of these types of games, but the screen grab does provide a good example of the effect that might be present when playing some games at this resolution.

When not gaming, your displays will still appear to your PC as a single, wide display.  With PowerDesk setup, you can still use each monitor independently of the others and when maximizing a window to full screen, it can be setup to open across all screens or with the borders of an individual monitor.

Final Thoughts
With the capabilities of newer graphics cards, the TH2Go's novelty of multi-monitor gaming has waned quite a bit. Where before, gamers relied on either a device like this or multiple GPUs, today's cards have many different video out options and can handle multiple connected monitors without breaking a sweat.
That being said, the true value of the TH2Go seems to have shifted back to what Matrox originally intended it be used for; multiple monitors from a single mobile video source.  Today, I use a TH2Go as a kind of base station at home.  My three monitors are connected to my PC, but their secondary connectors run to the TH2Go.  This in turn gets connected to my Mac via its Thunderbolt port.  This allows me to use my personal monitors when working out of my home office and when needed, quickly return to mobility by disconnecting a single Thunderbolt adapter.  It's that simple.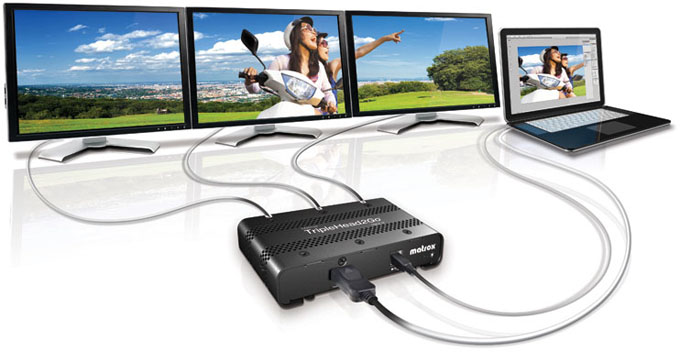 When we first reported on the Matrox TripleHead2Go, the idea of gaming with three monitors was still new to this editor.  I was drawn to the product for this single function. It was only after using it for my day-to-day that I learned the true value of utilizing multiple monitors… a lesson that I have applied to my career to great effect.  There isn't a workstation or notebook in my building now that doesn't connect to at least two monitors.  Products like the TH2Go, and it's smaller brother the DualHead2Go, allow the use of many monitors from a single DisplayPort (or in my case Thunderbolt) port on a notebook.  Retailing for around $250 USD, the TH2Go is a valuable addition for those looking to increase productivity and work flow by adding a second or third monitor to their notebook.
Copyright © 2005-2020 Techgage Networks Inc. - All Rights Reserved.