Microsoft LifeCam VX-6000 & VX-3000

Date: October 3, 2007
Author(s): Jen McPherson

Microsoft released two brand-new webcams last month, the VX-3000 and VX-6000, both of which have a huge feature-set. The better of the two even offers "high-definition" 1.3 megapixel video capabilities. We've been testing both webcams for the past month and relay our thoughts here.
---
Introduction
Webcams are a staple in internet chat, and rightly so. It's a great way to stay in touch with people who live far away, and see them in person despite the distance. Microsoft has created the LifeCam series of webcams, each having various specs and prices that can suit the tech savvy to general casual users.
Today we are looking and comparing two models, the higher-end Microsoft LifeCam VX-6000 and the mid-range Microsoft LifeCam VX-3000. We will be looking at how they compare in specs, overall use and price.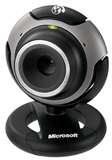 Specifications and Features
Microsoft LifeCam VX-6000
Compatible with all leading instant messaging software.
High Definition Video (1.3 megapixels) and photos (5.0 megapixels interpolated)
Wide-angle lens: 71 degree field of view
3x digital zoom
Automatic face tracking software
Automatically adjusts for low-light conditions for superior video quality
Crystal clear audio
Built-in unidirectional microphone with acoustic noise cancellation
Windows Live Call Button
LifeCam Dashboard- Add video effects and control your webcam all from the Windows Live Messenger window.
One-Touch Blogging- Upload your blog on Windows Live Spaces with any of your photos at the simple click of your mouse.
Microsoft LifeCam VX-3000
Windows Live Call Button
LifeCam Dashboard
One-touch Blogging
Superior Video Quality
High Definition photos
Optimized for Windows Live Messenger
Built-in Microphone
Automatic Face-Tracking Software
Video Effects
Universal Attachment Base
Pan, Tilt and Zoom
Flexible Six-Foot Cable
Up To 30 Frames Per Second
Crystal-clear Audio
Broad IM Compatibility
Compatible with all leading instant messaging software.
Closer Look
Both cameras came in a nice box with a great deal of information presented. The cameras were packaged well as were their contents. They came with several pamphlets, installation instructions and the LifeCam 1.0 Webcam Software disc.
I began with the VX-6000. The installation for the webcam software was simple and like most software today quick and easy, and for any first time user the installation directions are straight forward. The installation places a shortcut to your LifeCam utility program on your desktop. Once the drivers for the cameras and the LifeCam utility were installed I plugged it into one of the USB ports on the back of my pc. It detected the camera immediately.
With the camera plugged in and ready to go I set it up on top of my monitor. The base on the camera folds open so that you can hook it over the edge of your monitor. It works especially well with my flat panel LCD screen, but because the base is versatile it can be set on even large CRT monitors, lap top screens or directly on your desk. The camera is quite flexible in design, and the camera can swivel and turn in just about any direction you need it to.
First I dabbled with the LifeCam settings in the utility program. It has some interesting video effects that you can use while in chat. I for one would probably not use them often, but it's good to know that you can throw up something fun every now and then on your picture. These effects work with both cameras.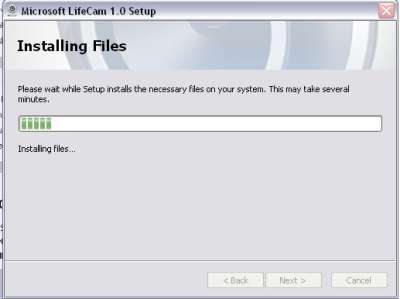 Within the utility you can also adjust the camera's zoom and pan. I found that I rarely used the pan for either camera, as it's just easier to adjust your camera. However I did use the zoom with the VX-6000 because when I first used it the camera was set a little far back, and in conversations it looked like I was sitting really far away from the camera. The zoom fixed this easy and quickly.
Testing, Final Thoughts
I found that I did not really care for the face tracking, as it seemed clunky to me. The camera will follow your face around when you move, and even though it may seem like a good idea, often it just makes the camera feel jerky. It'll adjust zoom and pan automatically, and sometimes goes in really close to your face while it's adjusting. It isn't really a necessary feature, at least in my opinion. Unless you like really close shots of your nostrils. This occurred on both cameras. It is a feature that you can turn on or off inside the LifeCam settings, thankfully.
The VX-6000 is nice because of the widescreen view, especially if your video conferencing with family. More than one person can be in the scene at once. But there is one small downfall. With more space viewable behind you people are more opt to see the messy room behind you, or in my case the unfolded laundry. As I said, it's a small, teeny, tiny negative, for it just forces you to keep your room tidy while using it.
Both cameras are equipped with the Windows Live Call Button, which opens up Windows Live Messenger, and also lets you start up web cam chats with people on your list. The one major downside to this button is its position. If you reach up to adjust the camera, you're more than likely going to hit this button. It's on the top and is quite large. It's not bad, but it can get annoying when you have to close the pop up box.
When I installed these cameras I did not have Windows Live Messenger, but a later version of MSN Messenger, and I was still able to use it with the older version. You can also post up photos on your Windows Live Spaces using the software's features. However all the software features are compatible with Windows Live Messenger only.
Although its software doesn't boast a lot of features, you can take still photos, shoot videos, and edit with either Windows Movie Maker or Microsoft Paint. Picture wise the quality is alright, but images are interpolated. The VX-6000 can go up to 5.0 MP, but even so the images are a bit grainy, especially when you have very little room light. The VX-6000 has the automatic low-light adjuster built in, and my PC room is rather dark. It does well considering, colors look alright but they seem a bit flat. Zooming in with the cameras also seems to make the image quality worse.
Videos are good, both cameras capable of capturing 30 frames per second. The VX-6000 is capable of going up to 1.3 MP video, whereas the VX-3000 is capable of 640 x 480 resolutions. Both cameras have an adjustable focus, which is the front ring around the camera lens. Turning it in either direction can help to focus the image better.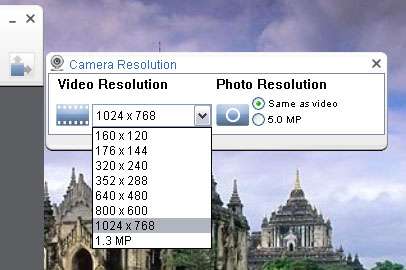 Both cameras come with a built in microphone, yet I had trouble getting the VX-6000 mic to start at first. I thought that it was perhaps my headset with built in mic conflicting with it. So I unhooked it, reset my recording settings. Still nothing. I tried multiple times with the LifeCam software to no avail. Using a different program to record with I was able to test the mic, and it did indeed work first try.
The sound was alright, a little hollow and low being that it was sitting away from me, but it was clear and not at all muffled or choppy. You do find that you end up yelling at the camera more often than not, which is not ideal. It did pick up some background noise though, and my TV is in the other room. The recording features for both sound and video have a delayed start time, of about 8-10 seconds.
Comparing the two it is easy to see that the VX-6000 has more features, and yet the VX-3000 is still a decent camera. They are both capable of taking video at the same frame rate. They also run off the same LifeCam software, and are integrated with Microsoft Live Messenger. The VX-6000 does take 5.0 MP pictures and has the wide frame lens, which is a nice bonus.
I did find that the VX-6000 sits further away from your face to start than the VX-3000, and you have to adjust the zoom a bit. With the VX-3000 I didn't need to fiddle with the zoom, except for testing purposes. Of course this is no issue with either camera, for it is trivial and easily adjusted.
Although the VX-6000 has a higher MP resolution I find that I don't bother recording or chatting at the larger sizes. For someone who likes to do so, that's fantastic, and would find it a nice aspect. The VX-3000 did have a nice picture as well though, although the camera lens is typical of most cameras today.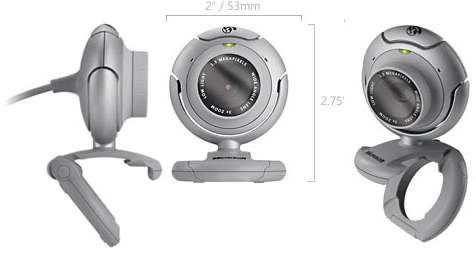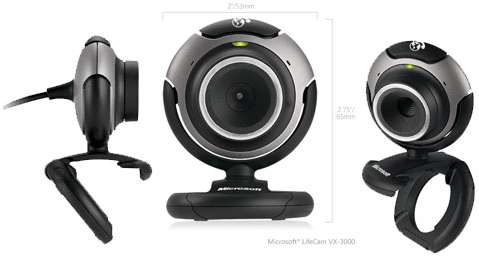 Overall I didn't find the cameras to be exceptional, but they do the job. They are light weight, easy to adjust and set up, and come with some decent software features. Comparatively the VX-6000 is naturally a bit better in features than the VX-3000, and many would find the widescreen on it to be a really great asset. But price wise the VX-3000 is better. You get nearly the same features for almost half the price. On average the VX-6000 runs between $47-100, whereas the VX-3000 runs about $28-$50, depending upon the seller.
I give both cameras 7 out of 10.
Pros VX-6000
Easy set up.
Works with many messenger programs.
Wide-angle lens.
5.0 MP pictures.
1.3MP video.
Auto Low Light Adjustment
Cons VX-6000
Mic voice pickup is low.
Large call button gets in the way during adjusting.
Must use Windows Live with blogging and Call button features
Zooming lessens picture quality significantly.
Video and pictures slightly grainy.
Clunky face tracking.
VX-3000 Pros
Easy setup.
Works with many messenger programs.
Relatively inexpensive.
VX-3000 Cons
Mic voice pickup is low.
Large call button gets in the way during adjusting.
Must use Windows Live with blogging and Call button features.
Zooming lessens picture quality significantly.
Video and pictures slightly grainy.
Clunky face tracking.
Discuss in our forums!
If you have a comment you wish to make on this review, feel free to head on into our forums! There is no need to register in order to reply to such threads.

Copyright © 2005-2019 Techgage Networks Inc. - All Rights Reserved.