Microsoft Wireless Entertainment Desktop 8000

Date: December 25, 2007
Author(s): Matt Serrano

The long anticipated Wireless Entertainment Desktop 8000 is here, but does it impress? The entire package does a fine job of looking good while offering solid functionality, but we found it lacks greatly in a few key areas. The most notable being the price… at $300.
---
Introduction
It goes without saying – Microsoft holds a large portion of the peripheral market. We have used their keyboards, mice, trackballs, joysticks, game pads, and who knows what else over the years. Microsoft (for the most part) has always made quality products for a variety of users, so peripherals were a small, but respectable business for them.
Well before the release of Vista last January, Microsoft teased us with a few photos of a very promising mouse and keyboard setup. The Desktop 8000 was supposed to be released along side Vista and take advantage of many of the operating-specific features that were to be introduced, and many innovative features for the keyboard that hadn't been used before on the desktop.
Going forward a few months, they failed to deliver the 8000 at Vista's release, and many months thereafter. But recently, Microsoft sent us a sample to test out.
Right off the bat, I need to say this keyboard and mouse package challenges what functions traditional products are capable of. In hindsight, getting to use a piece of plastic with more that a QWERTY keyboard next to two buttons and a scroll-wheel can really change your expectations of what it means to use a keyboard, which can be a good thing if it packs more than a few media buttons and an unusable software package. I'll get to that later.
Now to put it simply, this keyboard is different. Excluding the fact that this is a media center keyboard, with specific features and functions designed for that use, the set is expensive. Really, really expensive.
No, really. The sticker-shock warning is in full effect here.
While it has a lot of interesting features, many of which we've never seen used in a setup such as this, the cost would make nearly anyone turn their heads and walk away. With an MSRP of $299.95, there is going to be a small portion of people willing to purchase the product.
Media Center keyboards are inherently expensive because they are usually wireless. Many sets cost upwards of $150, but in all honesty, $300 is high, regardless of how good the keyboard and mouse may be.
In this review, I'm going to let value affect the score, but I will let it be known that it is still strictly my opinion. Prices in the technological industry often go down, but at the time of writing a higher price can be argued as a fault of the product.
Closer Look: The Keyboard, Mouse, Charging Station
Microsoft's Desktop 8000 shares many of the same similarities compared to its older sibling, the 7000. Putting the two together, you would most likely only be able to spot a handful of differences. The overall look remains the same, but the keyboard has a more pronounced metal look, and the 8000 contains a few smaller features that the 7000 simply lacks.
You could say this keyboard is special, in the sense that it's designed to be used on both a desk and a couch. The entire package seems to have an appeal destined for many different types of users which is indicative of its showing.
The keyboard is simple (in a way) and elegant enough to be used in an office, with the accompanying shortcuts and tools to make more use of it, but its potential shines in a home theater setting, where the typist can make use of most of its features (and I've never heard of a business user who couldn't get by with a $20 Dell keyboard and mouse).
Like Rob's complaints in his 7000 review, I am not a fan of the semi-ergonomic keyboard. The curved-shape of the board doesn't sit well, but I would imagine anyone looking at this set would be familiar with or at least comfortable getting used to the change.
The package contains both a mouse and keyboard. Since both peripherals are wireless, a charging base station is also included that will charge both. Five double-A batteries are included to run the set, four for the keyboard and one for the mouse.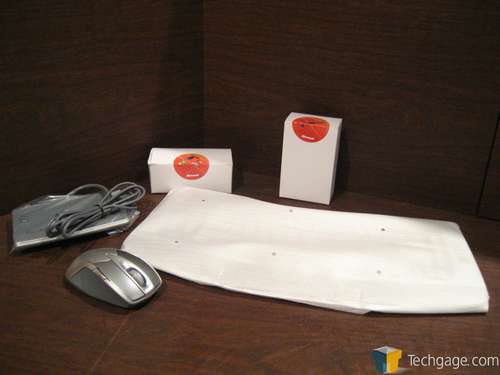 Upon first impressions, I was severely disappointed when I took the keyboard and realized it was mostly made of plastic. Judging from Microsoft's description, I was under the impression that most of it would have been made out of brushed aluminum, not the top part that only makes contact with the charging bay.
The keyboard is silver all-around. Darker accents are on the top and bottom, which provides a nice display of contrast and generally enhances its presentation. The keys are cut through, similar to how the Logitech G15 or Saitek Eclipse keyboards look, but any additional information (numbers, mathematical operations) are screened on.
The keys are laptop-style, but unlike most keyboards that incorporate them, they don't use a traditional desktop layout. For instance, the "Delete" key and " "Page Up/Down" keys are squished in the right-hand side. The arrow keys are also bunched together, which makes them hard to hit when you're into your first few hours using it.
The Escape, Function Print Screen, Pause/Break and Home and End keys on the top row are touch based. I thought that was an interesting choice considering there doesn't seem to be any reason to choose them over physical keys. I found them to be annoying to use because I couldn't tell when I was pressing one, or in some cases I would press one on accident, interrupting my work flow.
The keys are backlit with white light, but one of the cooler features is the "Intelligent Backlighting" feature, which is designed to turn on when you're at your computer and when light is low, but turn off when you walk away or it is not needed to save battery life. During my testing, the backlight did occasionally turn on and off when it wasn't supposed to, but it didn't bother me at all. To me, it's subtle and doesn't blind you. If I didn't have my hands over it for a period of time, it would turn back on when I started typing.
The extra keys are located on the left and right sides. The right is the more barren of the two, which only has a navigation pad (similar to a track pad on a laptop, which would be most useful when using it on a couch), a back button and an orb with a Windows Media Center icon to start the interface.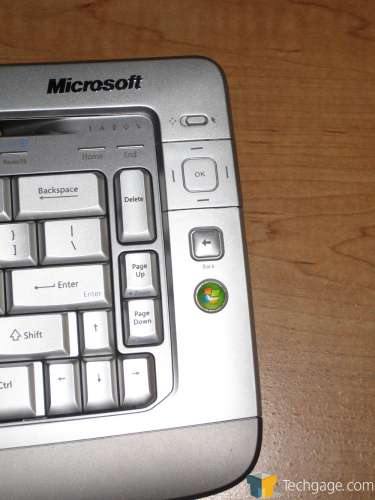 The left side has your standard affair of media keys, a record and mute button, channel and volume controls, and a button used to call up OneCare (by default). The outer edge has a left and right mouse button, a magnifying button and one last button used to bring up Windows Gadgets.
I don't like the placement of the Windows button. In its place, an Fn button was placed (there is no Windows key on the right-hand side) which is used to type certain keys or initiate certain features, underscored in blue type. It's not hard to get to by any means (your left thumb can travel over fine), but I have to say I'm personally used to having it next to the Alt and Ctrl keys.
Compared to the keyboard in the 8000 set, the right hand is much simpler. The included mouse is an attractive peripheral that lends itself well to the overall experience, but I wouldn't say it's nearly as interesting or innovative.
The mouse seems odd to hold in general, but for some reason, it seems to work better in my left hand rather than my right. I've never been a fan of ambidextrous mice, and the 8000 is no exception to my rule.
The area where the palm rests is aluminum, but you probably couldn't tell that by its feel, which still feels like hard plastic for some reason. There is a nice feel to the left and right grips, and most of the buttons are easier to reach, with the exception of the magnifying (right) button. I could get to the back (left) button easily by lifting my thumb, but getting to the other one felt awkward and usually involved me moving my ring or middle finger over. I would have personally favored having both of them on the same side, but there is an argument to be made for left handed users.
The scroll wheel glides easily, but it has a peculiar feel to it. By moving it slightly or for short periods of time the wheel remains stiff. Moving it even more would cause it to spin rapidly. This is by design, but opinions will be mixed. The wheel is also able to scroll left and right, but I found it to panic most of the time and go in the other direction for some reason.
The charging station is probably my favorite part of the bundle. I love the amount of choice it gives me and it's simply convenient to use. It basically charges both the mouse and keyboard. It rests on the metal contacts on the top bar of the keyboard, and the mouse is placed on top (in either direction).
The fun part is the USB hub it doubles as. There are four ports in total, located on the three available sides of the device. One of them is designed to fit the Bluetooth adaptor, but it can be used with any cable if you prefer connecting it straight to your computer (or if your computer is already Bluetooth enabled).
If you find the station clunky (and you could say it is, it's rather heavy), you can still replace the batteries like any other set. It's the best solution I've seen from any wireless keyboard and mouse, but it's not without its problems. The USB cable is not detachable, so despite being able to plug the Bluetooth adaptor into your computer, the cable will be dangling in the breeze somewhere nearby. Another problem I had was with charging. A faint whining noise was emitted while the keyboard or mouse was being recharged which will bother a lot of people.
Final Thoughts
The Desktop 8000 provides an interesting look at what can be done with a simple keyboard. You can use this one device to do so many activities, from typing a document to controlling media. Other keyboards can provide the same functions, but the 8000 is designed with elegance and ease of use in mind for it particular task. It's a universal remote for your computer, without having to change the batteries.
Yet sadly, I don't think there's going to be much demand for the product. Sure, it's nice to have that universal remote that's able to take control of everything you use, but more people are fine with having 5 or 6 remotes by their computer if it means saving some cash.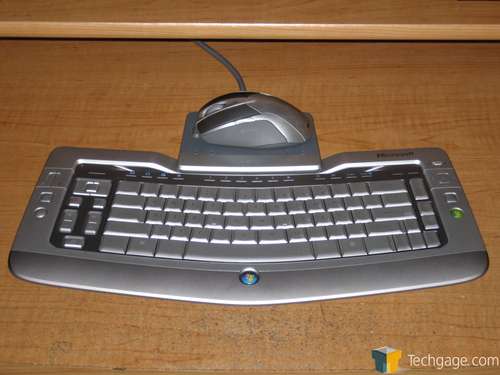 Looking at the product at the standpoint of a HTPC user, I would have to be pretty serious about my setup to even consider getting it. The crux is that the bundle is simply too expensive. I could see myself paying $50 for the mouse, and another $150 for the keyboard at most, but combining the two at $300 is simply reaching to me. The lowest price I've seen it is in the range of $230, which isn't terrible, but still higher than I'd like.
As a day-to-day user, I would pass simply because I don't think most users would find themselves using every single feature (meaning the rest of the money spent is wasted). You're also encouraged to use Vista (or at most, XP Media Center Edition), even though both accessories will work under XP, the experienced is marred if you don't.
Getting to the hardware itself, the keyboard definitely takes getting used to. I've never been a devotee of Microsoft's blend of ergonomic and traditional keyboards. It's somewhere between their Natural Ergonomic Desktop 7000 and a laptop keyboard. If it's what you like, go for it. I don't like the exclusion of a number pad and some buttons are in odd places. It's not even trying to resemble the standard design.
I don't have any major complaints about the mouse, but I'm not particularly fond of it either. It works OK, but little issues that I can't really tag with the feel remain. I think if you're a lefty you'll appreciate it more than a righty would, but it's not the end of the world.
Price is the largest barrier to entry here, and I'm confident it won't last, but it is enough to sway me from making a purchase. It's a useful device as it stands, but only for some people. I, on the other hand am perfectly capable with using a cheaper alternative.
Pros
Innovative design
Backlit keyboard; the fade in effect when it detects someone is really nice
Bluetooth connectivity is solid
Charging station charges both peripherals at the same time
The keyboard is a breeze to use on the couch
Cons
Most of the setup is made out of plastic
Slight high-pitched humming emits from the charging station while it's being used
Touch sensitive buttons on the top could have better implementation
$300 MSRP? Really?
Discuss in our forums!
If you have a comment you wish to make on this review, feel free to head on into our forums! There is no need to register in order to reply to such threads.

Copyright © 2005-2019 Techgage Networks Inc. - All Rights Reserved.