Microsoft Wireless Notebook Optical Mouse 3000

Date: June 23, 2006
Author(s): Rob Williams

Your notebook is wireless, so why not have a wireless mouse? We are taking a look at Microsofts latest solution, which promises to offer a comfortable, and precise experience. Does it deliver?
---
Introduction
If you are a laptop user, you know that using the touchpad for extended periods of time can be tedious. One thing is for sure. You can't plan on doing much gaming with that thing. Of course you could bring your gaming mouse, but do you really want to have a long cord taking up room?
The mouse I am taking a look at today is from Microsoft. It's a simple design, but built for comfort and portability. It's been quite a while since I've even touched a notebook mouse, so I was looking forward to seeing just how good this one was.
Features
This practical optical mouse features a tiny snap-in receiver that plugs into your notebook when you're ready to work, and snaps into your mouse when you're on the go. Extended battery life lets you work longer without interruption.

Additional Features
Snap-in receiver
A small receiver snaps into the bottom of the mouse when it is not in use.
Three times the battery life
Work longer without interruption. New optical technology helps extend battery life to as much as three times that of competing products.
Optical technology
An optical sensor tracks mouse movement, giving you greater durability, increased speed, improved accuracy, and more consistent performance.
Multiple colors available
Customize your desktop and express your personality. Choose from a spectrum of cool colors.
Comfort for either hand
The latest mouse design makes clicking and scrolling more comfortable and convenient'no matter which hand you use.
One of the biggest points made above is that the mouse is ambidextrous, so it will be comfortable regardless of whether you are left-handed or right-handed. The addition of a 1000DPI sensor adds to the extreme precision. Also, with the single AA battery, you can expect up to 6 months of use before you will need a new one. If you use your laptop as a desktop replacement, you may need to change the battery more often than that.
The mouse comes in a tight plastic blister pack, which I hate. I believe all packages as such should open with relative ease, but these require you to grab scissors or a knife and risk knicking yourself. No matter which way you cut this specific package, you will have fun trying to get all the contents easily.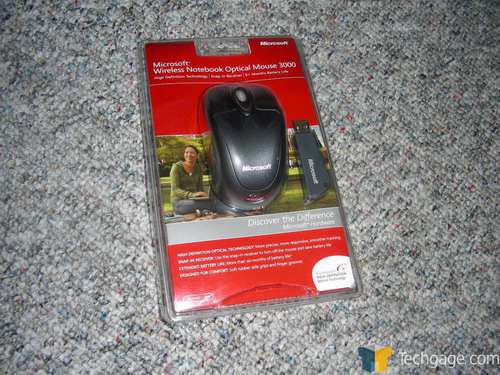 Included is a small manual, Energizer AA battery, the USB receiver and the mouse. No ounce of software is included.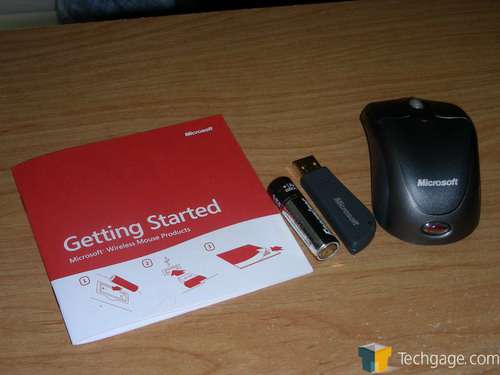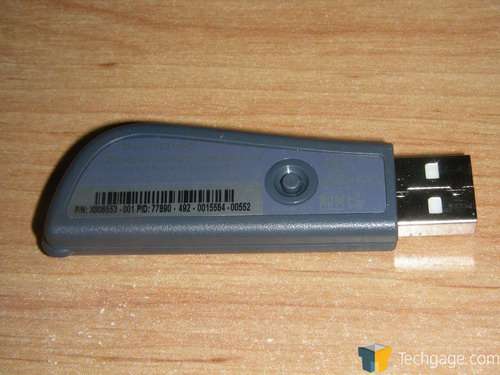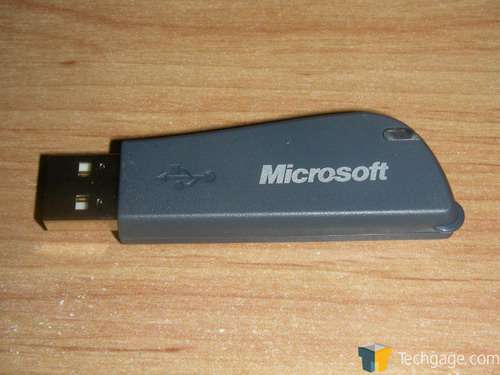 The mouse is quite small compared to standard desktop mice, but that comes with the notebook tag. It's designed for comfort. Your fingers will rest in the grooves on the buttons, and each side of the mouse allows for comfortable placement of your thumb.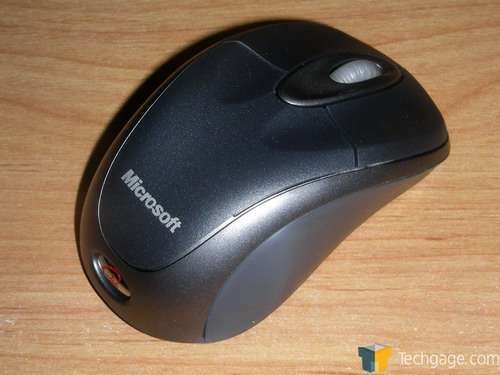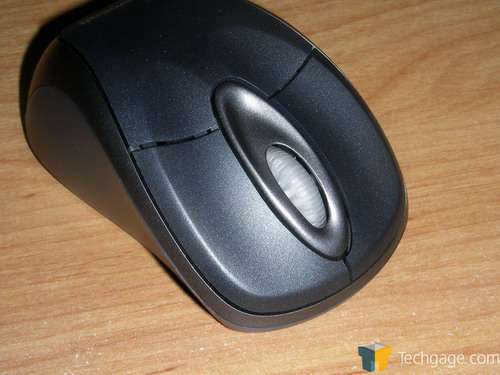 Features Cont., Conclusion
Towards the back of the mouse, is a button that pops the top off, to allow insertion of the battery.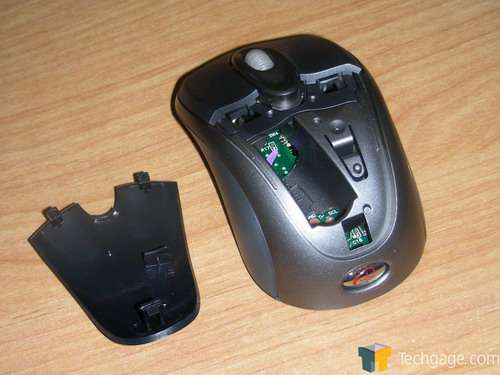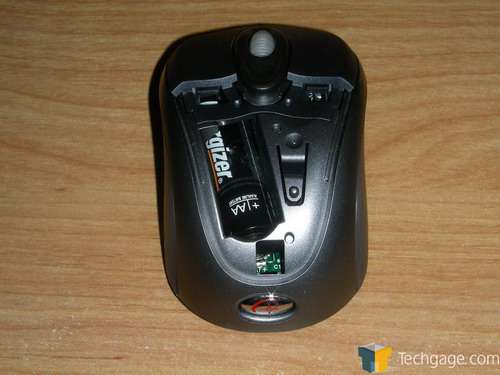 The final noteable feature is the bottom. It's indented to allow for easy carrying of the receiver. Although, when the receiver is plugged in here, it's not flush with the rest of the mouse.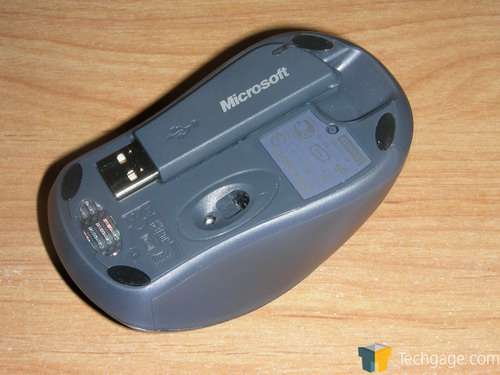 Installation and Testing
I primarily use Linux on my laptop, so that is where I tested the mouse first. Surprisingly, Linux picked up on it instantly. The very second after plugging the receiver into the back, I was able to use the mouse. This was using Gentoo with the latest 2.6.16-r9 stable kernel. Windows was a different story, of course. First came the "USB Device detected", and then about two minutes later, I was prompted to install a driver. The mouse does not include a CD-Rom, so I allowed it to go online to search for one. A minute later, I was good to go.
I was impressed by the preciseness of the cursor right off the bat… it's one of the best I have used. I don't say this lightly either. I tested the mouse on three surfaces: The laptop itself, wood desk and a mousepad. Each surface provided superb control… I was quite impressed.
To test it out with some light gaming, I loaded up two games: Nexuiz and Neverball. These were both tested under Linux, but have Windows counterparts.
Both games were a blast to play, and the precision was so good. For Neverball especially, it's perfect. That's a rather simple game that requires only the mouse to play, including the two mouse buttons. Nexuiz on the other hand though, is a FPS, so the mouse may not be best suited here. Though, for a notebook mouse, it works decently for gaming when you need a quick fix.
Conclusion
There is not too much to dislike about this mouse.. at all. It delivers all you would expect from a notebook mouse, and more. It's comfortable to use, though it's small. Granted, notebook mice should be small, but I am someone who could never get used to using them full time. For all of your tasks though, even including gaming, the mouse is a joy to use. It's extremely precise, which is one of the biggest pluses overall.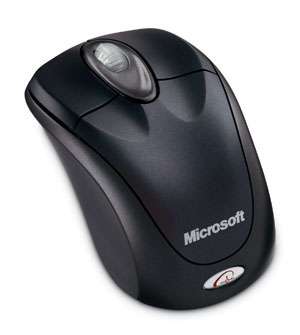 I was quite pleased to have the mouse work so seamlessly in Linux also. I didn't expect to have problems per se, but it worked in Linux immediately, whereas Windows had to connect to Windows Update to download the driver for it. In both OS' though, the mouse functions perfectly. In Windows, you are able to download the Microsoft IntelliPoint software, which will allow you to customize the buttons for specific tasks, such as Copy/Paste.
So how much can you pick up one of these for? Personally, I was surprised to see that e-tailers all over stock the mouse for under $30. For a wireless notebook mouse with utmost precision, that's a fantastic asking price. Overall, I am awarding the Wireless Notebook 3000 an 8 out of 10.
Pros
Wireless!
6 months battery life
Small, but comfortable for short periods of time
Incredibly precise
Linux & Mac friendly
Priced right
Cons
Had to connect to Windows Update to install driver
Driver not included with mouse?
USB receiver, when placed in mouse, sticks out
Discuss!
You can discuss this article in our related thread… even as a guest! Just be sure to fill in a name!

Copyright © 2005-2019 Techgage Networks Inc. - All Rights Reserved.