Mouse Grips
Date: April 27, 2006
Author(s): Matthew Harris

In gaming control is everything. Without it that killer headshot might very well go wide and act as a flag for your intended victim. Today we look at a simple way to help you keep control during an intense fragfest when sweaty palms can foil the best laid plans of any gamer.
---
A few of you may remember Mouse Grips, I do but I never tried them as they seemed a bit lacking in that they had a few flaws due to their material.
The latest version of the Mouse Grips are V2.0 and are made from what looks to be a silicon rubber and are printed with a Carbon Fiber print on the backside.
Here's what the site has to say:
Precision cut shapes to fit most any mouse or trackball.
Sporting a very thin profile, Mouse Grips v2.0 are designed to enhance your gameplay and computer usage by providing comfort and super grip.
Installation couldn't be easier! Simply peel them off and place them on your mouse wherever they feel the most comfortable to you.
Play like a pro with Mouse Grips v2.0.
As you can see the premise is simple, you apply the shapes to your mouse. Happily there are enough shapes to do a couple of mice if you're sparing with them.
I installed the Mouse Grips v2.0 on my Microsoft Laser 6000 mouse and my Logitech MX610. I'm fortunate that I can pretty much cover my mice with my hand which allowed me to space out the grips on both mice and use a single sheet for both.
The instructions for installing the Mouse Grips are pretty simple: Clean the mouse with the provided alcohol swab, after it's dry peel and stick in a configuration that works for you.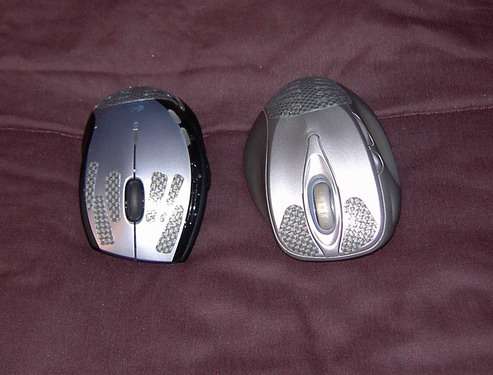 I think the look is pretty cool and as for the added tactile feel I like it. As soon as my hand hits the mouse I've got a good grip on it. On the long haul after a couple of hours gameplay my hands never lost grip with the mouse, at all. Also I've found that my movements are smoother due to not having to bear down on the mouse as hard and there's not as much fatigue on my hands from having to keep them cupped to hold the mouse. I can rest my wrist on the mouse pad and just let my hand relax on the mouse in its natural curve. All in all my comfort level has increased by an appreciable amount and to me at least that's very desirable.
When it's all said and done I'm awarding Mouse Grips v2.0 a 10/10 and our coveted Editor's Choice Award.
The Pros
Good looks (If you like Carbon Fiber)
Simple to use
Fits most mice
Enough left over for another mouse
Sticks to the mouse like an acrophobic to a ladder
Good grip, you can control your mouse with an open hand (Try it, it's fun!)
The Joes

None that I've found
Discuss in our forums
If you would like to discuss this in our forums, feel free to head straight into this thread.
Copyright © 2005-2020 Techgage Networks Inc. - All Rights Reserved.