MSI at CES 2011

Date: January 4, 2011
Author(s): Greg King

At its pre-CES press conference, MSI touted its huge line-up of P67 motherboards that support Intel's brand-new Sandy Bridge processors, and it also tackled its notebook line-up that looks to cover every budget and need. Of course, we were also filled in on what MSI believes sets itself apart, so read on to see what we saw at the conference.
---
MSI at CES 2011
While CES 2011 officially opens its doors to the masses on Thursday, that doesn't mean that there aren't plenty of things to see for those that arrived early. Considering that there is enough to keep ten men busy throughout the week, it helps when companies schedule press conferences before the commotion of CES truly begins. After beginning our day with ASUS, we turned our attention to MSI in the evening.
Showing off its latest and greatest products, MSI devoted a lot of time during the press conference to Intel's new Sandy Bridge and Huron River offerings. Starting with a revamped lineup of notebook, MSI gave three distinct classes of portable computing.
Starting with its G Series, the company's high-end gaming notebooks certainly aren't lacking polish on all the bells and whistles. Equipped with Intel i7 quad-core processors, USB 3.0, a 720p capable webcam and a 1080p display, the G Series of notebooks saw no expense spared.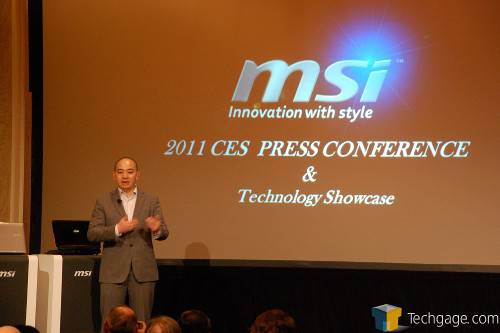 MSI has worked alongside Dynaudio to give its top tier notebooks the best sound available, describing the audio production as "authentic". The G Series is scheduled to launch in Q1 2011.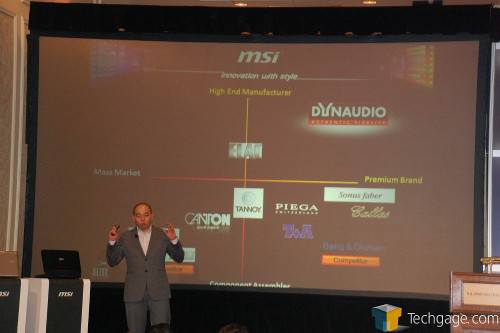 The middle tier of notebooks took the moniker of F Series. Using the slogan of "Beyond the Ordinary", the F Series of notebooks are powered by either an Intel i7 or i5, depending on what model you choose. Depending on how you plan to use the notebook, an NVIDIA discreet graphics solution is available if the Intel GMA3000 chip isn't enough to get you by. The F Series is scheduled to launch in Q1 of 2011.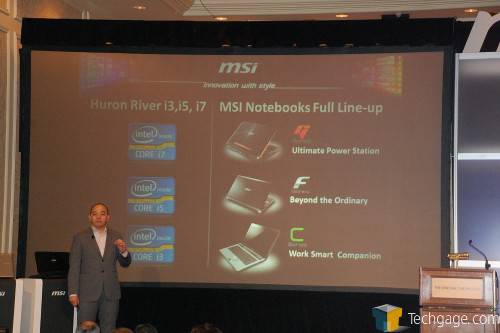 MSI's most economical mobile solution is their C Series. Designed for those on the go, the C Series boasts SRS premium sound, eight plus hours of battery life and USB 3.0. They will be available in Q1 of 2011.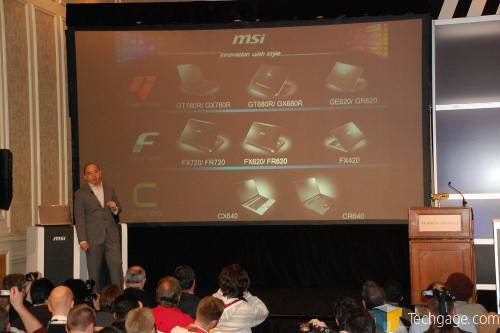 Wrapping up the conference, the company saved the most interesting for last. With a full lineup motherboard that will work with Intel's latest chips, MSI pulled no stops on one motherboard in particular. Calling it "Marshal", MSI has given the board 12 USB 3.0 slots, EIGHT PCI-E x16 slots, triple BIOS protection and has used an UEFI BIOS. We were even told that this board will sport the Lucid Hydra chip to add further potential to the monster.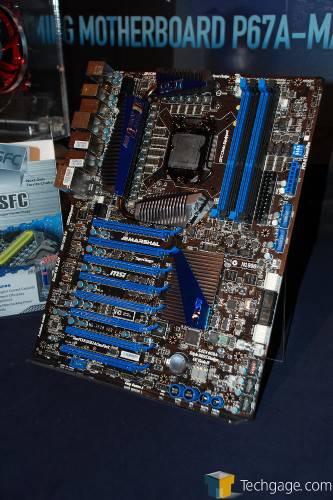 MSI also outlined its other boards, all using the new Sandy Trail platform from Intel. Building on the company's Military Grade success, it announced its Military Class II initiative, giving the end user far more reliability down the stretch, helping to ensure that each component lasts as long as possible. This is achieved by using SFCs to achieve up to 30% higher power, Hi-C and solid capacitors.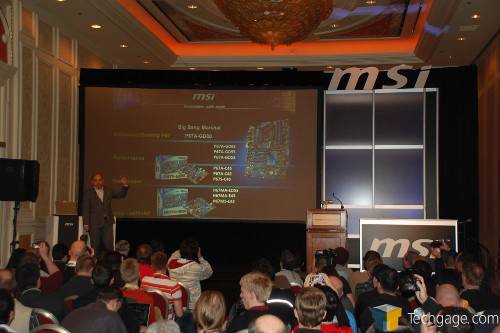 One last thing added to the new MSI boards is OC Genie II. Building on the original OC Genie, it allows users to take their P67 and H67 systems and achieve potentially huge overclocks with the touch of a button. While many purists will scoff at this addition, I can see it providing the everyday user a significant performance boost if and when they get the urge to push the button.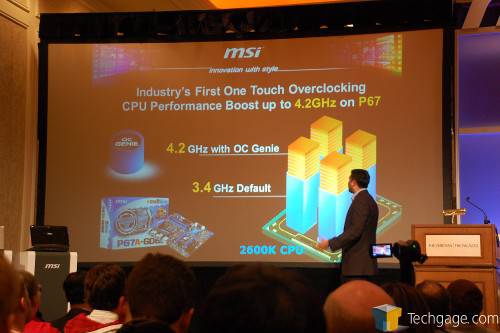 I left impressed by what we saw tonight at the MSI press conference. The notebooks look to be competitive with those from major competitors and the lineup of motherboards really has me excited. It will be nice to get a hands on with them in the weeks and months following CES. We will have more on MSI once CES officially begins and we can stop by the company's booth to get a closer look at everything on display.
Discuss this article in our forums!
Have a comment you wish to make on this article? Recommendations? Criticism? Feel free to head over to our related thread and put your words to our virtual paper! There is no requirement to register in order to respond to these threads, but it sure doesn't hurt!
Copyright © 2005-2020 Techgage Networks Inc. - All Rights Reserved.