New ASUS Eee PC Models Arrive for 2008

Date: June 3, 2008
Author(s): Greg King

At Computex 2008, ASUS has just introduced three new models into its Eee PC lineup of sub-notebook PCs, all three infused with Intel's Atom CPU technology, as well as two with larger displays. We've got all the details you want right here.
---
"Introduction, Eee 901 and 1000"
With over one million Eee sub-notebooks sold to date, it's safe to say that the Asus Eee is far more than the fad that many thought it would always bEee (that will be the last shameless pun, I promise.) For those of you playing at home, a million units since last October roughly comes out to 4000-ish units every single day. Go get 'em Asus.
All those numbers aside, this year's Computex has seemingly been one big stage for Asus, using the high profile convention to announce not only their Eee Box desktop PC using Intel's Atom family of processors but also the next predicable step in the Eee mini-notebook evolution. While not a very well kept secret, only yesterday did Asus officially announce their Eee 901 and Eee 1000.
Starting with the smaller of the two notebooks, the 901 is primarily an updated version of the popular Eee 900. Of the listed changes to the series, the most notable is undoubtedly the inclusion of Intel's new Atom processor. This new CPU from Intel is designed with low power consumption in mind and accordingly, Asus is making the lofty claim of up to 7.8 hours of usage. Taking a step back from excitement, it original Eee was seeing between 2 and 4 hours of battery life so a claim of 7.8 hours is huge.
Asus attributes this jump in battery life to what they are calling their "Super Hybrid Engine" that supposedly "provides three GUI modes to easily adjust CPU frequency, voltage, and LCD brightness to minimize system noise and power consumption to save up to 15% power consumption, or to maximize system performance according to individual needs." This sounds great and we can't wait to hopefully confirm these claims out on our own. That said, other changes in the 901 also include a slightly larger chassis that allows for a larger keyboard to be used while keeping the same 8.9" LCD screen of its precursor.
The Eee PC 901 comes with your choice of 20GB hard drive with Windows XP installed or 12GB drive with Linux.
While the 901 is all well and good, the real exciting news coming out of the Asus camp is that of the 1000 series of Eee PCs. Bringing a completely new design, the 1000 sports a larger 10" screen and the option of a solid state hard drive for all of you hard core road warriors out there. One other major point of interest of the Eee 1000 is that with the larger frame comes a larger keyboard. Using a keyboard that is 92 percent the size of those found on larger, regular form factor notebooks, using the Eee 1000 should provide a much more comfortable user experience.
According to our friends over at PC Perspective, the new lineup of Eee PCs offer WiMAX connectivity, bringing faster wireless internet to its users (whenever the infrastructure finally gets into place.)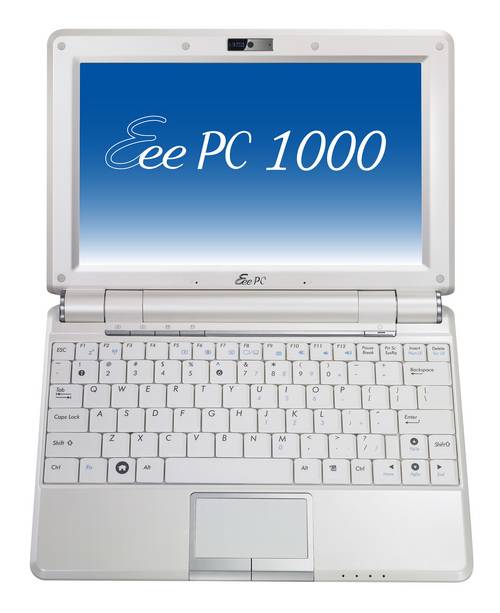 While pricing has yet to be released, Engadget captured a photo of a pricing sheet. Take it for that it is as nothing is official yet.
Just released though from Asus are the final specs of each of the three new Eee models. All models come with at least a gig of RAM with the 1000 and 1000H coming with 2. All also include Draft n wireless (yes, it's still not ratified) and a decently capable 1.3 Mega Pixel web camera. As we mentioned earlier, the 1000 comes equipped with an SSD and going by the spec sheet, it's a 40 GB drive and interestingly enough, it's loaded with Linux. Each model can be found in a variety colors as well.
Specifications
Eee PC 1000
Eee PC 1000H
Eee PC 901
Display
10.2"
10.2"
8.9"
Operating System
GNU Linux
Genuine Windows XP® Home
GNU Linux
Genuine Windows XP® Home
GNU Linux
Storage
SSD 40GB
HDD 80GB (Genuine Windows XP® Home)
SSD 12GB (Genuine Windows XP® Home)
SSD 20GB (GNU Linux)
Intel CPU & Chipset
Intel Atom
Intel Atom
Intel Atom
Wireless Data Network
WLAN
802.11n
802.11n
802.11n
Bluetooth
YES
YES
YES
Memory
Up to 2GB (DDR2)
Up to 2GB (DDR2)
1GB (DDR2)
Webcam
1.3M Pixel
1.3M Pixel
1.3M Pixel
Audio
Hi-Definition Audio
YES
Dolby Sound Room Certified
Dolby Sound Room Certified
Speaker
Stereo Speaker
Stereo Speaker
Stereo Speaker
Microphone
Digital Array Mic
Digital Array Mic
Digital Array Mic
Battery
6 cells, 4.2 ~ 7.5 hrs*
6 cells, 3.2 ~ 7 hrs*
6 cells, 4.2 ~ 7.8 hrs*
Weight
1.33kg
1.45kg
1.1kg
Infusion
Sakura, Sweet Pea, Urban Metropolis, White Peony, Pearl White, Fine Ebony
As we said earlier, Asus has already had an exciting showing at Computex 2008 and it's only just started. As excited as I was for the idea of the Eee, I was personally was not a believer once it finally started to hit store shelves and the pricing became stable. That said, and regardless of my opinion, you can't argue with the sales figures (unless they are of the shady Vista variety). One million notebooks is a LOT of movement considering the brand has only been available for a little over 8 months.
With competition coming from practically every corner of the industry, the sub-notebook market has quickly become saturated but the benchmark so far has been the Eee. It will be interesting to see how Asus adapts once these other manufacturers start shipping their goods en masse. While I am still not completely sold on the Eee, I'm starting to like what I see more and more. I have been using a Dell D430 a lot lately and can certainly appreciate its mobility. For half the price, an Eee might not be that bad of an investment. We are looking forward to forming our own opinion on the latest offerings from Asus but until then, keep checking in for more Computex coverage.
Discuss in our Forums!
If you have a comment you wish to make on this article, feel free to head on into our forums! There is no need to register in order to reply to such threads.
Copyright © 2005-2021 Techgage Networks Inc. - All Rights Reserved.