Nikon D60 10.2MP Digital-SLR Camera

Date: April 23, 2008
Author(s): Rob Williams

Targeting newer photographers, the Nikon D60 is priced right and includes a fantastic feature set. On top of the 10MP sensor, the D60 includes an automatic sensor cleaner, a vibration reduction kit lens, fast 3FPS performance, high ISO modes and a lot more.
---
Introduction
The process of purchasing a digital camera can be a gruelling one. If the vast selection doesn't tire you, then all of the feature comparisons between the different models can be. The fact is, for those who don't know what to look for or what they want, picking out a camera is difficult. It could even be compared to purchasing a car. Though obviously not of the same price bracket, D-SLRs are still expensive enough to be considered an investment, and one that you want to make sure you don't regret.
Choosing a camera can be difficult, but diving into the D-SLR realm in general is easier than ever, and more affordable than ever. For the most part, any Canon or Nikon should cater to all of your shooting needs, but others are quickly catching up, such as Sony with their alpha series, Pentax and even Samsung. But at the end of the day, Canon and Nikon have the best overall support (and a huge lens assortment), so for the novice or professional alike, you cannot go wrong with either.
But the process of picking out a new D-SLR or a new car involves similar steps. You want a model that offers sufficient performance, great mileage, is well-built, looks great and of course, is one you can afford. Nikon's latest consumer D-SLR, the D60, hits all of those right on the mark.
Also like purchasing a new car, you don't want to suffer the fate of picking out a model that doesn't meet your expectations, and likewise, you don't need to pick one up that far exceeds them. With D-SLRs, there is such thing as picking out a model that could prove overly complicated. The D60 is not one of those.
Closer Look
When Nikon launched the D50 in 2005, it came at a perfect time. D-SLR's were starting to explode in the marketplace, and novice photographers began to realize that higher-end cameras weren't just for the pros anymore. Prices began to come down, and for a modest investment, you could hook yourself up with an impressive piece of kit. Fast-forward just three years to today, and we get even more for our money.
The D60 is a follow-up of sorts to the D40/D40x and the base kit ships with an SRP of $750, and that's what all e-tailers and retailers seem to be selling it at right now. That price of course includes a kit lens, which in this case is a brand-new 18-55mm f/3.5-5.6… now with more VR (Vibration Reduction)! It can be argued that VR on a lens with such a short focal range is pointless, but it's nice to have regardless, especially for night time shooting.
I am going to assume those most readers of this review are looking at the D60 to be their first D-SLR, so I will start fresh. First, who is it for?
The D60 is for those who've come to the conclusion that their point-and-shoot camera is not spitting out acceptable images, and want to see better. It's for those who want a lightweight (2lbs) camera, but are not willing to forfeit sharpness and clarity.
It's for soccer moms, soccer dads, aspiring photographers, professional photographers… pretty much anyone. Granted, the professional is not going to use this camera as a primary, but it's a good backup choice thanks to its overall quality and lightweight build.
Lastly, it's for those who have $1,000 to spend on a great camera setup and are looking to stretch every last penny as far as it can go. On the next page, we'll delve into this more and also tackle the camera specs and feature set.
Nikon D60 Specs, Feature-Set
Though not always necessary, I usually recommend to anyone looking to purchase a D-SLR to be open to a reasonable budget, instead of penny-pinching, because most often, you are going to wind up with a kit configuration or camera you are unhappy with. Most people get suckered into the D-SLR realm thinking that all they need to purchase is a camera, and sometimes that's the case, but for those looking to get the most out of their new toy, there are other accessories to consider.
The most notable accessory is an external flash. Nikon's own models are called Speedlights and their benefits are simple… it's a higher-powered flash with the ability to rotate. I won't get too deep into the benefits, but simply put, when used properly you will be able to deliver far better-looking images. With the straight flash, the natural look will be lack. This won't apply to shots where there is sufficient natural light. Speedflashes are only used to provide ample light so that a quick and clear picture can be taken.
Other potential accessories could include a camera bag and a better strap. I am not the definitive source on bags and straps, but I have always enjoyed Lowepro's offerings for bags, and since they are found in almost any camera shop, they are easy to locate. For straps, I like the Pro series from OP/TECH USA. They are comfortable and add sufficient elasticity, which is easier on the neck than the stock strap. Aside from a camera bag and neck strap, anything else is for personal preference and is unnecessary for a starting kit.
Once said and done, picking up the D60, a camera bag, neck strap and Speedlight, you will be right under the $1,000 mark. For those who don't believe they'll need an external flash, then you could fore go that right off the bat. I'm confident you'll realize how important one is soon enough though. If you plan on only shooting outdoors (with a lot of sunlight), then an external flash is not necessary.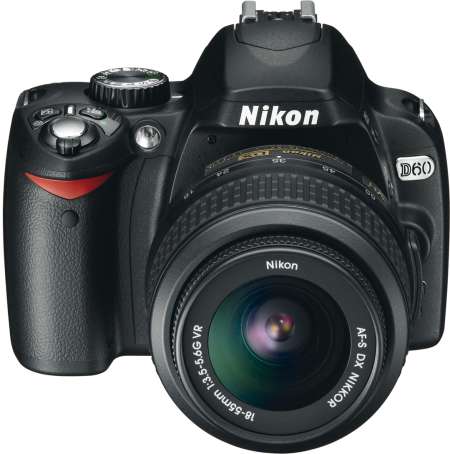 That all aside, the D60 is a great-looking camera, regardless of its cost. Utilizing a 23.6×15.8mm CCD, we are able to shoot 10.2 megapixel images with a full resolution of 3872×2592. To someone coming from a point-and-shoot, that might seem excessive, but it's not. Unlike a point-and-shoot, a D-SLR's 10.2 megapixel image has far better clarity, so it could actually be used for large printouts and will also allow better cropping capabilities.
As mentioned earlier, the D60 launched aside a brand-new lens, the 18-55mm f/3.5-5.6G VR. While it features the same focal range and aperture as the previous D40/D40x/D50 kit lens, this is the first to feature vibration reduction, helpful for when lighting conditions are less than ideal, or when there is excessive movement. On a bright sunny day, though, the VR will have little use unless you are using a sky-high aperture.
This lens is made great by the fact that it's very light, but for those who are looking for a longer range, an upgrade might be a good idea. For the beginner, there are a couple of options. You could purchase the D60 body only, and choose your own lens, or pick up a secondary lens that has the sole focus (no pun) of delivering long-range shots.
The first option would make the most sense. Instead of the 18-55mm VR, picking up Nikon's also semi-new 18-135mm f/3.5-5.6 to use as a primary would be a good bet. It retails for $299 and is a great lens all-around.
The second option as I mentioned would be to purchase second lens, in which case I'd recommend the 55-200mm f/4.5-5.6 ED VR, which retails for around $220. The downside is that you would need to swap lenses whenever you need a longer range, but you cannot get that kind of range with a single lens unless you are willing to pay $700 for the 18-200mm f/3.5-5.6 VR II.
Aside from all of that, the 18-55 VR is a great lens. We'll get into quality specifics later, but novice or pro, you are going to enjoy the fast speed that the auto-focus provides.
On the next page, we'll take a quick look at the back of the camera, and also the on-screen display.
More Features, On-Screen Display
Because the D60 has a lower price-point (compared to the mid-range and higher models) and also that it's designed to cater to the novice, there is not too much going on in the back, except for what's necessary. On the left side, there is a Play, Menu and + and – thumbnail control buttons. On the right, there is a D-Pad, OK button and also the trash can. Up top, there is an auto-exposure lock button and also the only dial the camera has to offer.
Taking a look at the top, we can see the eyelet for the camera strap, the hot shoe for the Speedlight, mode dial, aperture and D-Lighting buttons and also the shutter release button.
Overall there is nothing that strikes me as odd with the design, and if you've used Nikon SLR's in the past, this layout should come naturally. Buttons are placed where they should be, and most are very accessible for when you need them. The camera as a whole doesn't feel like a "budget" model by any means. It's sturdy and feels good to hold. It's a winning design, in my opinion.
Nikon's higher-end SLR's include a small LCD screen on top, right beside the shutter-release button, but because of the smaller stature of the D60 (and D40), it's omitted in lieu of displaying information on the 2.5″ LCD.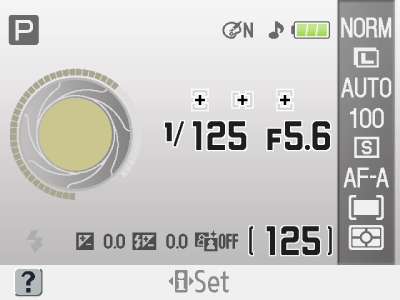 This is a feature I am two-faced on, because on one hand, I don't like it at all. On the other though, it is intuitive for new photographers. For those who enjoy having full control over their settings, this method can feel clunky at first and in no way is as fast as using the standard top-mounted LCD.
I believe the screen will appeal to most people because it's bright, intuitive and easy to understand. The aperture ring, for example, grows and shrinks as you change that setting, making it obvious to the user how much light will be let in. Then we have the shutter speed and aperture value shown in big fonts, in addition to how many shutter releases are required to fill the memory card up.
The biggest issue I have with this UI isn't directly related to its design. It's the fact that in order to change most of the settings listed on the right-hand side, you will need to go into the menu system, which can be slow. By comparison, the higher-end SLR's have extra buttons and dials that make changing these values a simple task.
But again, it has to come back to who this camera is designed for. Even though professionals could make great use of the D60, it's design is undoubtedly catered towards the newbie, and that's fine. Most newbies won't delve into the secondary settings right away, so Auto will take care of most everything. It is more of a hassle to adjust secondary settings, but many users might not mind.
One very cool feature though, is the ability to rotate your camera and still be able to look at a properly proportioned OSD. The above screenshot is how it would appear to you if you had the camera on it's side, and it adjusts very fast. I am not sure how useful this could prove to be overall, because most people would check the settings before making such a shot, but it's interesting nonetheless. If the menu system itself also rotated, then I believe this feature would be far more useful.
My overall thoughts on the D60 as a whole are very good. Like the D40 before it, the D60 is designed to be simple and straight-forward, and for many people that will be fine. For those who are already used to higher-end SLRs, it can actually be a little bit of a learning curve. I've been using a D80 since that model first launched, and it's definitely odd to move down to a D60 and expect certain buttons to be in certain locations.
Also as just mentioned, the lack of an LCD up top is a little frustrating at first as well. But in all fairness, Nikon is not the only company to fore go a top-mounted LCD on their lower-end models, and for the sake of retaining the small chassis, it was absolutely necessary to remove.
All that aside, regardless of whether you are a brand-new SLR user or a professional looking for a backup, the D60 is easy to use after spending a little time with it, like most any camera.
Image Quality
We don't currently have a specific methodology for our camera reviews, so instead, we simply use the camera in day to day life as anyone would, and report on our findings. We don't use a proper color calibration setup or have an indoor testing environment, so we try to play everything by "eye", to the best of our abilities.
All pictures taken on this page were taken by my sister, Gisele Williams, during her recent travels to New York. She doesn't currently have a web site to show off her photos, but is working on getting on in place. Once it's live, I'll link to it from here.
The images here were not edited in any way prior to posting, so feel free to click on any of them to view the original as it came out of the camera. Warning though, as these images range between 3MB – 6MB.
The camera performed quite well in almost every situation. The night photos are rather sharp despite the lack of natural light (and a tripod) and though slow shutter speeds were used, the VR kicked in to gear to enable the sharpest photo possible in the given situation.
Our "budget" lens shows off some great capabilities when it comes to macro shots as well, as seen in four of the above shots. The pipe image is one of the best examples. Great color and smooth bokeh… and not too bad of a result for a low aperture setting. The same goes for the moss on the side of the tree… very sharp result. You need to view each image in their full resolution in order to appreciate the quality that the D60 and a D-SLR in general can avail you.
On the next page, we'll take a brief look at color and different color modes, as well as ISO qualities.
Color & ISO Quality
I didn't mention it earlier, but the D60 features six different ISO modes. There are no real in-betweens, so to help keep things simple, 100, 200, 400, 800, 1600 and HI-1 (3200) are there for the taking. To test for noise, I set the camera up on a tripod and took an image of the same location with each setting. The block in each corner represents a portion of the image at it's full-size to better show the noise.
| | |
| --- | --- |
| f/5.6, 30s, ISO 100, 55mm | f/5.6, 30s, ISO 200, 55mm |
| | |
| --- | --- |
| f/5.6, 30s, ISO 400, 55mm | f/5.6, 9s, ISO 800, 55mm |
| | |
| --- | --- |
| f/5.6, 4s, ISO 1600, 55mm | f/5.6, 2s, ISO 3200, 55mm |
The camera performs well all they way up to ISO 800. It's not the best I've seen, but it's not worth much of a complaint either. ISO 1600 and higher are going to be for special circumstances only, as they are noisier than an Airbus A320 in flight.
The stock color options available are Normal, Software, Vivid, More Vivid, Portrait and B/W. If none of these suit a particular task, you are able to create your own preset.
| | |
| --- | --- |
| Normal | Softer |
| | |
| --- | --- |
| Vivid | More Vivid |
| | |
| --- | --- |
| Portrait | Black & White |
Normal is no doubt the setting most people will use, but Vivid is a great one for those who want richer color. More Vivid tends to overdo things, but it might suit a specific type of photo. Given that this is designed to be a beginner's D-SLR, it would have been nice to see a Sepia preset in the mix.
Though not overly robust, the selection between different color modes and ISO modes is good, and should fit perfectly for most people who are new to the SLR world. The ability to reach ISO 1600 and beyond is nice, but the quality leaves a lot to be desired. ISO 1600 tends to only look good on $2,000+ D-SLRs, so that's to be expected.
With that said, let's wrap things up!
Final Thoughts
When I first saw the press release for the D60, I wasn't sure what to think. Its specs come so close to the D40x, that it was just made so confusing. But after taking a look around, it seems that the D40x is harder than ever to find in stock at popular camera e-tailers, while the original D40 is still readily available. This makes sense in a lot of ways, since the D40 does have specs quite different than the D60.
For the price-range (~750USD w/lens), the D60 is one of the best D-SLR's available. It comes packed with a lot of potential for either the novice or professional, is made simple to use, is built to last and is compatible with all of Nikon's accessories and F-mount lenses.
The value for a D-SLR nowadays is high. For ~$750, the D60 is available with the 18-55mm lens and right out the door is ready to take some great shots. It's too bad that external flashes never seem to go down in price, though. $200 is a tough decision to make, but one almost everyone will make at some point. Even third-party flashes are not much cheaper, so it's a decision that you have to suck up.
But aside from that, the price is right, and that's what's important. For those looking for a slightly more robust camera, an extra $200 could deliver a camera better suited to you. On one popular e-tailer, for example, the D80 with the same lens we used here is selling for $899… $170 more than the D60 kit. What that avails you is a camera with more flexibility and a better design. But, it's also larger, which might defeat the purpose for a few people. The same goes for Canon's new XSi, which sells for around $800, body only.
But I digress, because as it stands, the D60 is a fantastic shooter, and one I became impressed with quite fast. When I reviewed the Nikon D40x, I enjoyed the camera, but it never really "grabbed" me. The D60 did grab me, for whatever reason. Even though it's is similar to the D40x, I enjoyed using the D60 more. Maybe it felt more sturdy. Maybe I subconsciously hate the letter X. I don't know.
Although I didn't delve into all of the available features, the D60 is rather comprehensive for the price range. It contains a sensor cleaner, which is nice (although I've never used one long enough to know the benefits) and the image resolution over the D40 is fantastic. Understandably, many may not take advantage of 10MP images that often, but when you need to crop a small part of an image, you appreciate having a large image to deal with.
It's a small issue, but one thing that bugged me about the D60 is that there is no "USB Mass Storage" mode… PTP only. That means that the camera cannot be connected to the computer and accessed as a regular USB storage device, but rather, you will need some third-party application or use Windows built-in photo management tool to extract the images. This won't bother many people, I'm sure, but for those power-users out there, it might rub you the wrong way.
Another gripe is that when shooting in RAW, JPEG Basic is the only quality setting available. By comparison, higher-end models allow RAW+JPEG Fine, which assures that you get a high quality JPEG as well. With JPEG Basic, the quality will suffer in some regards. That's taken care of by editing the RAW itself and exporting to a JPEG, but that's still some needless work for something so simple.
Still, that all aside, for the price range, the D60 is a fantastic offering, and if I had a need, I'd gladly pick it up as a backup camera. It's small frame makes it easy enough to bring anywhere, and even those who hate lugging a lot of weight on their shoulders shouldn't have to worry, since the basic lens and camera body amount to just under 2lbs.
For anyone looking to take photography a little more seriously, the D60 is a great choice. If money is not particularly an issue, then I'd recommend a higher-end model, but like any camera purchase, it's highly recommended to go straight to a camera store and test out the different models yourself. Folks at camera shops are usually more than happy to help in this regard and can make your purchase decision much easier.
Pros
Lightweight D-SLR offering
Good pricing for the performance and quality ($750USD)
Fast shooting performance (3FPS burst)
Feature-packed, high ISO settings
Kit lens includes Vibration Reduction
Works well in low-light situations
Uses ultra-affordable SD/SDHC memory cards
Solid design; built like a tank
Built-in sensor cleaner
Great battery-life
Up to ISO 800 results in good quality
Similar sensor to big brother D80
Cons
No second dial to make setting changes easier
No USB Mass Storage mode
No RAW+JPEG Fine setting
No live view mode, despite being a popular feature
VR not built into body
No button for simple ISO changing
Discuss in our forums!
If you have a comment you wish to make on this review, feel free to head on into our forums! There is no need to register in order to reply to such threads.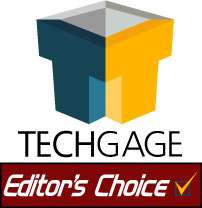 Copyright © 2005-2022 Techgage Networks Inc. - All Rights Reserved.