Noctua NH-D14 CPU Cooler

Date: April 26, 2010
Author(s): William Kelley

A huge computer chassis deserves a huge CPU cooler, and when you need one of those, Noctua delivers. With its NH-D14, the company seems to have had the goal of delivering the largest cooler possible that could still fit on most ATX motherboards, but with that size comes extremely good performance even low noise levels.
---
Introduction
gi·gan·tic  (jahy-gan-tik)
adj.
1. Relating to or suggestive of a giant.
2.
a. Exceedingly large of its kind: a gigantic toadstool.
b. Very large or extensive: a gigantic corporation. See Synonyms at enormous.
[From Latin gigs, gigant-, giant; see giant, or from Greek gigantikos (from gigs, gigant-, giant).]
gi·ganti·cal·ly adv.
I have had the pleasure of testing most modern heat sinks in my time as a PC enthusiast. In the beginning, I was doing it on a personal level as an end user before I joined the team at Techgage. Things were much simpler back then as I only needed to satisfy my own needs. Currently as a reviewer, I am required to test them at far greater lengths with emphasis on the little details that would not cross the minds of most people as they install their newest cooling device.
Noctua is one of the originators of the tower heat sink. The NH-12U was first released upon the world back in 2005 when overclocking was coming into the mainstream enthusiast's domain. At that time, we were pushing our AMD64 and Pentium 4 CPU's to unheard of levels of speed, and with that effort came a plethora of heat. Dual-core CPU's quickly followed and the race was on to cool our ever-hotter processors while trying to maintain our hearing.
At the same time, noise also became a major factor in the choice of many a user. Here again, Noctua took a key role and supplied us with some of the best performing and quietest parts available. Based in Austria and with the help of Taiwanese cooling specialist Kolink International Corporation, it started on a path to deliver the most powerful AND silent cooling solutions available. No one can deny its cooler's quality and performance as well as its role in the development of heat pipe cooling.
Today we are looking at their latest incarnation, the NH-D14. There is no doubt in my mind that I have unboxed the largest heat sink to ever cross my path. While I am the first to agree that size DOES matter when it comes to air cooling, there does come a point in time where something could be just too large for its own good. Let us take a closer look at this beast and see if there is anything good or bad to be said about size vs. performance.
Closer Look
Once out of the well-packaged box, we get our first look at the NH-D14. Right away you can spot the trademark Noctua fan colors which is truly a love it or hate it scheme (which I personally do LOVE it). In addition to this is its trademark logo proudly embossed onto the top fins should you have any doubt to which manufacturer produced it. Despite the look, there are no sharp edges waiting to draw blood at the first slip. I would still use a reasonable level of caution here, but you will not be punished for that split second of not paying enough attention.
Turning it around gives you a better look at the fin area. The serrations are a specific design to break up the air in order to aid in keeping the fan noise to a minimum. The designers were also kind enough to put slots in all sides for the fan insulators should you decide to change their orientation.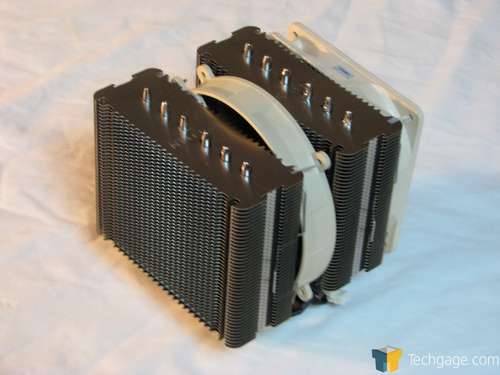 Underneath the massive fins lies the heart of the cooler. Six large heat pipes wind their way through the base and up the rows of fins. You can also see just how deeply the middle 140mm fan nestles in towards the base.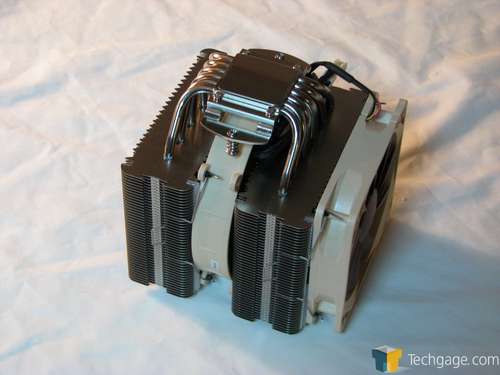 Both fans are held in place with quick-release clips that are as simple to use as they appear. This is an excellent design and I wish more companies put this type of thought into fan retention mechanisms. I cannot state strongly enough how much I despise those rubber pull through retainers that easily break, as well as the difficult wire clips that can make a priest swear when trying to install the fan inside the case itself.
The mounting base of my particular review sample was ever so slightly convex shaped that was nearly impossible to see with the naked eye. Using a straight edge was the only means to truly see this. The finish was free of any nicks or scratches. The retention mechanisms are held in place with easy-to-remove screws should you need to ready it for the AMD platform. It does come with the Intel retainers pre-installed.
The included accessories and hardware come neatly packaged according to which platform you plan to run. I also LOVE the included screw driver. No other company does this and there is nothing worse than having to search for one when trying to do your install. There are also printed quick install directions included. As for the Intel hardware, I found the base plate to be simple to install on our LGA1156 platform and the design is well thought out. A good sized portion of thermal grease is included as well as adapters to under volt the fans for even quieter functionality.
Now comes the part that honestly has given me a level of anxiety that I have not had for this type of product for some time; the installation. The sheer size of it is somewhat overwhelming, although I do have to say that at just over 1200g it is not as heavy as I expected. While you certainly need a good back plate as the one included, there is no need to worry about any damage to your motherboard.
Installation and Testing
To assure that our results are as accurate as possible, all of our CPU cooler testing is performed under highly-controlled conditions. Our test chassis is kept in a near-steady 20°C ambient environment, with readings taken before and after testing with a standard room thermometer. After we boot up our machine, we allow Windows to settle itself down for 10 minutes to stabilize processes that might be running in the background. Once the PC is completely idle, we record the current CPU temperature as that in our results.
BIOS settings are verified prior to each run, and to help with quick switching of our various profiles, we make use of the motherboard's ability to store multiple configurations. We primarily use two for our testing here – stock speed, of 2.67GHz, and also a maximum overclock, of 4.01GHz. Stock settings were achieved by using "Load Optimum Default", and storing those as our stock profile. The maximum overclock was obtained after extensive testing and tweaking to insure it was stable. The BCLK was raised to 191MHz. The CPU's vCore was raised to 1.400v, and the IMC voltage was raised to 1.30v. The RAM is run at 1.6V and does overclock with the CPU during overclocking testing.
For our monitoring and temperature reporting, we use Everest Ultimate Edition 5, from Lavalys. It allows us to grab the results from each one of the cores, and the CPU has a whole, so we believe it to be indispensable to our toolkit. To help push our Intel Core i5 750 to its breaking-point, we use OCCT Linpack testing. The reason is simple: it utilizes LINPACK. After much testing with various "stress testers" in the past, we've found that running a multi-threaded tool that supports LINPACK, such as OCCT (and also LinX), pushes both AMD and Intel CPUs like no other. This results in higher temperatures than others (like Prime95) can muster, and also greater power consumption.
Because our test machine is equipped with 4GB of RAM, we set OCCT to use 90% of the available memory, and then set the test to run 1 hour total. With the help of Everest, the CPU's various temperatures are recorded throughout all of the testing, and also for a minute after the test ends. The maximum recorded temperature found in the results file is labeled as "Max" in our results.
Processor
Motherboard
Memory

OCZ Reaper PC3-1333Mhz 2x2GB

Graphics
Audio
Storage
Optical
CPU Cooler

CoolIT ECO A.L.C.
Noctua NH-D14

Chassis
Power Supply
Et cetera
Installation was straight-forward and simple enough by following the included directions. The first step is to mount the back plate by pressing in the bolts through the appropriate holes in the back plate for the socket you are using and then slide it through the backside of the motherboard. Then it is time to install the mounting bars on the face of the motherboard using the supplied thumbscrews and spacers. Be sure to put them in the correct orientation for your particular application.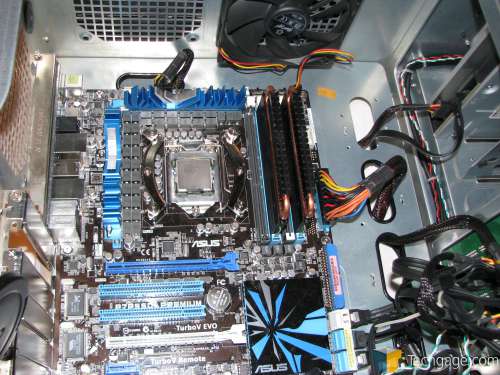 I very strongly suggest dry fitting the heat sink before applying the thermal paste as you will need to be certain you have proper clearance with the memory modules and video card. I, for one, was forced to rotate the fans 180 degrees from the way they were shipped to allow them to pull through the cooler out towards the rear of the case.
I also had severe interference with my memory modules due to their above average size from the heat pipes on the Reaper modules. I was not only forced to run them in the last two slots causing the system to default to single channel mode, I was even forced to slightly bend them to clear the NH-D14. While I did have plenty of room between the cooler and my video card, this is another documented issue with this model that must be addressed should the fan clips come to close your graphics card, as this could cause severe damage if the fan clips were to contact here.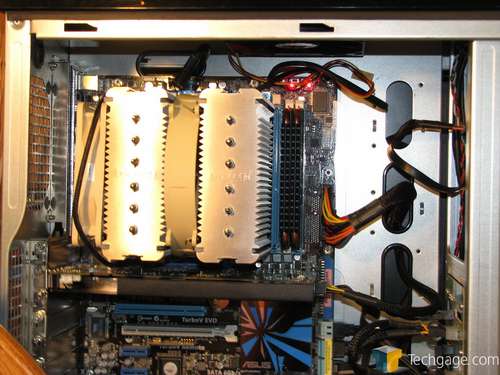 As you can see, 2 DIMM slots were completely covered which would necessitate low profile memory modules. Also take note of the fact that even the third slot is still crowded by the bulk of this cooler and you must make sure you have the room. I also recommend you triple check the clearance between any side panel fans that may be installed in your particular case. This did not apply to our test chassis as there are no side panel fans, but I guarantee that more than ½ the models out there that do have included side panel fans will have clearance issues. Gigantic is definitely the acronym of the day when it comes to the NH-D14.
Once everything is installed it was time for testing:
After the dust settled from all of my testing, there was no doubt that we had one top notch high performance air cooler installed in our test machine. The NH-D14 performed VERY well and with excellent acoustics to boot. Temperatures were well within the levels of safety and sanity. While it was slightly noisy when run at 100%, once you install the included Ultra Low Noise adapters you will get a dramatic drop in noise levels without sacrificing much in the way of cooling power. Noctua has always done a great job in regards to noise levels vs. air pressure and once again we are given top quality fans that do their job very well.
Final Thoughts
As seen on the last page, the NH-D14 performs exceptionally well. But I cannot also stress the overall quality as well. The lack of sharp edges was surprising as I have been cut by most heat sinks of this design during the install process while I was left without even so much as a scratch after this install. All fins were solidly mounted with no rattles or looseness. There was no perceivable noise from vibration of the fans either as the included isolators did their job well. Even the bends of the heat pipes are precise and without blemish.
Another feature I feel deserves a mention is the Intel mount design. I find that most companies would rather stamp out multiple sizes of back plates and retainers rather than engineer a design that is adaptable. Not only is the NH-D14 adaptable to multiple Intel sockets, it can do them all with a single back plate and a single set of retaining brackets. They are simple to install and work very well.
As for the AMD socket, current AMD based motherboards come with a solid back plate installed and the AM2/AM3 design is the same so Noctua wisely designed around that. A quick swap of the retaining brackets and you are set to go.
The one glaring flaw in the design is obvious: the sheer size. You are pretty much forced to have a large case and you must be running low profile memory if your memory slots are anywhere near the CPU socket, which is the case for most current motherboards. While it is hard to really hold this against the NH-D14, this fact MUST be kept in mind when contemplating its purchase.
To me, you absolutely get what you pay for. Coming in at ~$89.99 US, it is very competitively priced especially when you consider what you get for your money. It is probably the most effective cooler currently available on the market so it does warrant your consideration if you are in the market for a high-end offering.
Anyway you look at it, all designs have trade-offs. All-in-one water cooling solutions are quiet and effective yet lack any sort of upgrade path or customisation. Smaller air coolers do not have the capacity for high overclocks on quad-core processors that we are all gravitating towards. Noctua chose the route of sheer size and did a great job with the final product. I have been on the fence about it, given its pricing, but I do feel that this is the current top dog in the air cooler world, so it justifies our Editor's Choice award for excelling on all fronts (except size!).
Pros
Competitively priced.
Exceptional quality.
Superb performance.
Well engineered mounting hardware.
Cons
This thing is HUGE.
Fans can be noisy when not using the included silencers.
Fan color scheme is love it or hate it.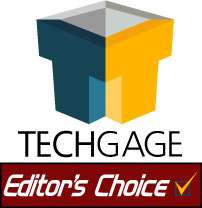 Noctua NH-D14 CPU Cooler
Discuss this article in our forums!
Have a comment you wish to make on this article? Recommendations? Criticism? Feel free to head over to our related thread and put your words to our virtual paper! There is no requirement to register in order to respond to these threads, but it sure doesn't hurt!
Copyright © 2005-2021 Techgage Networks Inc. - All Rights Reserved.