NZXT Kraken G10 GPU Bracket Review

Date: January 3, 2014
Author(s): J.D. Kane

What if I told you that a $30 part can help improve your GPU's temperatures by around 46°C at load compared to stock cooling? Crazy, right? Well, NZXT's Kraken G10 might be nothing more than a steel bracket and mounting hardware, but pair it with a compatible AIO CPU water cooler, and you've got the hottest cooling equipment combo ever.
---
Introduction
Sometimes an idea is just so good, you wonder why the heck it took so long before anyone thought it up and transformed it to reality.
NZXT's new Kraken G10 GPU Bracket is one of these.  As a concept it's brilliant:  It allows you to use an AIO (all-in-one) CPU water cooling system – the market is now flooded with them – on a graphics card.  However, as good as any idea is, you only get a measure of its true worth after seeing it in action in the real world.
NZXT was very kind to have provided Techgage a sample of not just its Kraken G10 GPU Bracket for review, but also one of its X40 AIO CPU coolers as well.  Because of this, we have 100% guaranteed compatibility between the Kraken G10 and the AIO CPU cooler.  Having said this, the Kraken G10's compatibility list is huge, encompassing a wide variety of GPUs from both AMD and NVIDIA as well as other Asetek-sourced AIO CPU cooler solutions providers.
We're very grateful that NZXT provided us with both pieces of equipment because, well, yours truly has never bought or used an AIO H2O CPU cooler.  I like old-school, custom-built water cooling for my own machines.  But it will be interesting to see just how well NZXT's hardware does against both stock cooling as well as a custom-built water cooling solution.
But before we get into all that, let's have a look at the Kraken G10 GPU Bracket.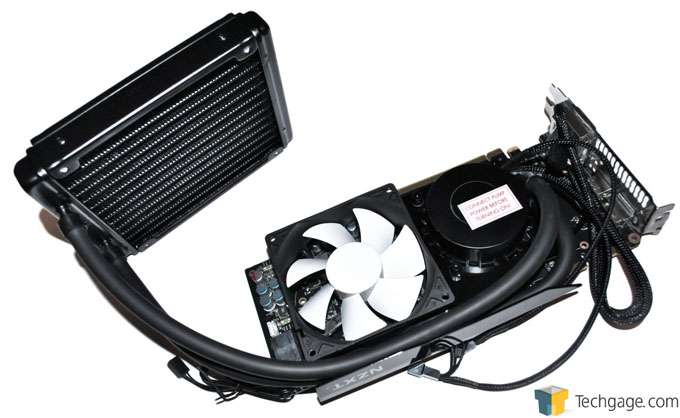 That's what the Kraken G10 looks like when installed onto a GPU, in this case an EVGA GeForce GTX 680 (reference design).  Not a bad-looking piece of kit once it's all put together, no?
Let's have a look at how things look right after we've taken all the bits out of the box, then.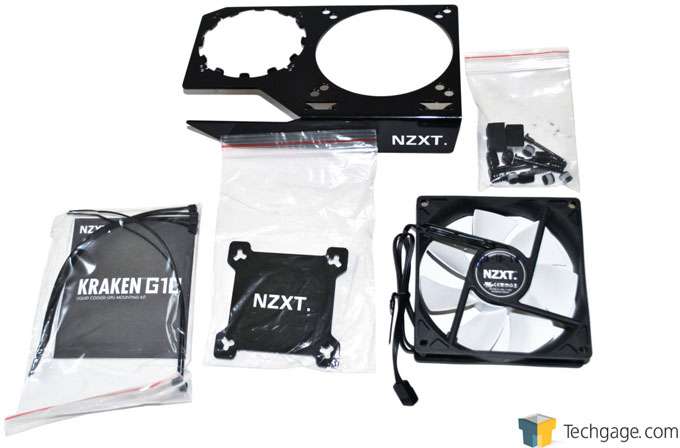 Inside are the steel Kraken G10 bracket itself; a 92mm NZXT fan; a backplate; a bag of mounting hardware; a bunch of zipties (to keep your hoses tidy – good touch, NZXT!); and an instruction manual.
So, yes, it's a very basic package.  It's all you need to install your Asetek-sourced AIO water cooler onto your GPU, and nothing more.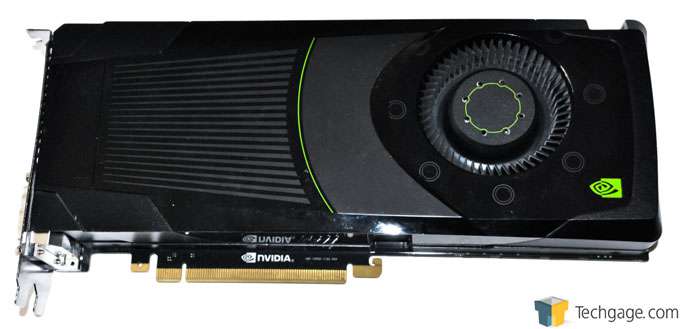 As previously mentioned, our video card guinea pig is a reference model NVIDIA GTX 680 from EVGA.  Except for commenting on how easy (or not) it is to do it, I won't cover the installation phase of NZXT's cooling equipment in this review as that is beyond this article's scope.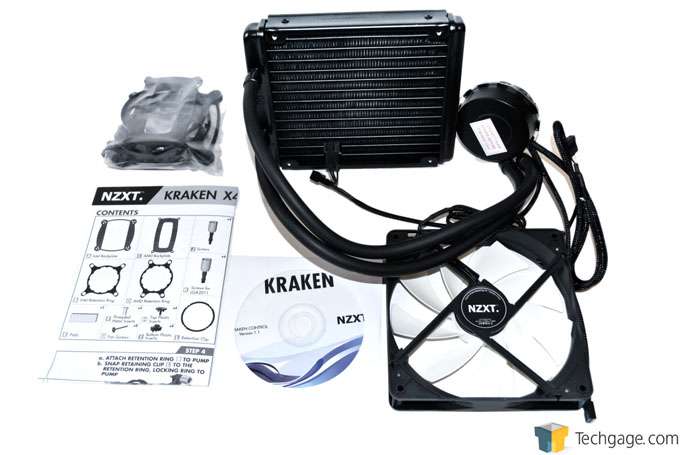 And here is NZXT's X40 AIO CPU cooler.
Now that we've had a look at every part of this hardware party, let's go on to some testing and thoughts on performance.
Performance and Testing
Testing the effectiveness of the Kraken G10 GPU Bracket was a straightforward process.  It basically comes down to two things:  1)  Is it easy to install onto a video card?  and 2)  Would installing it result in a cooling performance benefit for your GPU?
The installation phase of the Kraken G10 might seem intimidating, especially for users who have never uninstalled their graphics cards' stock cooling solutions.  In practice, if you can turn a screwdriver and/or a Torx driver (this really is 90% of what's required), you can remove any graphics card's stock cooler.
NZXT's installation instructions for its G10 are easy to follow.  The diagrams are well-drawn and are augmented with basic textual instructions.  All told, going carefully and checking fits a few times before fastening things down, installation of the NZXT X40 onto the GTX 680 using the G10 bracket took about an hour and a half.  This time includes removal of the stock cooler.  I'd say that if I had to do things over, I could perform the installation in half the time.
But ease of installation is just one part of the equation.  The whole point, though, of using the Kraken G10 is to see whether or not adapting an Asetek-designed CPU AIO water cooler for use on a GPU is a performance enhancement.
I think these testing results speak for themselves.

GeForce GTX 680 w/ Stock Cooling (Idle)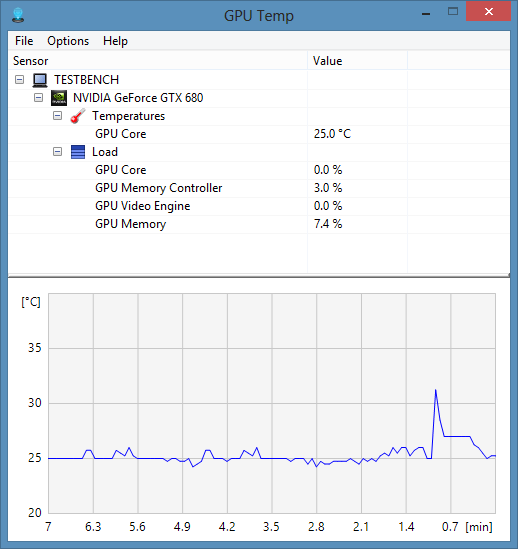 GeForce GTX 680 w/ Kraken + X40 Cooling (Idle)
At an ambient temperature of 72°F/22.22°C, the GTX 680 with its stock cooler stabilized at 96.8°F/36°C.  These temperatures were taken with the test machine left on idle (no user input) for ten minutes after a cold boot.  In comparison, at an identical ambient temperature and given the same conditions (10 minute idle period post-cold boot), the GTX 680 cooled by NZXT's X40 registered 77°F/25°C.  The 11°C improvement by itself at idle conditions is hugely impressive, but I'm far more impressed with the temperature delta between ambient temperatures and the GPU's temperature at idle (a difference of 5°F/2.78°C).  The smaller the difference between ambient temperatures and chip core temperatures (in this case, the GPU's), the more efficient the cooling solution is.
And things are, if anything, even more impressive when you put the GPU through a maximum load condition.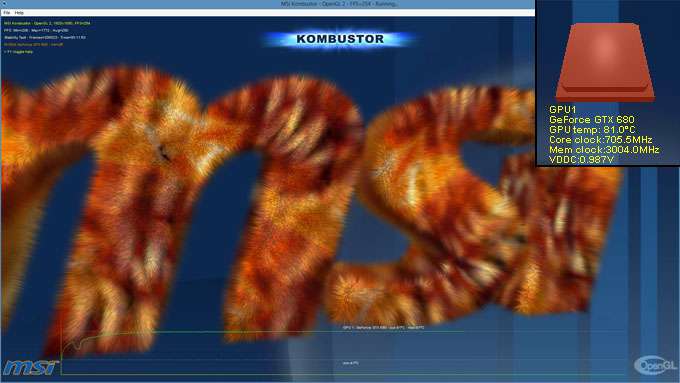 GeForce GTX 680 w/ Stock Cooling (Load)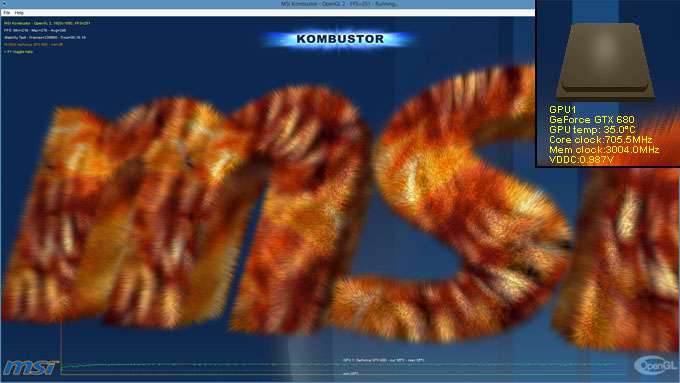 GeForce GTX 680 w/ Kraken + X40 Cooling (Load)
These screenshots were taken during a MSI Kombustor GPU stress test run (a 20min run each time).  With ambient temperature kept constant (72°F/22.22°C), the GTX 680's maximum load temperature hit 177.8°F/81°C.  The delta temperature between ambient and GPU was 105.8°F/58.78°C.  With the NZXT X40 + G10 combo installed, however, the highest temperature the GTX 680 hit was a mere 95°F/35°C!  That's an amazing 114.8°F/46°C improvement over stock cooling.  Delta temperature was only 23°F/12.78°C.
Just to put these numbers into some kind of context, I have another GTX 680 in my everyday PC.  This GTX 680 is part of my custom water loop, where both the GPU and the CPU are cooled with an XSPC RX360 radiator fitted with six Scythe Gentle Typhoons in a push-pull configuration.  The GPU has an EK EK-FC680 Acetal + Nickel full coverage block.  Run through similar conditions (same ambient temperature, same testing procedures), the best temperature I got for the GPU temperature is 96.8°F/36°C.  It's hard to say whether or not I could get improved temperatures if I ran this GTX 680 on its own water loop, but the fact that the one fitted with the NZXT Kraken is on a par with a custom water cooling solution is hugely impressive.
Each temperature test run was conducted at the reported ambient temperature (72°F/22.22°C) each time, controlled through my apartment's central temperature controls.  I did each test five times, with a cool-down period of ten minutes each between runs augmented with an electric fan cooling down the test machine after each test.  Idle temperatures were taken ten minutes after each cold boot; max-load runs were all twenty minutes long (I observed that temperatures didn't tend to increase at all past the ten minute mark using MSI Kombustor).  The NZXT X40's 140mm fan was at maximum RPM during all tests.  I tried to control as many possible variables in this set of tests so that the only changes were in the cooling equipment installed.
Final Thoughts
The NZXT Kraken G10 might "just" be an adapter that allows users to use an Asetek-sourced AIO CPU water cooler, but it's supremely effective.  It allows for the easy installation of a compatible AIO CPU cooler onto a graphics card.  If you already own an AIO CPU cooler of this ilk but aren't using it on a CPU, buying the Kraken G10 so that you can use it on your GPU is a brilliant way to improve your graphics card's temperatures.
Cooler chips tend to live longer.  So using the Kraken G10 with a compatible AIO CPU cooler is an easy way to let your GPU run at far lower temperatures, both at idle and at maximum load, than you could ever expect with its stock cooling equipment.  Indeed, only a dedicated custom water cooling loop (i.e., a loop just for the graphics card) is a superior cooling solution.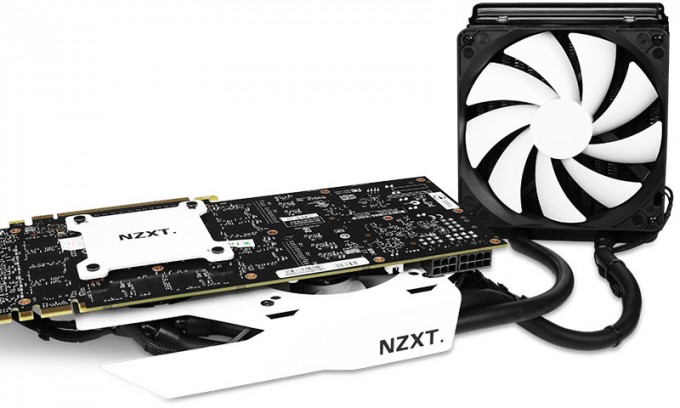 At an MSRP of $29.99, the Kraken G10 is possibly one of the best values in terms of performance improvement potential per dollar available.  (This is assuming you already have an AIO CPU cooler you're not currently using.)  Available in red, white, and black, it should be easy to find one that's perfect for your build.
There's no question about it:  NZXT's Kraken G10 GPU Bracket deserves Techgage's Editor's Choice award.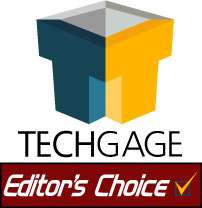 NZXT Kraken G10 GPU Bracket
Copyright © 2005-2020 Techgage Networks Inc. - All Rights Reserved.