NZXT Bunker – Protecting Your Goods at LAN Parties
Date: January 28, 2011
Author(s): Ryan Perry

Ever go to a restroom during a LAN party, only to come back and find your peripherals missing? Me either, but that shouldn't be a reason to not look into better protecting your goods while at such events. Thanks to NZXT, a great solution doesn't cost much at all. It's called the Bunker, and retails for around $25.
---
Introduction
NZXT states that it was founded by gamers, and its newest product seems to be aimed squarely at that group. Up for review today is the Bunker, an external 5.25″ drive bay insert that aims to provide USB expandability while keeping peripherals safe and secure when left unattended at public events such as LAN parties.
The Bunker is made almost entirely of ABS plastic aside from the PCB and circuitry, wires, mesh door cover and locking mechanism. Behind the door is a 4-port USB 2.0 hub that connects to a free USB header on a motherboard. The door itself is spring-loaded, so turning the key causes it to swing open, pulling the USB ports forward.
Once the peripherals have been connected and the door has been closed, which pushes the connections back inside, it can be locked leaving only the cables visible through a narrow opening. NZXT also implemented a 20 key locking system so other users who own a Bunker will not be able to unlock yours.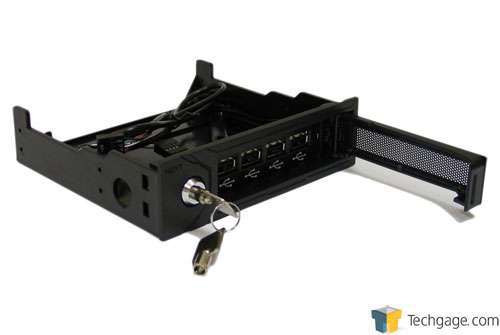 Despite being mostly plastic, the Bunker feels very solid once installed and the USB ports are nice and snug. The cable that connects to the motherboard header has plenty of length, which should allow for it to be tucked away if cable management is desired. From a cosmetic standpoint, it looks right at home in any chassis that features mesh drive covers so it should not break up the overall look.
On the flip side, NZXT chose not to include mounting screws to secure the Bunker in place. Also, devices with thicker USB cables, such as GIGABYTE'S Aivia K8100 keyboard, will run into clearance issues when trying to close the door. The cable on this particular keyboard is braided making it thicker than most, and would not allow the door to close without applying more force than I care to use. Making the opening just a hair taller would resolve this and still allow peripherals to remain secure.
The length of the USB head could also cause clearance issues. Documentation included with the unit states that the port closest to the door hinge will allow connections as long as 2.2 cm/.86″ while the rest will allow 4.2 cm/1.6″ or shorter.
While I'm not a LAN party kind of guy, I cannot stand thieves, so solutions like this get my full support. It's bad enough to lose but losing your hardware is another story. The Bunker is a solid, well made and good looking deterrent for would be thieves and those who regularly attend LAN parties should have a look. It may just save a few headaches and empty wallets.
Discuss this article in our forums!
Have a comment you wish to make on this article? Recommendations? Criticism? Feel free to head over to our related thread and put your words to our virtual paper! There is no requirement to register in order to respond to these threads, but it sure doesn't hurt!
Copyright © 2005-2021 Techgage Networks Inc. - All Rights Reserved.