NZXT Hades Crafted Series Mid-Tower

Date: February 22, 2010
Author(s): William Kelley

You might know Hades as being the God of the Underworld, but after taking a look at this chassis, you might begin to think he was the God of the "Meshworld". Yes, there's a lot of mesh used here, along with stark angles, creative lighting and a smart design that delivers fantastic cooling performance. But, can it unseat CM's 690 II?
---
Introduction
Any time you design and plan a new computer, you have many factors to take into consideration. The most important of all is the thermal capabilities. Heat is the great destroyer of computer parts, and with CPU and graphics card manufacturers continually pushing the heat envelope higher and higher, you cannot overlook this detail.
Second on the list has to be noise. A chassis without proper noise control will spoil all your dreams when you are forced to either unplug fans or turn up your volume to uncomfortable levels just to overpower the jet engine roar of your case fans. Having the ability to adjust the level of noise is also a growing desire amongst enthusiasts.
Finally, the overall appearance must be taken into account. I have had more than a few chassis roll across my desk that had the first two bases covered but failed miserably in the style department, and as such, they were often overlooked by potential buyers. I know that when I am doing a personal build, I tend to not care much about the looks, but far too often this is the deciding factor for the general population.
On deck for critique today is the NZXT Hades chassis. Aimed for the enthusiast market, the Hades is a member of the Crafted Series steel mid-tower design. With a full compliment of fans, a fan controller, as well as tons of mesh, there is no doubt that the main design characteristic is cooling. Coming in at $99.99 US, NZXT has aimed it squarely at the mainstream market which does contain a lot of heavy hitters. Let's take a closer look and see just how well it does its job.
Closer Look
The front of the Hades is one of the most unique I have seen in quite some time. The use of angles and texture is almost startling. Unlike most chassis with a door on the front, there is nothing impeding intake airflow from the massive 200mm fan. The door itself houses the temperature LED's as well as the power button. While it seems to be a 50/50 proposition that the end user will like having one, the door is definitely a positive styling cue.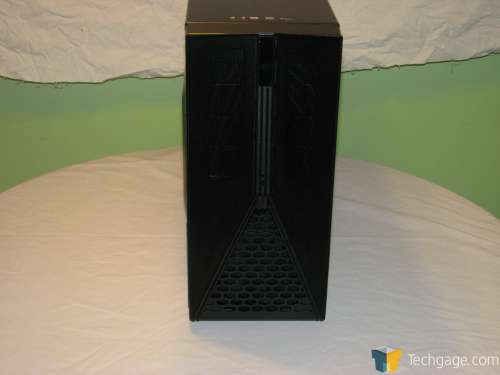 Behind the door we find the dials for the dual channel fan controller, the reset button and the ODD drive area. There are four slots for DVD drives or whatever other type of 5 ¼ bay peripheral you have in your build. The fan controller can handle over 8W per channel so you can have little fear of overloading them. I like how the slot covers are meshed to allow airflow as well. With quad-core computing gaining in popularity, it never hurts to have more air flowing through.
Up top we find the front mounted I/O panel as well as dual fan openings. The I/O connections are standard with the headphone, microphone, dual USB and eSATA ports within easy reach for your use. You are able to mount up to two 140mm fans in the roof of the chassis with a single 140mm fan already included and installed.
The left side panel sports another 200mm intake fan as well as a vent forward in the drive mounting area. I really like the detail here as the panel is stamped and shaped instead of just being flat. Build quality is very good with little perceivable flex when given the twist test.
The rear of the case is also very straight-forward in design. A single 120mm exhaust fan flanks the rear I/O area with lots of venting below. I personally really like the vented PCI slot covers since this area is very susceptible to heat buildup when solid covers are employed. Nice large grommeted holes for passing water cooling lines are included.
The right side panel cover is a mirror image of the left, minus the fan. Again, build quality is very good with no flex at all. We can also see the large hinges used for the front panel.
Next, taking a quick look below shows off the easily-removed and cleanable power supply fan filter that will stop your PSU from sucking in all the dust that will naturally collect underneath your PC. The case feet are a nice rubber design and they work well to isolate any vibration that could travel to your desk.
As we head inside the belly of the chassis, I wanted to show off the high-quality 200mm fan used on the side panel. In testing this fan, like all the fans included, I really was impressed by the lack of noise, while still performing very well.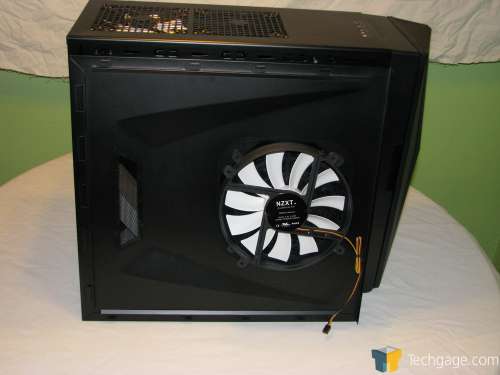 Time to check out the interior!
Closer Look Cont.
Inside the HDD mounting area and behind the other over-sized intake fan we see another nice touch included with the Hades. Since you need to use 5 ¼" to 3 ½" adapters for all your hard drives, NZXT also gives you a hard plastic dual 2.5mm drive adapter for those new SSD drives you definitely want.
Above this area we see the included tool-less mounts for up to 6 5 ¼" devices. The front of the case allows four external devices to be mounted here with the other two available internally. The mounts are quite secure and very simple to use. A simple twist of the knob locks and unlocks your devices. Unlike many other tool-less designs, there are mounts for both sides of the drive.
A close-up also shows the large grommeted openings for passing through your case wiring. The oval shaped holes have a ton of room to run everything behind the motherboard tray to keep things tidy as to not obstruct that gigantic intake fan.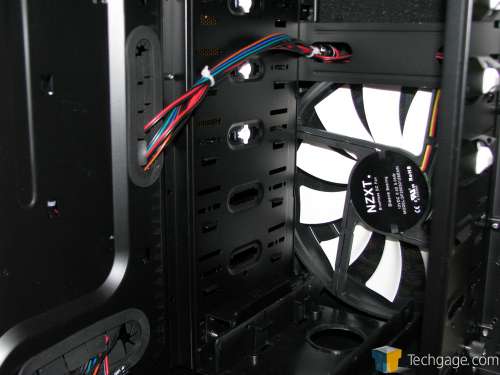 The power supply is isolated from the floor of the chassis by four rubber feet. I love to see all these noise-reduction features, as I have seen cases costing over twice as much as the Hades skimp in these vital areas, and their noise performance suffered.
The rear 120mm exhaust fan and the top mounted 140mm fan cradle the CPU area quite closely. It's hard to see from this picture, but there is a pass through up behind the top fan for the EPS power connector. This fan is placed too close to the motherboard for my tastes, and does cause some interference issues when it comes to installing parts.
As stated earlier, there is room for dual 120mm or 140mm fans on the roof of the case. The large open grating allows for easy airflow with minimal turbulence.
The backside of the motherboard tray sports stamped wire tie-downs which are very nice to have when it comes time to zip-tying everything into place. There is plenty of space back here for all of the wiring.
There is a nice bundle of hardware included. There are 3 adapters for HDD's, tape for the temperature diodes, motherboard hold-downs and screws, thumbscrews for the HDD adapters, BIOS speaker, panel locking tab and a small handful of zip-ties. The included instruction sheet is somewhat lacking, but it does the job well enough.
With a look at the Hades out of the way, let's continue along to installation and testing.
Installation and Testing
To assure that our results are as accurate as possible, all of our chassis testing is performed under highly-controlled conditions. Our test chassis is kept in a near-steady 20°C ambient environment, with readings taken before and after testing with a standard room thermometer. After we boot up our machine, we allow Windows to settle itself down for 10 minutes, to stabilize processes that might be running in the background. Once Windows is completely idle, we record the current CPU temperature as that in our results.
BIOS settings are verified prior to each run, and to help with quick switching of our various profiles, we make use of the motherboard's ability to store multiple configurations. We primarily use two for our testing here – stock speed, of 3.0GHz, and also a maximum over clock, of 3.95GHz. Stock settings were achieved by using "Load Optimum Default", and storing those as our stock profile. The maximum over clock was obtained after extensive testing and tweaking to insure it was stable. The CPU's vCore was raised to 1.400v, and the Northbridge was raised to 1.30v. The RAM is run unlinked to run at factory speeds and voltages.
For our monitoring and temperature reporting, we use Everest Ultimate Edition 5, from Lavalys. It allows us to grab the results from each one of the cores, and the CPU as a whole, so we believe it to be indispensable to our toolkit. To help push our Intel Core 2 Extreme QX9650 to its breaking-point, we use LinX. The reason is simple: it utilizes LINPACK. After much testing with various "stress testers" in the past, we've found that running a multi-threaded tool that supports LINPACK, like LinX, pushes both AMD and Intel CPUs like no other. This results in higher temperatures than others (like Prime95) can muster, and also greater power consumption.
Because our test machine is equipped with 4GB of RAM, we set LinX to use 3072MB, and then set the test to run 5 times over, which takes about 15 minutes total. With the help of Everest, the CPU's various temperatures are recorded throughout all of the testing, and also for a minute after the test ends. The maximum recorded temperature found in the results file is labeled as "Max" in our results.
| | |
| --- | --- |
| | |
| Processor | |
| Motherboard | |
| Memory | |
| Graphics | |
| Audio | |
| Storage | Seagate Barracuda 7200.10 320GB |
| CPU Cooler | Arctic Cooling Freezer 7 PRO |
| Power Supply | |
| Et cetera | |
Normally this is where I would post a few pictures of my build while explaining the build process. Unfortunately for me, my camera decided to go on the fritz, so you will have to bear with me as I explain the build process.
Installation was somewhat of a challenge. The first obstacle was the fact that the top panel exhaust fan is just too close to the motherboard. You pretty much have to wedge it underneath the fan to get everything in place. After I had the motherboard installed, I then realized the fan was completely blocking the EPS wire slot. I had to remove the fan to run this cable and also to fit the heat sink. I would strongly suggest that there be at least another inch in between the top of the motherboard and the fans in the top panel in any future designs.
The rest of the build process went smoothly and there really is a ton of room for the rest of your hardware. Routing cables and tying things down is a breeze. It wasn't until I attempted to reinstall the side panel did I realize I was going to have a struggle on my hands. The side panel fan is too close to the CPU area meaning that most large 120mm or bigger CPU coolers will hit the fan and not allow it to close. I was lucky in that the Cooler Master V8 cooler I was using was able to be "adjusted" so that I could fit the panel in place. Plan your CPU cooler very carefully as you need to be sure it will fit with the case panel in place.
Wiring up the fan controller was simple as it was already basically wired up. Plugging in the Molex connection was all that was required. Wiring up the temperature diodes for the temperature display was also simple enough using the supplied tape. It takes minimal thought to execute this properly, so even a novice will have no problems here.
After everything was finally installed I fired up Windows and began testing. I was pleasantly surprised with the results as the Hades works very well and it does exactly what it was designed for. All fitting issues aside, there is no denying the cooling power.
(Sound Levels: 36dB @ Full Load)
This chassis comes in as possibly the quietest I have tested to date with outstanding performance. Having recently reviewed the Cooler Master 690 II, it gave me a high-quality and similarly-priced chassis to use as a comparison. The Hades was able to trade punches with it and even slightly outperformed it in the ability to cool down the graphics card.
Final Thoughts
NZXT is a company with a strong focus on gamers and aims to provide the products they need to get the task at hand done. They have given us time and time again some great products at an excellent price point. The competition in this class is fierce and the benchmark has been reset again and again. The Hades does a good job fitting in and even manages to hang with the current top dog, the CM 690 II.
Build quality is excellent. There are no sharp edges anywhere and the chassis is rigid and feels strong. There is no flex in the panels and the paint job is of a really good quality. The included hardware as well as the near full compliment of fans shows the attention to all details has been given proper attention. Toss in a built-in fan controller and temperature monitoring station for possibly the most rounded set of features in this class.
Unfortunately, in the quest to keep the overall size down and yet give you the most internal room possible for items such as graphics cards, it took away from the space required for running larger processor heat sinks. As long as you are creative and take your time, I believe that most heat sinks with removable fans will be able to be used, but this could have been avoided with just a bit more thought in the engineering of where the side panel fan was located.
Overall, the Hades is still a very good chassis. The pros do outweigh the cons in my mind and as long as some careful planning is used, you will end up with a great-looking and high-performing PC. The front panel door is a love it or hate it feature, but I really did like it. It was very easy to use, it did not block the airflow one bit and it even angled the temperature readouts upward so that they could be easily read. While I can't state that it unseated the reigning king of the $99 class, it sure did a great job, and seeing it has many features that most others do not, it's still worthy of consideration for your next build.
Pros
Excellent build quality.
Built-in fan controller/temperature readout.
Lots of quiet and powerful fans.
Good amount of internal room.
Solid pricing.
Cons
Motherboard mounts too close to top panel fans.
Side panel fan could interfere with many tall CPU coolers.
Discuss this article in our forums!
Have a comment you wish to make on this article? Recommendations? Criticism? Feel free to head over to our related thread and put your words to our virtual paper! There is no requirement to register in order to respond to these threads, but it sure doesn't hurt!
Copyright © 2005-2021 Techgage Networks Inc. - All Rights Reserved.