NZXT M59 Mid-Tower

Date: October 26, 2009
Author(s): William Kelley

The value in PC components today is fantastic, with the chassis being no exception. With its M59 mid-tower chassis, NZXT proves that value doesn't have to mean cheap, as this one is packed. It features a cool design, LED lighting, features usually only seen on higher-end models, and of course, a $59.99 USD price-tag.
---
Introduction
Perhaps the most difficult item to up-sell when designing a computer is the chassis. When you ask about processors and graphics cards, the sky is often the limit, while the venerable case is often delegated to the cheapest one possible. Even worse is the far-too-common mentality that they are all the same. Time and time again I hear this and I could not disagree more. What is under the skin is quite often far more important than physical beauty.
I have had the pleasure of reviewing many different styles and brands of computer cases. Each company puts their unique spin on their designs and overall functionality. No two brands go for the same set of qualities, which in turn gives us a large range of choices. High-end brands stick to high-end finishes and accessories, while the more budget minded companies try to pack as much bang for the buck into their products. Just when you think they are going to run out of ideas, you are again surprised or even amazed at the latest and greatest releases.
NZXT was founded with the enthusiast squarely in their crosshairs. Since 2004 they have been designing and building products with this group in mind and they have done very well indeed. After having reviewed some of their many products, they have proven to put out quality merchandise at a cost that is hard to beat. Their commitment to quality and their desire to please shows just how dedicated they are to this role. Their strong presence in the gaming market has definitely earned them a solid reputation for quality at a competitive price.
Up for our reviewing pleasure today is the M59 Classic series chassis. Coming it at a very strong $59.99 US, there is a lot to be said in terms of value per dollar. Featuring an all black interior as well as a highly versatile cooling arrangement, there is no doubt NZXT has done their homework. In this price range we often see key features overlooked as well as less-than-stellar performance. Quantity, not quality, is too common when comparing models in this price-range. Let's take a closer look and see just how well the M59 stands up against the rest of the pack.
Closer Look
The M59 arrived in a customary silk-screened box with all the ingredients listed as well as high-quality pictures. The chassis itself was wrapped in protective plastic and the foam encasings were solid and did their job well against the brutes at UPS who never seem to tire from testing protective packaging materials to the fullest. Once unwrapped and on my table I got my first impression and I have to say it was a very good one indeed. Paint finish and quality is excellent and overall fit is very good as well. The gaps in the various panels are straight and true. Most of the front area is vented with mesh to allow for good airflow characteristics.
The I/O panel is situated roughly in the middle of the front panel. From left to right we have the power button, reset button, headphone/microphone jacks, dual USB ports and an eSATA port. There is a decent amount of spacing between the USB ports so there should be no issues when using wider-than-standard USB devices.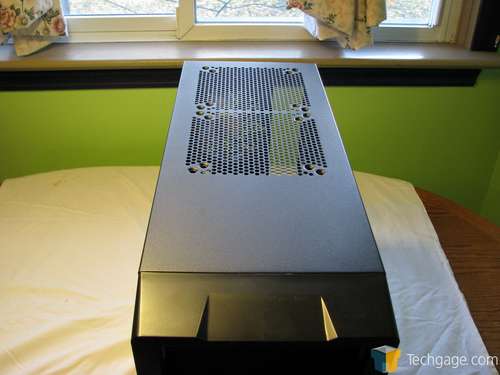 The top panel is somewhat plain but does sport dual fan openings which can house dual 120mm or even dual 140mm fans. This arrangement opens up quite a few different cooling possibilities including the ability to mount a 120.2/140.2 water cooling radiator. Even with no included top fans, the grills allow for heat to escape with its natural desire to flow upwards. I personally always desire the top panel to be at the minimum vented and making it fan friendly is just that much better for us all.
The left side panel incorporates a very large tinted window. I am also happy to report they have included a blue LED 120mm intake fan as well hovering over the VGA area of the motherboard. This is one area that can never have too much fresh air being drawn through it. Many times there is neither a fan nor a grill placed in the side window especially in units of this price range.
The backside also shows off more extensive use of grilling. All the PCI slot covers as well as the area above them are grilled. The rear exhaust fan can support 80mm, 92mm and the included 120mm fan. Above the intake fan are dual pre-drilled holes with grommets for external water cooling lines to run through. The power supply is delegated to the bottom where it can also draw in fresh outside air in. Both side panels are affixed with thumbscrews making it a snap to get them off for any service needs.
The right side panel is a plain affair with the standard handle indent stamped into it. It is worth noting that the fit is excellent and the seams were straight and true. As with the left panel, all edges are double rolled for strength and rigidity. I found nearly no flex in it when removed as well.
On to the belly of the beast. Down below, we find the filtered venting for the power supply and oversized plastic feet which are tipped with rubber for traction. Many times I have seen standard sized feet down here even with the power supply trying to intake fresh air, so it is another little detail that has been properly addressed. Up towards the front we see there is an additional slot for the front fan (not included) to get even more airflow from the bottom as well.
Taking a closer look at the power supply intake we see just how simple it is to remove the filter for cleaning. A quick push of the tab and the filter can be slid forward for easy removal. You also get a better look at the feet and just how large they are coming in at just over 5/8 of an inch in size.
I wanted to also showcase the fan used on the side panel. I was delighted to see that instead of the usual loud 6-bladed type fans found in this price-range that instead we are given a 9-bladed turbine style fan. Add to that the blue LED lighting and the value is remarkable. Both included fans are wired for not only 4-pin Molex use but also 3-pin motherboard headers.
Looking inside we start out examining the power supply area. The grill area is plenty large for even the biggest power supplies. I also like the four rubber tipped supports that are pressed into the floor as well which will not only support the power supply but also help absorb and extra vibration and noise that could occur.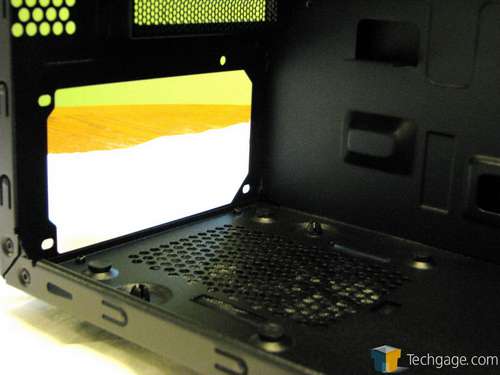 Up above we get a better look at the PCI slot area and just how well they are vented. This may not seem that important but be rest assured this is a zone that can hold in hot air against your graphics cards as well as any other expansion cards you may require.
Up top we see the same style fan is used as the side panel. These fans flow very well and are very quiet. I have seen even high-end cases using a cheaper and far louder design. You also get a glimpse into the venting of the top panel as well. One cannot help but get an airy open feeling when looking inside and we all know that will equate into good cooling ability.
The ODD area consists of four slots for your ODD needs. There is plenty of room for drives and any other accessories designed to fit into this area. With the twist of the included thumbscrews installation is a snap. NZXT also included an easy to use front panel that fits in front of pretty much any CD/DVD drive so you don't need to worry if your current drive is black. Here again is a feature that is almost unheard of on a mid-range chassis.
When it comes to storage there is room for up to seven hard drives to be mounted internally. Five can be quick mounted with tool-less rails while two more can be hard mounted between above. There is no provision for mounting any 3 1/2″ devices externally so you would need to acquire the proper adapter for one of the 5 1/4″ bays to use such a device. Considering there is little need for the old floppy drive I feel this is insignificant in the grand scheme of things.
While the included accessories are somewhat on the lean side, we do get everything needed for the installation of your gear. A quick install guide, thumbscrews for the four ODD bays, motherboard standoffs/screws, tool-less rails for hard drives as well as an adapter that gives you the ability to mount dual 2.5″ drives into a single 3.5″ drive space.
A closer look at this adapter shows just how this is done. A small plastic tab is used for separation of the drives. I really like this design as most I have seen so far have only allowed a single drive to be adapted to a single bay. Considering the ever growing popularity of SSD drives, this style of an adapter has to be considered a must have if there are no other provisions for mounting these drives internally.
All in all we are presented with a solid design for our hard earned money. Now that we have looked it all over it is time to get down to business and get some hardware installed.
Installation & Testing
To assure that our results are as accurate as possible, all of our chassis testing is performed under highly-controlled conditions. Our test chassis is kept in a near-steady 20°C ambient environment, with readings taken before and after testing with a standard room thermometer. After we boot up our machine, we allow Windows to settle itself down for 10 minutes, to stabilize processes that might be running in the background. Once Windows is completely idle, we record the current CPU temperature as that in our results.
BIOS settings are verified prior to each run, and to help with quick switching of our various profiles, we make use of the motherboard's ability to store multiple configurations. We primarily use two for our testing here – stock speed, of 3.0GHz, and also a maximum over clock, of 3.95GHz. Stock settings were achieved by using "Load Optimum Default", and storing those as our stock profile. The maximum over clock was obtained after extensive testing and tweaking to insure it was stable. The CPU's vCore was raised to 1.400v, and the Northbridge was raised to 1.30v. The RAM is run unlinked to run at factory speeds and voltages.
For our monitoring and temperature reporting, we use Everest Ultimate Edition 5, from Lavalys. It allows us to grab the results from each one of the cores, and the CPU as a whole, so we believe it to be indispensable to our toolkit. To help push our Intel Core 2 Extreme QX9650 to its breaking-point, we use LinX. The reason is simple: it utilizes LINPACK. After much testing with various "stress testers" in the past, we've found that running a multi-threaded tool that supports LINPACK, like LinX, pushes both AMD and Intel CPUs like no other. This results in higher temperatures than others (like Prime95) can muster, and also greater power consumption.
Because our test machine is equipped with 4GB of RAM, we set LinX to use 3072MB, and then set the test to run 5 times over, which takes about 15 minutes total. With the help of Everest, the CPU's various temperatures are recorded throughout all of the testing, and also for a minute after the test ends. The maximum recorded temperature found in the results file is labeled as "Max" in our results.
Without further ado, here is a breakdown of our test machine:
| | |
| --- | --- |
| | |
| Processor | |
| Motherboard | |
| Memory | |
| Graphics | |
| Audio | |
| Storage | Seagate Barracuda 7200.10 320GB |
| CPU Cooler | Arctic Cooling Freezer 7 PRO |
| Power Supply | |
| Et cetera | |
Installation went well and there was sufficient room for working inside the chassis. It took me what I would consider the normal amount of time, about fifteen minutes, to get everything in place and strapped down. I had intended to use the Xigmatek Thor's Hammer heat sink as it was selected as the standard unit for all case reviews but was unable to due to space issues. There is just over six and a half inches of space for your CPU heat sink and most large 120mm based units are a hair lager than this. This is something you need to be aware of and choose your parts accordingly. I instead turned to my trusty AC Freezer 7 PRO for CPU cooling duties.
There were slots in the motherboard tray to allow wiring to run through to help clean up any stray wires. There were also stamped slots for zip ties although there were no included zip ties in the accessories bundle. It would have been nice to have been given five to ten zip ties. There was also a surprising lack of a hole for the EPX power connector. I was forced to run this wire in the front of the motherboard. Space is tight back here and I strongly suggest picking up a handful of zip ties in order to properly secure everything down. It did take a slight bit of pressure on the side panel to secure it in place, but I would consider that much of a fault either. One other thing to note is that the hard drives are required to face rearwards, so be sure to mount them that way the first time.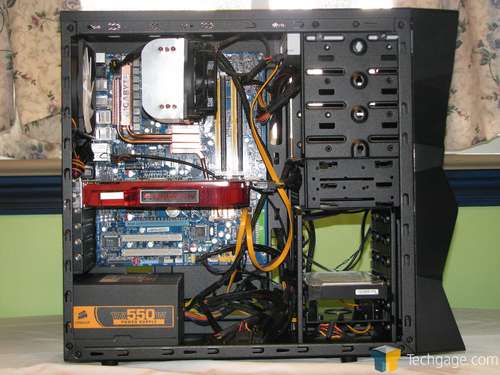 With the side panel re-attached we get to see the results of our labor. I really like the current trend of large windows. Add to this the tinted variety that was used here and the sense of quality goes up another notch. The final touch of the white bladed fan with blue LED's really gives the M59 an air of quality far higher than the price tag.
I would be remiss if I didn't include a quick shot of the front panel all lit up in its glory. One of the features touted by NZXT is the ambient lighting around the upper ODD area which makes it easy to see and use your DVD drive in low-light conditions. The light is not overdone and should not be a distraction to most users. Also note the blue LED around the power button that denotes the system is powered up as well as the HDD activity green LED around the reset button.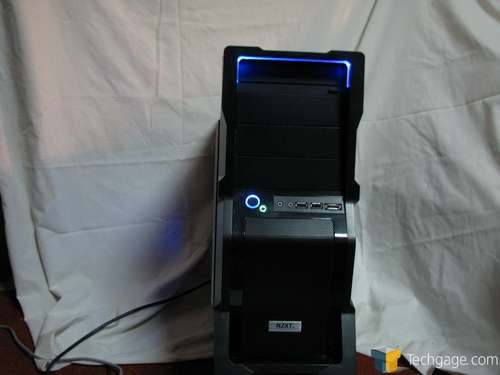 After my testing I came out with the following results.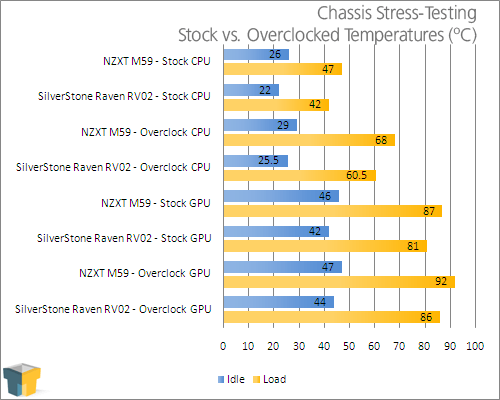 I was very pleased with my results and also surprised that the M59 was able to compete with much more expensive cases. Even with just the two fans my expectations were far exceeded. The addition of more fans can only help enhance cooling so I would suggest adding more fans if the budget allows. One other important fact to note is that these results were achieved with a low 43dB noise level at full load. Chalk this up as another notch in the belt of this budget-busting chassis.
Final Thoughts
The often used but equally misunderstood statement "you get what you pay for" has not only been applied to the M59, it has been proven a fact. As mentioned earlier, this chassis comes in at $60US and can be found for less on sale. I have tested units costing double this that did not offer the same features and quality. This is by far one of the best budget offerings to cross my desk to date.
Another re-occurring theme throughout my review is the quality of the design and in the build itself. The paint feels of a higher standard and the lack of sharp edges along with the double rolling of all the seams is just not seen in this price-range. Add in the use of good quiet and effective cooling fans and you get a winner of a case. NZXT really did their job well here and they should rightfully take a bow.
As with any product, there are some downfalls. The one big downfall that is hard to overlook is the fact I could not fit my 120mm heat sink inside. In fact, I tried the Cooler Master V8 as well with no success. Luckily, overall performance was not reduced too much with a smaller heat sink, but I do warn anyone who puts this case on their short list to make sure their heat sink will fit.
The next downfall that is somewhat of a puzzle is the fact that when you install a ODD drive in the top slot you effectively block one of the top panel fan mounting locations from being used. Closer inspection should have been used here and this problem could have been avoided with another inch in overall chassis length. Again, this is hardly a deal breaker since there is no real need to install dual fans internally, it is just another smudge on an otherwise clean build.
I feel this chassis warrants a rating of 8 out of10 on our rating scale. The pros far outweigh the cons. I find it hard to fault this chassis when I put the price and competition into perspective. Nothing I have personally tested comes close to overall performance in its class and it even competes very well with offerings costing more than double. Adding an inch of width and an inch of length would have made this good case great. Keep up the good work NZXT, and keep feeding us these awesome values!
Give this chassis a hard look if money is tight, or even if not, because I feel that there is nothing else out there right now that can compete with it from the value proposition.
Pros
Excellent quality.
Great cooling ability.
High-quality quiet fans.
Low price (~$59.99).
Cons
Top ODD drive blocks fan port.
Tough to fit large heat sinks inside.

Discuss this article in our forums!
Have a comment you wish to make on this article? Recommendations? Criticism? Feel free to head over to our related thread and put your words to our virtual paper! There is no requirement to register in order to respond to these threads, but it sure doesn't hurt!
Copyright © 2005-2021 Techgage Networks Inc. - All Rights Reserved.