NZXT Sentry LX Fan Controller

Date: February 27, 2009
Author(s): William Kelley

Whether you are looking to add some eye-candy to your machine, or want full control over your cooling system, adding in a robust fan controller isn't a bad idea. One of the best we've seen to date is NZXT's Sentry LX, which we happen to be taking a look at here. It's well-priced, looks good and works well… three things we like to see with any product.
---
Introduction
With the proliferation of high airflow cases around, the enthusiast is full of the desire to keep things as quiet as possible. Gone are the days where one needs to run massively-loud high-CFM fans and larger-than-life heatsinks to keep the temps down. Silence is now the mantra of the day and new products have been springing up almost daily to help with this battle.
NZXT has established themselves as player in the gaming market. Their products have been a steady evolution from entry level to enthusiast grade hardware. Another key practice of theirs has been to keep prices low and quality high. With each new release that comes through my hands I can see a constant increase in quality. The Sentry LX is no exception.
I can remember a time when buying a fan controller was nothing more than a crapshoot. All you got for your money was a panel with multiple knobs and anyone's guess as to just how much wattage could be handled. Given the fact that you were almost required to run powerful fans with high energy requirements, the chances of getting one that could even handle the juice for more than a moment was truly a chore.
With the release of the initial Sentry, NZXT looked to make things not only better-looking but better functioning as well. Unfortunately, with only two fan channels the options were limited. In comes the Sentry LX, their latest release. With a full five channels for fan control and a sleek design with a large and easy-to-read LCD, it really appears to be ready for battle. Offering a whopping 4W for each channel also means you can use some good high flow fans without worry as well. Add in the clock and calendar features and you have a controller with a full boat of features. Let's take a close look and see just how well it stands up.
Closer Look
Once you strip it out of the box, you are greeted with a very well-built part. The aluminum chassis is strong and finished to high standards. There is a plastic anti-scratch sheet over the LCD screen to protect it in transit as well. The control buttons are well laid out and clearly labeled. The brushed finish is done to a high standard and will look at home in any case.
Looking at the side, you really get a glimpse of the attention to detail that was put into the design. I have seen many designs fall flat on their face here in regard to build quality leading to an underwhelming product. The LCD is well supported, and once installed you know it's not going anywhere you don't intend it to.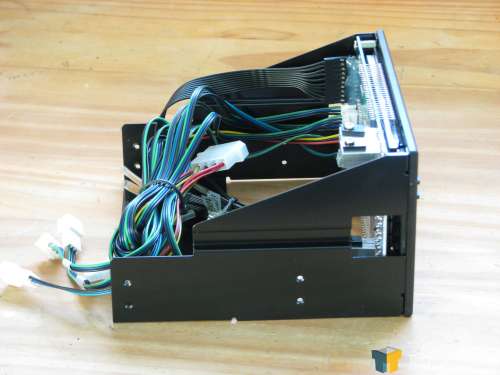 The PCB is well-laid-out and shows off another level of the engineering that was put into the design. Everything is logically laid out and clean.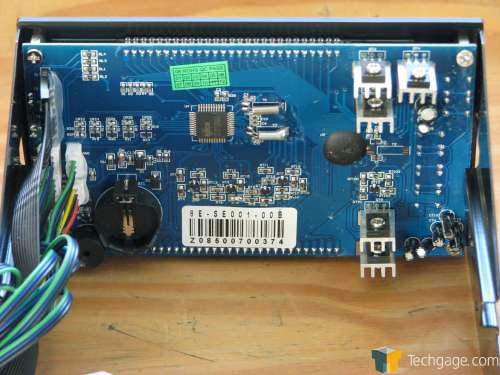 The large aluminum heat sinks are for controlling the heat in the fan control circuits. Each channel gets its own heat sink so there is no worry about failure due to overloading. Each will safely support 4W so you can run some rather robust fans without fear.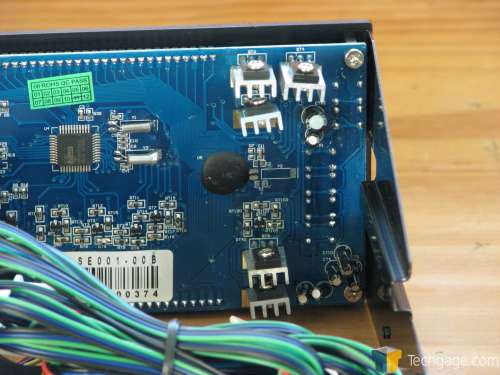 Peering ever closer at the business end of all the wired connections we see that there were no steps missed. I really appreciate the fact that they took the time to glue the connectors into place since they are subject to an errant pull while running all the wires. We can also see that a battery is used for memory retention.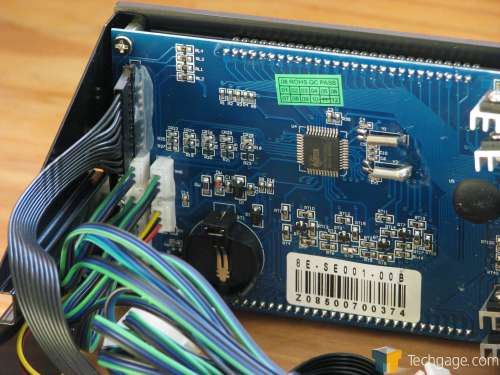 Overall, I rate the build quality as above average especially for a fan controller. Considering we are trusting out precious parts to such a simple device I feel that there has been some genuine effort to protect our stuff from premature death. Let's get this guy installed and see if they put their money where their mouth is.
Installation and Testing, Final Thoughts
The installation was pretty simple enough. You have to have 2 free 5 ¼ drive bays and some simple patience to run a bunch of wires. The included tape will allow you to attach a thermal probe near every fan that you are running with the controller. Popping in the supplied battery will retain all your settings simply enough as well. The final connection is the 4-pin Molex power connector that powers the unit. Press your power button and away we go to setup.
Setup is a simple affair as well. Simply depress the "set" button and use the up/down arrows to change the current setting. Each press of this button will scroll you through each setting. No degree needed here to get it all going. Switching from manual to auto functionality takes is a snap as well. In manual mode you can use the "fan mode" button to scroll to each individual fan to alter the speeds to your desire. If you are unhappy with all your choices a quick press of the "reset " button quickly brings you back to factory defaults.
The hardware used to test is as follows:
| | |
| --- | --- |
| | |
| Processor | |
| Motherboard | |
| Memory | |
| Graphics | |
| Audio | |
| Storage | |
| CPU Cooler | |
| Power Supply | |
| Chassis | |
| Et cetera | |
For my testing I used a new program called OCCT 3.0. Not only does this simple program push the CPU to the brink of a meltdown through the use of LINPACK testing for Intel processors, it also turns up the juice on your GPU. It automatically maintains graphs of temperatures throughout your testing. I highly recommend you try it out on your own for your testing needs. I always run all my tests 3 times and take an average just to weed out any erroneous results. My ambient temperature is kept at a near constant 20°C year round as my test bed PC is in my basement. There are no fans or heat vents in the area of my test platform.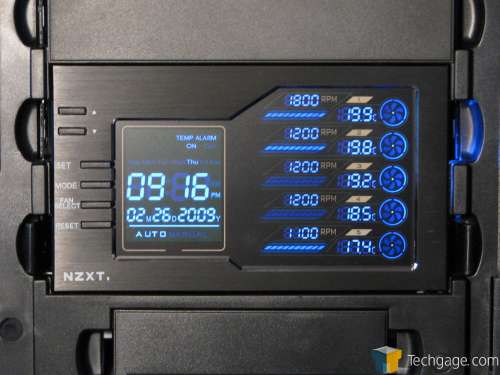 Testing was simple enough for the Sentry LX. Basically I ran my PC as normal with all fans 100% and achieved the expected results. Seeing how I just used this chassis for review, my results were in line with the results I got there. While I found no gains/losses running on the Auto mode, I also must state that the chassis selected along with the fans installed were no probably the highest load that the LX was designed to handle. Any way you look at it, this was an incredibly easy device to run and the price for admission makes it a very positive piece to have in your next build.
Any way you look at it, I feel that NZXT has a winner here. I confidently give it a solid 8 out of 10 rating. The build quality as well as functionality are there. Without a doubt the Sentry LX can be a very integral part of your next build especially if you are a die-hard air cooling aficionado that demands full control over your cooling needs.
Pros
Very well-priced.
Simple to use.
Straightforward installation.
High-quality build.
Cons
Limited to 4W per fan channel.
Awkward viewing angles.

Discuss this article in our forums!
Have a comment you wish to make on this article? Recommendations? Criticism? Feel free to head over to our related thread and put your words to our virtual paper! There is no requirement to register in order to respond to these threads, but it sure doesn't hurt!
Copyright © 2005-2021 Techgage Networks Inc. - All Rights Reserved.