NZXT Tempest Mid-Tower
Date: April 30, 2008
Author(s): William Kelley

Finding a quality mid-tower for under $100 doesn't happen to often, but NZXT looks to hit the mark with their Tempest. It offers plenty of space (and even support for eATX), four large pre-mounted fans, an intuitive internal design and sharp looks, making it a wise choice for any new build.
---
Introduction
NZXT's long lineup of cases have mostly been geared towards gamers, with flashy looks and lots of space being the common theme between them all. I would even dare to say that many were even on the verge of being too gaudy with their molded faces. Then again, that's what a lot of gamers are looking for.
But today's gamer is looking for something different. Airflow is now at the top of the list for most every new build. With larger and hotter graphics cards coupled with super-hot Quad-Core processors, getting all that heat out is far more important than the look of the case itself.
Another major consideration is space. Lots of people are now building multi-GPU systems with lots of hard drives. Add to that the latest crop of super powerful (and large) power supplies – the space can run out quick. Finish it off with a water cooling system and your case can be downright crowded.
Welcome to the Tempest, a great-looking chassis that offers both good airflow and looks all at the same time. It boasts four large pre-installed fans, support for dual radiators, smart cable management and even support for eATX motherboards, all in a mid-tower package.
Closer look
Upon arrival, this case immediately stated its business. Can it truly be the "Airflow King"?
With the wealth of highly capable cases available today with impressive airflow, I sure appreciate a company that is not afraid to put it all on the line. Once out of the box, we get a good look at the somewhat plain but tasteful front.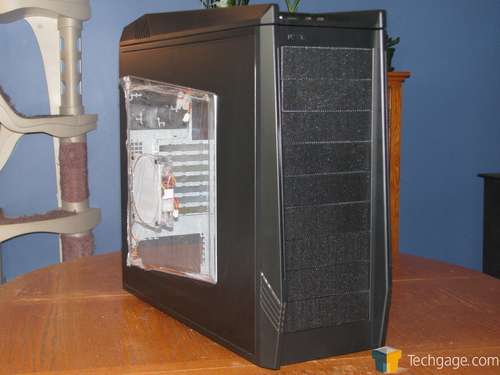 With loads of mesh and enough fans for a hovercraft, this case is built very well for the job it seeks to take on headfirst.
The next feature I feel needs extra credit is the location and orientation of the power/reset/usb/etc buttons/ports. Too many companies are putting them in very awkward positions on the top of the case. I was happy to see that this case has them pointing forward and at a 45 degree angle to the topside making them very easy to reach and use. I for one have a desk that the case slides into and this arrangement works very well. Most others force me to pull the case out when connecting peripherals.
Windows are pretty much the norm these days. The Tempest has a nicely done window that is beveled outwards instead of being flush mounted which gives you even more space internally for larger components.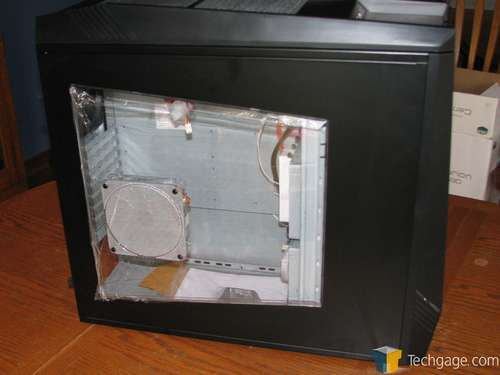 The top mounted dual 140MM fans are all business and mounted perfectly to pull the maximum amount of hot air off the top of the case.
A quick shot of the hard drive cages. I really like the position and the fact you can mount 4 drives in each cage. Very efficient use of space unlike most other designs that only allow 3 drives in the same space.
The rear of the case is pretty standard. One thing here I was not too crazy about was the small openings for external water lines. Anything larger than 3/8″ OD is not going to fit through them.
Finally, we look at the included accessories. While the case comes with built-in ODD retention devices, there are extras included should you wish to run more than 3 ODDs. Motherboard hardware, a couple wire holders and a mini speaker round out what you will receive.
So how about installation? Why, that's up next!
Installation, Testing, Final Thoughts
The Tempest proved quite painless for installation, thanks in part to all the room it avails and also the helpful cable management system.
NZXT has moved the motherboard up to the top of the case about as far as possible. This allows better positioning of components and far more effective use of space. They have also mounted the motherboard tray deeper into the chassis to allow more room for the tallest heat sink. If your motherboard can hold it, there is no heat sink that will not fit in this case.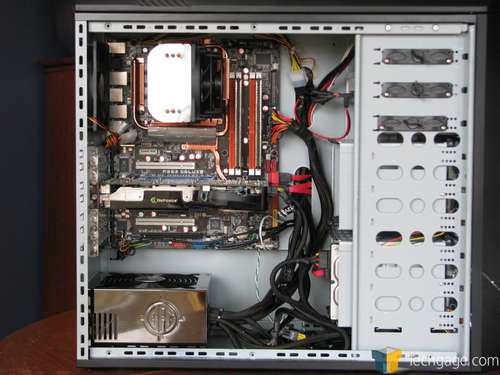 Another feature very much worth noting is the chassis' length. Another all too common problem with cases is that when using a longer high end video card, you can run into interference issues with the hard drives. Here is another problem that has been taken into consideration and solved by NZXT with this case.
My main gripe is the power supply mounting. At first, I noticed the PSU mount was reversible, which I was quite pleased with because I dislike the fan facing up (due to the ability to drop screws in during installation). However, I could not mount my particular power supply any other way than fan facing up as it just didn't line up properly. The support under the PSU should have been made removable and that can easily be rectified by some slight user modifications.
The other flaw with all cases with bottom mounted power supplies is the lack of wire length. This is more of the power supply companies fault considering how many new cases are coming this way but I still feel it needs to be mentioned. I had to use a 12″ 8-pin EPS extension to avoid running it on top of the video card and motherboard. It is time for the power supply manufacturers to step up and either include these extensions or to lengthen the wiring.
NZXT also deserves a nod for including a full complement of fans. I have seen too many expensive cases with multiple fan ports left bare. Including them all on a case with this price-point is a very nice and appreciated touch. Add to this the ability to stuff the new eATX spec motherboards in here and you have a great deal considering the estimated $100 price tag this case is set to debut at.
Testing & Final Thoughts
To me, the Antec 900 is the Tempest's direct competition. I personally have been using the 900 in all my builds because it offers the most airflow for the dollar. It is a good case, but it has quite a few flaws. The original version had poor wire management features and it is somewhat crowded inside. Despite those flaws, it was the airflow leader and was the best budget case out there. To me that has changed.
Side by side, these cases look almost identical. The Tempest is about 4 inches longer, but it is basically the same height and width. That is where the similarities end. The Tempest maximizes the use of interior space and it definitely pays off. Even my full ATX spec system with the monstrous 8800GTS looked small installed. I have no problem going on record stating you will not have clearance issues with any current graphics card and your hard drives.
All those fans also make for very effective cooling. Great airflow will enhance the ability of even the weakest heat sink. I specifically chose the budget Freezer 7 for this review just to prove how airflow is a main factor in keeping things cool. The freezer 7 is possibly the best budget cooler and our test furnace QX6850 can push even the best coolers to the brink.
Not an amazingly large difference, but the NZXT won this contest. This is mostly due to the extra room and the larger top opening allowing that much more airflow inside the chassis. The "Airflow King" crown has passed on from the 900 in my book.
I am awarding the Tempest an 8 out of 10. It is a great case and I can indeed say it does have far above average airflow. It scores high in the looks department and it is very roomy for its size. Fit and finish is excellent as well. The ability to not only hold 8 hard drives but to do it without compromising on space is a very good feature. Even with the biggest graphics cards, you will still maintain the ability to run all 8 as well. Wire management capabilities are also better than average. All in all, a great case with all the flexibility you will need for your next build.
Pros
Very good build quality
TONS of space
All fans included
E-ATX ready
Space for 8 HD's
Cons
Power supply mounting inefficient
Fixed speed fans not silent
Some edges slightly sharp
Discuss in our forums!
If you have a comment you wish to make on this review, feel free to head on into our forums! There is no need to register in order to reply to such threads.

Copyright © 2005-2021 Techgage Networks Inc. - All Rights Reserved.