NZXT Whisper Full-Tower

Date: November 26, 2008
Author(s): William Kelley

PC silence means more now than ever before. While we love to have powerful machines, we also want peace and quiet, and understandably so. NZXT recently released their Whisper full-tower that's poised to deliver the best of both worlds. Can this huge chassis deliver the silence we're looking for, along with the functionality?
---
Introduction
Established in 2004 in California by a group of gamers, NZXT has been innovating right from the start. With a long line of gaming chassis', power supplies and gaming input devices, they've always strived to put the gamer first. As a company, they proudly proclaim the desire to continue expanding into new horizons and push the limits with each new product.
Silence is something every manufacturer is now pushing towards. We, the consumer, want everything to be bigger, faster and more powerful, yet we also demand quiet operation. It almost seems to be a losing battle considering what it takes to accomplish all of these tasks. In the process of trying to satisfy all our needs, the chassis has become the whipping boy to get the "silence" job done.
In steps the Whisper. With its steel construction, foam sound-dampening materials and rubber isolation mountings for both the hard drives and power supply, it appears that the recipe for silence has been created. Since silence can come with a cost, let's see just how well NZXT has done with their latest offering.
Closer Look
To start things off, let's take a brief look at the official specifications, straight from NZXT themselves:
Model: NZXT Whisper
Case Type: Full-Tower (Steel)
Front-Panel Material: Aluminum/Plastic
Dimensions (WxHxD): 211.5 x 521.5 x 562 mm

Cooling System
Front: 1x120mm Blue LED
Rear: 1x120mm, 2x80mm

Drive Bays
6 External 5.25″
1 3.5″ External Bracket
9 Internal 3.5″
Screw-less Rail Design

Materials: Steel Construction
Expansion Slots: 7
Weight: 12.3 KG (w/o PSU)
Motherboard Support: ATX, E-ATX, Micro-ATX, Baby-AT
With simple lines and clean form, the Whisper is a good-looking case. The use of plastic is tasteful and there is no gaudy "boy racer" feel. If anything, it could be considered simplistic as well, but that's not a bad thing.
Up top we see the power button and the LEDs for HDD activity and system power. You should also notice that the entire door is slotted for ventilation as well.
The large front door opens easily with a slight tug to pull it free from its magnetic latches. The door has the look of a building façade with crisp angles. Once open, you'll see the generous room for up to six ODD drives while removing the 3 ½" slot adapter would allow yet another drive.
The next question that comes to mind is where is the front panel connectors? A quick push on the latching tab and up pops the USB/MIC/Headphone/e-SATA slots on the top of the case. While this is a neat feature, it is somewhat flimsy and does not lock into place. Also take notice of the inclusion of a reset button that is accessible when the door is open. This is one feature that I love to see and hate to be without.
The side panels showcase the eggshell flat black paint scheme. Quite uneventful and devoid of any windows, there is little else to see here.
The rear of the case shows off the main ventilation fan placement. The power supply sits very low in this chassis so you'll need to keep that CPU power extension cable handy (not included). There are 2 pre-drilled holes with rubber grommets for water cooling lines but they are small and will not allow anything over ½" OD through. I do like the extra-large grating on the openings to allow better airflow.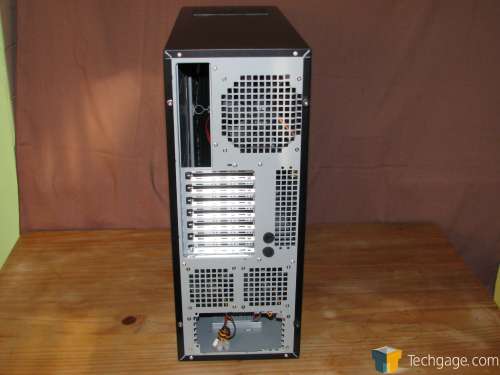 Once you take the side panels off you are able to really take in the ample space inside for your hardware. There is no need to measure that video card or motherboard seeing this case is E-ATX ready. Note the tool-less fixtures for your ODD drives and the 9 hard drive trays.
A closer look at the drive trays reveals something very interesting and not often seen in a full-tower chassis. There are mounting positions for 3.5" drives AND 2.5" laptop (or SSD) drives. This may not be something too many of us will take advantage of, but it's nice to see and will allow you to mount any spare drive you might have lying around.
Shown side-by-side for comparison's sake with a regular 3.5" desktop drive, you see how easy it is to install that 2.5" drive into your chassis. Arguably, it's not a super-useful feature, but it's a thoughtful inclusion.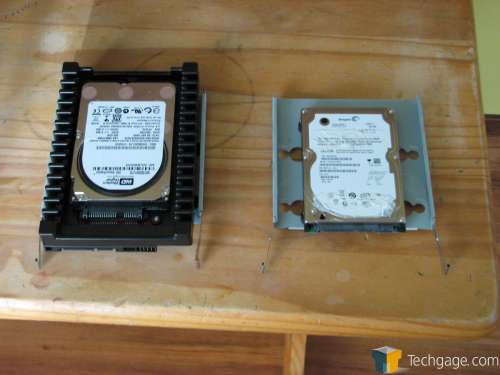 Keeping up to 9 drives cool are a pair of 80mm exhaust fans along with a single 120mm fan in the front of the case. I cannot say that I am 100% happy with this setup since the lower section of the case is sectioned off which effectively cuts off the motherboard area from all this airflow.
Up inside the top you see more of the foam insulation lining the roof. This is the same stuff that lines both side panels in an effort to mute sound.
The rear 120mm exhaust fan is standard fare and located where it needs to be to draw the hot air off the CPU area directly. Again, this is the only ventilation in the top of the case. While the front door is perforated, the drive bay covers are not so there is little fresh air being drawn into the motherboard area.
The included hardware is thorough and there are screws for all your drives. There is a rubber grommet for your power supply and even a buzzer to connect to the motherboard. One thing that I find very important that is not here is the CPU power supply extension. Most power supplies will have a tough time reaching the top of the case as there are no holes to route wiring behind the motherboard tray.
On to testing and my final thoughts.
Testing, Final Thoughts
To help give the Whisper a good test, I've installed the following hardware:
Processor: Intel Core 2 Extreme QX9650 @ 3.0GHz
Motherboard: ASUS P5E3 Deluxe WiFi-AP
Memory: OCZ Platinum 2x1GB DDR3-1333
Graphics: PowerColor HD 3450 256 MB
PSU: Enermax Liberty 400W
Storage: Western Digital VelociRaptor 300 GB, Seagate Momentus 2.5″ 40 GB
ODD: ASUS 18x DVD Burner
OS: Windows Vista Ultimate 64-bit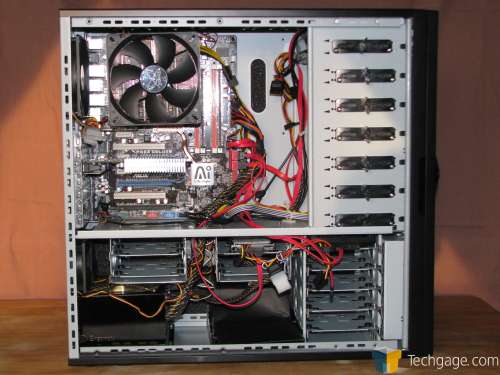 There's plenty of space for components of any size inside. Things do get tight in the upper-left-hand side when installing heat sinks. The motherboard sits very close to the top of the case which is due to the design of separating the lower section from the upper. E-ATX motherboards will have no issues at all here and there should be no interference issues with your ODDs, either.
The first real issue is the placement of the power supply at the very bottom of the chassis. Most manufacturers place the CPU power connection at the top of the board meaning you will be stretching the limits of even the longest connector. The lack of an included extension is really not good and will cause system builders grief. Also, the cutouts for wire maintenance are not ideally placed. Running wires behind the motherboard tray is just not possible due to the foam on the side panel. There's also a lot of wasted space in the lower section as well.
While the hard drives are mounted on rubber spacers in their trays to help isolate the noise and vibrations, they don't firmly lock into place. The spring steel tabs bend easily and simply don't do a good enough job, causing some slight transfer of vibration. It's hardly noticeable, but I am not a fan of this design.
One thing I was critical on was the airflow design. On paper, the Whisper doesn't seem to carry a design that would lead to cool components, but real-world testing proved to be the complete opposite. I recorded idle temperatures for the CPU at 27°C and the GPU (which is passively cooled) at 48°C. Under full load, the CPU stayed under 40°C and the GPU around 65°C. These results were obtained running Prime 95 to stress the CPU and ATI's built in stress tester for the GPU with an ambient air temperature of 22°C. I have to say I was quite pleased with the performance here.
Seeing as the name chosen was "Whisper", I was expecting a very quiet machine when powered up. Unfortunately, the included fans are anything but quiet. A fan controller is definitely going to be required if you are looking for that elusive silence. The insulation does a good job of keeping other sounds squelched but there is no getting around the fact that the system fans are just far too loud as is.
All in all, I had a very hard time coming up with an overall rating for this chassis. When you take the good with the bad, I feel this case should receive a 7 out of 10 rating. The flaws taken individually are not big, but there are too many to overlook.
With a price tag of roughly $140 USD at time of this writing, it falls squarely in the range of what most people are spending on their newest chassis. The competition is stiff in this area and NZXT will need to do some work on this front to stay competitive. With the likes of the Cooler Master HAF 932 and the Antec 1200 in the same price-range, it is certainly an uphill battle.
Pros
Sturdy-steel construction.
Very roomy.
Extensive drive mounting options.
E-ATX ready.
Will fit the largest of air cooling heat sinks.
Cons
Included fans very noisy.
Power supply far too low.
Could use more ventilation in the motherboard area.
Front I/O panel flimsy.
December 9, 2009 Addendum: NZXT contacted us to let us know that they've recognized that with high-end components, temperatures can get too high. To remedy this, if anyone would like to receive a front-fan assembly for free, you can contact the e-mail address as laid out on their support page.
Discuss this article in our forums!
Have a comment you wish to make on this article? Recommendations? Criticism? Feel free to head over to our related thread and put your words to our virtual paper! There is no requirement to register in order to respond to these threads, but it sure doesn't hurt!

Copyright © 2005-2021 Techgage Networks Inc. - All Rights Reserved.