NZXT Zero 2 Full-Tower

Date: February 24, 2009
Author(s): William Kelley

NZXT has impressed us time and time again with their unique chassis designs and attention to detail, so when we saw that they were offering a $100 full-tower with a fully customizable cooling system, we had to check it out. With a clean design and lots of available space, did NZXT create a a must-have for the value-conscious consumer?
---
Introduction
You just finished hours upon hours of research in your quest to build the ultimate PC. Picking one component that does not compliment the rest will surely lead to not only disappointment, it will also send you straight to gaming hell. It can be an overwhelming task as there are just too many factors to consider in making sure you got it just right.
The time has come to pick out the final resting place for all your parts. Picking the wrong case can be a disaster as it can cause headaches during your build or it will not be up to the task of keeping your parts cool. Do I go for the best airflow? Does that one have all the fans I need? Will I have to modify it in any fashion to make it work just right for my needs? The questions are just as endless as the selections available for purchase.
Thankfully, blending performance and style has never been easier. It seems that nearly every week we hear of the latest and greatest chassis design has been released. The airflow competition is just as fierce as the need to make you fall in love at first sight. The time has never been better to home-build your latest creation. Comfortable in all your choices you click that "submit order" tab and wait for your booty arrive.
NZXT has placed themselves squarely in the crosshairs of the modern builder. With many different styles to choose from and an array of products including power supplies, fan controllers and gaming mice, they have strived to create a product to fit your personal taste and style. Enthusiasts have tough demands and high expectations. Up on the block today is the Zero 2 gaming chassis. Another healthy meal of airflow has been put on my plate, so let's see how it tastes.
Closer Look
Calling itself the "Ultimate cooling chassis" with the words "fully loaded", the Zero 2 right away got my spider-senses tingling. I had visions of walls of fans and well thought out cable management systems. Priced at around $99US, it fits nicely in the range of entry level to mid-range. Once out of the box and unwrapped we have our first look at the goods.
With a nice black paintjob and full frontal molded panel, I would have to say my initial thoughts were that it was somewhat plain. The fit and finish was very good and I have no complaints there. The upper section which covers the 5 ¼ and 3 ½ ODD/FDD areas is held closed by a magnet and is as easy as pie to operate. There is a blue LED light as well and the HDD activity light is up here as well.
The lower section hides the front 120mm intake fan area with a nicely sculpted metal grate. The power button is also integrated here as well. Another blue LED light is added to compliment the top as well as surrounding the power button.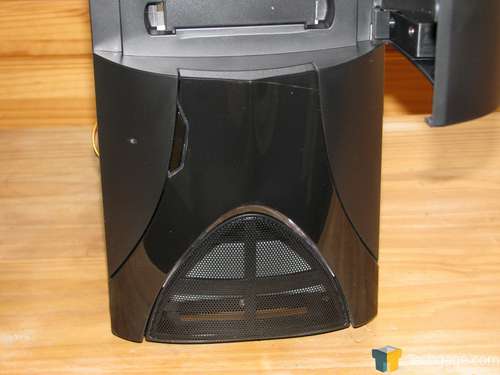 The top is unremarkable with the I/O panel cut into the top left of the chassis. Depending on your desk arrangement, they could be awkward to access but I have to say I like the way they installed the ports. You can see the raised grill area for the optional top mounted 80mm fan.
After they boldly stated that this chassis was "fully loaded", I must say I was somewhat disappointed (but not surprised) that there were no fans included on the side panel. There is room for four 120mm fans and there is no doubt your cooling potential will only go straight through the roof with all four locations in use. The mesh panel covering this area is of high quality and hardly protrudes more than 3/8″ out of the side panel.
After unscrewing the thumbscrews, we take a look in the inside of the side panel. To install your fans you have to unscrew the mesh as the screws must come through the outside for fan attachment. The steel used is thick and there was no noticeable flex when removed.
The rear of the case reveals the dual 120mm exhaust fans. Again, nothing remarkable is to be seen here and I right away noticed the lack of pre-drilled holes with grommets for any sort of external water cooling setup. While this is more of an inconvenience than a real issue, I feel that with the proliferation of easy to install water cooling kits out there this could turn off potential buyers. Aside from that, your power supply will mount up top.
Now that we are in the guts of the Zero 2, the nearly tool-free installation design is our main focus. Also notice the heavy bracing and rolled edges. Attention to detail is obvious and I found no sharp spots to draw blood. The design is somewhat old school with spaces for 5 HDD's, 5 ODD's and 2 floppy drives. There is an included filter over the bottom optional 80mm fan opening. Unfortunately, you have to remove it to install your fan since it does not have holes for screws to pass through.
Looking at the exhaust fan placement I noticed that there is no possibility of internally mounting a dual 120mm water cooling radiator internally since they are placed too close to the power supply. I feel that adding another 1″ or so here would have allowed such an install. The rear PCI slot covers are also solid instead of vented and use screws to hold them in place.
You get the expected full complement of drive rails for installing your drives. They attach simply with no screw required and sliding them home is a snap. The ODD's slide in from the front as well. A bag of motherboard standoffs completes the included hardware list.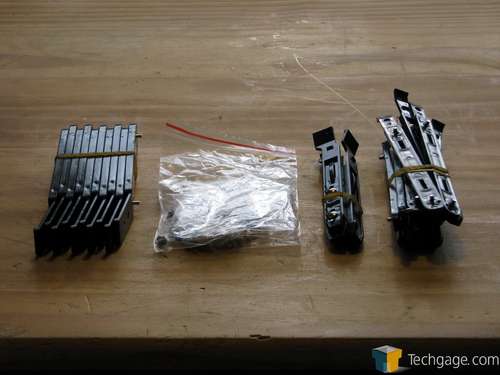 Something that no picture can tell you is the fact that this is a very well build and strong case. While I expected it to be stiff since it is made out of steel, I cannot help myself from emphasizing this aspect. I even jokingly sat down on it and wiggled around and the structure did not give in the slightest. After my rest, it became time to stuff some hardware inside and put it to the test.
Installation, Temperature Testing
For my testing I used a new program called OCCT 3.0. Not only does this simple program push the CPU to the brink of a meltdown through the use of LINPACK testing for Intel processors, it also turns up the juice on your GPU. It automatically maintains graphs of temperatures throughout your testing. I highly recommend you try it out on your own for your testing needs. I always run all my tests 3 times and take an average just to weed out any erroneous results. My ambient temperature is kept at a near constant 68°F (20°C) year round as my test bed PC is in my basement. There are no fans or heat vents in the area of the test platform.
I use a static overclock and settings for all my testing. Stock testing is done with all settings in the motherboards BIOS to Auto. Overclocked testing is done by turning the CPU multiplier to 11x and manually setting the Vcore to 1.275v as well as enabling line load option. This results in a processor frequency of 3.67GHz with 1.25v Vcore as reported by CPU-Z in Windows. The video card is by nature of being fanless does not over clock enough to change the results so it remains at stock speeds through all testing. This is by no means the absolute maximum clocks, they are just meant to add extra stress to the components to simulate a potential overclock obtainable by most people.
Installation was a straight-forward affair. There was plenty of room for my hands and the extra spacing between the motherboard and power supply made attaching the CPU power cable a no-brainer. Unfortunately it seems that there was no thought on wire management. There are no holes in the motherboard back plate to hide anything, making it necessary to run everything in the open. There was only a single included wire tie with no other fastening devices anywhere to be seen. There are places you could zip tie things down for some cleanliness but I only use what is included to build up the test platform so what you see is what you get (read: MESSY!).
I had to rely on a trick that I was happy to forget in order to stash all the extra wiring from my non-modular power supply. I mount my DVD burner in the second slot from the top and that will give you a place to stuff all that extra cabling. Not the neatest method by a long shot but it is effective.
In all fairness I had to include a close up of the motherboard area to show that the mess is not as bad as it seems in the above picture. Lack of routing area is not an uncommon issue in lower-priced cases but I would like to see it a thing of the past. Sloppy wiring can kill airflow.
Here are my test results: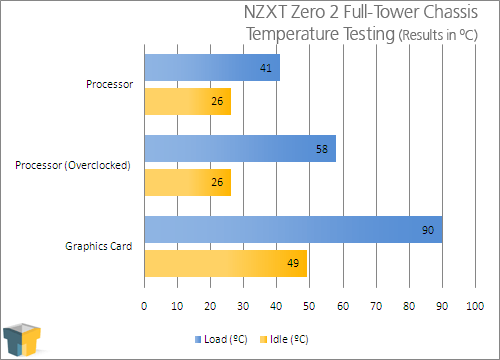 Overall I was happy with the CPU results. Sadly, I had to stop the GPU testing as it was only ½ hour into a one hour run and the temperature hit 90°C and was still going up. In all fairness, the 8600GTS we run is fanless, but this does show the weaknesses of the stock cooling. Without a doubt, a few 120mm fans would have prevented this.
Something else was very much lacking during all my testing. I have to say this is possibly the quietest chassis that has graced my desk in some time. Sure the fans were all slow speed and quiet but that is not the whole picture. Hard drive and ODD noise were also muffled and kept to a minimum. I attribute this to the thickness of the steel as well as the heavy plastic front panel.
Final Thoughts
If there is one reality that has fully ingrained itself in the minds of PC builders it's the fact that you must have proper airflow. You can run the best cooling system known to man, yet the lack of proper airflow can quickly defeat both you and your cooler. The often-forgotten motherboard's chipsets and voltage regulators are also at risk when left on their own to passively cool themselves considering they can often be the hottest parts of your PC.
On the plus side, the Zero 2 is definitely a very well-built case. Having used steel in the construction not only saved money but it created a rigid structure as well. This has also benefited noise levels as demonstrated during my testing. Many times when you cut out large portions of the side panel for venting, you get a flimsy part as a result. Once again, steel to the rescue and we just don't have that problem.
Fit and finish is another area that I feel that NZXT has come through with their chassis designs. There is nothing worse than poorly aligned and fitted panels. The paintwork is top notch and you get a feel for quality that is absent in many cases that are twice the price. Even the front panel feels solid and there is no sense of impending failure while operating it.
Unfortunately, there have been corners cut to keep costs down. I do not like the fact that there are no fans included for the side panel. There just is not enough flow through the front intake fan for effective cooling. It must push air through and around the somewhat bulky hard drive cage which is very ineffective. I'm not saying they need to include 4 fans here, but stating a case is fully loaded and leaving 6 fan openings empty just doesn't give me the "fully loaded" feeling.
Wire management has also been completely ignored. Not only is there little space and room to tie up unused cables, the connections for the I/O header are not long enough as well. Forcing me to drape them across the motherboard in order to attach them just makes no sense. If you are going to expand the space between the header and the jack you must increase the length of the wires. It really is that simple.
When looking at the total package, I have no problem giving this case 7 out of 10. This is a solid foundation to work with and with the addition of a few more fans will work very well for most people. The footprint is small and the price is right. Judging it on a purely emotional level would add to the score seeing as I really do love a case with so much potential. However, next time, I suggest that when you tell us that a case is "fully loaded", that you truly make it fully loaded and fill it up with fans. I guarantee most people will agree and happily pay a few dollars more.
Pros
Excellent fit and finish.
Extremely quiet.
Lots of cooling potential.
Priced very well.
Cons
Lack of included fans leads to lackluster performance.
No provisions for wire management.
I/O cables somewhat short.
No reset button.

Discuss this article in our forums!
Have a comment you wish to make on this article? Recommendations? Criticism? Feel free to head over to our related thread and put your words to our virtual paper! There is no requirement to register in order to respond to these threads, but it sure doesn't hurt!
Copyright © 2005-2020 Techgage Networks Inc. - All Rights Reserved.