OCZ 1GB Mini-Kart USB Thumb Drive

Date: June 16, 2006
Author(s): Matthew Harris

As flash memory becomes a more mature technology we see physical sizes going down while capacities go up. Today we take a look at a product that takes the reduced physical size to the extreme and find out at what premium does this reduced size come.
---
Introduction
Flash memory. It's sounding the death knell for floppy drives due to the much higher capacities and increased portability afforded to users. Back in the day, floppies were great for slapping a few small files on and carrying to your buddies house for sharing but those days went the way of the dodo with the advent of writable CD media and more complex and larger files. CD's have one major drawback though… you can't pop one in your shirt pocket and carry it.
Even if you could, you would have to buy sleeves to protect the fragile data side (and much more fragile label side) from scratches whereas the floppy was great. It was self contained and fairly hardy as long as you didn't bend it.
Fast forward a bit and we come to the introduction of USB flash memory sticks. They started small in capacity and were decently sized, but more portable than a CD. It took a few years for flash sticks to surpass the aging CD-R in capacity and by the time they did, CD-R was eclipsed by DVDR media but DVDR/RW is still disk based and still subject to the same issues. Lack of grab and go portability and fragility. Lately though there have been leaps and bounds made with flash memory. The capacities are soaring to new heights and the physical sizes are still shrinking. The price is shrinking as well.
I remember when you'd pay $1-$4 per megabyte for flash memory which made the CD-R look very appealing, today you can pick up a gig USB flash drive for around $50. Much better return on your investment since the life cycle of flash memory is in the millions of reads and writes so it's pretty limitless as temporary storage. Until recently though the USB flash media has still been pretty good sized. OCZ saw this as a trend that needed changing and did something about it and today I'm taking a look at the results… the OCZ MINI-KART.
As you saw in the package shots, the MINI-KART isn't much larger than your garden variety media card. In fact, sharp eyed readers will notice that the included carry case is the same size as a (and has the impression to hold) SD media card carrying case.
Here's what OCZ has to say about the MINI-KART:
"OCZ Technology makes data storage and transferring easier and more portable than ever with the OCZ Mini-Kart USB Flash Drive. The ultra thin and lightweight Mini-Kart holds up to 2GBs of data in an ultra-compact unit that you have to see to believe.
The Mini-Kart housing is 2.8mm thick, making this compact unit small enough to store in your wallet, ensuring that it is always handy to access or transfer documents, music, pictures and videos from your home or work computer. As a result of the incredibly thin Mini-Kart profile you'll never have to unplug surrounding USB ports to make room, a common problem with many oversized competitor drives. The Mini-Kart has a highly durable USB connector that is designed to be exposed without any issues.
Instantaneously play music, view images, or open files as if the Mini-Kart was an onboard hard drive with True Plug and Play functionality. The ultra-thin miniature USB 2.0 Mini-Kart drive is designed with ultimate portability and reliability in mind and is backed by a 3 year warranty."
Features

Dimensions: 43mm x 19mm x 2.8mm (L x W x H)
High Speed USB 2.0 Certified
True Plug and Play (Compatible with MAC OS X)
Available in 512MB, 1GB, and 2GB capacities
Blue LED Status Light
Small Lanyard Keyring
3 Year Warranty
Now, as you might have noticed OCZ says it comes with a lanyard, mine was missing it. I gave OCZ customer service a call and after 6 tries and 3 hours I was finally able to get through. I had to call their main number, go through the operator and sit on hold for a few minutes because the direct number for customer service kept shunting me over to voice mail. I was less than impressed by that but I found that if you're persistent you will eventually get a human in customer service.
Anyways, I explained to the tech what the issue was and he said they'd pop one in the mail right away. This was over a week ago and I've yet to receive my lanyard so again, I'm less than impressed. I will give them the benefit of the doubt and continue to hope it arrives but it's a guessing game.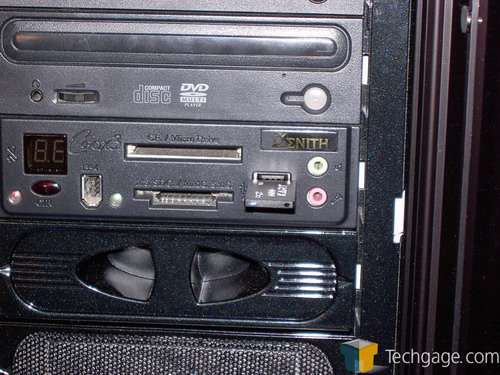 The MINI-KART is small. In fact, it's so small that the tang end is bereft of the usual metal shield to protect the contacts. OCZ says you can slip the MINI-KART in your wallet and I suppose you could but I'd advise against leaving it there for extended periods of time. Especially during summer. Face it, we're people, we get hot and we sweat. That sweat will soak into your wallet and whatever is inside will become damp and since were talking about an electronic component here that's not exactly a good thing to have happen. Not to mention the fact that most men sit on their wallets. While the wallet is flexibl,e let me assure you that the MINI-KART is not.
Performance and Conclusion
You might get away with tossing the MINI-KART on your keys but I'd imagine that after a few months of getting smacked about by metal keys the plastic housing would be very much the worse for wear. In my humble estimation I feel that the safest place for the MINI-KART is in the included carrying case. Why take chances with your data?
Now that we've seen the MINI-KART and marveled at it's size let's take a look at how well it performs.
HD Tune 2.52 shows a minimum of 7Mb/s transfer with a max of 11Mb/s and an average just shy of 8Mb/s. The access time is 57.5ms so it takes roughly half a second to find something on the card. Let's take a look and see if HD Tach agrees with that estimate.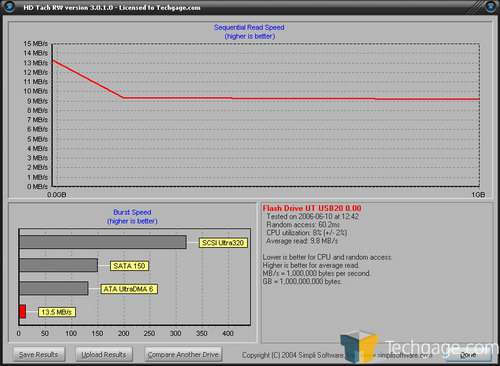 HD Tach pretty much agrees with HD Tune on the abilities but not on the raw numbers. There's still a 4Mb/s difference between the highest and lowest read numbers, the access times are so close as is the CPU utilization. The difference is that the highest and lowest read numbers are about 2Mb/s higher. This is the trouble with synthetic benchmarks… they don't always agree on numbers so it ends up being subjective.
In use I found that when I accessed the drive the media was readily available very quickly. There wasn't much waiting time for thumbs to load and when I transferred to or from the MINI-KART the transfer progress bar was there and gone in just a split second. Compared to transferring the same data (a series of pictures taken with a digital camera) via the USB interface on a digital camera, the MINI-KART was way faster. The camera took around 10 seconds to transfer the same images whereas the MINI-KART took less than 2, closer to 1. Pretty speedy.
The time has come to sort through the fluff and find the pea.
Flash Media
Small size
Good capacity
Quick (irregardless of what the benches say)
Very portable
Cool blue LED
Park Flasher
Fragile
Mine was lacking the lanyard
Customer service is difficult to get ahold of
Not ideal for wallets or pants pockets
When it's all said and done the OCZ MINI-KART is a highly portable USB flash drive that is great for putting your media on and toting with you. Yes, you can easily toss it in a shirt pocket or pants pocket. If you're like me and carry half your belongings in your pockets you might want to use the carrying case as it affords more protection for your investment. The numbers show that it's slower than some drives out there but compared to media cards it's pretty fast. I benched an SD card in my USB 2.0 media reader about a year ago and was shocked to get an average of 1.5Mb/s.
I've also got to say that it "feels" a lot faster than 7Mb/s or even 9Mb/s as it transfers files competitively with my ROMs. I guess this could be due to not having any mechanical parts in the equation. All in all I was impressed with the OCZ MINI-KART and I'm awarding it an 7/10. The lack of the lanyard and OCZ's customer service experience ultimately hurt it. I'd like to thank OCZ for sending the MINI-KART our way and you might go peruse their site and look at this and their other products.
Discuss in our forums!
If you have a comment you wish to make on this review, feel free to head on into our forums! There is no need to register in order to reply to such threads.

Copyright © 2005-2021 Techgage Networks Inc. - All Rights Reserved.