OCZ 2GB PC2-7200 EPP Platinum
Date: August 15, 2006
Author(s): Rob Williams

OCZ has been launching some amazing kits lately, and this one is no exception. In our tests, we have managed to bring this modest DDR2-900 up to DDR2-1140 speeds and still retain some great stability.
---
Introduction
With the launch of EPP back in May, there have been a few companies jumping on the bandwagon, including OCZ. The 2GB 7200 Platinum are their only EPP modules though, as they seem to be holding off until EPP is a proven technology. That, or they are taking the safe route and awaiting for JEDEC to decide on whether EPP should become a standard or not.
Though these modules are clearly marketed as EPP/SLI-Enhanced modules, I will not be taking a hard look at those features specifically. EPP is not for the advanced enthusiast, but rather people who are new to overclocking and wish to push their hardware to a faster, but safe level. Even without enabling EPP Enhanced memory in the BIOS, I was still able to hit the official specs without issue.
Before we get into all of the good stuff, let's first take a look to see what we are physically dealing with.
7200 EPP – Closer Look
The usual orange-backed plastic blister pack [say that 5 times fast, I dare you] can be found, as with all other OCZ kits. These prove to be my favorite blister packs around, because they are extremely easy to open, yet keep the modules very secure. The top of the pack has two notches that click together when closed, whereas many other manufacturers have no such thing.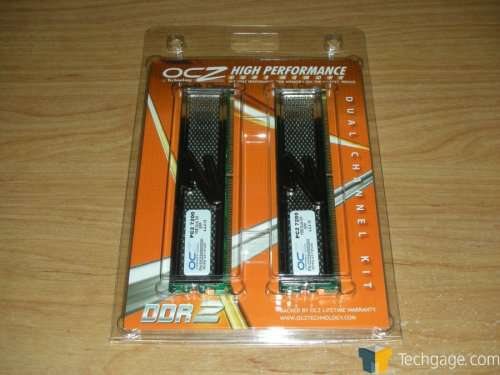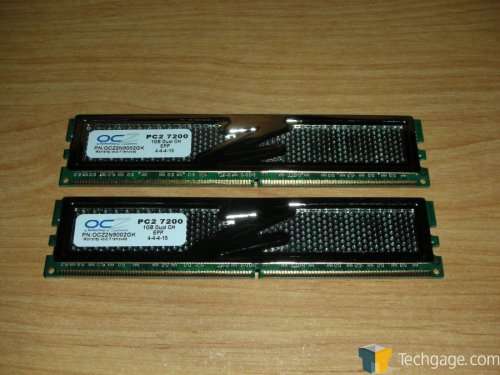 These are from the Platinum family, so the modules clearly reflect it. Out of all the single colored XTC spreaders, I think Platinum are definitely the coolest of them all. Clean and professional color… they just scream, "I am expensive, bling bling"
If memory can be considered sexy, this then the Platinum XTC certainly fits the bill.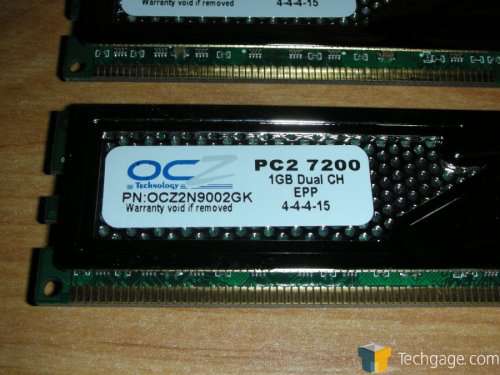 In addition to the SLI-Enhanced capability, these modules like OCZs others include a lifetime warranty. For overclockers, you can enjoy freedom of up to 2.2v ± 5% (2.42v), without invalidating your warranty. Enough of the pictures… onward to specs and overclock ability!
Overclocking Ability
These modules are dual-spec'd, in the sense that the EPP SPD is slightly different. If you are not using the 'SLI Enhanced' setting in your AM2 BIOS, the timings will be 4-4-4-15. If you are relying solely on the SLI Enhanced feature, the tRP will be altered to 3, for 4-4-3-15. Not a huge difference, but a difference nonetheless. It would be nice to see tRCD be 3 at these speeds, since that's one of the pickiest timings out there.
I am unsure what chips are used in these, but I assume they are similar to the VX2 and use D9GMH, a 333MHz (3ns) binned chip. We've seen these chips in numerous other modules on the market, and they have proved to be a great value when it comes to $/performance.
Successful Overclocks
DDR2-800 4-4-4-12 1.9v 1T (2.40GHz 1.25v)
DDR2-900 4-4-3-12 2.1v 2T (2.70GHZ, 1.45v)
DDR2-1000 4-4-4-12 2.3v 2T (2.500GHZ, 1.4v)
DDR2-1100 5-5-5-15 2.45v 2T (2.75GHz, 1.45v)
DDR2-1140 5-5-5-15 2.4v 2T (2.85GHz, 1.45v)
As you can see, I didn't go all over the board, because I didn't feel there was a need. Going in intervals of 50MHz seemed to work quite well. With slightly loose timings, these DDR2-900 modules worked seamlessly at DDR2-1100 speeds. We'll have to see in the benchmarking reports if there is a performance gain despite the more loose timings.
Testing Methodology
Throughout all of our benchmarks regardless of what we are reviewing, testing is done in a clean and stand-alone version of Windows XP Professional with SP2. Prior to testing, these conditions are met:
Desktop and scrap files are cleaned up, including emptying of recycle bin.
No virus scanner or firewall is installed in the stand-alone installation.
The stand-alone installation drive is completely defragged using Diskeeper 10 Pro Premier.
All unnecessary programs are closed, so that Windows should have no more than 15 active processes running.
Computer has proper airflow.
If you are interested in using the same benchmarks as us, feel free to visit the developers website:
The testing rig used for today's benchmarking is as follows:
CPU: AMD Windsor 4600+ EE @ 2.4GHz – 2.85GHz
Motherboard: ASUS M2N32-SLI Deluxe (701 BIOS)
Memory: OCZ 2GB PC2-7200 EPP
Video: BFG 6800GT OC 256MB PCI-E
Sound: Onboard HD Audio
Storage: Seagate 7200.9 320GB
Etcetera: Windows XP Professional w/ SP2, NVIDIA 81.98 Drivers
Cooling: Corsair Nautilus 500
I will be comparing the 7200 EPP kit to the recently reviewed VX2, which use similar chips.
Sandra 2007
First up we have some Sandra Buffered… by far one of my favorite memory tests. As expected, the results scaled very nicely with the increased frequency, and we just -barely- hit the 11K mark. Compared to the VX2, the performance is virtually the same.
The theme continues in the unbuffered scores. I am starting to love the AM2 platform, especially here. High overclocked unbuffered scores are close to what I have been seeing buffered on the Intel netburst. At the top, we broke through 6,000!
We use different Unbuffered settings than is the norm, and you can check them out here. The settings help to cut down on the support of the CPU as much as possible.
Everest Ultimate, PC Mark
Everest Ultimate
I have yet to break 10K in Everest on AM2, but I have come close. Once again, note the top results. The VX2 and EPP 7200 come so close, it's scary.
In terms of latency, 40ns is what you expect to see on DDR1, so to see it here is great. Even at DDR2-800, the latencies are nothing to scoff at.
PC Mark 2005, Sciencemark 2 & 3D Mark 01
This is a cramped graph, yes. I did not want to go overboard with 10 graphs in a simple memory review, so I merged all three results here into one. Between both the 7200 and VX2, my personal record of 9457.88MB/s in Sciencemark was set, which was nice to see. Though the VX2 take home the 3D Mark and Sciencemark crowns, it seems to fall slightly short in the PC Mark run, for whatever reason.
Super Pi, Final Thoughts
For our last benchmark, I am using Super Pi. Though more of a CPU benchmark, Super Pi benefits greatly from tighter ram timings and frequencies. In all runs except 400MHz, the VX2 comes out on top again. It certainly can't get much closer than this!
Final Thoughts
After using this kit, I have walked away impressed. Not only does it keep up to it's bigger brother, the VX2, it costs well over $100 less! For the $300 asking price, I would whole heartily recommend this to anyone who is looking for an overclocking kit with serious potential. There is no doubt in my mind that these can be pushed even further, but my CPU seems to have a max overclock of 2.85GHz. If you have a lucky chip that can to go 3.0GHz or beyond, you will be having some fun.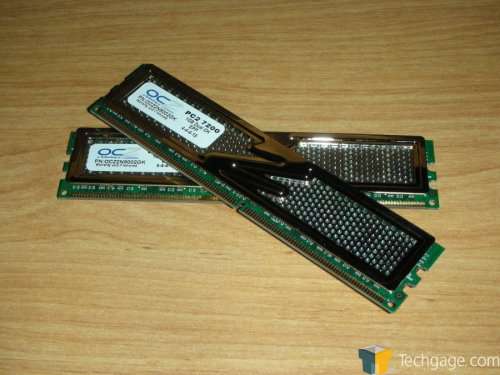 If you are an extreme overclocker, and you know if I mean you, then the VX2 -may- be more for you. They have been intently tweaked by one of the best memory overclockers out there, so you can expect to wind up with some 'extreme' results in the end. If you are not that hardcore, then this 7200 EPP kit is for you, whether you are a novice or serious overclocker.
I have to say, I've been giving out a lot of 9 out of 10's to memory kits lately, but it's so hard to not be impressed by all of the offerings. It's really hard to buy a bad DDR2 kit nowadays, as long as you don't mind slapping over ~$250 – $300. To me, the kit we looked at today is highly worth the retail price due to it's great overclocking ability and stability. I am awarding yet another kit a well deserved 9 out of 10 and our Editors Choice award.
Discuss in our forums!
If you have a comment you wish to make on this review, feel free to head on into our forums! There is no need to register in order to reply to such threads.

Copyright © 2005-2021 Techgage Networks Inc. - All Rights Reserved.