OCZ 2GB PC2-8000 Titanium Alpha VX2

Date: July 14, 2006
Author(s): Rob Williams

The highly anticipated return of Voltage Extreme memory from OCZ is finally here. The latest revision rolls in with DDR2-1000 speeds and a very tight 4-4-4-15 timing set. They are not called Voltage Extreme for nothing though. Let's see how far these can be pushed..
---
Introduction
OCZ not only likes to release super fast modules, they like to be innovative in the process. Not in the sense that they would like to find the fastest memory IC available, but want to develop their products to look interesting. Last month, I took a look at their SOE Series, which were dreamt up by CEO Ryan Peterson. While those modules didn't break performance records, they were very appealing to a certain crowd.
Today, I am taking a look at modules that not only look cool, but are indeed performance beasts. OCZ legend Tony Leach has been working on developing these modules for quite some time, and has gone through numerous late nights of tweaking [and freaking to be sure] to get them to deliver the performance he expects. According to his initial performance reports, enthusiasts have a big reason to be excited.
The modules use Micron D9 chips, but I am unsure of the -specific- version. They are indeed 333MHz binned IC's though, so they would be quite similar to D9GMH, which we see in some of Corsairs fastest modules. Though 333MHz seems like an odd choice for a 500MHz module, D9's have been sweeping the enthusiast circle over the past few months, and have proved to be hardcore tweaker's. While they are able to achieve the same performance as the 400MHz IC's, they cost far less. These ones specifically are designed to handle a lot of voltage, hence why "Voltage eXtreme" is appropriate.
As noted by Tony, "VX2 is the perfect match for the next generation AMD AM2 and Intel Conroe processors, which gain substantial levels of performance when matched with high frequency low latency DDR2 modules under overclocked conditions".
Needless to say, these are geared up to take up a top spot in the populated DDR2 market. Before we jump into the exact specs and testing, let's take a look at what's up with the new Ti Alpha spreaders!
Closer Look
When these spreaders were first seen at Computex last month, there was a lot of chatter around the web about how 'cool' they look. I mean, these -are- performance beasts, but look like something you'd pick out of an oil spill. At first, even I was not fond of it, but I have to admit they look way better in front of you than in the press releases. One thing to note is that they are not glaring bright as they look in the pictures, which is a good thing.
Closer Look, Overclocking
I found it quite difficult to take a picture of the modules to show off their true 'colors'. Using a flash was pretty much useless, as they appeared to be a single color. As you can see though through the different angles, the colors will change. For instance, looking at front of mine appeared green, but turning to the left appeared blue. I've also heard that this special coating that makes this effect possible is also bulletproof. That is one test I am going to leave out of the review though ;)
Like every other OCZ module out there, these ones include a small sticker on the front of each. This includes the model number, speeds, timings and density. I should also note that due to the way the paint is applied, your modules will turn out to have a different color scheme than mine. While mine may look blue at a certain angle, yours may be green. I was not able to find out who's idea it was to design these spreaders, because nobody will admit it. Regardless, they are great looking. I didn't expect to like them, but I was proven wrong [not hard to do].
In terms of performance, these are some of the fastest modules the market has to offer. Just a few months ago, PC2-8000 modules were a rarity, but no longer. The market is truly saturated with such modules by at least 8 different companies. Most PC2-8000 kits include 5-5-5 timings though, while these are 4-4-4. There's been reports of people trimming those timings down even further, but I was unable with my setup.
Because these are designed for 'extreme' voltage, they will appeal most to the hardcore enthusiast crowd. This means people who are willing to get their hands dirty and spend a LOT of time tweaking to push every last ounce of performance out. The true performance will really be seen on high-end AM2 systems and more so on Conroe. Because Conroe gives you a great amount of control over overclocking various system aspects, great speeds should easily be accomplished.
In terms of overclocking, I wasn't able to push these much past stock speeds, whether it be tighter timings or higher frequencies. This is not the fault of the modules, but rather my setup. The P5WD2-E and 820 D doesn't make a truly good combo, as the best I can do FSB wise on the CPU is 280. Here is the list of tested settings I used:
250FSB 500MHz 4-4-4-15 2.3v
280FSB 467MHz 4-4-4-12 2.3v
250FSB 500MHz 4-4-3-15 2.3v
200FSB 400MHz 3-3-3-8 2.4v
267FSB 445MHz 4-4-4-8 2.2v
260FSB 520MHz 5-5-5-12 2.4v
Needless to say, I didn't get to push it to far. This only confirms my need for a far better CPU, due to other results around the web that I am seeing. According to Tony, there are some who have almost hit DDR2-1200, and others who have hit CAS3 at DDR2-1000. Without a doubt, these are designed by an enthusiast, for enthusiasts. Hard to go wrong there.
One thing that was brought up to me by my friend Mark, is the fact that these modules are only warranted up to 2.4v +5%, which turns out to be 2.5v. For "Voltage eXtreme" modules that cost around $450US, you would expect that to be a tad higher, at least.
Benchmarking, Everest, Sandra
Throughout all of our benchmarks regardless of what we are reviewing, testing is done in a clean and stand-alone version of Windows XP Professional with SP2. Prior to testing, these conditions are met:
Desktop and scrap files are cleaned up, including emptying of recycle bin.
No virus scanner or firewall is installed in the stand-alone installation.
The stand-alone installation drive is completely defragged using Diskeeper 10 Pro Premier.
All unnecessary programs are closed, so that Windows should have no more than 15 active processes running.
Computer has proper airflow.
If you are interested in using the same benchmarks as us, feel free to visit the developers website:
The testing rig used for today's benchmarking is as follows:
The first benchmarking tool from the toolbox is Everest 3.0. The memory results from this new version are the same you will see from 2.8, but anything earlier than this will be different.
The results are exactly as I had expected, especially for my systems 'optimum' setting of 280FSB, 3.92GHz. At that setting, the modules performed better than anything else I had on hand. Not huge differences, but they are there. If my CPU was able to handle anything beyond 280FSB, the results would be nothing short of amazing.
Sandra 2007
The same goes for Sandra. The results are not amazingly better than equivalent modules I have used, but they have inched past in some of the tests.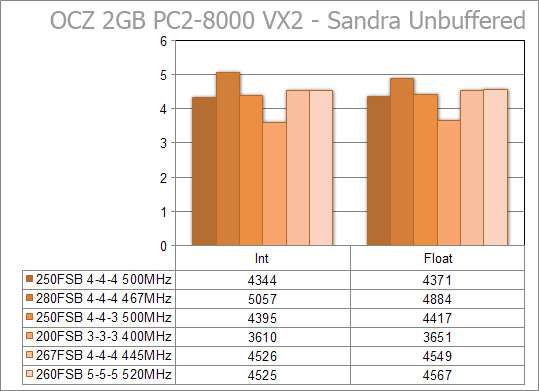 SPi, 3D Mark, Conclusion
Even though mathematical calculations like this are extremely CPU intensive, they are also ram intensive. The faster your ram, the faster the overall calculations will be. How SuperPi works is that you can specify how many digits you want to calculate past the decimal point. If you choose 1 Million, it will begin with the 3. and continue with 14359 all the way until it hits the 1 Millionth digit mark.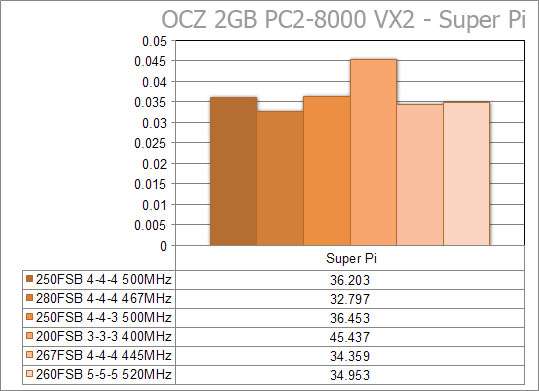 Contrary to popular belief, the 3D Mark benchmark is not entirely useless! Despite it being over 5 years old, it's a good standard to note differences with your overclocks. PC Mark is also good, because it runs numerous ram specific tests, and gives you an overall result.
Conclusion
Without a doubt, these are same amazingly fast modules. I am upset that my CPU was unable to aide in pushing them further, but I am fully confident even with the performance I have achieved, I come nowhere close to what's possible. We will be seeing much better performance on AM2, and moreso on Conroe when it drops. As mentioned earlier, the strap on my setup is horrible, and Conroe will be far better to tweak for some optimal performance.
So the point we really boil down to, is whether or not these modules are worth your hard earned money. These are some of the -fastest- modules you can get your hands on today, but for $450US. Surprisingly, this is still $20 cheaper than G. Skill modules that use the similar IC's. I was unable to push my kit as far as they could have been, so if you plan to go 'eXtreme' with them, you will want to have a beefy CPU, preferably one with an unlocked multiplier.
If you are interested in these modules for their looks more than their overclocking ability, you should look for some of the PC2-6400 kits that use the same spreaders. If you are a hardcore enthusiast looking for modules to fulfill your tweaking dreams, and possibly set some records, you will not go wrong with these.
For their extreme speed and potential, I am awarding the OCZ PC2-8000 VX2 a 9/10.
Pros
Freakin' fast
Modules crave voltage..
Developed by a true enthusiast
Ti Alpha spreaders look amazing!
Cons
The $450US price tag.
Discuss in our forums!
If you have a comment you wish to make on this review, feel free to head on into our forums! There is no need to register in order to reply to such threads.

Copyright © 2005-2020 Techgage Networks Inc. - All Rights Reserved.