OCZ Alchemy Elixir Gaming Keyboard

Date: August 14, 2008
Author(s): Zach Brown

OCZ prepares to take on the world of gaming keyboards with their new Alchemy Elixir, part of the company's Alchemy lineup of gaming peripherals. How does it stack up to the competition from established gaming peripheral companies like Razer, Logitech, and Creative?
---
Introduction; First Impressions
I admit, I was surprised when I first heard that OCZ was going to be throwing its hat into the PC gaming peripheral ring. First off, there is a lot of competition already there, but more so because I have never really surmised OCZ as a strong company for gaming attachments, such as keyboards and mice. Things changed a little with with the release their Neural Impulse Actuator, though.
After OCZ announced that they would be creating a new line of gaming peripherals named Alchemy, I figured they would have to do something different to match the multitude of other gaming keyboards already out there. The first product in their line is the Elixir, which is sure to pique many gamers' interest if looking for a new board.
What OCZ has created completely surprised me. They managed to craft a quality piece of hardware that not only performed and looked good, but had a price tag of only $29.99.
For that amount of money, your initial reaction would probably be suspicion that they cut corners, but that isn't the case at all. Let's take a closer look to see just how much you get for that little amount of hard-earned cash.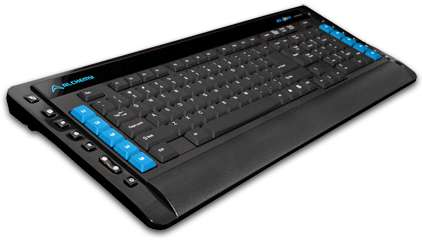 The board comes in an attractive black box which has all the information about it clearly labeled on the outside. There's nothing especially fancy about the design of the packaging when compared to other gaming products, but everything is secure enough to keep the board safe during all forms of shipping and handling. There is nothing worse than spending your money only to discover it is broken when you initially try to use it.
The Alchemy Elixir keyboard is completely black with a smooth glossy finish around the edges, and rubber-coated keys. It has a standard keyboard layout which uses rubber dome keys. I am normally not a fan of this style of keyboard due to the fact there is can be a lot of resistance when pressing the keys down. For gaming, a keyboard needs to be fluid and smooth so you're not thinking about the chances of accidentally hitting the wrong key, but rather stay focused more on shooting the head of your enemy.
The keyboard has a hand rest that is a part of the design. This isn't a cheap hand rest that can fall off after two or three lan parties, but it is physically integrated with the keyboard. It is also covered in a vinyl coating which is pretty comfortable even after a long 3-hour session of World of Warcraft. The keyboard is connected through a USB port which is pretty much standard now.
One additional thing that comes with the Elixir is a set of spare WASD and ARROW keys as well as an extra space and shift key. I was surprised to see this extra with the board and shows that they are clearly had gamers in mind throughout the development process. Hopefully you will never need to change these keys out but it's nice to know that if one fades or breaks over time, you'll have a replacement.
Most keyboards today have multimedia function keys built onto the tops or sides of the board, unless you simply picked up the cheapest one you could find. The Elixir is no different. It comes with Internet hotkeys on the left side such as homepage, e-mail, 'my favorites' and computer information hotkeys. There is also a page forward and back key, in addition to a page refresh.
The right-hand side of the keyboard has multimedia player hotkey that allows for quick access to your default media player. There are also play, stop, forward and rewind buttons, as well as volume control. I do realize this isn't anything new, but it is one reason why I liked this board over my current Creative Fatal1ty gaming board. Any time I don't have to alt-tab out to change what I am watching or listening to, I'm all for it. There is nothing worse than hopping out of a game to change the song being played only to discover you were killed in the process of changing tracks.
Another feature on the Elixir is its 10 programmable macro buttons. These keys are easily identifiable since they are the only colored keys on the board with a soft blue coating. There are also 5 keys on each side of the board that run vertically. The macro keys have three different profiles that can be changed on-the-fly as well with the mode button. This allows up to 30 different macros that can be created with the included software.
Software and Usage, Final Thoughts
The included software offers an easy way to set up and create different macros and profiles. The software also works on either Windows XP or Vista, for both 32-bit and 64-bit versions. Once installed, just run the program to bring up a GUI that allows you to program each macro button and profile.
Each macro key will allow up to 8 keystrokes programmed as well as the insertion of a delay ranging from 50-250ms between keystrokes. Once you program the keys, you can save it to one of the three profiles. You can cycle through the different profiles by use of the mode key at any time. This makes it easy to set up different macros that allow for quick menu purchasing in Counter-Strike or a new set of macros for World of Warcraft that might require more than ten macros.
Elixir Usage
OCZ's Alchemy Elixir actually surprised me with not only smooth keystrokes but quiet ones as well. One of the reasons keystrokes flow so naturally was due to the fact OCZ has a rubber covering coated over the keys. This creates the smooth touch that I have grown to love the more I use the board.
Now, as much as I like this keyboard, there are a few things that do bother me. I have been using a backlit keyboard for some time now, so the fact that the Elixir had no lit keys did take some getting used to. I really like the feature in gaming keyboards because I do a lot of gaming in the dark. But, I also understand that they probably couldn't have included the feature and keep the boards affordable price of $29.99 in tact.
The other thing that I do not like about this keyboard is the sheer size. Its dimensions are (W)20″x(D)7.87″x(H)1.14″ and is much larger than the gaming keyboards I am used to operating. I have had my situations where I was hitting the side of the board with my mouse when I moved it, simply because of the boards width. I wish they would have put the multimedia keys along the top of the board and not the sides, as it would have reduced the board by a couple of inches in width.
One thing that isn't included is any type of information about the warranty. I checked their website, and there is no information there either. I'd assume a one-year warranty would be in place, but I cannot confirm or deny that to be the case.
One last thing that bothered me was the size of the keys. I normally use a scissor-style board with much smaller keys than the ones here. The rubber-domed keys seemed to be larger than normal, however, and took some time to get used to. In the end, this is all a matter of opinion, and any keyboard can be gotten used to after a while.
Final Thoughts

In conclusion, this is a great keyboard to look into if you want a quality product that won't break your wallet. OCZ mixes style, features, and affordability to create the Elixir. The board has a design and look to it that is much like Razer's Tarantula gaming keyboard. The only difference is the $29.99 price tag, which is nearly two thirds less of Razers price for a virtually identical board.
I was very happy with Elixir after several hours of testing and felt that it was just as comfortable as any other keyboard that I have gamed on over the years. OCZ has really stepped up to the plate with this one, and I'm excited to see what else they have in store for gamers in the future in the Alchemy line. Whether your building your first gaming PC or have been a hardcore gamer for years, this board has something to offer for anyone who's looking for a solid gaming experience.
Pros
Comfortable to use
Easily affordable
Attractive, aggressive styling
Cons
No backlighting
Physically larger than some other keyboards
Discuss in our forums!
If you have a comment you wish to make on this review, feel free to head on into our forums! There is no need to register in order to reply to such threads.
Copyright © 2005-2021 Techgage Networks Inc. - All Rights Reserved.