OCZ EL DDR PC-3200 Gold GX XTC Dual Channel

Date: November 16, 2005
Author(s): Rob Williams

Lots of memory manufacturers have tried their hand at custom heat spreaders, but most don't usually make much of a noticeable difference. Being the innovators that OCZ are, they have delivered a very unique new spreader, that incorporates a honeycomb design to aide with better heat transfer. We are taking a look at their Gold GX PC3200 1GB kit.
---
Introduction
It's not too often that memory companies release a new heat spreader. In the case of OCZ, the only difference between all of their heat spreaders are the color… well not anymore. OCZ first announced the new heat spreaders last month. It immediately received a lot of criticism, which is understandable. All too often, when a new style heat spreader is released, it doesn't make any difference at all! Looking at these ones though, they certainly have potential.
OCZ are obviously giving these heat spreaders a preliminary run, because they are currently only available on the Gold series. Until yesterday, only the 1GB 3200 and 3500 modules were available with XTC, but now the 2GB 3200 and 4000 are also available with XTC. I find this to be an odd choice, since it's technically value ram, but it may still give us a good idea of what potential they will give. Of course when you take a look at heat spreaders like these, you immediately wonder about the overclocking ability. Well, since the Gold series is not known to be big for overclocking, this will prove more of a challenge.
To give you an idea of the average possibility of overclocking the Gold series: When we first reviewed the Gold GX PC3500, we managed a speed of 240, which is 23MHz over stock. At that speed, we were able to retain our 2-2-2 timings, but at 3.2v. Also, in our Gold PC4000 2GB review, we brought the modules up to 263, which is 13MHz above stock.
From those two reviews, we can see that the Gold series is not meant for overclocking. Rather, it's designed for gamers who want solid memory at a great price. They should be able to pop the modules in, and not think a single thing about overclocking, but still have excellent performance. Either way, being that this is a 1GB kit and PC3200 speeds, I hope that I can muster at least 225MHz.
Features
As you probably could have guessed, the modules we are looking at today are standard DDR400 (PC3200) speeds. The default timings are the expected 2-2-2-5 at 2.8v. There are a couple additions to this memory that makes them special. OCZ offers a Lifetime Warranty on all their modules, which can leave you with a peace of mind. Also included in the warranty is EVP, extra voltage protection. They allow you to use up to 3.0 ± 5% on the modules without voiding your warranty. This goes to show how confident they are with their memory.. good stuff. Lastly, they use special techniques on the PCB to lower the electrical noise (ULN, Ultra Low Noise), to aide with the performance and stability of the modules.
Like all other OCZ modules, they arrived in a clear orange backed blister pack. One difference between the regular Gold GX and these XTC ones, is that the new ones weigh a little bit less, but it's noticeable to hold. Another thing that I quickly noticed, was that the heat spreaders could not be taken off in order to inspect the chips. This is because there is no top to the heat spreader! Two sides are simply stuck there in place, so you cannot remove them unless you have the means to put them back. I'd assume that there is no top, to allow even better airflow.
At first, I wasn't sure what to think of the look, but after seeing them in front of me I think it's a great design. I'm still skeptical as to whether it will help cool better, but they do have a cool style. Of course, we want to know about the performance, so let's get to it!
Overclocking
Even though I could not access the chips to find out what they are, I assume they are like their big brother, the PC3500, and use BH-5. I am actually very impressed by how these performed during overclocking, although it got very tricky later on. Here is a quick sum up of the tested and completely stable overclocks, all at 1:1.
200HTT, 2-2-2-5, 2.6v
205HTT, 2-2-2-5, 2.6v
210HTT, 2-2-2-5, 2.6v
215HTT, 2-2-2-5, 2.7v
220HTT, 2-2-2-5, 2.8v
225HTT, 2-2-2-5, 2.8v
230HTT, 2-2-2-5, 2.9v
235HTT, 2-2-2-5, 3.0v
240HTT, 2-2-2-5, 3.0v
During overclocking, it's apparent that I was trying 5MHz increments, because I did not expect them to hold onto their 2-2-2 timings all the way up to 240MHz. What makes this fact even better, is that my max overclock on the PC3500 GX modules were the same, 2-2-2 at 240HTT. That's a huge deal, since the PC3500 kit costs near $40 more! Whether or not this overclock was helped due to the XTC heat spreaders is up to you, because I don't have any means to tell if it made a difference or not. I have not used the Gold PC3200 with the regular heat spreader for comparisons.
Deeper into the overclocks though, 240HTT at 2-2-2-5 was the best that I could muster. Not a single thing I did after that point could bring the overclock higher. Loosening timings did nothing, upping voltage (3.2v) did nothing, and playing with the TRC, TRFC and TREF still did nothing. However, I'm very pleased that these modules could hold onto 2-2-2 this high, it's awesome for 'value' modules.
EVEREST Benchmarks
I will use the usual collection of benchmarks today. For synthetic tests, I am using Lavalys EVEREST Ultimate and SiSoftware SANDRA 2005. For gaming tests, we will use the tried, tested and true Half-Life 2, as well as the recently released Quake IV.
I will be comparing the PC3200 XTC modules to the Crucial Ballistix PC4000 1GB and Corsair PC4000 Platinum 2GB. In the graphs, results listed as 0 means that tests have not been done at those timings or speeds.
Synthetic Benchmarks
The synthetic benchmarks were run with all unnecessary services shut down, including McAfee. These few benchmarks were done using all eight stable settings from 200 – 240 with a 1:1 divider. In addition, the 240* was tested using a 3:4 divider with the CPU at 2.88GHz. The stock EVEREST Read is amazing to me, at 5607MB/s. That immediately showed me that these modules had great potential. I didn't exactly expect these modules to get so close to 7000MB/s, but they did at 240HTT, and at 2-2-2!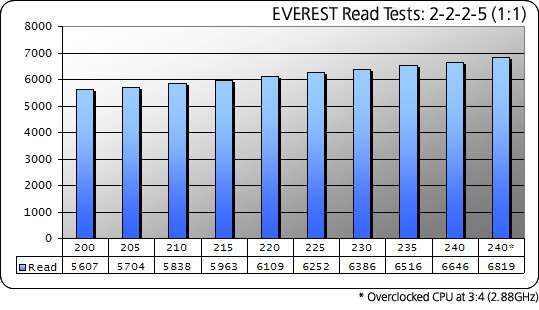 Sandra and Gaming
Looking at the 240HTT at 2.88GHz, it really shows that this is a CPU dependent test as well, since there's a 643 point difference between 2.4GHz and 2.88GHz at the same memory speed. But the memory is able to handle that OC perfectly and deliver us over 7,000 in SANDRA, and that's what matters. The fact that it's so stable at 2-2-2 continues to impress me.
Gaming Benchmarks
These benchmarks are to be taken lightly, as the comparison modules are using different timings and speeds. It can be used to give a general idea of the differences you'd see going from this 1GB kit to a Ballistix 1GB or to a Corsair 2GB. For Half-Life, this 1GB actually performed better than the other ones. It proved to give us an additional 7FPS over the Corsair 2GB kit, which was using a higher HTT.
This Quake IV chart should be taken even lighter, as the 1GB kits were running the game at High Quality, while the Corsair 2GB ran through at Ultra Quality. I have tested both 1GB kits at various timings and speeds, but none of them would remotely run Q4 at Ultra Quality. Again though, these modules proved to be faster than the Crucial 1GB kit at higher speeds.
Conclusions
One thing that we discovered, was that these modules performed just as well as their big brother, the PC3500. That's an honor in itself, because as noted earlier, they are more expensive. You pay less money for the same performance? That definitely works for me. I was even quite impressed with the overclocking ability on these modules. 2-2-2 at 240HTT is amazing for a value kit, or any kit for that matter. They were completely stable at those speeds and worked like a dream. Another bonus is that it didn't require 3.2 or more voltage, but only 3.0. If you were to push 3.3v+ into these modules, you could go even further.
The main thing is though, is that these modules are extremely stable. I received 0 errors from a 12 hour MemTest run, at 240HTT, 3.0v and 2-2-2-5 timings. OCZ really pushes these modules as being 'value', so this type of performance is more than worth the money that you may pay for them. Whether or not the new heat spreaders really made a difference or not, is unknown. They certainly didn't hurt performance though, and look pretty sweet as an addition.
It's now really up to you whether you even want a 1GB kit. We are obviously coming into a time when 2GB is almost necessary, especially to play the latest games at the highest graphic levels. This set would be perfect for a modest gaming PC though, or even for someone who doesn't have $300 of spare cash for a 2GB kit. At any rate though, if you have the cash for 2GB and you play the latest games, get a 2GB kit without thinking. If you buy a 1GB kit now, you are just going to find yourself with a need to upgrade in the very near future, if not already.
I am awarding this kit a 9/10 and our Editors Choice award. If for any reason you are looking for a 1GB kit, this is one you cannot go wrong with. It's backed by a lifetime warranty, looks great and gives better than average performance for the price range. Kudos to OCZ for impressing me with a kit that I didn't think I'd be impressed by. This kit costs $10 more than the regular Gold GX 3200, so fork that out if you want the fancy heat spreaders.
Feel free to discuss or comment on this review in our forums. You do not have to register to comment in any of our content threads.

Copyright © 2005-2020 Techgage Networks Inc. - All Rights Reserved.