OCZ EL DDR PC-4000 1024MB Gold Edition Dual Channel (2GB)
Date: September 12, 2005
Author(s): Rob Williams

Being the hardcore gamers that we are, the need for more than 1GB of memory is becoming evident. Last year, 512MB didn't cut it, especially when playing top games like Half-Life 2 and Doom III. Now, current and upcoming top games are demanding more than 1GB, like BF2 and FEAR. Today, we are taking a look at a 2GB kit that is designed specifically for gamers.
---
Introduction
Last month, we took a look at similar modules, except in a 1GB kit and PC-3500 speeds. We were very impressed with those, because they delivered amazing stock performance and didn't require much voltage to do so. The only thing I had to complain about, was the lack of overclockability. I must mention again, that all the modules in the Gold series are designed for gamers who want awesome performance out of the box. They are not meant to be overclocked.
Tony Leech of OCZ had this to say over in the BleedinEdge forums about this kit: "Please remember the 4000Gold 2gig is from our gamer range, its not for huge overclocking or high voltages, we have tried to make it very plug and play.3-4-4-8 is the rated timings at 250fsb ,anymore is a bonus and your results will vary."
With this in mind, let's get a quick OCZ bio out of the way, then into the heart of the review.
Entering the memory market in August 2000, OCZ Technology was built around the determination to manufacture the best high speed DDR and RDRAM. OCZ was founded by enthusiasts, for enthusiasts, and our commitment to the end-user has not digressed. OCZ Technology has been an innovator in many areas. We were the first manufacturer to make Dual Channel optimized memory available to the public, which originally took advantage of nVidia's Twinbank or Dual DDR architecture, found in their nForce chipset. We have now taken that technology and tailored it for the Canterwood, and Granite Bay chipset's. OCZ developed and was the first to implement ULN technology, which has been a critical element in our manufacturing process for some time. We at OCZ diligently work to improve communication with CPU and motherboard chipset manufacturers prior to the release of their products. Only in this manner can we fine-tune our memory's SPD settings, ensuring a synergistic relationship between the memory module, memory controller, and microprocessor. In today's rapidly evolving semiconductor industry, such communication is not simply research, but a necessary component of our manufacturing process.
The new OCZ PC-4000 1GB Gold Edition was developed with gamers' distinctive needs in mind. The latest generation of PC games, such as Battlefield 2, Half Life 2 and Doom 3, requires large capacity memory to deliver the most powerful, stable system performance. The PC-4000 Gold Edition 2GB dual channel optimized kit is the ultimate memory solution for contemporary graphic-intensive PC titles and provides unsurpassed reliability and performance to unleash every graphic possibility.
Further Info & Features
I remember it clear last year, after Half-Life 2 and Doom 3 were released. I remember all the whining and complaining because the games didn't work that great with only 512MB of memory. Of course, the obvious choice was to upgrade, and even a minor upgrade to 1GB made a world of difference.
Now we are seeing games like Battlefield 2 and upcoming games like FEAR that are testing your PC's limits once again. If felt like deja vu after BF2 was released, because many users had to upgrade their memory to 1.5GB and 2GB just to get smooth gameplay. In fact, in our eVGA 7800GT review, we noted some findings with our look at FEAR. Increasing the system memory to 2GB made an immense difference, compared to even 1GB. You can see those findings here. For a further look at 1GBvs2GB, stay tuned to the site next month ;)
These modules are built just like all their others.. very well. Just holding a module in your hand will allow you to feel the quality. The heatsink is far from cheaply made.. it is heavy and durable.. not to mention shiny. The OCZ logo finishes off the great look.
There are a couple additions to this memory that makes them special. OCZ offers a Lifetime Warranty on all their modules, which can leave you with a peace of mind. Also included in the warranty is EVP, extra voltage protection. They allow you to use up to 3.1 ± 5% on the modules without voiding your warranty. This goes to show how confident they are with their memory.. good stuff. Lastly, they use special techniques on the PCB to lower the electrical noise (ULN, Ultra Low Noise), to aide with the performance and stability of the modules.
There are a couple reasons that some do not want to make the jump to 2GB, though. With 4 512MB modules, you are forced to slower 2T timings, and even with 2 1024MB modules, it can still prove much slower than a simple 2 * 512MB. This may not be such a big case now as it once was though, due to tighter timings and better chips.
Here are the complete specifications of the modules we are looking at today.
500MHz DDR
CL 3-4-4-8 (CAS-TRCD-TRP-TRAS)
Unbuffered
Gold Layered Copper Heatspreader
Lifetime Warranty
2.8 Volts
184 Pin DIMM
EVP
ULN
Part #: 2GB (2×1024) OCZ5002048ELGE-K
If you are used to 2 * 512MB, don't be scared off by the higher timings. It doesn't matter as much when we get into the larger densities. It's just not very possible to run 1GB sticks (at these speeds) at 2-2-2 timings, sadly. Maybe in the future if manufacturers can find a way, we may eventually see much tighter timings.
Benchmarks
To see what these modules can really do, we are using a variety of benchmarking techniques and tools. Here is the system that we are testing these modules in. You may notice that I am using a unusual BIOS. This one is an updated 706 version that was released by Tony Leech of OCZ. I have been using it for a few days now and it's extremely stable. I enjoy edits he made to the BIOS to make overclocking even friendlier.
For benchmarking each one of our stable settings, I used Everest Ultimate Edition and the included memory tests. Everest's memory benchmarks are still really CPU reliant, but if you are to use these sticks on an AMD, you will likely be using 2.50GHz anyway. After Everest, we use the reliable Sandra 2005 memory bandwidth tests.
Before we get into the results, here are the three stable settings that I have tested the memory with:
250HTT – 3-4-4-8 – 2.7v (Stock)
250HTT – 2.5-3-3-8 – 2.7v
263HTT – 3-4-3-8 – 2.7v
We will get more about these settings in the overclocking part of the review. Let's first check out the results of both programs:
I'm impressed with the Read/Writes here. I assumed the higher timings would really affect the scores, but these are bang on. Looking back at our Ballistix PC4000 review, we can see the scores at the same speeds and timings are extremely close. The only difference here is, that we have a 1GB advantage over the memory in that review.
Once again, these are fantastic scores for the modules. I can't pick out anything wrong here, great stuff! These modules are meant for gamers for a reason, so let's jump into a few gaming benchmarks!
Game Testing
We are turning over a new leaf at Techgage. Instead of using timedemos and macros for our tests, we now benchmark a little differently. To bench, we load a level at the same spot each run, and perform a real 5 minute run. Because of this, each run will be different because of varying situations in the games. Benchmarking this way gives a much more accurate look on the performance, however.
In Doom III, I am playing through the Caverns Area 1 (map game/caverns1) level. This is like most other levels in the game, dark and monsters pop out from every corner. This game was run in at 1280*1024, High Quality with 4x Anti-Aliasing. Because of the imense amount of monsters in this area, God Mode was used to assure I'd survive the entire 5 minutes ;)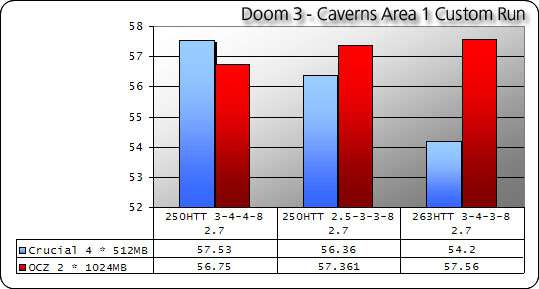 For our Half-Life 2 run, I loaded up one of my favorite levels, Canals. We started off at point 7 (map d1_canals_07), which starts you off beside your hovercraft. The game was run at 1280*1024, 4xAA, 16xAF and everything else maxed.
Personally, I tend to pay more attention to direct memory benchmarks, but gaming ones are good because they test stability. I have rarely seen memory benchmarks affect a game, it doesn't seem to make *as* much difference as a CPU overclock. Either way, these are excellent results, and we can see even our small overclock didn't increase our FPS by too much.
Let's go right into the overclocking specifics of the memory.
Overclocking
We mentioned in the first page of this review, that these specific modules are not meant for overclocking. It's stressed that any overclock you achieve out of these modules is a bonus, and should be treated as such. So please don't go buy these sticks if you are looking to get massive overclocks!
The modules use Samsung UCCC chips which I have not toyed around with at all prior to this review. The 2GB PC4000 Mushkin modules also use these same chips, so it's apparent that they are the right ones for the job. Even though the sticks are not designed for overclocking, I had a go at it anyway. I quickly found out, that like the BH-5 chips, you can pump voltage freely into the modules, but it will have little affect. In fact, the sweet spot is 2.7v, which is 0.1v lower than what OCZ recommends.
250HTT – 3-4-4-8 – 2.7v (Stock)
250HTT – 2.5-3-3-8 – 2.7v
263HTT – 3-4-3-8 – 2.7v
You may have noticed that I had tightened the timings on these modules a fair bit. Running MemTest with a CAS of 2.5 would spawn an error about once every three complete run throughs. This tends to be a rare feat, and usually your MemTest screen could be loaded to the brim with errors. I have been using the computer for the past few days at these settings though, and will continue to play around with the settings on the memory to see if I can iron out all the errors.
As you can see, the OC is nothing amazing, a mere 13MHz up on stock. Many others out there with similar modules, using the Samsung UCCC chips, have found 270MHz to be very acquirable, but apparently not on my system!
Even though I didn't get a major overclock, it's stable so it may as well stay. If you are able to get your set up to 270MHz like many have, then it will be a sweet overclock on modules that are not meant for overclocking :)
Conclusions
Without a doubt, these are absolutely amazing sticks. They don't overclock well, but the stock performance is incredible. At the same speeds, the OCZ 2GB kit matched up evenly with the Crucial Ballistix PC4000 512MB sticks we reviewed a few months back. I'm skeptical often.. I don't know why. But when I received these sticks, I didn't expect to be impressed too much, because I was set in the mindset that more than 1GB will be much slower.
I'm proud to say that is not the case. I undoubtedly recommend these sticks to anyone who has the urge or need to upgrade to 2GB of memory. They are blazingly fast and very stable. I am awarding the Gold 2GB kit a well deserved 9/10, and an Editors Choice award.
This is the second OCZ review on the site, and I am sure there will be more in the future. OCZ is a company I admire. The people there are not only employees, but hardcore enthusiasts, and this is why we see such quality products out of them. I can't wait to see what else they have on the horizon!
As always, thanks to OCZ for allowing me to review these modules! If you have anything that you'd like to comment on about the review, please don't hesitate to make a post in our related forum thread. If I forgot to mention something in the review, you can ask it in the thread as well.

Copyright © 2005-2020 Techgage Networks Inc. - All Rights Reserved.