OCZ Gold 1GB PC2-5400

Date: February 1, 2006
Author(s): Rob Williams

If you are in the market for a 1GB DDR2 kit, then this kit proves to be a great choice. Despite being value memory, it overclocks quite well with the ability to keep stock timings.
---
Introduction
Last October, OCZ released their new XTC heatspreaders that promised to deliver extreme heat dissipation and enhanced stability. The following month, I took a look at their Gold EL PC3200 1GB kit, which surprised me due to it's overclocking ability. Today I will be taking a similar kit for a run, but the main difference is that this is DDR2. If it overclock's anything like it's DDR1 sister, then this is going to be a fun ride.
What the PC2-5400 1GB has to offer..
Obviously what's unique to this kit is the XTC heatspreader. The honeycomb pattern is supposed to aide in heat dissipation and chances are it does. I don't have a way to test for memory temperatures, but I wouldn't rely on a 'special' heatspreader to help anything, really. If you have a nice big fan pointing at your modules, then that's probably the best cooling you can get. I can't wait for the day when memory water cooling is an everyday product!
These modules are rated for DDR2-667MHz at 4-4-4-12 timings. I found the timings a little odd, because the previous version of these modules with the standard heatspreader had timings of 4-4-4-8. I have been told that both kits use the same memory chips, so I am unsure why the TRAS has been raised. I will of course be testing to see whether a TRAS of 8 is still possible with these, but I'm sure it will be no problem. 4-4-4 is on par with other similar modules on the market, but we'll also see if we can at least handle a CAS 3.
The rated voltage for these modules are 1.9v, as you'd expect. As with all other OCZ modules, these ones include EVP, or Extra Voltage Protection. This means that you are able to use a VDIMM of 2.2 ±5% without voiding your warranty. This is an awesome feature for those who wish to overclock them right away, it gives you some lenience. It also goes to show that OCZ have much faith in their modules.
The chips used in these modules are Aenion, a variant of Infineon. Aenion is not really known for overclock-ability, so I am interested to see how much I can muster out of them.
Overclock-ability
Intel System
CPU: Pentium D 820 @ 2.8 GHz – 3.85GHz on AIR
Motherboard: ASUS P5WD2 Premium w/ 0606 BIOS
Memory: OCZ 1GB Gold PC2-5400 XTC 4-4-4-12
Video: eVGA 7800GT 256MB PCI-E @ 490/1.15
Sound: Realtek HD Audio (Onboard)
Storage: WD 200GB 7200 8MB
Odds and Ends: External WD 200GB 7200 8MB via USB2.0
Etcetera: Windows XP Professional SP2, Windows x64 Professional SP1, NVIDIA 81.98 Drivers
Before I attempted to overclock anything, I ran MemTest 1.65 overnight to make sure there were no errors at stock. When I find a new setting I want to test, I load up MemTest again. To make sure my current setting is stable, I run MemTest's #5 test in a loop of 3 and it's test #8 in a loop of 2. Once that's done, I consider it a stable overclock and continue up the ladder. My highest overclock is one that still uses a stock CAS setting. Here are my results:
FSB 200 (DDR2-667) – 4-4-4-12 (1.9v)
FSB 200 (DDR2-667) – 3-4-3-8 (1.9v)
FSB 220 (DDR2-733) – 3-4-3-8 (1.9v)
FSB 240 (DDR2-800) – 4-4-4-8 (2.0v)
FSB 267 (DDR2-800) – 4-4-4-8 (2.0v)
FSB 275 (DDR2-733) – 4-4-4-8 (2.1v)
FSB 275 (DDR2-825) – 4-5-5-10 (2.1v)
My final overclock attempt, DDR2-825 proved error free in a MemTest run over the course of 10 hours. I am quite impressed by the overclocking ability here, I was able to push them further than I originally anticipated. Granted, I had to raise the TRCD and TRP, but the benchmarking results prove that it's hardly an issue! Speaking of benchmarking results, let's get right to them.
EVEREST Ultimate Edition 2.20
There is a newer version of EVEREST available, but it's results were jumping all over the place which is why I chose to use last years version. Each test is run three times and the average of the three are the final result.
Since I am pretty new to the DDR2 world, these results impressed me quite a bit. At stock speeds the modules yielded near 6,000MB/s read and overclocked was just short of breaking through the 8,000MB/s mark! We can see that the overclocking tightened up the latency quite a bit also. 20ns difference from stock to overclocked is quite a large difference.
SANDRA & Conclusion
Since the EVEREST scores were good, I expected the same from SANDRA. These scores were acquired with version 2005.10.10.69.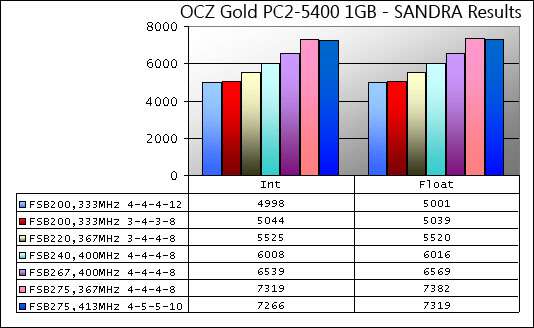 SANDRA results seem to scale quite well with the overclocks. At stock speeds, tightening the CAS and TRP helped improve the score a bit. At FSB 275, the scores were very, very impressive. At DDR2-825 speeds, MemTest brought on no errors but end up scoring less than the same FSB with DDR2-733 speeds. This could be due to lack of cooling on the modules, and I will be testing the modules at those speeds more once I have better cooling in place. Overall though, those are very nice scores.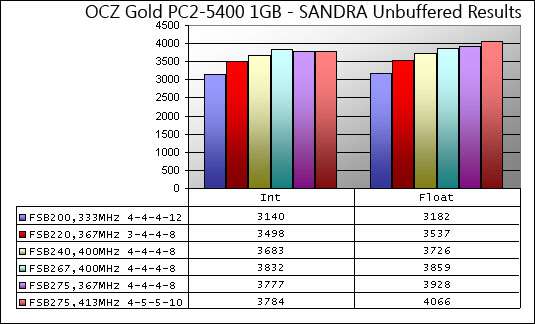 The unbuffered results are just as impressive. If cooling was more efficient, I'm sure that the top two Int results would be closer to 4K if I had efficient cooling in place. Once I add good cooling to the modules, I'm sure that DDR2-825 could keep on with 4-4-4-8 timings with more voltage. I will update the chart if that proves true. Overall, these are great scores; they definitely surprised me.
Not much game benchmarking went on because my CPU was being air cooled and the CPU speed was too overdone to handle games at anything higher than 240FSB. I did perform tests with Half-Life 2, using the d1_canals_07 level, and the results are below. With the next DDR2 review, the system will be water cooled, so you can expect more game related benchmarks.
FSB 200 (2.8GHz) – 74.79 FPS
FSB 220 (3.08GHz) – 84.84 FPS
FSB 240 (3.36GHz) – 101.02 FPS
Conclusion
If you are in the market for a 1GB kit, then you cannot go wrong with this one. The overclocking ability was very good, especially since OCZ consider the Gold series to be 'value' modules. Once I get proper cooling in there, I will pump some more voltage into them and see if I can take them even further. A stable overclock of DDR2-825 at 4-5-5 is still quite impressive, either way.
Obviously 1GB is going the way of the dodo, so the only reason why a gamer should really pick up a kit is if they have 2*512MB that they don't want to get rid of. Of course that will force 2T and slow things down more than needed. If you are interested in a 2GB kit of the similar memory, you can expect a review of another kit in a few weeks.
One downside of this kit is that it's not currently available on any e-tailer that I can see. I am also unsure of what the cost will be, but I will assume it will be in the $119.99US area. It's slightly higher than the competition, but I am unable to report of performance differences since this is the first DDR2 kit we have evaluated. If you are going to pick up a 1GB kit though, this is a great choice and you will not regret your choice. Due to the great stability, speed and overclock ability of the modules, I am awarding them a 9/10 and our Editors Choice award.
Feel free to discuss this review in our forums! You do not need to register in order to reply to our content threads. Inputting a nickname would be welcomed though.

Copyright © 2005-2019 Techgage Networks Inc. - All Rights Reserved.