OCZ Rally2 4GB Thumb Drive

Date: August 9, 2006
Author(s): Rob Williams

So, you are looking for a high-density thumb drive, but don't want to have the slow speed that usually coincides. OCZ recently launched 4GB versions of their extremely popular Rally2 thumb drives, and they prove to be a winner. Faster than most of it's competition, and cheaper to boot.
---
Introduction
Flash memory is one piece of technology that have made many lives easier. I know I rely on mine daily, even if I don't leave the house. There's no doubt that they are handy, and that's why they are so popular. It's also why so many companies produce thumb drives… too many to count. Because of this, competition is fierce. How exactly do you develop a better thumb drive than everyone else? Make it faster, of course.
We originally took a look at the 2GB Rally drive last year, and were impressed with the great speed that it delivered. 23MB/s Read and 18MB/s Write is welcomed when you are copying these large files. OCZ has silently released their 4GB version of the Rally2, which is slowly starting to make it's ways into a few US e-tailers.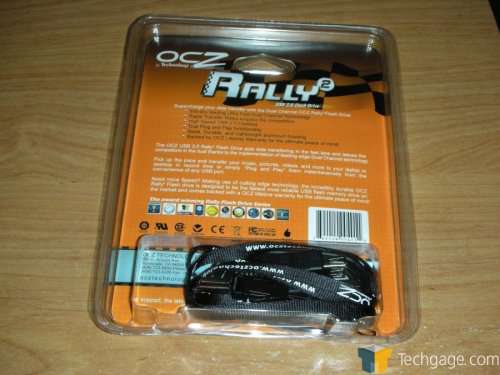 What does the 4GB version offer over the 2GB? Well, as opposed to the previously mentioned 2GB Rally review, this is actually from the Rally2 series. They differ only in the looks, but the inside technology is virtually the same. Despite the Rally2 4GB still using the dual channel technology, we can expect it to be slower than the 2GB version simply due to it's larger density. We seen this in our Corsair Voyager 4GB review. As it stands though, the Rally2 looks to be the fastest thumb drive on the market, although Super Talent have just launched similar drives, so OCZ may finally have some competition.
Closer Look
We receive the drive in a clean blister pack, with orange backing. This is not unusual with OCZ, and protects the drive well. However, I tend to shun the blister packs that require you to haul out a cutting blade to rip it open. Your chances of getting cut are far higher, than if it was one that opened up like a book. Either way, the product inside was well protected.
After tearing the package open, we reveal the Rally2, a CD-rom for Win98 systems, a USB extension cable and a lanyard.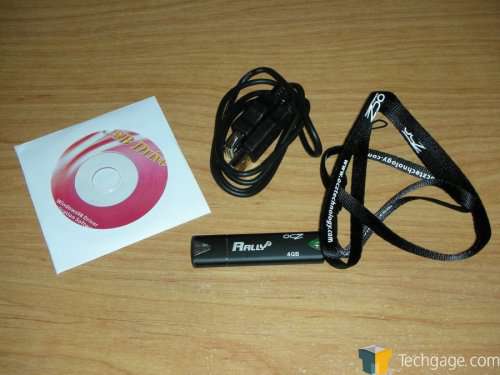 Overall, the drive is very sturdy, due to having an aluminum chassis. The cover stays on quite well compared to the original Rally, but no doubt after a few months of use it will want to randomly fall off.
Ok, you've oogled enough. Let's move onto the performance!
Benchmarking Reports
Testing the 4GB version of the Rally was going to prove interesting. Due to the higher density, I had no doubts that it would prove slower than the 2GB version. The previously reviewed 2GB model claimed 23MB/s Read and 18MB/s Write, which proved quite true. The official specs for the 4GB model are not found on the OCZ website, but after testing I would conclude on 25MB/s Read and 13MB/s Write.
To begin with testing, a fresh installation of Windows XP Professional SP2 was used. All un-needed applications were closed, included Firewalls and Virus Scanners. All tests were completed twice to assure accurate results. All testing was completed against my 2GB Rally, which I still use daily.
HD Tach RW 3
HD Tach is one of the most in-depth storage benchmarks, and is one of the few that actually includes a Write test in addition to the Read. The 4GB version held a consistent 25MB/s Read and 13MB/s Write on average, though was beat by the 2GB version all around. This was to be expected. As we can see though, the added density caused a major hit to the latency… from 2ms up to 62ms!
HD Tune
HD Tune is another great storage benchmark that uses similar techniques to HD Tach. Though it's good to have a second opinion. The comparative results are what we have been in the above benchmarks, however the overall Read is lower than what HD Tach reports, on both the 2GB and 4GB. The 2GB version is undeniably faster, however the 4GB holds up quite well.
Sandra Removable Memory Benchmark
I personally am not much a fan of Sandra for this purpose, because the results are more complicated than the previously used tools. However, they do give solid information when comparing more than one drive. The performance scaling is similar to the other tests, although there is a massive difference between the 2MB Write test and the 64MB Write test. This shows us that the process of copying larger files will be far better than copying a small one… such as this 2MB.
Real World Testing, Final Thoughts
A thumb drive test is not a thumb drive test unless you include real world examples. To gather results, I kept six sets of files handy, and copied them to both the 2GB and 4GB models. I used the Windows clock as a time keeper. Here are the file sets I used, so the graph will make more sense. Obviously, the 4GB tests could not be performed on the 2GB Rally :-)
4GB Solid (One File, 3,882,051,829 Bytes)
4GB Small (1,064 Files & 77 Folders, 3,981,538,497 Bytes)
4GB Large (2,130 Files & 0 Folders, 3,863,853,735 Bytes)
2GB Solid (One File, 1,897,463,690 Bytes)
2GB Small (660 Files & 48 Folders, 1,926,702,490 Bytes)
2GB Large (1,315 Files & 0 Folders, 1,944,448,341 Bytes)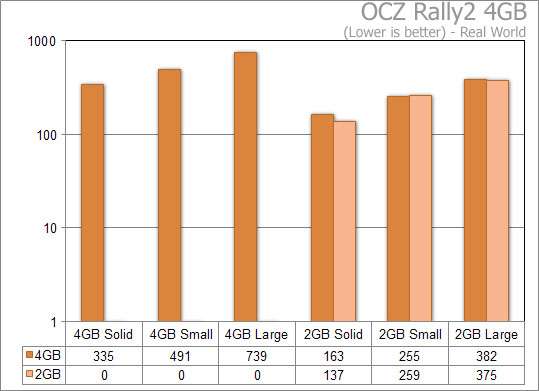 All Results In Seconds
We can see the adding far more files to the drive, regardless of size, will take far longer. That's natural. What's interesting though, is that copying a solid file to the 2GB version proved a good deal faster than the 4GB. But when getting into 600+ or 1200+ files, the results proved to be far closer to one another. This goes to show that real world testing gives far more accurate results than any synthetic benchmark.
Final Thoughts
To cut it short… I highly recommend the 4GB Rally2 if you are looking to pick up a new thumb drive. The performance did not seem to differ that great between the 2GB and 4GB, except in the solid file benchmark. If you are copying far more than one file though, which most people who have thumb drives do, then the performance differences certainly do not outweigh the added storage capacity.
The only real downside to the drive as it stands, is that many US retailers are not yet carrying it. I have been told by OCZ that many, including NewEgg, have possession of the drives… they are just dilly dallying before throwing the listings on the site. Some Canadian e-tailers surprisingly do have them in stock though, so I was able to compare some prices. The said site charges $89.99 for the 2GB version, and $103.50 for the 4GB version. So, technically it's $13.50 for double the space… hardly a bad deal. Looking around the same site and others, it appears that the Rally2 costs up to $15 less then the Corsair Voyager 4GB version. Once Corsair is aware of this competition though, those prices may drop.
This drive is priced right, faster than most of the competition in the same price range and looks great! I am awarding the Rally2 4GB drive a 9 out of 10 and our Editors Choice award. You will do no wrong by picking this one up.
Discuss in our forums!
If you have a comment you wish to make on this review, feel free to head on into our forums! There is no need to register in order to reply to such threads.

Copyright © 2005-2021 Techgage Networks Inc. - All Rights Reserved.