OCZ Rally 2GB Thumb Drive

Date: October 3, 2005
Author(s): Rob Williams

Thumb Drives are not usually the most exciting products on the market. It's no doubt though, that they can be extremely useful when backing data up.. especially at a high speed. We are taking a look at the new OCZ Rally drive, which promises to leave the competitors in the dust.
---
Introduction
When thumb drives made their first major appearance a few years ago, they were a toy that every tech geek had to have. Even today, many people who are always computing on the go usually have a thumb drive with them. I remember my first thumb drive.. a junky 64MB storage. It was good at the time, because I had it more for the 'cool' factor. Now though, they have more use than ever, which is why there is an insane amount of competition around.
Since thumb drives are now more of a common utility, competition does not just revolve around looks and storage size, but also the speed. OCZ is a company that came in a little late into the market of thumb drives, but they made sure they would enter with a bang. They say that it will leave competitors in the dust, and we are here to find out if that proves true. Before we jump into further details, here are a few bios:
Pick up the pace and transfer your music, pictures, videos, and data to your laptop or desktop in record time or simply "Plug and Play" them instantaneously from the convenience of any USB port. The Rally Drive excels when managing a wide range of media, and is optimized to more rapidly transfer today's larger (5MB and up) files. The durable OCZ Rally stores vital documents, presentations, images, music and more in an ultra sleek pocket-size drive, so you can access your files without having to disconnect other USB ports to make room, a common problem with many oversized competitor drives. A glowing Blue LED in the base of the drive signals high speed transfer activity from start to finish.
Features
As most are aware, OCZ is responsible for some of the fastest memory on the planet. It's really no surprise that they decided to also get into the flash memory market, and then try to one-up their competition. What's so special about their thumb drive? Just like our performance desktop memory, the Rally has Dual Channel chips inside. This works the same as it does for our desktops, it doubles the data throughput which is the reason for a speed increase.
When I received the Rally, I thought, "How fast can this thing go? How much transfer would USB2.0 even allow?" Well, we will soon find out. First let's check out how great looking the drive is.
When compared to a Quarter, it's obvious that this is an extremely small drive. The Rally comes in three flavors, 512MB, 1GB and 2GB, but they are all the same physical size. To help keep the data secure, the chassis is made of aluminum, and is black in color. Each end of the drive have plastic ends, and the back one will light up with a blue LED whenever it is plugged in and being used.
Extras that are included with the drive are a carrying strap, USB extension cable and also a keyring. You can just as easily wear this around your neck, in true geek style, or just simply keep it with your keys. Overall, the styling is clean and professional looking.
Testing
To test this baby out, we used a couple programs that are perfect for benching thumb drives and other flash media. We used Sandra 2005, and the included Flash Drive Benchmark, and also HD Tach RW 3. Both programs test out the Read and Write speeds, and then give us an overall average. In addition, I have done some real world benchmarks, with a good ole fashioned stop watch.
For unknown reasons, my desktop doesn't want to utilize the 2.0 USB ports it has, so I am using my notebook for the testing. It is a Dell Inspiron 5150, P4 HT 2.8GHz, 512MB PC2700, 60GB 7200RPM, GeForce 5200FX Go.
With this review, we are starting a new way to benchmark thumb drives, so we won't have any comparisons except the preset comparisons in Sandra.
HD Tach RW 3
We ran all three of the main tests with HD Tach for both the Reads and Writes. For Read/Write, the higher the result the better. The opposite is for Latency, where the lower the result, the better.
Now those are some amazing scores. 26.3MB/s Read and 18MB/s Write! At those speeds, this drive could be filled in less than 2 minutes.
Sandra 2005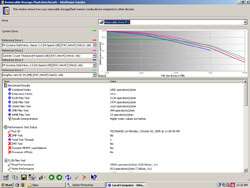 Real World Benches
To do real world benchmarks, I tested in Windows and Linux to look for any speed differences. The differences are definitely there; Linux can take up to twice as long for the same task. It could be that SuSE is using it as a 1.1 USB and not telling me, or that it's due to poor drivers.
How I timed these: I drag the files/folders to the drive drive, and as soon as I click Copy, I start the timer. With Windows specifically, after clicking Copy, it would take at least 10 seconds before a copy box even showed it's face, for whatever reason. In Linux it started copying almost immediately.
Let's pay more attention to the Windows benches, since that's where most people will use their drives. I am very impressed with the fast speed of this drive. It's apparent the drive loves large files, and will write them at a much faster speed than smaller files. We copied a 1GB file (Half-Life 2 game file) in 1:26! In the last test, which included 964 files, they all ranged in size from 55Kb to 700MB. Considering how many files there were, and at varying sizes, 2:16 to complete the task is amazing.
Conclusions
OCZ definitely started out with thumb drives quite late in the game. Crucial and Corsair, among others have been around for a while. They knew they had to enter this huge market with a bang, and they certainly have. Without a doubt, this is currently the fastest thumb drive on the market, thanks to the Dual Channel memory chips. This was a very smart move by OCZ, and it will make a lot of customers happy. I am sure we will be seeing more DC thumb drives in the future by other companies as well. Ahh.. competition ;)
Not only does the Rally have blistering fast speeds, it also has great styling. The aluminum chassis and blue LED really help make this drive look stellar. In addition, it's smaller than most other thumb drives out there, so you will not have a problem with it getting in the way of anything.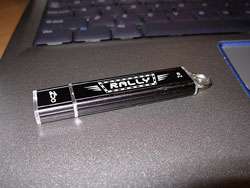 If I were to run out right now to pick up a thumb drive, it would be the OCZ Rally. Kudos to them for making their entry to the USB Thumb Drive market an incredible one. This product well deserves it's 10/10 score and also get's our Editors Choice award.
Have something you want to say about this review? Feel free to discuss it in our related forum thread! You do not need to register to comment on our reviews. Questions, comments and suggestions are all welcomed.

Copyright © 2005-2020 Techgage Networks Inc. - All Rights Reserved.