Palit Radeon HD 4870 X2 1GB – AMD Reclaims GPU Supremacy

Date: August 12, 2008
Author(s): Rob Williams

AMD has gone too long without a real high-end graphics card to compete with the competition, but they're done with the pity, and prove it with the HD 4870 X2, which becomes the fastest graphics card the planet has ever seen. It may cost more than the competition, but its end performance easily negates that premium.
---
Introduction, Closer Look
Since ATI's acquisition by AMD, it's become ever-so-difficult to begin any sort of AMD-related article and not mention the trouble that the company has faced since. But there's little point now – we all know about it, and know about it very well. So how about we start things off on a happier note this time? Sounds good.
AMD is now responsible for building the most powerful graphics card in the world.
How's that? It all began with the launch of the Radeon HD 4850 and HD 4870 cards, which took even NVIDIA by surprise. Those cards were the first launch from the ATI camp that offered consumers a real choice when on the lookout for a new GPU. Unlike the HD 3000-series, which could never keep up to NVIDIA's comparative offerings, the HD 4000-series out-performed them in many regards.
It's good to see, because if there's a company that needs some uplifting, it's AMD. But with their HD 4000-series launch as successful as it was, we all knew what was next: Dual-GPU models. When the HD 3870 X2 came launched this past January, AMD became a real threat to NVIDIA, because despite the dual-GPU likeness, the card managed to outperform any one of NVIDIA's single-GPU offerings, but that wasn't too surprising given the design.
But with their HD 4000-series keeping up to and sometimes surpassing NVIDIA's equal offerings, what could possibly be in store with a dual-GPU model of the HD 4870? How would it compare to NVIDIA's GTX 280? Those questions will be answered today, and the results are sure to please.
Closer Look at the Radeon HD 4870 X2
Like the HD 3870 X2 before it, the HD 4870 X2 offers nothing more than the single-GPU version of the card, except twice of everything. It's essentially two HD 4870 GPU cores placed on the same card, with various improvements to offer up to a 100% improvement in performance, which as we will find out is nice, since the SRP of the card is lower than purchasing two HD 4870s separately, in most cases.
The HD 4870 by itself was a mind-blowing card, offering a staggering 800 stream processors, 1.2 TeraFLOPS worth of horsepower, and the X2 version of the card essentially doubles those numbers to offer 1600 stream processors and 2.4 teraFLOPS worth of computational power. That metric by itself puts the HD 4870 X2 in another league compared to NVIDIA's GTX 280, which offers close to 1 TeraFLOP of power.
| | | | | | |
| --- | --- | --- | --- | --- | --- |
| | | | | | |
| HD 4870 X2 | | | | | |
| HD 4870 | | | | | |
| HD 4850 | | | | | |
| HD 3870 X2 | | | | | |
| HD 3850 X2 | | | | | |
| HD 3870 | | | | | |
| HD 3850 | | | | | |
| HD 3650 | | | | | |
| HD 3450 | | | | | |
The basic improvements of the HD 4000-series includes PCI-E 2.0 and DX10.1 support, the option for Quad-GPU via CrossfireX along with enhanced anti-aliasing and anisotropic filtering methods, including the option to use up to 24x CFAA (custom filter AA). Given that these cards can power most any game with maxed out graphics, it's the AA where they may make the most noticeable difference.
As mentioned above, the new card essentially doubles the available stream processors, so this card can go well beyond the general task of gaming and handle hardcore computational scenarios where a lot of horsepower is a requirement.
Straight from AMD, here is a chart explaining the differences between the X2 card and their already-launched HD 4870 and HD 4850:
| | | | |
| --- | --- | --- | --- |
| | | | |
| Transistors | | | |
| Manufacturing Process | | | |
| Stream Processors | | | |
| Texture Units | | | |
| Core Clock | | | |
| Mem Data Rate | | | |
| Math Processing | | | |
| DX 10.1 Support | | | |
| Tessellation Unit | | | |
| UVD | | | |
| ATI PowerPlay | | | |
Here we can see that the SRP for the HD 4870 X2 is $549, which equates to about $100 more than its main competitor, the GTX 280.
That's not a small premium, as $450 is high to begin with. But bear in mind, when the GTX 280 was first launched, a little over a month ago, it retailed for $649, so it itself has dropped considerably due to the intense competition. As you'll see in this article though, the HD 4870 X2 actually warrants itself the $100 premium. If your computer is prone to bleeding, this card shouldn't be installed.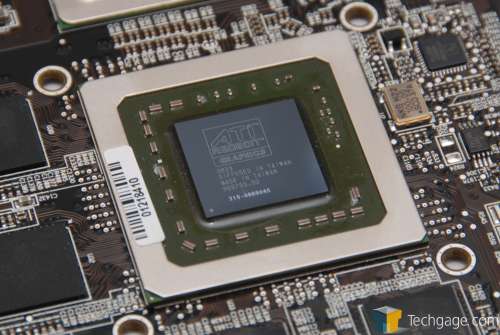 HD 4870 X2 die shot
Bad humor aside, as I mentioned in our review of Palit's GTX 280 card, these new high-end GPUs are not for the weak of heart. In that article, I said that for the GTX 280 to be worthy of a purchase, you either have to own a 30″ monitor capable of a 2560×1600 resolution, or plan to use intense AA modes at the same or lower resolutions. Forget it if you are running anything less than 1920×1200… the GTX 280 and HD 4870 X2 is going to be overkill, and you will not likely see a real-world difference over a 9800 GTX/+ or HD 4870 unless running a DX10-heavy game.
It's the higher resolutions and higher AA settings that sets both dual-GPU setups and massive GPU cores apart. They thrive on these insane settings, and it's very rare that lower resolutions will show a worthy increase, and if it does, chances are the human eye wouldn't be able to differentiate the differences between the two.
The GTX 280 effectively became the first card to be catered towards those with an insatiable need for the highest settings their game can offer, and ATI's Radeon HD 4870 X2 takes it all one step further. But before we hop into testing, let's first tackle our testing methodologies, which I highly recommend reading through if you haven't before.
Testing Methodology and Test System
Regardless of the operating system or product being reviewed, there are a few conditions that are met prior to testing to assure we receive accurate, repeatable results.
Desktop and scrap files are cleaned up, including emptying of recycle bin/trash.
No virus scanner or firewall is installed.
Internet is disabled.
Computer has proper airflow and room temperature is 80°F or less.
Hard-drives affected by testing are defragged using Diskeeper 2008 before each fresh run.
Below is our testing machine, which remains untouched throughout all testing except for the graphics card. AMD didn't coincide the HD 4000 series' launch with a new Catalyst release, but rather released a 'hotfix' driver as soon as the cards began showing up in retailers. We are using that driver for all testing, but will retest when the Catalyst 8.7 releases, to see if performance at all improves.
Testing Machine
In previous GPU reviews, we've used Windows XP Professional due to its stability (when compared to Vista), but as Vista becomes increasingly popular and the choice for many, it makes sense for us to make the switch as well. We choose to use the 64-Bit version of the OS due to it being the logical choice for gamers who want to use more than 2GB of RAM in their machine.
Game Benchmarks
Depending on the graphic card being reviewed, we split up models into two different categories: Low-End to Mid-Range and Mid-Range to High-End. The former will see the GPUs tested using 1280×1024 and 1680×1050 resolutions, since those are the most common resolutions for gamers looking to purchase a GPU in that price-range.
For our Mid-Range to High-End category, we test GPUs at 1680×1050, 1920×1200 and also 2560×1600 to better reflect the resolutions for those looking for a solid GPU offering.
We do not use time demos in our reviews except where necessary, and in the case of our current GPU reviews, the only game to be subject to a time demo is Enemy Territory: Quake Wars. This is due to that game disallowing greater than 60FPS without the use of a time demo. But since the game is a popular choice for multiplayer gamers, it should be included in some form or another.
Manual Benchmarks
In an attempt to deliver "real-world" results, all games except the above mentioned title are played through manually, with the average FPS recorded with the help of FRAPS 2.9.4. In our personal tests, we have found that manual benchmarks are the best way to deliver accurate results, since time demos rely heavily on the CPU.
In order to deliver the best results, each title we choose is explored to find the best possible level for our benchmarking. Once a level is chosen, we play through in order to find the best route, and then in future runs, we stick to that route as close as possible. We are not robots, so we cannot make sure that each run is identical, but they will never be far off from each other. As we see in our results, scaling is good, so we are confident that our methodology is a good one.
Call of Duty 4
Call of Juarez
S.T.A.L.K.E.R.
Unreal Tournament III
Need for Speed: Pro Street
Enemy Territory: Quake Wars
Note that Need for Speed: Pro Street is not run at 2560×1600 because the game lacks the ability to run at that resolution.
Call of Duty 4
Note: Each graph throughout our result pages will label the resolution in which the game was run, but omits such data as AA, AF and other graphic-related settings. Select setting information is noted above each set of graphs, but for more a more detailed look, please refer to our testing methodology page, which contains screenshots of each game's setting pages.
Call of Duty 4
While Crysis has the ability to bring any system to its knees with reasonable graphic settings, Call of Duty 4 is a title that looks great no matter what setting you choose, even if you have it running well! It's also one of the few games on the market that will actually benefit from having more than one core in your machine.
The level chosen here is "The Bog", for the simple fact that it's very intensive on the system. Though it takes place at night, there is more gunfire, explosions and specular lighting than you can shake an assault rifle at.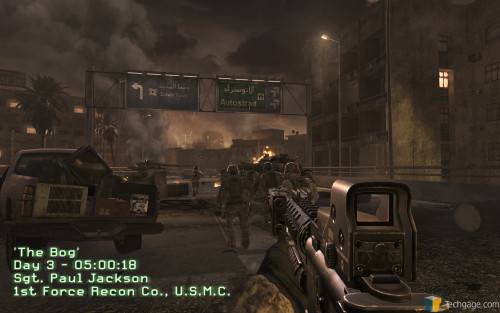 Our run consists of proceeding through the level to a point where we are about to leave a building we entered a minute before, after killing off a slew of enemies. The entire run-through takes about three minutes on average.
Settings: High details are used overall throughout all tests, although 4x AA is used for our 1920×1200 setting. That AA is removed in our 2560×1600. As we can see in the graphs below, both of those settings are quite similar in performance.
As we expected, our lower-end resolution of 1680×1050 proved a simple task for the HD 4870 X2, and because the game isn't pushing any sort of boundary, the results are only slightly higher than the GTX 280.
The jaw-dropping begins at 1920×1200 and higher, as seen above. It's almost difficult to fathom in some regards, because when NVIDIA launched their GTX 280 only a month ago, it became the highest-performing single-card GPU on the market, by a rather significant margin. But here comes along ATI, with a whip the size of cruise-ship rope, ready to put NVIDIA back in their place.
The results here speak for themselves. The HD 4870 X2 offers incredible performance at higher resolutions, while the minimum FPS keeps right in line with our GTX 280.
I'll reiterate that while I do wish I had HD 4870 performance data, I didn't have a card on hand in order to accomplish testing in time for this article, unfortunately. Since NVIDIA's leading GPU of the moment is the GTX 280, our main goal is to compare those two directly.
Call of Juarez
Note: Each graph throughout our result pages will label the resolution in which the game was run, but omits such data as AA, AF and other graphic-related settings. Select setting information is noted above each set of graphs, but for more a more detailed look, please refer to our testing methodology page, which contains screenshots of each game's setting pages.
Call of Juarez
Western FPS games are not common, so when one hits, people notice. Luckily for FPS fans, Call of Juarez delivered great graphics, solid gameplay and a very high difficulty. It's a great game to benchmark due to its ability to run in DX10 mode, under Windows Vista. This mode is far more demanding than the DX9 mode, but the results are better.
We take the role of Billy Candle in the level we chose, which is rather simple in concept. We begin out at the end of a linear path that we must follow in order to reach a ravine that we must cross.
The goal of the level is to sneak through a farm and ride off with a horse in order to make the jump, but since that process takes far too long, our run through consists of following the exact same path each time, which ends up on the opposite side of the farm near an edge with water below.
Settings: Very high graphic settings are used here, although AA is never used. The fact that the game uses DX10 is enough to drag performance down.
Earlier, I brought up the fact that with such massive GPUs, lower-end resolutions won't see much of a benefit. However, as we can see with Call of Juarez, there is an occasional exception to that rule.
CoJ, in case you are unaware, is hardcore on graphic cards when in DX 10 mode. As you can see, our high-end GTX 280 card could only muster 33.09 FPS on average. It's playable, but still not ideal. The HD 4870 X2 on the other hand, gave us close to 59 FPS and was truly the smoothest experience I'd ever imagine seeing in that game. Of course, I do recall stating something similar in the GTX 280 review…
This particular game is optimized for ATI GPUs, but even comparing the HD 4870 X2 to the HD 3870 X2 is staggering. The differences are plainly obvious, which is impressive in itself given that the latter card was only released back in January.
S.T.A.L.K.E.R.
Note: Each graph throughout our result pages will label the resolution in which the game was run, but omits such data as AA, AF and other graphic-related settings. Select setting information is noted above each set of graphs, but for more a more detailed look, please refer to our testing methodology page, which contains screenshots of each game's setting pages.
S.T.A.L.K.E.R.
Post-apocalyptic FPS games have been done over and over, but S.T.A.L.K.E.R. Shadow of Chernobyl was unique in many ways. First was the fact that the story was loosely based off of a real-life tragedy, the Chernobyl nuclear plant explosion, with the player starting out post-disaster working to survive in the now very brutal world.
One of the areas where the game excelled was with the depth. It was an open world with non-linear gameplay. AI was not top-rate, but reacted in a mostly realistic way, so it's pretty much impossible to just stroll through the game and not expect to die. Coupled with the ability to keep an inventory and sell artifacts you find along your journey makes this game an immersive experience.
The level we use for our testing is a "Thumb Drive" mission that occurs earlier in the game. The premise is simple… walk into a small camp that's being inhabited by enemy Stalkers, wipe them out and go deliver a thumb drive to a lone Stalker huddled around a campfire. The entire quest takes between four and five minutes from our starting point.
Settings: Static lighting and medium quality is used for our lowest resolution here, while 1920 and 2560 use full dynamic lighting along with high quality settings.
STALKER, like CoJ, is needlessly demanding on the GPU. Could be an inefficient engine, or it could be that I'm blind to what makes the graphics so intensive. Regardless, the HD 4870 X2 showcased enormous gains over the GTX 280, and I can't help but be constantly wowed. To see this from a single graphics card is amazing, especially given that both the GTX 280 and HD 4870 X2 are roughly the same size and weight.
This game in particular needs a high number of average FPS to be completely playable, unlike most other FPS games out there. So to see almost 100 FPS at 2560×1600 is undoubtedly impressive.
Unreal Tournament III
Note: Each graph throughout our result pages will label the resolution in which the game was run, but omits such data as AA, AF and other graphic-related settings. Select setting information is noted above each set of graphs, but for more a more detailed look, please refer to our testing methodology page, which contains screenshots of each game's setting pages.
Unreal Tournament III
The Unreal series has always been one that's pushed graphics to the next level. Surprisingly, though, as the graphics improve, the game still remains playable on a reasonable machine, with good FPS. How often is that the case?
"Gateway" is our level of choice for a few different reasons. The first and most notable is the fact that it's a great level, and chock-full of eye-candy. The entire level consists of three different areas that can be accessed through portals, or "gateways". The area we begin out in is a snow-filled wonderland, similar to Lost Planet's winter levels, with a futuristic city and waterfall area also being accessible.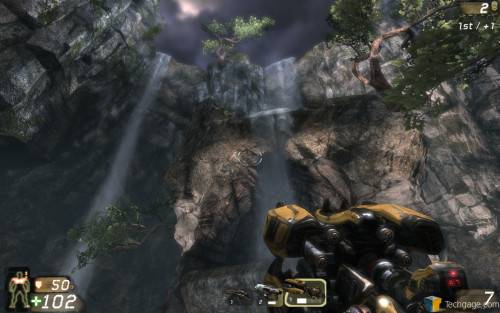 Settings: All in-game settings are maxed out, with physics and smooth frame rate disabled.
The tradition continues with our UT III results. I'll argue that this game doesn't need ultra-high frame rates to remain playable, and anything around 60FPS is going to give you nice gameplay. But anything higher makes the game even more fluid, and the differences seen between our top two cards is, to sound redundant, incredible.
I don't recall a time in GPU history when we've seen such a rapid progression of things. The 9800 GTX only came out in the spring, and months later the GTX 280 came and trumped it. A month later, ATI demands respect, and they certainly have it.
Need for Speed: Pro Street
Note: Each graph throughout our result pages will label the resolution in which the game was run, but omits such data as AA, AF and other graphic-related settings. Select setting information is noted above each set of graphs, but for more a more detailed look, please refer to our testing methodology page, which contains screenshots of each game's setting pages.
Need for Speed: Pro Street
Electronic Arts is one of the largest game publishers in the world, and because of that, they have plenty of fans and plenty of enemies. Even if you don't like them, it's hard to dispute the fact that many of their games are solid, one being anything from the Need for Speed series.
"Pro Street" received rather poor reviews upon launch, and for mostly good reason. It removes the freedom of being able to explore a city at your leisure, which to many, is a huge step backwards. But despite that fact, it's still a great game if you enjoy the series and want an offering that's a little more realistic than previous versions (in terms of money and damage).
Our run through consists of racing through two laps at the Chicago Airfield, something that takes about three and a half minutes to accomplish from the moment we begin recording frames. The beginning of each race shows an automated camera fly-by over the cars in the race – we begin recording our FPS as soon as this clip begins.
Settings: Our lowest resolution uses fully default settings, while the 1920 resolution ups the AA to 4x and enables Anisotropic texture filtering.
The HD 4870 X2 continues the domination run here, and not much else can be said. Most of the GPUs seen here performed well, though, except the bottom four (despite the same avg FPS as the 8800 GTX, the 9600 GT stutters). As seen on page three though, where I compared the GTX 280 exclusively to the HD 4870 X2, pushing the graphics options even higher would result in ideal gameplay only on the higher-end cards.
I do wish EA would begin catering to their PC gamer audience though. The lack of 2560×1600 support is nonsense, especially when our GPUs are completely capable of handling the game at that resolution. You could hex-edit the executable to offer the support, but that doesn't seem like much fun, right? Here's to hoping they smarten up with the next release, especially since 30″ displays are becoming increasingly affordable.
Enemy Territory: Quake Wars
Note: Each graph throughout our result pages will label the resolution in which the game was run, but omits such data as AA, AF and other graphic-related settings. Select setting information is noted above each set of graphs, but for more a more detailed look, please refer to our testing methodology page, which contains screenshots of each game's setting pages.
Enemy Territory: Quake Wars
The last game we will be using in our benchmarks is ET: Quake Wars. This is also the only game in our testing that's executed as a time demo, as opposed to the manual play through like the rest of our games. The reason for this is twofold.
The first reason is that we like to include at least one time demo, despite its CPU-boundedness, in order to see how our cards scale when run in such a situation. The second is the fact that this game caps its FPS at 60, except during time demos.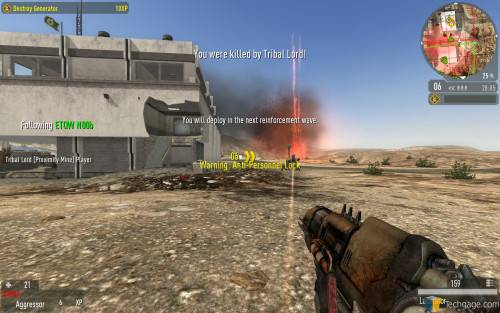 Our time demo takes place in the Area 22 level, with the main goal to destroy the jamming generator. The actual play through took around five minutes, but the time demo goes far quicker, as is the case with most time demos.
Settings: Maxed settings are used here for the most part. Our 1680 resolution uses 2x AA while 1920 and 2560 use 4x.
I keep no secret in that I believe time demos are a waste of time for the most part, but they can deliver some interesting results at times. Here, we can see that despite the HD 4870 X2 having considerably more muscle, the lower resolutions (>1920×1200) don't offer much of a benefit. The larger resolution is where the real differences are seen, as we'd expect.
Futuremark 3DMark Vantage
3DMark doesn't need to be explained to most anyone, because if you've been benchmarking or PC gaming for a while, you have no doubt heard of Futuremark and their tools. Vantage is the newest of the bunch, and its tests are as hardcore as they come. The benchmark properly stresses a GPU, and spits out an overall score for you to munch on.
The overall use of these scores is constantly debated, because real gameplay matters far more than canned benchmarks. However, they are still fun to use for the sake of competition. In no way should they be the sole factor of your GPU purchasing decision, however.
NVIDIA's GTX 280 became the first card in our lineup to break through the P10,000 barrier, but the HD 4870 X2 again pushed things much, much further. Interestingly, this is also the first card to score a higher GPU Score than the 3DMark Overall Score.
Although the first two graphs show higher numbers, the last one really shows what the card is capable of at higher resolutions, under certain circumstances. Our HD 4870 X2 scored just over 50% higher than the GTX 280, so for all your time demo-running fun, ATI's latest card is definitely the way to go.
Radeon HD 4870 X2 vs. GeForce GTX 280
One thing I wanted to do was exclusively compare the GTX 280 to the new HD 4870 X2, so to do that, I chose four games (would have been six; the reason is above), to see how the two directly compared. The GTX 280 is the HD 4870 X2's main competition, so it's fair.
I should mention also that I had wanted to include results from both Crysis and Half-Life 2: Episode Two, but due to what I believe were driver issues, I was unable. AMD is working to figure out the reason I had such issues, and I will follow-up with results from those two games once it's been sorted out. For now, I don't know what to blame, since other editors don't seem to have the same issues I do. Oddly enough, it's just those two titles, as performance everywhere else is just fine.
That aside, the four games I ran were first run on the same general settings that I normally run them at during the 2560×1600 runs. The reason I choose such a large resolution is simple… it's the most demanding. Proof of just how demanding is laid in the fact that while 1920×1200 delivers 2.3 million pixels, 2560×1600 delivers 4.1 million. That is not a small increase.
After those basic tests were done, the Anti-Aliasing and general settings were amped up to much higher levels, in order to see which card could better handle the stress. Please note these settings for the higher setting of each set:
Call of Duty 4: Settings were maxed, as high as they could go.
Call of Juarez: Settings were maxed, which a choice of 8x AA.
ET: Quake Wars: Settings were on high overall. Lighting was 'Normal'. AA was 8x.
Unreal Tournament III: Settings were maxed, with 8x AA forced driver-side.
Yes, it goes without saying, the HD 4870 X2 is one heck of a card, and really puts a damper on NVIDIA's recently-launched GTX 280.
How about similar tests with 3DMark Vantage?
At the absolute maximum, the HD 4870 X2 saw a 57% score increase over the GTX 280. Of course, it's nothing but a mere over-glorified time demo, but those results are impressive no matter how you view things.
Power Consumption, Final Thoughts
In testing power consumption for our graphic cards, the system components are kept consistent to help keep accurate results. To capture wattage, a Kill-a-Watt is used. It is plugged straight into the wall and the PSU is plugged in directly to it. After the computer boots into Windows and is left idle for five minutes, the idle wattage is captured.
To capture the average, a run of 3DMark 2006 is run while keeping an eye on the voltage for the first two minutes. I record the value that the Kill-a-Watt reports the majority of the time. Sometimes the wattage might go higher, but scale right back down, and vice versa.
Can anyone say "Whoa!"? The HD 4870 X2 clearly dominates all charts, including this one. Unfortunately, I didn't have two single HD 4870's to test in Crossfire, but I'm told the X2 will use slightly less power overall. It also manages to use 104W more than the GTX 280. One thing is for sure, you will want a good power supply to back this puppy up.
Final Thoughts
In the intro, I did the obvious and mentioned about AMD's recent struggles. Well, we can finish off this article knowing that AMD's ATI division is back in action, and their latest batch of GPUs aren't only impressive, but they well take over the competition.
While the HD 4850 and HD 4870 forced NVIDIA to not only lower their prices, but even release a new model, the HD 4870 X2 is going to leave them scrambling for who knows where. The GTX 280 is without a doubt an extremely high-performance graphics card, but the HD 4870 X2 clearly dominates every-single one of our tests. That's hard to ignore. GTX 260's in SLI might change things a little, but the HD 4870 X2 still has clear benefits, such as the ability to run a single GPU and also the lack of a requirement to run an NVIDIA-based motherboard.
Pricing-wise, the HD 4870 X2 costs $100 more than the GTX 280, and as I mentioned in the intro, that increase is actually justified, especially if you run ultra-high resolutions. That's not to say that $550, or even $450 isn't a lot of cash, but comparatively speaking, it's actually well-priced. The current price for a single-GPU HD 4870 is around $270, so that makes the X2 cheaper than going the Crossfire route. Another plus.
Exactly why the $100 is justified can be seen in our results. At the absolute minimum, this card gave us results 27% better than the GTX 280, and in most cases, that number hovered closer to ~45%, with one even going as high as ~70%. That much of a boost for 20% extra cost seems entirely reasonable.
I still have to stress that for such an expensive card, you are going to want a beefy resolution. Anything lower than 1920×1200 is overkill on this card, even if you want to bump up the anti-aliasing. Sure, AA looks better, but at this price point, you might as well stick with what you have and just purchase a $300 monitor and then an HD 4870 or GTX 260, which will still handle 1920×1200 with absolute ease.
It's all a matter of what you are looking for. If you want the fastest card on the market, this is it, hands-hand. NVIDIA was the clearly dominant player in the industry for quite a while, but AMD have finally struck back and proved to the world that they are here to stay, and I cannot wait to see what comes out of them next.
It doesn't require much contemplation; this card well-deserves an Editor's Choice award.
Pros
Unbelievable performance, fastest single card solution available.
Expensive, but reasonably-priced all things considered.
Currently costs less than two separate HD 4870's.
Cons
The most power-hungry card on the planet.
Runs hot. Never touch after a long gaming-session.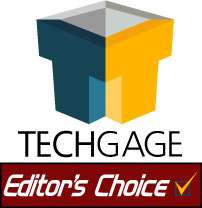 Palit Radeon HD 4870 X2
Discuss in our forums!
If you have a comment you wish to make on this review, feel free to head on into our forums! There is no need to register in order to reply to such threads.
Copyright © 2005-2020 Techgage Networks Inc. - All Rights Reserved.