PowerColor X1650 PRO

Date: November 29, 2006
Author(s): Greg King

If you are a gamer on a budget, you are always in a good position to purchase a great card since there are many choices available at any given time. The card we are taking a look at today is the X1650 Pro from PowerColor. It proves to pack a nice punch and goes to show that "value" is nothing to shake your head at.
---
Introduction
With the speed that the video card industry continually updates itself, it's difficult to keep on the cutting edge of the market. Not all of us have the money to purchase the newest, flagship GPU that comes out almost every 6 months. If you take a look at Steam's -very- informative hardware survey, 7 out of the top 8 GPUs all cost at or under the 200 dollar price range. If we want to get deeper, we can go as far as saying that 17 out of the top 20 GPUs being used are all 'budget' GPUs. That alone tells us that either all the hardware junkies that update every time something new comes out collectively decide to not take the survey, or that PC gamers en masse just don't have the money to upgrade all the time.
Those 7 GPUs account for almost 40 percent of all gamers subscribed to Steam and with the popularity of the Half Life games, I would like to think that the survey is at least, remotely comprehensive. While top end GPUs earn companies bragging rights, resulting in higher sales of lower level cards just be apart of the winning team, budget cards are truly the bread and butter category for all add in GPU manufacturers' well, all 2 of them.
With budget being the battle cry, we are taking a look at Powercolor's x1650 Pro. Way back in March, we took a look at the Powercolor x1600 XT Bravo Edition video card. In the review, the card offered playable frame rates in many popular new games and for an added bonus, was bundled with a game. All of these features, coupled with an attractive price, earned the card an editor's choice award. On paper, the x1650 Pro and the x1600 XT appear to be very similar. While we are not offering any x1600 XT results for comparison as the two testing machines are completely different, the x1650 Pro should perform close to the x1600 XT.
Specs and Packaging and Installation
Before we get into the heart of the review, let's take a look at the card itself. Coming to me in the retail packaging, the x1650 Pro's box isn't huge but it's not small either. From the front, we see that the card offers ATI's AVIVO technology. To break it down a bit, AVIVO offers quality video playback, crisp colors and crystal clear images. We also see that the x1650 Pro is certified to work with Windows Vista when it launches in the coming weeks. The major detail that catches my eye however, is the CrossFire ready statement. For those of you that don't know, CrossFire is ATI's answer to SLI. In Crossfire, just as in SLI, 2 separate video card work together to split the load of rendering, thus boosting frame rates. With a card like the x1650 Pro, CrossFire can be a definite upgrade solution as the cards sell in the mid to lower $100 range.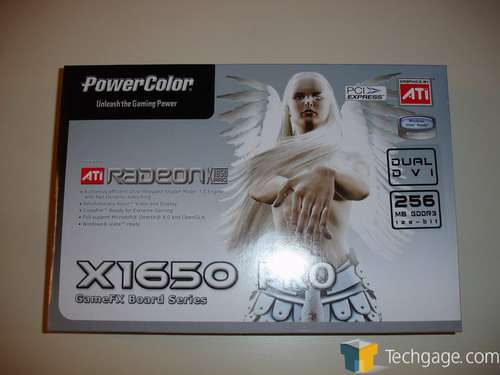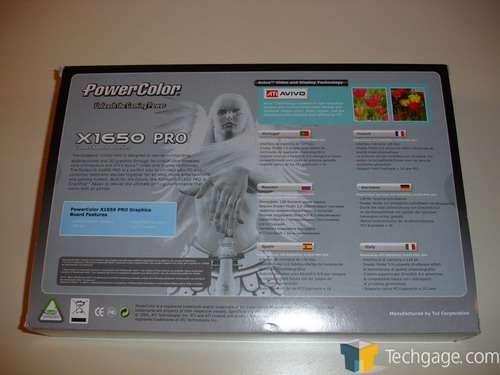 Once we open the box up, we see a somewhat limited bundle, if you can even consider it a bundle. Included with the x1650 Pro, Powercolor threw in a DVI-D to VGA adapter for those of you who use a monitor that needs an analog signal, a driver CD, a Cyberlink DVD solution CD, a manual and a VIVO cable. Underneath all of the 'extras' we see the card itself. Wrapped securely in an anti-static bag, the x1650 Pro is safe and sound. Once out of the bag, the first thing we notice is the size of the card. While providing dual DVI output, 256MB of onboard GDDR3 memory, the card is considerably shorter than our 7800GT. This is a welcome sight because it increases the usability of the card, allowing us to use it in virtually any PC case. A card of this size would be perfect for anyone who builds, or is thinking about building, a HTPC anytime soon.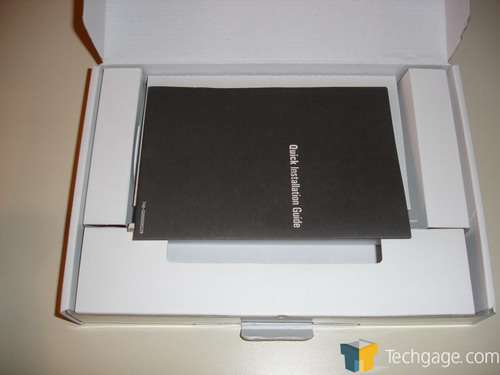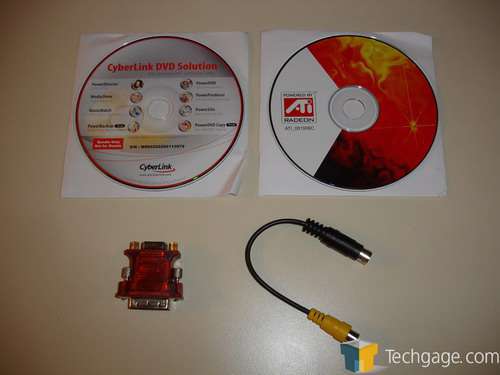 Here we see the difference in size between a relatively 'normal' sized, full length graphics card and our x1650 Pro sample card.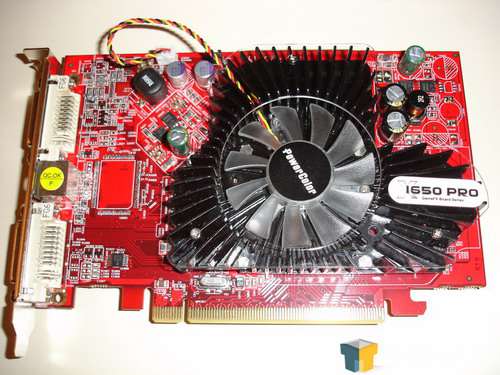 The x1650 Pro comes to us with a core clock of 600 MHz and the 256MBs of GDDR3 come clocked at 700 MHz for an effective speed of 1400 MHz. The card as the pictures show, includes a decent sized heatsink (relative to the card itself) that covers not only the GPU, but the memory modules as well. One thing that should be pointed out though is that even though the heatsink expands over the memory, it does not actively cool the modules. There is no thermal interface material (TIM) or a heat pad of any kind. Not really a huge deal but why not do something if the base of the heatsink is right there… oh well.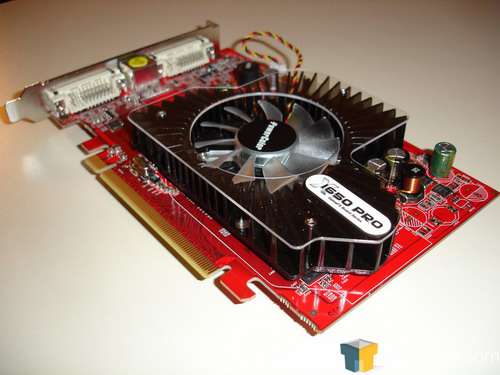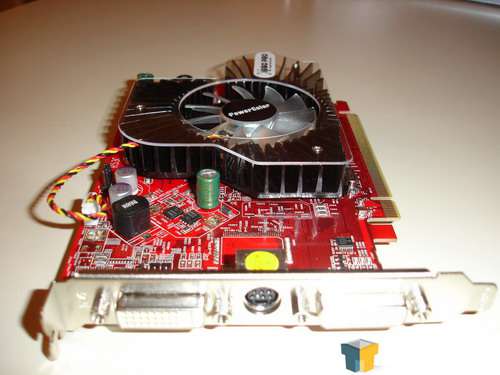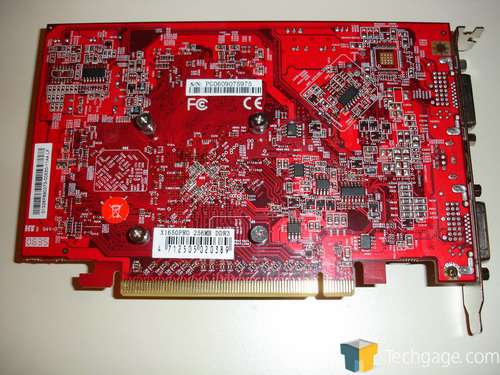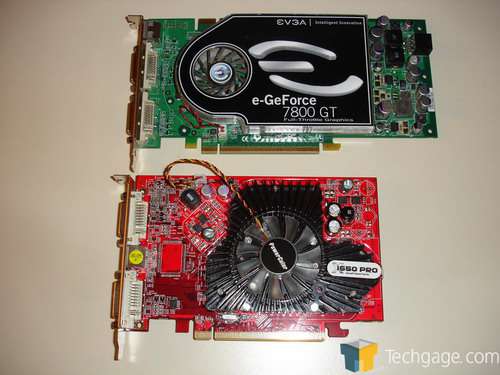 The x1650 Pro gathers all the necessary power the PCI-E bus, resulting in the exclusion of any additional need for power from a 6-pin PCI-E connector. This is nice when you consider that most video cards absolutely have to have extra power running to them, resulting in a cable running to the card. This is fine and all but there isn't really much around the back of the cards usually so you have this one lone cable running into your card. Don't get me wrong though, with power comes, well, power. I will gladly give up some aesthetic appearance for more GPU power any day but it's nice for a change to work with a card that doesn't need this.
Let's take a look at the specs provided by Powercolor themselves.
90nm build fabrication process
12 Pixel Pipelines
5 Vertex Engines
157 million transistors
256MB GDDR3
128-bit memory bus
Native 16x PCI-Express
Testing Procedures, HL2, 3D Mark, Far Cry
For this review, we are using an Intel Core 2 Duo based PC. For those that have paid attention, this is the same PC that we have used in many of the latest reviews. Its specs are:
Intel 'Conroe' Core 2 Duo E6600 @ 2.4 GHz
DFI Infinity 975 X/G
Kingston RAM Hyper X 6400 2GB
Enermax Galaxy 850W
Powercolor x1650 Pro
Seagate Barracuda 320GB 7200.10 (OS)
Seagate Barracuda ES 750GB (Media)
Windows XP SP2
ATI Catalyst 6.9
To completely benchmark this card, we will be using a number of different programs, including synthetic benches such as Futuremark's 3D Mark 2005 and 2006, as well as current popular games that any of us could be playing at any time. Since not all of us play first person shooters, the popular real time strategy Rise of Nations: Rise of Legends will be included in the testing as well. While there is a lot of preparation and work that goes into reviews such as this one, they are not completely boring. We do get to play with new hardware and I will admit, at times, after the bench was completed, I continued to play.
Obviously with 3D Mark, we run the tests and when they are completed, we are given a total score. We can also break down component performance as well and the entire process is made easier having all the data in one spot. For game benchmarks, we don't have it so easy. Not to say that benchmarking games is difficult, but there is a little more involved than just running it and waiting. A few of our games have built in frames per second (FPS) commands built into them but to keep things congruent, FRAPS will be used to measure the FPS of each game in a 300 second (5 minutes) time frame. There will be no unnecessary programs running in the background to slow down the results.
Prior to each test, the hard drive will be defragmented using Diskeeper 10. The CPU will not be overclocked; neither will the rest of the PC. Now that we know what's going on, let's get into the benchmarking.
Testing and Benchmarks
Synthetic
Futuremark 3D Mark 2005
Futuremark 3D Mark 2006
Real World
Call of Duty 2
Half Life 2: Episode 1
Rise of Nations: Rise of Legends
Oblivion
Far Cry
3D Mark 2005/2006
The Futuremark benchmark has been around for quite some time and with each new edition, we are all collectively humbled by the low scores we receive from the program. While the name has been around for a while, so have the benchmarks. In today's testing, we are gong to be using the last 2 versions of 3D Mark, 2005 and 2006. Both editions are very similar but the latter makes good use of HDR (high dynamic range) to bring your PC even lower on its knees.
Both versions will be run at the same settings at 2 different resolutions. With the x1650 Pro being a 'budget' card, the two resolutions being ran will be 1024×768 and 1280×1024. All other setting will be set to default. This includes no AA or AF.
Call of Duty 2
When the original Call of Duty was released, it had a tough job of taking down the king of WWII FPS games, Medal of Honor. As soon as it was released, we all knew that we had something special on our hands. With its detailed graphics, squad based AI and amazing multiplayer; Call of Duty quickly took the crown away from Medal of Honor and has yet to relinquish it. When Call of Duty was announced for the XBOX 360 and PC, many gamers couldn't wait to get a hold of it. This one included. Overall, there were many things that I would have like to see done differently but overall, Call of Duty 2 is a worthy sequel to one of the best WWII games ever.
This test will be run on the opening level, where the Russians are holding back the German offensive. There is a lot of open areas and building to shoot from. Using FRAPS, a 5 minute frame rate grab will record the frame rates, giving us a complete summary of high, low and average frames per second. All settings were set to default and ran in resolutions of 1024×768 and 1280×1024.
Half Life 2: Episode 1
What can even be said about this franchise? Who can remember where they were when they first finished the first Half Life or even saw the first trailer for the blockbuster second? Set just after the events of the HL2, Episode 1 starts you off just outside of the Citadel under a pile of rubble. Being dug out by DOG, you see Alex and you get on your way. Fighting for the survival of mankind from the Combine, there is no backup plan, you make it or mankind falls.
To bench Episode 1, we will use the console command ep1_c17_05 to skip directly to the map of our choice. Once there, we get into the action immediately and the whole time, FRAPS is recording the frames per second. The level starts you out in a building and you are to take the remaining humans across an open area to the train yard. There is a lot of action here with Combine soldiers doing all they can to end your run. This level, like Call of Duty 2, will be run in both 1024×768 and 1280×1024 with AA and AF both turned off.
Far Cry
When it was released, Far Cry was easily the best looking game around. While the graphics drew people in, the game play is what kept them coming back. Far Cry centers around Jack Carver and island scenery loaded with armed gunmen looking for you. As the game progresses, you uncover a large scale genetic experiment and because of this experience, your enemies aren't exactly human. While you make your way to various parts of the island, you fight everything that moves with the help of your partner Val and the mysterious Doyle. Full of excitement and surprises, Far Cry is still a game that I can sit down at and play all the way through.
To test the game, I loaded the first level at the aircraft carrier scene. The level is full of large open areas as well as tight indoor rooms. Once on top of the ship, you experience one of the most difficult and frustrating areas in any game that I can think of. As I made my way though the ship to the top, I used FRAPS to record the frame rates. This is the one exception to our benching standard as we will be using 1280×1024 and 1600×1200, completely leaving out 1024×768. There is certainly no love lost between the x1650 Pro and 1024×768 as the card chewed through it. Because of this, we saw no need to include testing at that resolution.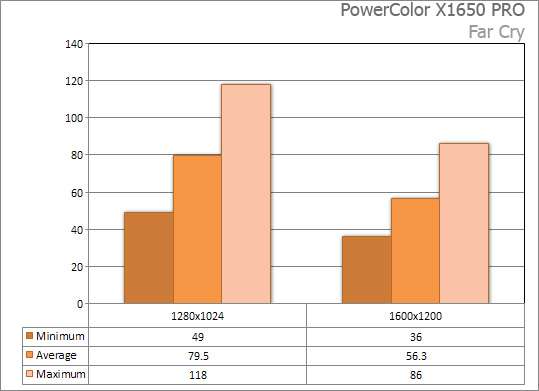 Rise of Nations, Oblivion, Conclusion
Not everyone plays first person shooters and because of this, many other genres have had their fair share of the limelight as well. My personal favorite type of game is real time strategy. In these types of games, you have an aerial view of the battlefield and from this view; you build up your base and army with the sole intent of crushing your opponent. With Rise of Legends, there is a classic battle between technology and magic. In this battle you can fight with three different races, Vinci (human), Alin (desert dwelling magic users) and the Cuotl (alien). With each race having their own different advantages and disadvantages and these will shape your strategy and how you play the game.
In the testing in this game, the 2 standard resolutions will be used, 1024×768 and 1280×1024. In both resolutions, game settings will be set right in the middle of 'looks better' and 'better performance.' These settings have lower quality shadows, less physics and less moving parts on buildings.
Oblivion
Oblivion has seemed to take over where Far Cry left off. There was a similar buzz surrounding Oblivion that was around Far Cry's visuals when it came out. The large lavish outdoor settings, the detailed indoor rooms all look beautiful and lifelike. While the game looks amazing, the big reputation that it carries with it is that it's very demanding on people's PCs. Being a huge fan of the previous installment, Marrowind, I was one that eagerly awaiting the release of this game.
To run these tests, we started in the first area, in the caverns and cave. We worked our way out of the caves to the outdoor areas and the whole time, FRAPS recorded the results. The resolutions used were again, 1024×768 and 1280×1024. There was no AA used in these runs and no HDR.
Conclusion
I come away from this review satisfied with the results we have seen. The Powercolor x1650 Pro can be found online for just over $100 and with a price like this, any budget minded gamers would be fine purchasing this card. As happy as I am with this card at this price, there are a few downsides. I was unable to get a stable overclock at all with both Riva Tuner and ATI Tools. In both programs, the test PC would lock up as soon as the settings were applied.
This could be because of the programs not wanting to cooperate with the x1650 or it could certainly be a problem with the card itself. Whatever it might be, I have found others on the internet that have ran into this same problem. For those of you who might get this card for an HTPC, this is not a problem at all but for gamers who want to stretch out as much performance from their cards as possible, they might be smart to look elsewhere.
The bundle left much to be desired, but for $120 dollars, you really have no right to expect much more than a driver CD and the card itself. The AVIVO is a plus, as is the DVI to VGA adapter.
With all this in mind, any gamer on a budget would be safe purchasing the x1650 Pro. The x1650 is basically a renamed x1600 XT but with prices about the same, the x1650 Pro would be a wise choice.
All in all though, I am giving the Powercolor x1650 Pro an 8 out of 10. The price is the major selling point for me on this. A budget card for 100 dollars is ideal.
Pros
Price ($100 US)
Small size makes it ideal for HTPCs and SFF PCs
CrossFire capable
Silent cooler
Cons
It is a budget card after all
Basically an x1600 XT
Discuss in our forums!
If you have a comment you wish to make on this review, feel free to head on into our forums! There is no need to register in order to reply to such threads.

Copyright © 2005-2019 Techgage Networks Inc. - All Rights Reserved.