Razer Barracuda Headset

Date: August 22, 2006
Author(s): Greg King

Razer has been in the enthusiast game for a quite some time now offering quality mice aimed towards the gamer. Using the momentum they have gained from such products as the Diamondback and the Copperhead, Razer has just released the Barracuda HP-1. Offering "surround sound" in the form of a headset, Razer hopes to incorporate itself into the mind of gamers in areas outside of gaming mice.
---
Introduction
LAN parties are popular. So popular in fact, that the industry itself has seen trends emerge from the requests of LAN party attendees. One needs look no further than the SFF. This is an item that is basically a desktop PC in a box. Another example would be sound equipment. You don't want to carry around speakers with you everywhere you go, so the only logical alternative is to get a set of headphones (primarily because speakers aren't allowed at most LAN events.) The addition of a headset is wise, even if you do not play at LAN events as it allows you to hear better while not disturbing those around you. *
* Assuming you aren't the German kid who goes nuts in the YouTube video'
Getting back on track, today we are taking a look at Razer's newest addition to its stable of gamer ready hardware: the Barracuda HP-1 gaming headphones. In the past, we have taken looks at the Copperhead, the Krait and the Armadillo. Out of those three products, only the Copperhead really shined the brightest and that's because it filled a need. There really isn't a need, in my opinion, for a RTS/MMO exclusive mouse just as there really isn't a need for a cable weight. With that said however, the Barracuda fills a hole in the Razer lineup that has needed filled for quite some time. The purpose of today's review is to see just how well this headset sounds.
Packaging
The retail casing of the HP-1 is just as one would expect from Razer. The box is a non-glossy black that folds up at the top to reveal the headset in its plastic shell.
On the back of the box, there is information about the HP-1 and this information is also repeated in many other languages. On the side of the box are two testimonials from two gaming champions.
From a marketing standpoint, I understand why these two gentlemen's responses were included on the side of the box but for me, their words carry zero credibility. Here we have two gentlemen, who are talented gamers obviously, proclaiming the virtues of these headphones. The thing that most should take into consideration is that they were more than likely given these headphones and therefore making their response biased. But, this is not unlike the reviewing process where we are given hardware to review but are trusted to deliver an unbiased opinion based upon our experience. So, who knows, perhaps these guys absolutely love this headset. Again though, this makes perfect sense from a marketing standpoint. Like it or not, this is the future of advertising. Gamer's mugs on the front, back and side of boxes, just reminding us how great this product is, true or not. Thanks for nothing Fatal1ty!
On a side note, doesn't Mr. Yang look totally pissed off?
Getting back to the review, I have now taken the headset out of the box and am presented with a plastic shell. For those of you not familiar with packaging like this, these plastic casings are intended to deter anyone who might want to 'walk off' with these in a store. That and they provide terrific protection during shipping and in the store itself. This is fine and all but there is one more sinister intention of this kind of packaging. To infuriate the buyer and frustrate him to tears. There is no easy way to open packaging like this outside of using a knife or a firearm of some sorts, depending on how frustrated you really get.
From these pictures you can see the front and the back of the case. As you can see, the in-line controller obviously comes in the packaging as well as the manual that can be seen in the back of the plastic shell.
Once opened, and the cut on my thumb from the near indestructible packaging bandaged up, we can now start to play with the HP-1 and see just how well they perform.
Before we get much into the performance of these headphones, I want to point out the specs of the HP-1's first. These are provided by our friends at Razer and can also be found on their website should you want to check them out for yourselves.
Technical Specifications
8 Discrete Drivers: 6 for Mid-High Frequency, 2 for Bass.
Individual Channel Volume Control / 1 Master Volume Control.
Detachable Microphone.
6 Channel Analog Inputs.
Eight Amplifiers contained within its volume control units.
Output power of 330mW.
Razer HD-DAI' (High Definition-Dedicated Audio Interface).
99% Oxygen-Free Cable.
Razer Barracuda HP-1 Gaming Headphones Specifications
Frequency Response – 50 Hz ~ 20 000Hz
Impedance – 1.a. Front Speaker : 64ohm b. Rear Speaker : 32ohm c. Centre Speaker: 64ohm d. Sub-Woofer : 8ohm
Total RMS Power Rating – 330mWatts
Cable Length – 2 meter
Connector plug – Razer HD-DAI'
Now that we have that out of the way, let's look at some of the other features that the HP-1 has to offer.
Razer is promoting the HP-1 along side the AC-1 sound card. The connection cable on the HP-1 is designed to directly hook up with the AC-1 when the card is released to the public. Since we do not have the AC-1 in hand how, I will be using the HP-1 with my Creative Audigy 2 ZS. This should not make a difference but we will only know this for sure when we get in the AC-1 and run a head to head test.
Close Look
Once out of the packaging, we can take a closer look at the headset, as well as everything that comes with it.
First item up is the HP-1 itself. My initial reaction was that these headphones are solid. They seem to be well built and sturdy enough to travel with me to different LAN events and make it home in one piece.
The ear pods are comfortable but a bit tight when placed on my melon. The material used to soften them up is comfortable. Connecting the two ear pods are two thick plastic 'tubes.' In these run the wiring for the right ear pod. Just below these pieces sit a soft piece designed to hold the ear pods together, as well as stabilize the headset from the top of your head when you are wearing the HP-1.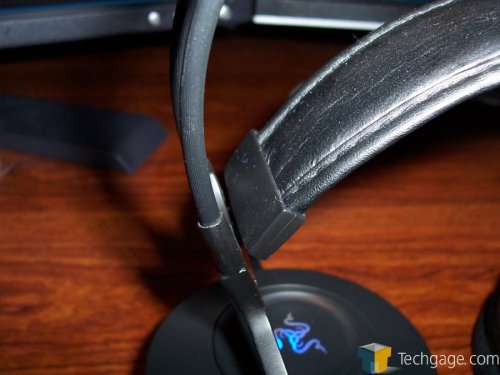 Another cool feature of these headphones are the Razer symbols on the control box, as well as each ear pod. When turned on, these light up blue, just like the Copperhead mouse.
Speaking of the control box, this is where you control your master volume, as well as your center, front, rear and bass volume controls. There is also a clip, allowing you to attach the control box to your shirt, should you actually wear a button up (unlikely) or your pants. I would lean more towards your pants, assuming that you wear pants when you game. If not, then that's just plain weird.
Here is another picture of the control box, but with the Razer logo lit up.
Moving right along, we come to the microphone. In all honesty, there doesn't seem to be too much to this mic. It is small and plugs into the left ear pod of the headphones. The Razer website says that this mic has noise cancelling capabilities, allowing you to communicate with your team more clearly. You can also annoy the piss out of your fellow CS:S players with random sounds and music' but who really does that?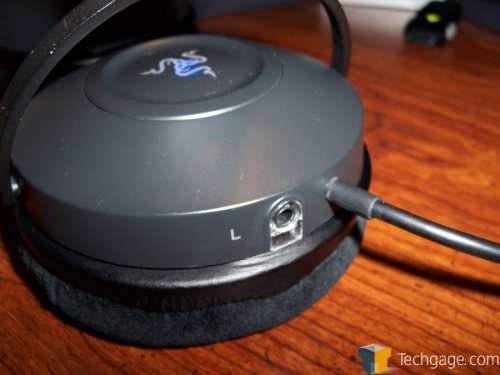 Attaching the mic to the headset is really quite simple. Anyone who has ever had 'the talk' with their parents or even their school teacher can grasp this and get their mic going in no time. Once plugged in, the clear plastic around the jack will glow blue, letting you know that there is a good connection being made.
Connectors
We finally come to the final bit of hardware to come with the HP-1. This is also, by far, the most unusual when thinking about audio hardware. You see, the HP-1 is obviously designed to work hand in hand with the AC-1. Therefore, the HP-1 has what is called a Razer HD-DAI' connection. What this means is that they have used a regular DVI plug and made it into a Razer proprietary connection to be used exclusively with the AC-1. Razer also makes sure to note that this is not to be used with your DVI out on your video card as this is only made to connect the HP-1 with the AC-1.
Here's the point where you might be asking yourself how you are going to get this to work with you existing sound card. Well, Razer has thought about this and has included a dongle, if you will, that will allow you to connect to your existing sounds card's front, rear, center and mic jacks.
As you can see, there is also a USB plug on the dongle as well. This is to power your lighted Razer symbols in the control box and on the side of each ear pod.
Testing, Conclusion
To test out the HP-1, I started off by playing a few rounds of BF2 and Counter Strike: Source. In CS:S, while the game play is top notch, the sound lacks a bit. Even though, with the 'surround sound' feel of the headphones, I was able to get a good idea where my enemies where at and from what direction they were coming from.
BF2 is another story all together. This is a game with much richer sounds and the headphones reflect this. My settings were set to high quality sounds with EAX enabled. The sounds were crisp and again with this game, the directional sounds helped out quite a bit.
The second round of tests where music. To put it mildly, I love music. I am a fan of most genres and my music collection reflects this. The first album I listened to was Bad Religion 'The Empire Strikes First.' The sounds were crystal clear and you can really pick up on sounds that you otherwise might miss when listening through conventional speakers. The second album I listened to was the Angels & Airwaves 'We Don't Need to Whisper.' This is another great album that I truly enjoy. Unlike the BR album, this is a slower, more melodious album but no less enjoyable. Again, the sounds were clear and crisp.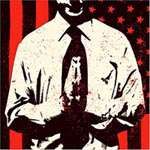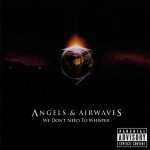 In college, I had a few friends that spun and at times, I would 'barrow' their headsets to listen to music or play some games in the dorms. You really cannot get a better sound than good headphones. There are so many small, minute sounds in songs and having a set of headphones allows you to hear it all. While the HP-1 is not a set of studio headphones, the sound quality is none the less great.
The final test I am putting these headphones through is watching a movie. To test these, am watching Star Wars: Episode I. Love or Hate the new Star Wars, you have to admit that the one thing that George Lucas nails is sound. I watched the pod race section of the film and the HP-1 performed just as admirably as they did in the game and music tests.
Conclusion
There you have it, the HP-1 headset from Razer performed nicely when it came to game, music and movie audio and as impressed as I am with these headphones, they are not without complaints.
The bass in these headphones was not what I was expecting. The lows are not as low as I would have liked. I know I am not going to get home theater bass out of this headset but I would still have liked to get a bit better response than I did. Also, the cord on the HP-1 is approx. 6 feet long. The control box is about 2 feet from the headset itself. This is fine for most people but for me, being 6′ 4′, I can't comfortably wear these headphones with the control box clipped to my pants. This isn't a big issue but something that I would have liked to seen different in the design.
Pros
Surround like sound
High Quality build
Killer Looks
Ear pods are soft
Mic is accurate and picks up voices well
Can be used with any sound card
Cons
Slightly uncomfortable for those with large heads like myself
Proprietary connection pointless for most
Disappointing bass performance
Expensive
When all is said and done, the Barracuda HP-1 is a nice set of headphones for gamers. On that note, while this set was designed for gamers, those of you that enjoy movies and music on your computer will not be disappointed either. The sounds were clear and crisp and the small details were easily picked up.
I have no problems giving the Razer Barracuda HP-1 a solid 7 out of 10. Availability is scarce at this time but if you can find them, expect to pay more for these than you would other headphones of similar design. Razer has them for sale directly from their site for 129.99 (US) and while they do exactly what they say they will, this is a bit expensive for me. I am not saying that they are not worth that, but to me, it still seems a bit much.
If you are looking for a solid headset, look no further than the Barracuda HP-1. I enjoyed working with them but like some other Razer products, I feel that a little tweaking could go a long way.
Discuss in our forums!
If you have a comment you wish to make on this review, feel free to head on into our forums! There is no need to register in order to reply to such threads.

Copyright © 2005-2019 Techgage Networks Inc. - All Rights Reserved.