Razer Copperhead 2000DPI Laser Mouse

Date: November 4, 2005
Author(s): Greg King

Looking for the *next* killer gaming mouse? It seems that every few months, one will come along and blow us away. Now we are seeing gaming mice that finally have a freakin' LASER! Today we are taking a look at the new Razer Copperhead, which not only looks awesome, but performs exceptionally.
---
Introduction
The mouse is arguably the most important component that a gamer can add to their PC.
There, I said it. I can picture the emails now, letting me hear it for overlooking the coveted CPU and video cards that are out there today. Hear me out before you unleash all hell.
Whether you are a gamer (check), a video editor or a photographer, a mouse is vital to your work. A CPU can quickly execute your commands and a video card can display your work just as beautiful as you can imagine but the mouse, the lowly mouse, is your connection with your PC. It's your every reaction in a game. It's getting that perfect placement on a crop. The mouse is the representative of you to your computer.
With all that said, why would you not want the precision that a good mouse can provide? This is a question that I have posed to myself time and time again.
/Enter Razer.
Today I am taking a look at the Razer Copperhead laser mouse. This is the latest entry into the world of mice from a company that made a name for themselves in the late 1990's with the famous Boomslang. Ever since then, they have continually raised the bar when it comes to gaming mice. I am anxious to see what this had to offer over a traditional optical mouse.
Packaging:
The Copperhead comes in a nice, average sized box with a clear middle section where the mouse is clearly visible in a clam shell type plastic housing. When opened, the box gives way to a few nice surprises. The first being the plastic housing was easy to open and took little effort to get to the prize. The second is the incredibly long cord on the mouse. Also included in the box was a certificate of authenticity with a nice message from the Razer Guy himself. The last item in the box is the small manual with the driver disk included in the manual.
Specifications
Upon looking over the Copperhead, the shape and feel is not exactly what I am used to but nice none the less. The mouse has the customary left and right buttons as well as the scroll wheel. There are also two buttons on either side of the mouse and we will cover those later in the review. I am also happy with the Teflon pads on the bottom of the mouse. These allow the mouse to glide over any reasonable surface that you might use this on.
Specs:
These are the specs that Razer provides for the Copperhead
2000 DPI Laser Engine Powered by Razer Precision
1000 Hz Ultrapolling with 1 ms response time as compared with 125Hz/8 ms response time used by other conventional gaming mice
32KB Onboard Memory Powered by Razer Synapse
7 independently programmable buttons optimized with Razer's Hyperesponse technology for ultra tactile button feedback and maximum actions-per-minute (APM) gameplay
Zero-Acoustic Ultraslick Teflon feet
16 bit data path, as compared to 8 bit and 12 bit data paths used by other conventional mice
High speed motion detection, up to 45ips and 20g / Over 7080 frames per second
Always-On mode pioneered by Razer – the laser engine sensor never powers down to provide instantaneous response at all times during gameplay
Award winning Razer drivers featuring On-the-Fly Sensitivity DPI adjustment pioneered by Razer
Size: 5.04″ length x 2.5″ width x 1.54″ height
GlowPipe non-slip side rails
Ergonomic ambidextrous design
Ultra large non-slip rubber coated mouse buttons
Gold plated USB connector for maximum conductivity
7 foot, lightweight, non-tangle cord
With these impressive specs, I am really looking forward to getting into this review and seeing just what this laser mouse is all about.
This will be the system that I will be testing this mouse on.
Processor

AMD 3700+ San Diego 1MB L2

Motherboard

Power Supply

Ultra X-Finity 500W PSU

Memory

512MB x 2 Crucial Ballistix PC4000

Hard Disks

1 WD Raptor 74 GB
Seagate 160 GB

Sound Card

Creative Audigy ZS2

Video Card

Etcetera

Windows XP Professional with SP2
Installation, with any USB device, was a snap. The gold plated USB connector goes into my back port rather easily and XP picks up the mouse without any problems at all. After installing the drivers and software included on the disk, I am away and ready to go. Before I started playing with this mouse, I wanted to take a peek at the software included with the mouse.
Included Software
The included software is basically a control panel that allows you to control your dpi switches, polling rate as well as save up to 5 user profiles. This is a nice feature if you have different applications that you will be using with this mouse. I set everything at high just to see how much of a difference I could see. From my old optical mouse to this one, the difference is night and day.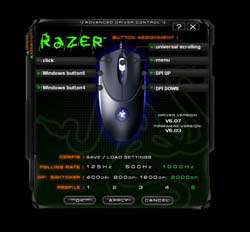 Here you can see that the initial menu allows you to set your own personal profile to suit your needs. I set everything to max with the knowledge that I will be able to lower the DPI setting on the fly if needed.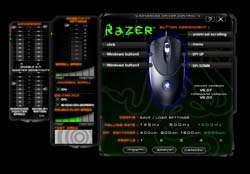 With this picture you see that the you can adjust virtually any setting that you can imagine. You can adjust the scroll speed, double click speed, whether or not you're on the fly settings are displayed on the screen or not we well as X and Y axis settings.
From here, I am going to play around in BF2, Counter Strike: Source as well as Photoshop 7 and Rhino 3D. I will obviously need the different DPI settings for the different programs I will be using so I will take note of that as well.
In BF2, the ability to switch the DPI on the fly is a wonderful feature that comes in handy. I can turn it way up when I am in a vehicle (tank turret) and turn is down a bit when I am zoomed in onto a target. The same applies to CS:S, minus the vehicles, that is. The lower DPI setting help a lot when sniping, and the higher setting help greatly when in open territory when turning around fast is important.
In Rhino and Photoshop, the DPI settings really didn't come into play, the extreme precision that the laser provides is very much appreciated. The accuracy that this mouse provides is unparalleled.
Conclusions
Here are a few photos of the mouse provided by Razer themselves
And two from me
Conclusion:
I had pretty lofty expectations for this mouse when I first received it for review. The look of this mouse is attractive to say the least. The black finish with the blue glow that beams out of the sides and the scroll wheel makes for a beautiful combo. The shape and feel of the Copperhead is the only gripe that I have. Perhaps it is because I am used to something else but the side buttons can be a bit difficult to get used to. While this is a gripe of mine, it isn't something that would keep me from purchasing this mouse should I ever need another one.
The Copperhead was made for one thing and one thing only, and that was to be a bad ass gaming mouse. On this front, Razer has succeeded with out a hitch. The feel of this mouse in the games that I play is that of perfection. Great response time along with the ability to switch your DPI settings on the fly makes this mouse an advantage that every gamer should make sure they have.
I am giving the Razer Copperhead gaming mouse a 9 on the Techgage-o-meter. This would have been a perfect ten if the design wasn't what it was. I would personally abandon the ambidextrous feel of the mouse and aim more for a right handed design (This is coming from a lefty too!) Other than that, this mouse is all that I had hoped it could be and then some. My hat is off to the men and women of Razer who continue to push the envelope in the computer hardware scene. Thank you so much for the opportunity to review this fine mouse. So in conclusion, I would like to leave you with the Razer motto: Peace and great gaming.
Have something to say? As always, feel free to discuss this review in our forums! No registration is required to comment on our reviews.

Copyright © 2005-2020 Techgage Networks Inc. - All Rights Reserved.