Razer Krait MMO/RTS Mouse

Date: June 1, 2006
Author(s): Greg King

We are taking a look at Razer's new Krait mouse aimed specifically at gamers who focus on real time strategy and massive multiplayer online games. Their approach is a simple one. Gamers who play RTSs and MMOGs don't need a ton of buttons, just a set few.
---
Introduction
We are all looking for an edge. I assume if you are visiting our humble site you are either a gamer or a tech junkie and in most cases, you are probably both.
Today we have on the review bench, a mouse that both tech heads and gamers can appreciate. We are taking a look at Razers new Krait mouse aimed specifically at gamers who focus on real time strategy and massive multiplayer online games. Their approach is a simple one. Gamers who play RTS's and MMOG's dont need a ton of buttons, just a set few. The Krait comes with 3 large buttons, including the scroll wheel.
The other main feature of the Krait is the DPI setting. The DPI comes set at 1600 which is high enough for anything you can use it for. They also market this mouse with having the ability to deliver up to 1200 actions per minute. I am not really sure if 1200 actions per minute is humanly possible but who knows.
There really is only one good way to say this, but the gaming mouse scene has become crowded. It seems everyone is branding their newest creation a gaming mouse. Logitech has been the mainstay of this market for a very long time but Razer has developed an extremely loyal following with their line of gaming mice. They look to build on this with their latest offering to the gaming crowd, the Krait.
On with the review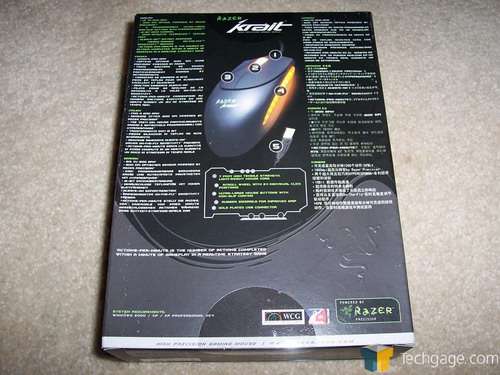 As you can see, the packaging was done well. I enjoy this presentation much more than the Copperheads. The same old half box, half blister pack is getting old. I enjoyed the fact that you can view the mouse through the blister pack by opening the box like a book. Also, there is a lot of information on the back of the box and that info is in 8 languages as well.
Once opened, you can see the driver CD, warranty information and a short, personal note from Razer Guy. Not much but exactly enough to get going.
Lets take a look at the Krait.
Nothing special can be seen in this picture. The Krait retains the Razer shape, allowing lefties and right handers alike, the choice of how to use this mouse and with which hand to use it.
The Krait, just like the Copperhead, comes with a 7 foot, thin tangle free cord with a gold plated USB connector for an enhanced connection.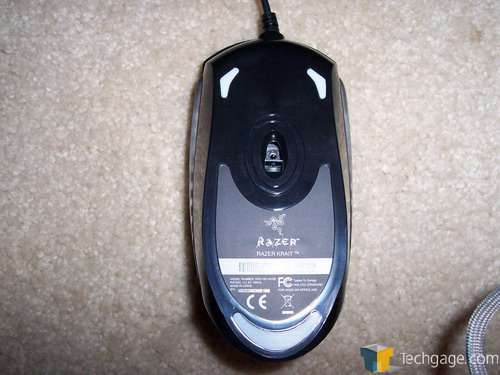 Also like the Copperhead, the Krait comes with a set of Teflon feet. If you have never used a mouse with these feet, you have no idea how well a mouse can float.
Software
The Krait comes with a driver CD full of goodies. If by goodies, I mean the driver, then yes, the CD is full. This is honestly all you need to get going so well, lets get going.
Once installed, the Razer program gives you full control of the use of this mouse. There are three different tabs that allow you to adjust the sensitivity, the scroll wheel and the buttons. From these tabs, you can adjust almost anything that you want. There is also an update link to check for updated software periodically when you see fit to do so.
Here you adjust the sensitivity of the mouse itself. You can turn the sensitivity down as low or turn it up as high as you want to. There is also a window to allow you to test your settings before applying them.
This is pretty much just like the sensitivity settings except it applies to the scroll wheel. Here you also have a test window to allow you to take your settings for a test run before applying them.
The final tab that you have is the buttons tab. This allows you to set up the orientation of the mouse. For all of you left lefties out there, this allows you to switch up the left and right button uses. I am personally left handed but have grown up with the mouse on my right so I did not use this function but I do know many who prefer the left handed approach and this will be magical for them. You can also assign different commands to your buttons in this window.
Comparison, Conclusion
I have compared this mouse many times to the Copperhead. I reviewed the Copperhead back in November and I thought that since I had it on hand, I would take some comparison shots of the mice back to back. I also included the Logitech MX518 for comparison as well.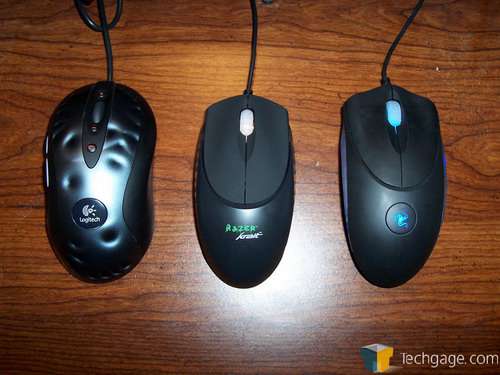 As you can see, the Krait is a bit smaller, in every dimension, than its bigger (literally) brother, the Copperhead. The layout of the Krait is the same as the Copperhead, minus the side buttons.
To test this mouse out, I am using Rise of Nations: Rise of Legends as well as Command and Conquer: Generals. Screen shots will not do any justice, positive or negative, to this review so there will be none included.
My overall experience with this mouse is a bit mixed. Is there a need for an exclusive RTS/MMOG mouse? I dont know as I believe that is a question only you, the reader and end user can answer. I was happy with the response of this mouse in gaming situations but thats about it. The high DPI was a bit higher than what I would have liked for a Windows desktop environment but it was easily adjusted down.
Conclusion
This is a good mouse, there is no denying that. The Krait can be found online in the 40 dollar (US) range as well so the price is much lower than other gaming mice. Does this enhance my RoN or C&C gaming experience, not really.
Pros
Quality build
Compact
Precise
Cheap compared to other gaming mice
Long cord
Gold plated USB connector
Nice Orange glow
Like I said earlier, this is a good mouse for gaming. I gave this a go in CS:S as well and it worked fine for me. I dont do a lot of adjusting anyway in games so one DPI setting will work well for those who do not mess around with adjusting those settings while playing. If orange is you color then get this mouse. I personally use this mouse now with my notebook as I enjoy its smaller design. This games just as good on my notebook too. For my money though, I would pay a bit more for Razers Diamondback or Copperhead. Those are full sized mice with more buttons. I only recommend this because I am somewhat of a button whore. I enjoy programming them to do what I want and in the Krait, I miss having those buttons.
In conclusion, I am giving the Krait a 7 out of 10. This is a respectable score for a good mouse but for me, it is trying to fill a niche that really doesnt need to be filled as of yet. The main selling factor in this mouse is the price. It is priced to sell and anyone who picks the Krait up, you wont be let down but for me, I am keeping the Copperhead.
I would like to thank Razer for allowing this review to happen. The support they give to the gaming community is something that cannot be paid back, ever. They stand behind sites like ours and push the industry to new heights.
Discuss in our forums
If you wish to discuss this review, don't hesitate to head into our forums. You don't even need to register to reply to our content threads!

Copyright © 2005-2021 Techgage Networks Inc. - All Rights Reserved.